Alexander Siddig's Height
5ft 11 ¾ (182.2 cm)
Sudanese born English actor best known for his portrayal of Dr Bashir on Sci-Fi series Star Trek: Deep Space Nine, aswell as appearing in films like Vertical Limit and Reign of Fire. His official website stated
"He's 5 feet 11 3/4 inches in his socks"
.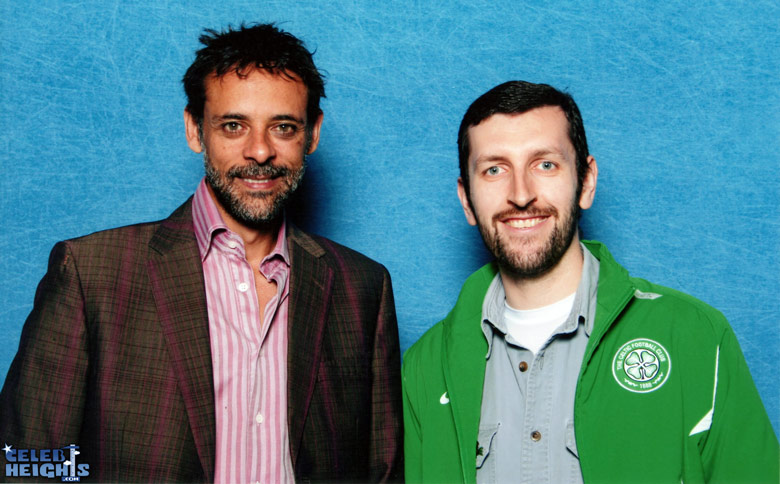 5ft 8 Rob and Alexander @ LFCC 2008
You May Be Interested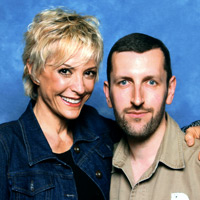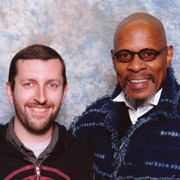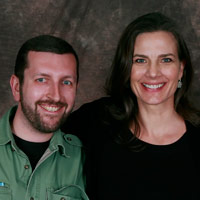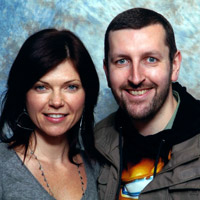 Add a Comment
93 comments
Average Guess (46 Votes)
5ft 11.43in (181.4cm)
slim 6'1
said on 11/Jan/21
181.5-182
Slim 6'1"
said on 22/Dec/20
182 when young, shrunk to 180-181 now
Looked tallish in pesky blinders and Gotham
Inches_to_cm
said on 14/Nov/20
You should list him by his full name: Siddig El Tahir El Fadil El Siddig Abdurrahman Mohammed Ahmed Abdel Karim El Mahdi
Jokes aside, I first saw him in an episode of the ITV series Poirot, where the vast majority of the actors were probably of average height (5'9-5'10) at max (Hugh Fraser and Philip Jackson stood out at 6'0), and he looked much taller as a result (I would have guessed 6'1-6'2 based on his appearance there alone). Then I next saw him in the Netflix series The Spy with Sacha Baron Cohen, who is 6'3, and he looked quite average there, didn't even recognise him at first. Goes to show, difficult to say if someone is tall or short, all depends on your surroundings.
Slim 6'1"
said on 28/Sep/20
182cm prime
Probs shrunk to 181cm now
Slim 6'1"
said on 1/Aug/20
181-182cm
Yang (5 footer 8, 172-173)
said on 10/Sep/19
5ft 10 half IMO...
Nik
said on 7/Aug/19
Lower, in his socks!
slothee
said on 22/Feb/19
Looks barely 5'11" w/ Rob. With Josh, looks a good 5'11" or so
Emil
said on 14/Jan/19
Walked past him in Heathrow once, and he looked almost 1 inch shorter than me - maybe he held a poor posture. 5'11.25-.5 is what I'd give him at the most
Zampo
said on 20/Oct/18
Looks like (based on the photo) someone who would measure similar to Benedict Cumberbatch. 5'11.25-5'11.5 range, either mark would be reasonable.
Nik
said on 11/Jun/18
Not 5'11.75" - even in his socks!
Bobby
said on 21/Apr/18
The full 6ft is not unlikely for him, I would automatically round all these guys up to the full inch, in the 3/4s category.
Psychedelic Earth 187
said on 20/Jan/18
182.5 not impossible.
MAD SAM
said on 17/Jan/18
He looks 182 cm for sure
Slim 186
said on 10/Dec/17
Tallish guy, in peaky Blinders he was extremely thin and even passed off as a 6'1" dude despite only being 5'11.5"-6'.
Pierre
said on 8/Dec/17
he look a strong 5"11' in the picture next to Rob imo
Slim 185
said on 22/Nov/17
I could see this guy and Sam Neill both being the full 6'.
Slim 185
said on 15/Nov/17
Honestly in peaky Blinders he looked quite tall, I'm even thinking he was leaning in the photo and the *sigh* 182/6' listing might even be possible.
Slim 185
said on 11/Nov/17
Hi, thanks for the request. Now please add to "Gotham" page, he plays "Ra's al Ghul",
And yes he's a main cast member now 😉.great underrated actor aswell.

Editor Rob
there's probably a few more names to add to Gotham, the Game of Thrones now has the vast majority, but those with only a couple of episodes, well I'm leaving some out from categories, sometimes you have to do a cut-off like 4 episodes else it becomes too big.
Slim 6'
said on 2/Nov/17
Rob, he needs a downgrade to 5'11.5" tbh.
Slim 6'
said on 21/Oct/17
Sam Neil would definitely edge this guy out.
Slim 6'
said on 7/Oct/17
@Del Mar and I are correct, he's 181 range (5'11.25"-5'11.5")
I guess tall in America.
Del Mar
said on 17/Sep/17
Looks like an arabic Nick Stahl, and I'd say more 181ish
Slim
said on 12/Sep/17
Looks nothing above 5'11".
Slim
said on 11/Sep/17
Please take a quarter inch.
Josh b
said on 9/Sep/17
Rob, you think this guy is a height loss candidate down to 5'11.25?

Editor Rob
on DS9 I'd have said he looked closer to 6ft than 5ft 11, but in last couple of years he could look not much over 5ft 11. Has he lost 1cm at 51? Maybe not that much, possibly 1/4 inch.
Slim
said on 30/Aug/17
I see 3 inch difference at most, 5'11"-5'11.25" for this guy.
Slim
said on 28/Aug/17
For starters, socks do add height, and his claim is wrong he doesn't look 6' at all, I'd give him the flat 5'11, even a strong 5'11" like jones looks tallish, wether as this guy looks average.
Slim183
said on 16/Aug/17
He looks 5'11 in the picture.... add him to Gotham aswell pls, I believe he played Ras al ghul.
mickey
said on 27/Jul/17
looks 5ft11-5ft11.5 there.
World Citizen
said on 26/May/17
Looks 5 ft 10.5 with you to me, but 5 ft 11.25 with Josh b.
Peter 179cm
said on 10/Feb/17
Still he doesn't look over 179 to me (in the picture),that's why i said he is 180 range-i was being generous! ;)
Giorgi
said on 8/Jan/17
Peter 179cm said on 12/Jul/16
181cm at most,actually more like 180-180.5 range
I don't think so. He is obviously an upper 5'11" guy unless he has a considerable shoe advantage. Rob has met many celebs in person like this and he has a good eye about height in general. I really doubt he would miss almost an inch difference ;)

Editor Rob
Siddig was nearly 6ft, but last few times I seen him I did think he was looking a bit shorter than 9 years ago, but as people get to 50's that's when the first little fraction can go.
S.J.H
said on 24/Sep/16
Nose level 5cm taller than rob , but top of his head to rob head not accounting hair look genuine 7cm to max 8cm taller. I believe he measured 182.2cm in the morning with socks maybe 1-2mm and holding strong 181cm a mid day. Up here rob look a little closer to the camera. A strong 5'11.25
Peter 179cm
said on 12/Jul/16
181cm at most,actually more like 180-180.5 range
Sam
said on 14/Nov/15
Closer to 5'11 is possible, maybe 181cm or a weak 182cm.
josh b
said on 30/Sep/15
Here is my photo with Alexander
Click Here
Jake: 1.84 m- 1.85 m
said on 23/Sep/15
He looks the listed height. Solid 182 cm for Siddig, is a good listing I think.
Rampage(-_-_-)Clover
said on 20/Jun/15
Rob can you confidently distinguish between a strong 5ft11 and a weak 6ft through observation alone?

Editor Rob
most of the time a half inch up close can be noticed. But a well postured 181 guy could easily appear to people almost 6ft and an almost 6ft guy with a loose posture might just look a 5ft 11-11.25.
Dmeyer
said on 7/Jun/15
5'11.75 peak 5'11.25 now from wath you saw

Editor Rob
diet can play a role in retaining height. If you have good variety of minerals and do at least maintain some basic exercise, I feel this will help.
Dmeyer
said on 7/Jun/15
This Guy could be my Height 181-2cm today i realy am in between 181 182 as at night i can 181.8cm on relaxing day 181.4-5cm on typical and 181.3cm on active ,

Editor Rob
he is 2cm taller in person than colm is, although that was 8 years ago nearly...last time I seen him I thought he wasn't that much over 5ft 11!
Judd
said on 4/Apr/15
i think he's an honest 5'11.75" guy...he looks in the picture above likey 8 cms taller than rob, but rob has maybe better posture...5'11.75" is legit IMO
Hypado
said on 22/Feb/15
Alexander Siddig's height is 5ft 11.75in (182 cm)
Looks this next to 170cm - 5ft 7in Nana Visitor in Star Trek.
Mike 1.82
said on 7/Dec/14
never!!! 1.78 barefoot next to Rob 1.74! unless he is barefoot in that pic
Rampage(-_-_-)Clover
said on 3/Nov/14
Rob, could 5ft11¼ be closer now?

Editor Rob
he might be 5ft 11.5, 11.25 I'm not as sure he'd be that mark today. But in DS9 days I think he generally looked almost 6ft.
Emil 183 cm
said on 21/Oct/14
@Rob
How tall did he look in person? Looks 5'11 minimum

Editor Rob
not as tall as a six footer, I seen him last year aswell and thought he could be 181 or 2 range.
TJE
said on 21/Jul/14
More like 181-182 range.
Alex 6'0
said on 20/Jun/14
He looks like he'd be more than just 1/4 inch shorter than me. I had more height on Rob than he does here
avi
said on 28/Apr/14
I don't know. If I posted a picture next to someone and the difference was this much Rob would say it was 2.5 3 tops!
Rob this is like the difference between me and my dad. Could 3 -3.25 be closer?

Editor Rob
I think he did look near his claim, but this picture doesn't show a proper 182vs173
Alex 6ft 0
said on 29/Mar/14
I see more 5'11 here
Bubba
said on 15/Mar/14
5'11.75 spot on
Theodore
said on 22/Feb/14
I'm not seeing 3.75" inch of difference between him and 5'8" Rob in the pic.
I'm would say he's more like 5'10.5", judging from the photo. But I can see how he could fool some ppl... Siddig has a rather thin build and small head, which makes him seem taller than he is.
diavolo
said on 14/Nov/13
In the DS9 episode Past Tense, Terry Farrell (also listed here as 182cm) is wearing ca. 2.5-inch heels, and yet she looks shorter than Siddig. Of course, that could be clever camera angles or his footwear.
Emil
said on 12/Sep/13
@Rob
I'm 182 cm in my green man suit
kreyzig 6ft 3in
said on 28/Aug/13
He is definitely taller than gill birmingham.Down-grade for birmingham??
Nas5ft11
said on 1/Jul/13
@Arch then 5ft10.75 stallones figure would be plausible...lol.
Arch Stanton
said on 12/Apr/13
It's hilarious people saying "5'10.5" tops". His website gives a very specific figure like "He's 5 feet 11 3/4 inches in his socks"" If they were going to lie they'd say he is 6 ft or 6 ft 1 wouldn't they!! He "is" a legit 182cm as claimed and looks it here. This isn't even up for debate LOL. Obviously he has been measured properly at 182.
Dmeyer
said on 22/Jan/13
Legit 182cm probably dosnt drop a mm under 5'11.65 182cm in the pic looks under for some
Reason , he holds himself to well near 6'3 guys like macfadyen and woodside to be less than about 6'
Elijah
said on 6/Jan/13
He looks noticeably smaller than other actors listed at 182cm. 180cm MAX. Maybe even 179.
Aragorn 5'11
said on 23/Oct/12
5'11.25. 181 cm.
Dmeyer
said on 7/Oct/12
CAN look 183-4cm alot on 24 i doubt hé drops under 5'11.75 Rob do you think 5'11.75 is its very low at night wish means hé is about 6'0 or could hé be nearer 11.5

Editor Rob
I think he drops to a bit under 6ft by lunchtime, at 9-10am he is likely still near 6ft.

Lieutenant Height
said on 2/Oct/12
Watch him against Worf or Avery Brooks, he hangs with them dudes who are listed as 6'1 and 6'3. Either they aren't as tall, or he is taller.
Len
said on 19/Aug/12
I'm surprised at this. On Deep Space Nine, he never looked like a tall guy. Suspect he's more like 5'10.5" or 5'11".

Editor Rob
he really is near 6 foot at his tallest I believe.
ArjunaKorale
said on 16/Aug/12
I like this actor a lot & would love to see him in more things. It's weird, Rob, but my next door neighbour, strangely enough who's name is Julian (same as the character Siddig played in Deep Space Nine), is a dead ringer for this actor. My neighbour is even almost the exact same height as Siddig. My neighbour is around 183 cm, so is only a cm taller or so!
Jake: 1.82 m-- 1.83 m-- 1.84 m
said on 10/Aug/12
He's a strong 182 cm.
Jake: 1.82 m-- 1.83 m-- 1.84 m
said on 24/Jul/12
He looked tall in Syriana- very clearly surpassed
Matt Damon
in terms of height.
Hob
said on 13/Jun/12
in picture here he came 5'10. i believe he drop posture. 5'11.75 morning and probably stick no taller than 5'11.25 in real. search some of his photos looks a legit 5'11
steven
said on 19/Jan/12
he look 179cm. merely 2cm taller than brain austin green look next to rob.
Dmeyer
said on 9/Jan/12
Rob siddig didnt look under 5'11.75 to you because in 24 hé CAN look 6'

Editor Rob
I think the 182cm as is said on his official site is what he could look in person.
jake, 1.82 m- 1.83 m
said on 16/Dec/11
He looks a few inches taller than Rob, no more than 5ft 11.5in.
LAN Jiao
said on 9/Nov/11
179cm in pic here.
Dmeyer
said on 7/Nov/11
On 24 hé looks near 6' pics CAN be deceiving people apear within 1 " of theyr height in pics
SAK
said on 7/Nov/11
I cant see him being any higher then 180cm/weak 5ft11,
jake, 1.82 m
said on 6/Nov/11
1.81 m or 5ft 11.25in looks to be a better bet.
johno
said on 3/Nov/11
Looks 5'11
Josh B
said on 5/Sep/11
Definitely not 4 inches between him and Rob
omnomnom
said on 1/Sep/11
He's 6 foot tall exactly.
Daemon
said on 19/Aug/11
Looks accurate.
Josh B
said on 18/Aug/11
Must have been some damn big socks.
Dmeyer
said on 17/Jun/11
Hé should havé a 5 ft 7.75 eyebrow You mí¢ke it look 169 170 so nearer 5 ft 11
James
said on 20/May/11
rob was the person who took this photo really short?

Editor Rob
yes, the camera is probably 4ft 9 high.
dmeyer
said on 3/May/11
i believe is 182cm looks closer to 180cm in this shot
Rampage(-_-_-)Clover
said on 19/Apr/11
Actually he looks 178-179cm with Rob
James
said on 18/Apr/11
he lookes slightly taller than 181-182cm Trevor Eve in waking the dead
Rampage(-_-_-)Clover
said on 28/Mar/11
Looks 5ft11 flat
voicelessdentalfricative
said on 21/Feb/11
I'm only seeing 5'11.-5'11.25 here for some reason. I think his thin frame makes him look taller than he is.
James
said on 15/Feb/11
In the picture he actually looks 181cm in comparison to rob.
Anonymous
said on 29/Dec/10
182-183 сm
Dean
said on 2/Dec/10
Solid 3 inch...180.5 or solid 5'11..possibly 181 so claims 6 foot.solid 5'11 for sure though no lower than 180.5 for me
Matt
said on 22/Nov/10
looks a solid 5ft 11 at maximum. how old is this guy? maybe he was 5ft 11 3/4 earlier
Tri
said on 31/Oct/10
Cool guy, I approached him at the Doha Tribeca Film Festival the other night and he stood a lot taller than everyone. He easily seems to be near 6 foot.
Zahrah
said on 4/Dec/07
Yeh, Sid is just shy of 6'0"...so I believe 5'11 & 3/4
TNTinCA
said on 7/Jul/06
I can believe that height. He looked close to six feet in Syriana. Definately taller than
Matt Damon
and Clooney.
In DS9, he didn't look that much shorter than Avery Brooks.