Terry Farrell's Height
5ft 11 (180.3 cm)
Peak height was 5ft 11 ¾ (182.2 cm)
American Actress best known for playing Jadzia Dax on TV series Star Trek: Deep Space Nine and also for roles in Becker and Hellraiser III: Hell on Earth. She said she was:
"5'11 and three quarters in my bare feet"
in an online chat and matches up with what she said in 1982:
"Ford said I was too tall - I'm nearly 6 feet."
She also said on DS9 she wore very flat shoes a lot of the time.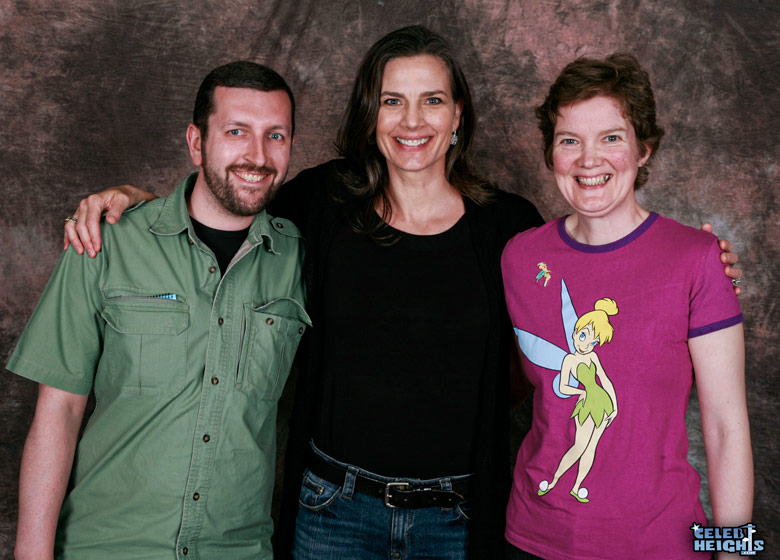 5ft 8 Rob, 5ft 8 Jenny and Terry @ Starfury Invasion 2011
Was 6' and now I'm shrinking... quickly I'm afraid. 😳 5'11" last Dr.'s visit.
You May Be Interested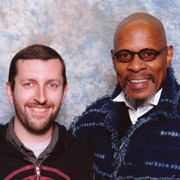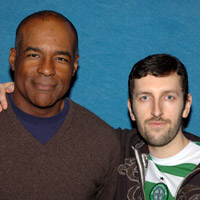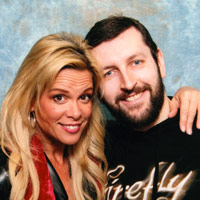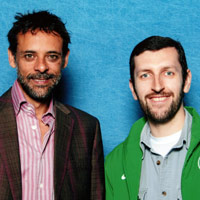 Add a Comment
83 comments
Average Guess (32 Votes)
Peak: 5ft 11.54in (181.7cm)
Current: 5ft 10.7in (179.6cm)
Miss Sandy Cowell
said on 2/Aug/20
I just missed all but the end of 'Hellraiser III - Hell On Earth', but I can see it on DVD, so I'm not too bothered. I was asleep, and I had the funniest dream about my boyfriend and Roger Daltrey, and I'm hoping it will continue some time soon, as is the case with my 'better' dreams.
I did catch enough of Hellraiser III to notice how very tall Terry was, looking around 6ft to my eyes. That's what she gets, peak, and 5ft11.5 today, which is still very tall, of course! 😁💐
Mimi
said on 12/Apr/20
I know that the average 50 year old woman loses an inch of height but Terry is not an average woman yet she has lost almost an inch in her 50s.
Pierre
said on 5/Apr/20
I tend to believe 5"11.75' was her morning height,then she was 5"11'/ strong 5"11' and now very weak 5"11'.
Click Here
Click Here
= here old pics(2000) she was only 37,standing a bit closer to the camera than David Hasselhoff 6"4',she looks no more than 5"11'to me
JohnMoore-162cm
said on 15/Mar/20
I guess she was 5ft11 1/2 , her present height is 5ft10 3/4" max
Nik Ashton
said on 24/Jul/19
Maybe her posture is not good in the above photographs!
Miss Sandy Cowell
said on 22/Jul/19
@ Josh B - Is that 'Lord of the Cats' I see written on your T-shirt? How amusing! 😹😹😹
Peak height for Terry - 5ft11.75
Now - 5ft10.75
I agree with YO7!!!! 😂😂😂
Nik
said on 16/Apr/19
Sub 5'11"!
Christian 6'5 3/8"
said on 11/Nov/18
Looks 178-179cm
Ticking Bomb
said on 23/Aug/18
Yep, that's what age does to you. I've gone from 6' and 1/2" in my 20's to 5'11-3/4 in my early 50's. Bummer.
Sandy Cowell
said on 25/Jul/18
I just saw Terry in 'Hellraiser III - Hell On Earth' and I can see her being noticeably taller than Doug Bradley, but only when he isn't appearing as Pinhead! There are some angles where they appear pretty much the same height, but other times, I can see three quarters to an inch difference.
There is another girl in this film who us 170cm called Paula Marshall. Next to Terry, she is quite petite!
I reckon Terry's peak was 5ft11.75, and she'll have definitely been at her peak in the year that was made. Now I still see her as a 5ft11 woman.
Interesting Fact - Terry has recently married Adam Nimoy, who, as the name would suggest, is the son of the late, great Leonard.
Nik
said on 24/Jul/18
It's nice to see her honesty!
Sandy Cowell
said on 23/Jul/18
Rob! Terry was in 'Hellraiser III - Hell On Earth'! She isn't in the second one.
As I am shortly going to watch it, I will be back later with her peak. Right now I think her present height is 5ft10.75.

Editor Rob
Yes I fixed that, Hell on Earth was one of the autographs I got from her that day!
Sandy Cowell
said on 11/Jun/18
What a superb picture of you three, and I don't half like Jenny's T-shirt! Pink suits her!
I was delighted to see Terry appearing in one of the (definitely superior!) 'Hellraiser' films. Mind you, Pinhead is such a scary piece of work that I didn't even take in that Terry was that much taller than him. Reason to dig it out? I think so! I own eight 'Hellraiser' films, and Terry's one, which is either the second or the third, is one of the best! I also rate the space-based fourth movie - highly original!
Today, I'd like to go for 5ft10.5 for today's height and 5ft11.75 for Terry's all-time high!
Nik
said on 6/Jun/18
Over 5'10", under 5'11"!
6ftMedium
said on 4/Jun/18
5ft 10 ½ very beautiful btw.
Mimi
said on 29/Mar/18
Rob how tall would a 5ft9.5-10 woman compare to Terry in similar shoes?

Editor Rob
probably looking just above end of her nose today.
Danimal
said on 26/Feb/18
even said on 27/Jul/17
her height is 5'10.75" , peak height was 5'11.5" .
She said she was 5'11.75" at her peak. Why give her less? It makes no sense.
Danimal
said on 26/Feb/18
Goes to show that women lose height faster than men, on average .5" per decade after 30 years ols and then it leap frogs exponentially after 70 years old.
Bobby
said on 10/Nov/17
That's a tall woman, I mean. Jenny already is a tall woman herself, but this gal was essentially 6ft in her peak.
Christian-6'5 3/8
said on 23/Oct/17
Looks between 179-180cm
even
said on 27/Jul/17
her height is 5'10.75" , peak height was 5'11.5" .
berta
said on 24/Feb/17
i think she measured herself in the morning or something at nearly 6 feet and was never taller than 181 and now last time she measured she measured 180,5 as she says, dont think she would lie when she said she have shrunk. 181 peak (182,5 in the morning) and today 180-180,5) about 0,5-1 cm loss. that is mutch at only 53.i think you are doing good if you not loose anythin before 60. but more than 1 cm before 60 then its bad
Editor Rob: some women may look young, but internally their joints, discs, bones may be 'older' than the exterior.

a half inch or 3/4 inch loss in 50's isn't impossible.
S.J.H
said on 17/Feb/17
I can't believe she shrink that much of 0.75" as she was 5 years younger than 6'0 suzie plakson. Up here she doesn't look over 5'10.5
Sandy Cowell
said on 14/Jan/17
I've just seen Terry in an episode of 'The Twilight Zone' in which she plays a mannequin who experiences what it's like to be a real person but then has to change back!
With her height, she was an excellent choice! It was from the 80's probably, when Terry will have been her optimum height - just under 6ft.
Csimpson 6ft
said on 30/Sep/16
Yeah she does look the height shes listed, spot on
Johan
said on 14/Jul/16
5ft 10.5 - 179 cm
She looks shorter than Loken did and is listed higher....
Peter 179cm
said on 12/Jul/16
180cm and that's with Rob leaning...
179 max.
Johno
said on 8/Apr/16
Looks the height she is listed.
5'11.25
5ft 9.25
said on 14/Mar/16
5ft 10.5 judging from the picture.
joe @@
said on 7/Oct/15
look 181 cm, 182 cm maybe weak
Allie
said on 6/Oct/15
180-181 from this picture. Anything more seems unlikely.
Emil 182 cm
said on 8/Jun/15
Looks 5'11 flat to be honest, Rob.
b-mint94
said on 30/May/15
She looks more like a solid 5'11" than near 6 feet.
josh b
said on 5/May/15
I think she may be around my height, but not over unless she dropped more than I thought.
Hypado
said on 22/Feb/15
Terry Farrell looks 3cm shorter than 185cm Avery Brooks
Perfect listing. Terry Farrell height: 5ft 11.75in (182 cm)
Judd
said on 31/Jan/15
honestly rob, i can't see her above 5'11"...
i am willing to bet money that if she will meet a "legit 182 cms girl" like Famke Janssen, she does look shorter than her by at least 0,5"!
same size as Kristanna Loken!
[Editor Rob: while always possible for a little bit of loss, I am not sure she looked a flat 5ft 11.]
Bishop
said on 18/Dec/14
181 cm. 5'11.75" was probably a morning measurement.
josh b
said on 12/Dec/14
@badboy 5'10 terry should have looked nearly 6'1 with her footwear, nowhere near that.
badboy
said on 21/Nov/14
How tall r u josh b ??
Judd
said on 16/Sep/14
5'11" in the pic with rob and jenny...she has a good posture so i think 5'11" is fair fo her...
Josh b
said on 3/Sep/14
Click Here
My photo with Terry, she had an inch more footwear and struggled to look as tall as she should have with this listing.
176,2Tunman
said on 21/Mar/14
I see a strong 3" so rather 181 or 5'11.25,maybe she measured herself in the morning?Anyways she certainly is 182 at one time or another,I just don't see a woman claiming 5'11.75 if she doesn't sincerly believe she's that mark.
Captain Stewie
said on 16/Feb/14
Definitely close to 6'0"
Connor 184.5-185cm
said on 1/Feb/14
Rob could Terry be 181cm?
[Editor Rob: yes she can look in 5ft 11-11.5 range at times]
Connor 184.5-185cm
said on 27/Jan/14
She looks more 181cm like Dmeyer, rob is quite generous listing her at her claim at 182cm but she's tall though.
truth
said on 26/Dec/13
I would say 5ft11 flat.
Phantom
said on 31/Aug/13
Not over 5'11", probably 5'10.5".
Jewel
said on 23/Aug/13
rob and terry's shoes are about 1 inch.
meaning they are about 2 inches apart. she is also bending on one hip. 2.5 inch diff looks about right.
5.11 is not that much diff from 5.8 (3 inches diff)
Elijah
said on 23/Jul/13
Wins the contest for the shortest 182cm on here, and her being a woman (you know, with the on average smaller head and thicker hair...) should make her look even taller than the guys at 182cm, but she looks clearly smaller than even the most generously estimated ones.
Only about 2 inch difference I see here. Nowhere near 4ish.
FG
said on 5/Jul/13
Hey Rob! Is she really 5'11.75 barefoot? She looks more like 5'10.
[Editor Rob: I think she might be a little less, but definitely somewhere in 5ft 11 range]
Byron T.
said on 30/Mar/13
Wow! I didn't know she was this tall! She does look over 5'11.''
Johan Cruyff
said on 29/Oct/11
She's:
Morning(out of bed)= 5'11.6" (1.82 m)
After 1,5-3 hrs= 5'11.25" (1.81 m)
After 5-10 hrs= 5'11" (1.80 m)
In the pics she's a strong 1.79 m, how rob explained, but it's clearly she has a good posture in the pic! Although rob's shoes are maybe a little thicker, i think she's a solid 1.79m-1.80 m, no more! She's very closer to Kristanna Loken, i think! 1.82 m for her is overstimated!
USYD
said on 10/Aug/11
@ Rob
If that's true, why'd you list her as 5'11.75"? Well, I think she definitely looks over the 5'11" mark since you said that she wore very flat shoes, and if what you say is true, then that explains why you claim to be only 5'8"! Well, you showed that there's a 6cm difference between you and her, and you must be 5'9" roughly, and that she's in flats, so she's still around 181cm-181.5cm. For me, losing height takes a while, like 14-15 hours to get to my lowest.
[Editor Rob: she had an under 1 inch shoe on, it didn't look much different in thickness than my 0.7-0.8 inch sneaker.]
rob89
said on 1/Aug/11
Doesn't look anywhere NEAR a legit 5'11.75" here at all. Actually to be honest she only looks 5'10" - 5'10.5" TOPS, especially considering she's standing perfectly straight while Rob seems to lean slightly towards her. If she were really just under the 6' mark you shouldn't reach above her eyebrows LOL. Can't believe people here think she looks 5'11" to 6' in this pic!
USYD
said on 31/Jul/11
She's close to 50? My God does she look young! And pretty, I might add.
I can definitely believe 182cm-183cm for her prime, but 181cm-182cm now. 5'11.5" is spot on for her since she does not look like a full 6'0" would. I say this because the difference my sister and I is roughly the same as Jenny and Terry. My sister is 176.1cm, and I'm 183.3cm, so that's a 7.2cm difference. Maybe there's about a 7.5cm difference between 174cm Jenny and Terry, so Terry is definitely at least 181.5cm. She can't be any lower than that, and if this was taken at night, then it's perfectly fine for her to claim 5'11.75", or more prudently 6'0". She's definitely 182cm.
[Editor Rob: to answer Alex, this was about 5 hours after getting up, so 5ft 8 and 2mm is accurate.
US, I'm not quite sure about trying to give 174cm to Jenny, here is an actual video at tea time
Showing her 172.6cm on the stadiometer
...so her lowest can in fact be 172.4cm because of the 2mm error...and she's standing tall for that measurement, I know...because I'm watching her ;)]
J.J.
said on 30/Jul/11
I honestly see 181cm most. She quite possibly is 5'11" flat
Moke
said on 30/Jul/11
Rob (and Jenny) generally looks a bit taller than their listed 5'8.
David
said on 29/Jul/11
She's pushing 50, so her peak height waking up after a good night's sleep when she was 18-21 must have been at least 6'0" if not more.
guyfrommars
said on 28/Jul/11
She wore the flat male version boots on Deep Space Nine instead of the female version with heels. One exception was the episode Trials and Tribble-ations, when she had '60s-style go-go boots with 2-inch heels. With those, and a '60s "beehive" hairstyle, she looked taller than 6'1" Avery Brooks. 5'11.5" is correct for her.
xyz.reg(6 ft 0.5er)
said on 28/Jul/11
@rob...I have plain simple hairstyle..An inch is a very short amount..people guess me 6ft 2in at almost all times..so no doubt she might be guessed 6ft 1in most of the time...what do u say..if she is 5ft 11.75in at lowest what could be her morning height...!!!
[Editor Rob: 2cm more than evening is likely]
Danimal
said on 28/Jul/11
Could have been 5'11.75" in her 20's/30's. She's almost 50 years old. Women lose more height than men. Average woman loses .5" every decade.
xyz.reg(6 ft 0.5er)
said on 28/Jul/11
hi rob..if i stood with her where would she come upto...compared with me..i mean 0.8in difference wouldn't be noticeable...what do u say..!!!
[Editor Rob: I think you might be an inch taller than her, depends on your hairstyles as well, you could have no hair or big hair, it can fool people.]
Alex
said on 28/Jul/11
James, she could be 180cm but that may be slight stretch
[Editor Rob: at this event I saw her standing at various times with Aaron Douglas and JG Hertzler. She was a bit smaller than JG, but a bit taller than Aaron.]
Derek d.
said on 28/Jul/11
Very attractive. Listing seems about right.
SAK
said on 28/Jul/11
To me she looks 5ft11 flat, maybe 181cm @ her highest,
Larc 6 ft 1.75 in
said on 28/Jul/11
Still looks pretty good at 48y, she was hot when younger.
But I see barely 181cm or 5'11.25, on average a real 182cm would have an eyelevel between 170-171cm, and her eyelevel is clearly shorter than that.
Plus her head looks normal sized, to not consider you're also bending a bit in the pic Rob.
James
said on 28/Jul/11
rob do you agree she does not look over 179cm in the photo?
Alex
said on 28/Jul/11
Rob, what do you think you and Jenny are measuring barefoot in this pic? 5'8 1/8-5'8 1/4? If so I wouldn't give her more than 5'11 barefoot.
Alex
said on 28/Jul/11
I dont see 5'11.75. She looks 2.5 inches taller than Rob and Jenny. 5'11 tops for her.
Josh B
said on 28/Jul/11
Looks closer to 5"11 flat than 6 foot.
ms90
said on 10/May/09
To CelebHeights Editor:
From sf newsgroup: "Terry Farrell isn't near six feet! I've met her, and she's tall, but not that tall. I'd guess a little over 5'9"."
A little = 2.5"
guyfrommars
said on 9/Apr/09
She wore the flat male version of boots in DS9 instead of the female one with smaller heels, probably to prevent Terry from outgrowing her male co-stars. She only wore heels when they visited the original series Enterprise, having 2-inch boots on.
Jaxa
said on 2/Jan/08
she has said in an interview that she's 5'11" ans 3/4 tall
glenn
said on 12/Dec/07
exactly sf.i hear you.i wouldnt mind you gettin alot of pics.i appreciate that helene.
sf
said on 12/Dec/07
I would like to see a photo of her and ME!
H
said on 11/Dec/07
Glenn: Yes, you. Who else?
glenn
said on 8/Dec/07
me? me too.
H
said on 7/Dec/07
I would like to see a photo of you with her.
Alex
said on 23/Oct/07
In Hellraiser 3 she looked at least 5'10-5'11. Wasn't sure she was 6'0 but I can believe it though. One tall girl. She was as tall as taller than Pinhead too.
Georgy
said on 1/Apr/07
well she looked perfect in ds9 where almost everyone was over 6' except quark ofcourse
Anshelm
said on 15/Feb/06
Next to high-heeled Jeri Ryan: http://www.tallpeople.org/photos/data/3740/5362Seven_of_Nine_und_Jadzia_Dax.jpg
Issheuhboy
said on 11/Oct/05
If you watch DS9, she's definately an inch shorter than Alexander Siddig, who's 5'11-6'0
CelebHeights Editor
said on 24/Aug/05
From sf newsgroup:
"Terry Farrell isn't near six feet! I've met her, and she's tall, but not that tall. I'd guess a little over 5'9"."