Andrew Robinson's Height
5ft 10 (177.8 cm)
Peak height was 5ft 10 ½ (179.1 cm)
American Actor best known for playing Garak on Star Trek: Deep Space Nine and for roles in films like HellRaiser and Dirty Harry. This photo was from a Collectormania event in Milton Keynes in June 2009. Andrew had
New Balance
, which were slightly more thicker than my sneaker.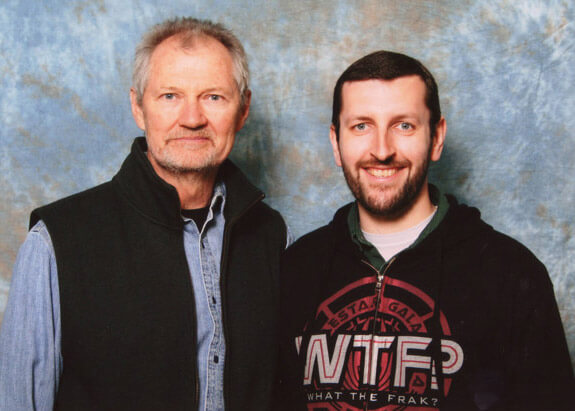 5ft 8 Rob and Andrew
You May Be Interested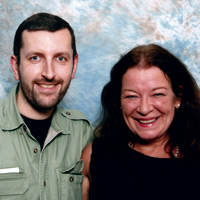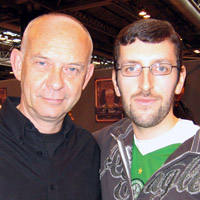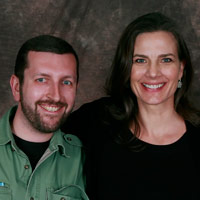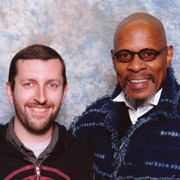 Add a Comment
61 comments
Average Guess (22 Votes)
Peak: 5ft 10.68in (179.5cm)
Current: 5ft 10.13in (178.1cm)
Miss Sandy Cowell
said on 29/Oct/20
This first 'Hellraiser' film is DISGUSTING!
Apart from the extreme violence that you'd expect from a Clive Barker movie, Andrew's Larry and his wife are quite content to share their home with an army of rats - yuck!
Well, at least they act as biscuity snacks for Frank inbetween bodies!
5ft11 peak
5ft10.25 now
🐀🤮🐀
Miss Sandy Cowell
said on 20/Jul/20
I saw 'Hellraiser' again last night, and wasn't Andrew a PUSSY? 🙀 It was just a bit of blood, for crying out loud! Well, rather a lot actually, but there's no need to act like THAT! 😝😂😂
Andy can't be in real life though, or he wouldn't take on such scary parts. Could have been nearer 5ft11 in 'Dirty Harry'...
Peak height - 5ft10.75
Today - 5ft10
MrFish
said on 23/Mar/19
Rob, how tall do you think Paul Dooley, who played Garak's father (Enabran Tain) in several episodes of DS9, looked with Andrew Robinson?

Editor Rob
5ft 8-9 range is possible for him, though on ds9 he was into his 60's so might have dropped some height by then.
Sandy Cowell
said on 15/Feb/19
I noticed in 'Dirty Harry', Andrew went by the name 'Andy'! Come 'Hellraiser' and beyond, he was back to Andrew. That's growing up for you! 😉👍
Sandy Cowell
said on 14/Feb/19
🎁🎂🍻 Happy Birthday Andrew!🍻🎂🎁
We have another Valentine's Day Birthday! It's Andrew Robinson's special day today too. Many Happy Returns of the Day! 🎈
Nik
said on 30/Jan/19
Andrew Robinson could pass for 5'10.25" in the photograph above!
Sandy Cowell
said on 27/Jan/19
No! That's amazing to think Andrew played Garak in 'Deep Space Nine'! I watched it in the 90's, so I was already well and truly familiar with the 'Hellraiser' films, the first three of which I saw at the pictures.
Ha ha! Andrew is another star who had me well and truly fooled from the 'Star Trek' follow-ons! I DID notice him in one of the 'Chucky' films though, and he didn't fair very well in that at all!
5ft9.75 now and 5ft10.5 peak.
Bobby
said on 30/Dec/18
Rob how tall would you peg him next to Josh? He seems like he's dropped under 5'9 there or does he just have bad posture?

Editor Rob
I dont know how great his posture is, he could be in 5ft 9.5-10 nowadays.
Zampo
said on 7/Nov/18
I think he looks a solid 5'10 in the photo. Nearer 178 than 179. Average guess seems about right when adjusting for the slight footwear advantage. 5'10 is OK.

Editor Rob
He probably did lose some height by that time, so 179 range is likely, he could look near 5ft 11 at times in film.
Ben
said on 19/Jan/18
Looks more 5'10.5"-5'10.75" in the picture above.
Bobby
said on 9/Nov/17
Looks over 5'10, I thought 5'11 when seeing him. Has to be a minimum of 5'10.5.
Greg
said on 21/Oct/17
Andrew is probably about 5'10 here, like most folks he's likely lost an inch or so and was most probably around 5'11" minimum when younger.
Victor Surratt
said on 6/Aug/17
Legit 5'10 with Rob.
Sandy Cowell
said on 3/Aug/17
@ lactose - Hi! That's a sweet and milky name you've chosen for yourself! I like it! 🍶
Tonight Andrew gets 5ft10. As I mentioned before, I did view him as taller. It makes me wonder as to the height of Ashley Lawrence, the girl who played his daughter in 'Hellraiser'! He looked quite a bit taller than her. Clare Higgins, his wife in the film, is 5ft4, if I remember rightly!
josh b
said on 3/Aug/17
Click Here
great with fans :P
Editor Rob: he could have dropped another fraction by 2017
lactose
said on 2/Aug/17
5'9.5, sneaker advantage.
World Citizen
said on 28/May/17
5 ft 9 3/4
Sandy Cowell
said on 28/Feb/17
He looks rather disgruntled in the above picture! That's probably because he's just found out the fate of the next character he's going to play!
Here Andrew - have a drink on me! 🍺
I'll give him 5ft10 on the evidence of the picture comparison, though I reckon he's slouching a bit! He used to be taller, surely?
Jordan87
said on 27/Feb/17
5'9-3/4". Top of his head doesn't quite make the 5'10" mark. His hair however does.
Sandy Cowell
said on 11/Nov/16
I expected Andrew to be 5ft11 to 6ft!
I have only seen him in 'X' rated-style films. He was an arch-villain in 'Dirty Harry', he met with a sticky end in one of the 'Chucky' films but his part in 'Hellraiser' was head-bangingly scary! His performance frightened me as much as his demise! His creepiness, his voice, his skin complexion - the lot!
He hasn't survived in any of the three films I have seen him in, in fact! I wonder if he'd contemplate playing in something nice?
Sam
said on 11/Sep/15
Roughly 5'10...178cm-179cm probably just about fits his range, but doesn't look as tall 5'11 to me.
Rampage(-_-_-)Clover
said on 23/Apr/15
"Peak height was 5ft 10½in (179cm)"
Rampage(-_-_-)Clover
said on 3/Mar/15
Rob is 179cm peak possible?
[Editor Rob: not impossible.]
Realist
said on 26/Jul/14
5'10.25 Rob.
Brad
said on 9/Jul/14
As listed but looks much shorter in Dirty Harry with Don Segal's camera angles always up on Clint making him look like a building.
Arch Stanton
said on 5/Jun/14
Gives a 5'11 impression actually at first glance here. That sort of heigh forehead and hair on top always gives the impression of a taller guy.
Voiceless Dental Fricative
said on 21/Nov/13
good posture + small head + closed mouth + thinness = illusion of extra height
Kourosh 177cm
said on 3/Sep/13
he is taller than 5'10 in this pic. 5'10.5 seems more accurate
Alex (London)
said on 28/Jul/13
He looked noticeably taller than Sylvester Stallone in the 1986 film 'Cobra'.
Does that mean Sly is smaller than listed OR he did not wear his elevator shoes in that film?
Jason
said on 17/Jul/13
I agree with USYD. He looks 179 cm.
J
said on 8/Mar/13
Looks at least 5'9.5 to me.
Stephen
said on 8/Jan/13
short head = tall impression -- reality 178 cm bang on -- decent height
lolo
said on 19/Sep/12
the tallest looking 5'10 guy due to his head size
johnnyfive
said on 11/Sep/12
Valid point, Rob. I have seen a some people who I have thought they were taller, but as I get close to them I notice they are my same height! The reason why they look taller is because of their shoulder level which is higher than mine and head size, many times smaller than mine. This is very common especially with females my height. (i'm around 184 on the dot for most of the day and can drop to 183.7 at bedtime)
johnnyfive
said on 9/Sep/12
Looks close to 5'11 with his slight advantage. Classic example of a strong 5'10 guy, I imagine Guy Pearce looking exactly like this next to you.
[Editor Rob: still not seeing this near 5ft 11 that some see, I'm convinced people go by chins and not by top of heads :)
My Father versus Andrew
...
I grew up with a measured 5ft 10 man, it's a height I'm very familiar with ;)]
greg
said on 17/Aug/12
What others have said, its difficult not to see this guy at least being close to 5ft11, and he must have been that or more when younger. Many stories abound about how he struggled with his role's character during filming of "Dirty Harry" with Don Segal and Clint Eastwood, since he's a very gentle soul in real life.
Andy 5'11
said on 26/Jul/12
5'11 peak 5'10 and a quarter now
ChiasmataX
said on 22/Nov/11
Perfect example of a legit 178cm guy with a 173cm guy.
USYD
said on 5/Oct/11
He's a legit 178cm-179cm. People would think he's about 5'11", at least, I thought he did at first.
Rampage(-_-_-)Clover
said on 3/Jul/11
Upstraight he'd look a solid 179cm if not 180cm
Dean 5 ft 9.25
said on 1/Jun/11
This just proves a legit 5'10 is a solid height..and not judging by chin but by top of the head he clearly looks comfertably taller.
Hullywuud
said on 31/May/11
If he is 1.77-1.78 wiht shoes rob, hoe can he be 1.78 without shoes?
[Editor Rob: that's without shoes, I'm 173cm barefeet.]
Rampage(-_-_-)Clover
said on 28/May/11
Which means upstraight he'd be a shade over 5ft10, Rob?
James
said on 3/May/11
5'9.75 (177cm)
Rampage(-_-_-)Clover
said on 2/Apr/11
5ft10.5(179cm) peak
5ft9.75(177cm) today
Rampage(-_-_-)Clover
said on 31/Dec/10
5"10.5(179cm)....peak at least
lolo
said on 27/Nov/10
this is the tallest looking 5'10 rob has a picture with .
small head and high shoulder reall help
jenny
said on 24/Nov/10
5'10'' Seems about right- I met him earlier this year, he was great fun and a real gentleman!
Mathew
said on 7/Jul/09
Looks a solid 5'10".
RICHARD
said on 7/Jul/09
Wow he aged ! I still remember him as Scorpio in Dirty Harry and that father in Hellraiser;come to think of it he was that demented,sadistic barber in Chucky 3. He's a very good actor yet never made it to be a big star like Eastwood. I do remember him being shorter than Eastwood in Dh,but not by much because he looked 5'11-6' next to him but 5'10 sounds good enough for him
Joe
said on 7/Jul/09
he looks 5'11.
rk
said on 6/Jul/09
he was a bit shorter than sly in cobra so i'd say about 5'8.5
RisingForce
said on 4/Jul/09
Stallone looked slightly taller to me in Cobra, about an inch, but I think Stallone wore cowboy boots.
Lynn
said on 4/Jul/09
Rob,
sorry to tell you again, but it is impossible for a mature young man as you are do not know your exact height.
You know, 0.25" are a big number, that is around 0.6-0,7 cm.
How tall are you about 6-8 hour after wake up, doing some job, go out for business and than going to the medical office and take your height with a stadiometer?
I don't think that with these conditions you have a range of difference of 0,25".
Anonymous
said on 4/Jul/09
Looked the same height as Stallone in COBRA. Although he was in an episode of Martial Law in season 2 and he looked 6'4" serious, he was the tallest person in that episode.
Ed
said on 3/Jul/09
This is about right...5.10. btw, he was awesome in Dirty Harry and some of you may remember him from Shoot To Kill with Kirstie Alley, Sidney Poiter and Tom Berenger where he played a totally different type of character.
guyfrommars
said on 3/Jul/09
Pretty average height for a Cardassian. I believe Casey Biggs is ca. this height or half an inch less. Marc Alaimo is 6ft.
Vibram
said on 3/Jul/09
He looked 5ft10 (178cm) in Dirty Harry as the "Scorpio Killer" back in 1971 and still does...maybe 5ft9.75 (177cm) but no less than 5ft9.5. I wouldn't of recognized him compared to back then.
RisingForce
said on 3/Jul/09
Going by this picture he's a minimum 5'10" and closer to 5'11" when he wakes up.
miko
said on 3/Jul/09
Might be a hair under 5"10, could you do one of those height charts alongside him Rob?
I'll say 5"9.75
Brad
said on 3/Jul/09
Imagine him in the 70's going on auditions with that extra baggage of being the maniac from "Dirty Harry"?. I met him around ST time, I think he's shorter.