Barbara Windsor's Height
4ft 10 (147.3 cm)
British actress best known for roles in the Carry On series of films and as Peggy Mitchell in soap opera Eastenders. She said in 2012
"I'm only 4'10""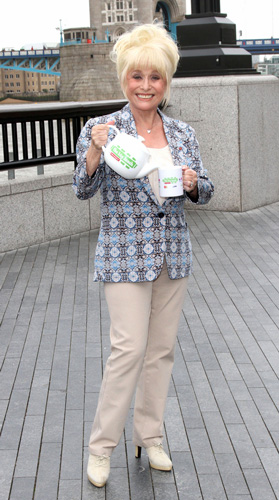 Photo by PR Photos
Add a Comment
20 comments
Average Guess (15 Votes)
4ft 10in (147.3cm)
Miss Sandy Cowell
said on 6/Aug/20
💐🎂🎊💝 Happy Birthday Babs! 💝🎊🎂💐
Wishing acting diamond, the legendary Barbara Windsor, a wonderful 💎83rd💎Birthday today; once I saw a clip of a very early acting role of hers. She was in a small shop with a friend and, at the age of 17, she looked like a proper little girl, and you'd have been forgiven for thinking she was an 11-year-old, with bags more growing to do.
Have a much-deserved magical Birthday, Barbara!
4ft10 👧➡️👱‍♀️🍀🌹
💐🎂🎊💝💐🎂🎊💝💐🎂🎊💝💐🎂🎊💝
Miss Sandy Cowell
said on 6/Mar/20
Bubbly Babs may be only 4ft10, but she's pure dynamite! I wish her all the very best! XXX
🌻 - The closest I can come to her bun!
👱‍♀️🌹💐🥀
Miss Sandy Cowell
said on 6/Aug/19
🎂🕯️💝 Happy Birthday Barbara! 💝🕯️🎂
I'd like to wish brave Barbara a very Happy Birthday and a healthy year ahead.
4ft10. 😁💐
🎉🎂🕯️🌹🎉🎂🕯️🌹🎉🎂🕯️🌹🎉🎂🕯️🌹
Sandy Cowell
said on 18/Oct/18
Brave Barbara, speaking out about her Alzheimer's. Life can be so unfair. She's contributed so much to the entertainment industry and people's happiness. What a wonderful little powerhouse of a lady. I wish her well and send her all the love in the World. 4ft10 of sheer magic!
😀😘 XXX
Littlelee168cm
said on 10/Sep/18
Could she have been 4ft 11 peak?

Editor Rob
It's possible she might have been over 4ft 10 flat
Sandy Cowell
said on 12/May/18
So sorry to hear that this superb entertainer is suffering from dementia. She has led such an interesting life and been acting since she was, I believe, 17, and looking like a proper little girl!
My love, prayers and thoughts are with her.
John Stannard
said on 10/May/18
I would've definatley gone 5ft here
lee168cm
said on 10/Feb/18
Rob would she be 5'1ish in shoes like this?

Editor Rob
Yes, it would be very likely she's in that zone with them.
Arch Stanton
said on 23/Apr/17
Yes no more than 4 ft 10. A little Blackpool showgirl esque in her prime, a bit tacky, but quite saucy.
Sandy Cowell
said on 26/Nov/16
I have just been watching an old Christmas edition of 'Family Fortunes' and Barbara was in it dressed as a fairy! She made the top two, winning prizes for sick children.
Needless to say, she was the smallest of all the celebrity contestants, but she always seems to do well in programmes like this, I've noticed!
She's not lacking in brainpower - just inches!
littlesue
said on 1/Nov/16
Some of the main actors in the Carry On films must have been on the shorter side as she does'nt look teeny tiny next to them, short obviously but they only look around 5ft 7 or 8
Arch Stanton
said on 30/Oct/16
@Rob, can you add the Carry On tag?
Sandy Cowell
said on 28/Oct/16
@ littlesue - You make me feel tall! I'm a full 3 inched more than you and Barbara.
Well, let's talk about the delightful Ms Windsor! Famous for being a petite blonde sex bomb, I feel she did a lot for the shorter woman! I adore her funny little characters in the 'Carry Ons'. How can anyone possibly not?
I was truly surprised and impressed when she joined the cast of EastEnders. It was hard to perceive that we were watching the same actress. She was a knock-out and it was so sad to see her leave the soap earlier this year, especially in the way she was written out, but she played the part of a proud lady.
She still looks terrific too! It would be grand to see her on TV again soon. I know she's partial to appearing in quizzes, but anything would be nice!
littlesue
said on 16/Dec/15
She says 4ft 10 in the paper yesterday, says she wants an extra couple of inches for Xmas, says she never minded being short but would have liked to have reached 5ft. Me being the same height I can understand that, I never minded being a shortarse but would have settled for 5ft.
John
said on 29/Sep/14
Ronnie was the taller of the two 5ft 7.5in and Reggie 5ft 7in.
BigN
said on 25/Sep/14
Spot on Rob.
Speaking of her could you estimate the heights of Ronnie and Reggie Kray? She knew them back in the day, and I can't seem to pin them.
littlesue
said on 14/Sep/14
Well she in her 70's now so bound to have lost a bit so maybe 4ft 10 or under now.
Chaz
said on 13/Sep/14
she as allways said 4'10.5''
littlesue
said on 13/Sep/14
Cheers Rob for adding her, she was always shown as either 4ft 11 or 4ft 10 1/2 in her younger days, like myself they probably rounded her up to 4ft 11. Due to age about 4ft 10 now, I shall gauge myself on her as she similar height and build to myself.
Arch Stanton
said on 13/Sep/14
I think she claimed 4'10 and a half back in the 90s, I read it in OK magazine I think.