Barry White's Height
6ft 2 ½ (189.2 cm)
American singer-songwriter best remembered for songs such as "You're the First, the Last, My Everything" and "Can't Get Enough of Your Love, Babe."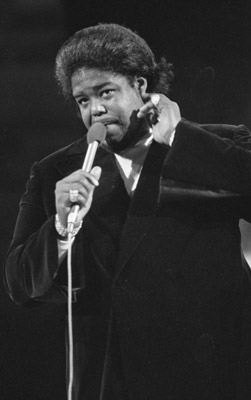 Nationaal Archief [CC BY-SA 3.0 nl], via Wiki Commons
James Brown by Heinrich Klaffs/Stevie Wonder (Motown)
You May Be Interested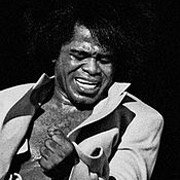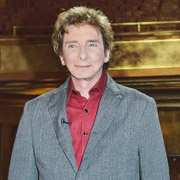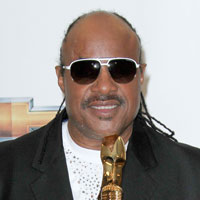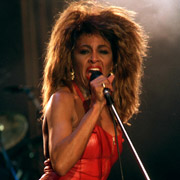 Add a Comment
64 comments
Average Guess (7 Votes)
6ft 2.75in (189.9cm)
Miss Sandy Cowell
said on 12/Sep/20
Barry White was born 76 years ago today. He passed away on July 4th 2003, aged 58. My Mum loved him; I wouldn't go quite that far myself, but he did have a great voice. 🎧🎼🎶
6ft2.75 🌞
RIP Barry White 🕯️
(12.9.1944 - 4.7.2003)
MrTBlack
said on 10/Jun/20
@Canson
I used to be a fan of his music. If you read his autobiography written by Marc Elliot he claimed " I had a spurt of 6'3.5" inches" when he was 14. He finished puberty early as well. I'm sure that's just a shoe measurement though but he overall did look over 6'2" but not sure if over 6'2.5".
Canson
said on 5/Jun/20
@MrTBlack: I didn't know he claimed 6'3.5?
MrTBlack
said on 4/Jun/20
@Rampage. I think it's possible. He claimed 6'3.5" on several occasions though he did look at least an inch if not more shorter than 6'4" Don Cornelius.
Rampage(-_-_-)Clover
said on 30/Mar/20
Rob, maybe 190cm?
Canson
said on 16/Feb/18
@MrTBlack: Agreed!! I was equally shocked a few Saturdays ago when he passed
MrTBlack
said on 16/Feb/18
@Canson
Btw RIP Dennis Edwards! Was shocked his death wasn't front page news. He will be missed!
Canson
said on 1/Sep/17
@mrtblack: o concur with 6'2.5 as well
MrTBlack
said on 31/Aug/17
@Canson
I still stick to my opinion on White though. 6'2.5" possibly 6'2.75".
Canson
said on 31/Jul/17
@MrTblack: I've seen Edwards 6'4 and 6'5. My guess is he's a legit 6'4 without shoes on
MrTBlack
said on 19/Jun/17
@Canson
I'm not sure about how he'd stand next to Edwards but Dennis Edwards was most certainly at least 6'4", maybe even 6'4.5-6'5".
White claims in his book "I had a spurt of 6'3 1/2" inches" but he never looked over 6'3" to me but generally has looked over 6'2" as well so he probably added an inch to his height like any other celeb/ person would do.
Canson
said on 17/Jun/17
@MrTBlack: looking at them against some of the same people and in concert etc on TV. Edwards was tallest member of the Temps
MrTBlack
said on 17/Jun/17
@Canson
Never seen White next to Edwards.
Canson
said on 7/Jun/17
Listed height looks correct he was never as tall as a guy like Dennis Edwards from the Temptations who was a legit 6'4" maybe even a strong 6'4" in his prime
MrTBlack
said on 30/Jan/15
Thanks Rob. 6'2.5" maybe 6'2.75" sounds good but I do think the person who said 6'0" was being ridiculous. He seemed like a genuine man and doubt he'd exaggerate by nearly 4".
MrTBlack
said on 28/Jan/15
Hey Rob, I think 6'2.5" is better for Mr White. Here he is with 6'4" Don Cornelius.
Click Here
5'8" Dick Clark
Click Here
And looked barely taller than David Letterman.
He did claim 6'3.5" in his book and have heard that he was only 6'0" tall, to be fair though, he never looked below 6'2" just from judging his proportions but I think pegging him at 6'2.5" or 6'2" would be a better listing.
[Editor Rob: yeah he could really just be giving a shoe height so 2.5 might seem more sensible!]
MrTBlack
said on 26/Oct/14
@Rampage
This is the most I could buy for him and dubious about it. There's no doubt about it that Barry White was in the "tall" category but seeing all these pics of Rob next the 6'3" and 6'4" guys, Barry seems to be struggling with 6'3".
Rampage(-_-_-)Clover
said on 10/Oct/14
6ft3¾ was perfect
MrTBlack
said on 9/Sep/14
Rob,
I think he claimed he was 6'3.5" but don't you think that's a bit of an exaggeration? He looked 6'2.5" best next to dick clark.
[Editor Rob: need to find some more comparison of him to see]
MrTBlack
said on 13/Jun/14
@Mike
I'd always like to picture the Maestro as a 6'3"+ guy but I doubt he was that tall. Maybe he lost height or hunches because he's obese but my money is on 6'2"-6'2.5" for Barry since he looked barely taller than Letterman.
mike
said on 9/Jun/14
Rob, why do you list 6ft 3.75? there's other sources that say 6ff 3.5 and i think thats a better listening.
MrTBlack
said on 16/May/14
Hey Rob,
I randomly found this news article on Barry White. It says that Barry was 6'4" and His son was 6'3".
Click Here
MrTBlack
said on 23/Mar/14
@Wat
Yeah I was wondering that. You can tell MR White was at least 6'2" because he has long legs
and torso but I ain't to sure if he was 6'4". He's not shorter than Letterman for sure but still pondering
his actual height.
wat
said on 27/Feb/14
If Dick Clark is listed as being 5'8 on this website and Barry White has the top of his head around eye level. Wouldn't that make him 6'2.5
MrTBlack
said on 29/Oct/13
No, he looked at least an inch taller than him to me. Here's him next to Dick Clark. So I'd say 6'3.5-6'4" is about right.
Click Here
lol
said on 12/May/13
Didn't look taller than David Letterman
Ed
said on 2/Nov/10
however, my 6'7" father dwarfed him!
Ed
said on 2/Nov/10
I saw him in Pittsburgh and the 6'4" listing is accurate. I'm a shade under 6'3" and he was about an inch taller.
Big King
said on 8/Jun/09
I read that White became almost 6'4" at the age of 14.
sprint84
said on 22/Apr/09
Is there some mix-up with this page? Why are half the people having a completely unrelated debate about tall basketball players?
[Editor Rob: the number of this page was changed a while ago and old comments for the basketballer weren't moved.]
Bigman
said on 16/Apr/09
He's 6'4" more than likely if you ask me.
thekiddd
said on 3/Apr/09
Yeah I don't know, most sites say either 6'3" or 6'4". He looks definitely taller than 6'3". I think he was a full 6'4" not even 6'3 1/2" or 6'3 3/4" like alot of sites say.
Big King
said on 23/Mar/09
I read that White reached his 6'4" height at the age of 14.
aram x
said on 4/Nov/08
noticed that muresan has an extremely low forehead and a very elongated face for his head...he has hardily any forehead!
thekiddd
said on 30/Oct/08
He's 7'7" Barefoot making him 2 feet and a half inch taller than Crystal.
Willy 79
said on 23/Oct/08
Yao Ming is barely 7'5 if that. Muresan is like nearly three inches taller than a more than likely 7'4 Yao!
thekiddd
said on 17/Oct/08
No. If you watch his live performances on dvd, he wears big disco shoes. Still very tall nevertheless.
willy79
said on 22/Sep/08
Sing says on 5/Jun/05
nope, Bradley is taller than Gheorge.
What ever, really dude Bradley and Bol were 7'6 and Muresan 7'7! So Yup, Muresan is taller!
Big King
said on 21/Sep/08
White is more 6'4 1/2".
Aram x
said on 28/Jun/08
bol probably has the longest wingspan of all them though, and yes, yao isn't taller than muresan although he does appear to be the same height as bradley though.
Aram x
said on 27/Jun/08
manute bol is said to have a 8,6" wingspan though although muresan's at 7,10" is still pretty impressive. i wonder if bol can make a guiness world record with the longest wingspan of any living person?
Aram x
said on 27/Jun/08
Muresan's wingspan was 'only' 7,10" from the sources i've read but his arms look longer than (but than again he could have really narrow shoulders). he wasn't a beanpole either (but not tank either) weighing at a respectable 310lb or so playing weight. can he dunk w/o jumping of the floor. probably but there's no visual of it but i think he can, but i've heard he rarely goes for dunks preferring other types of shots (he thinks the dunking is too easy). and yeah, that Yasutaka Okayama guy was probably just a tall stiff, not worthy of the NBA. i am not sure if he had gigantism or was just that tall somehow?
Anonymous
said on 24/Jun/08
you guy's heard of kenny george? he's 7,7" (7.9" in his CUSTOM-MADE SIZE 28 SHOES!)weighs around 360lbs, and his wingspan is about 8 AND A HALF FEET (102 INCHES). He can literally dunk a basketball without jumping whatsoever which no current in the world can do (although there are somewhat taller players than Kenny, none of them have enough length to literally dunk without their feet leaving the floor).
Salva11
said on 29/Apr/08
Muresan in 7-7 231cm barefeet, Shaq a really and solid 7-1 i think over 7-2 with shoes coz he looks taller than claimed 7-2 Mutombo...
In front of Shaq Muresan is about 15 cm taller, Yao look taller tahn Shaq "only" 10 cm...
thekiddd
said on 18/Mar/08
BTW, I don't see any comment below of somebody telling me that he is 6'4".
thekiddd
said on 16/Mar/08
Barry White was very tall, and not skinny! He did wear somewhat big shoes making him look 6'5" or 6'6" but about a smidge under 6'4" is pretty much it.
Paul_Pierce_4_ever
said on 24/Feb/08
Wth? Why are you guys talking about basketball players on Barry White's page?
Shaq is 7'1"
said on 15/Feb/08
Muresan is 7'6 1/2" not a legit 7'7". Bol is 1/4" taller.
Anthony
said on 17/Dec/06
Barry was definitely 6'4 or close to it. I used to think he was shorter because he was so heavy, but seieng him next to average sized people made me realize just how big he truly was. 6'3.75 is pretty drana ccurate, though I wouldn't rule out a flat 6'4 either.
Jake
said on 9/Oct/06
Maybe 6'3 3/4" is correct. I lost all my respect for imdb after they raised Ryan Seacrest from 5'7" to 5'9". 6'3 3/4" does sound pretty cool.
thelasttiger
said on 28/Jul/06
6'3 3/4 is closer to almost 6'4 than 6'3 1/2" I don't really generally like to haggle about a quarter inch but 6'3 1/2 might be true but 6'3 3/4 sounds cooler.
I did think he was a ligit 6'4" in his pics though.
LSD
said on 28/Jul/06
Nah Nah Nah, all you guys are wrong. I've seen this guy, he is not 6'4" or whatever you say. He is about 6' or 6'1" he just looks really tall cause he is big and he wears shoes that make him look taller than he really is.
Jake
said on 19/Jul/06
His height was 6'3.5".
Click Here
Yes, I'm using imdb (I know they often over estimate.) They specifically say he "Has been almost 6' 4" since he was 14 years old."
thelasttiger
said on 25/Jun/06
Man I wish I could have seen him in concert. I miss him :(
Lee
said on 7/May/06
I still see him towering over everyone. Still on solid ground for his height.
Ogli
said on 7/May/06
6'3.75 is right on!
thelasttiger
said on 5/May/06
It says 6'3 75 on the link but 6'3 1/2 here.
Bear!
said on 28/Apr/06
Oh yes it was 6'3 3/4 my mistake that's where he was at in his days. My mistake
Anonymous
said on 27/Apr/06
It's from the book "Love Unlimited" I haven't read it in a while but I think that's what it said.
Anon
said on 26/Apr/06
Really! I thought he said he was 6'3 3/4 in that book maybe I misread it
[Editor Rob: is it his self-penned biography?]
LindoLando
said on 25/Apr/06
Change it to Current height 6'3.5. Peak height to 6'4" THat would be accurate for his younger days.
LindoLando
said on 25/Apr/06
You know Rob I do remember seeing Barry White and he was huge! In that movie Coonskin (aka Street fight) He looked about 6'4" or 6'5". He had to duck through the door. I personally think he is more than 6'3" cause I've seen him next to celebs and he is way taller than almost all of them.
Bear!
said on 25/Apr/06
I hear his height being listed as 6'3 1/2" he was probably 6'4" when he was younger but lost an inch or 1/2 an inch when he got older. His book did say
"I had a growth spurt of 6'3 1/2 " inches.
[Editor Rob: yes, possibly in latter years lost a cm, yeah...]
deepestvoice
said on 16/Apr/06
thank you Rob for adding Barry White and James Earl Jones to the list. I'm a fellow deep voice myself and I like to compare my stats with other deep voice legends.