Ben Browder's Height
6ft 0 (182.9 cm)
American Actor best known for playing John Crichton on sci-fi series Farscape and Lt. Colonel Cameron Mitchell on Stargate:SG1. His height was listed 6ft 1 in a football database although when I saw him in person I thought he was more about the Six feet mark. In a Scifi.com fan question and answer he said:
"I stand 6' 1" and often look to be 5' 6" [because of camera angles on farscape]"
.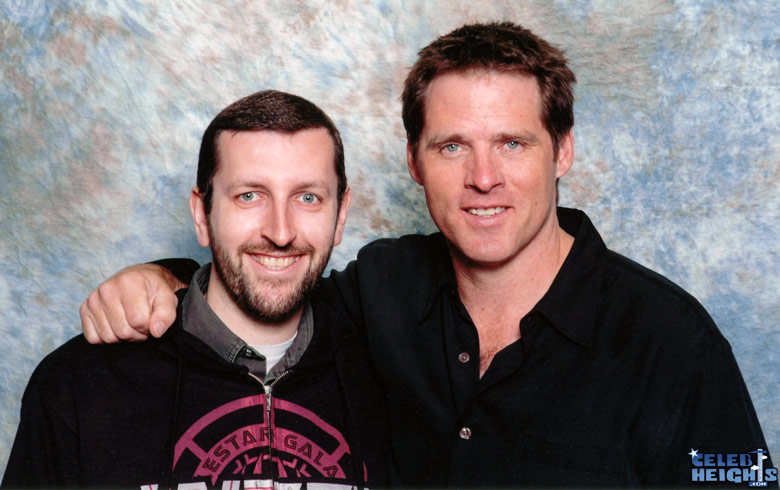 5ft 8 Rob and Ben @ Collectormania, 2010
You May Be Interested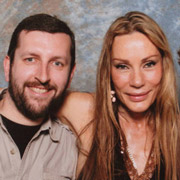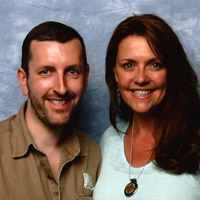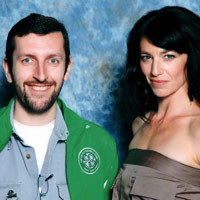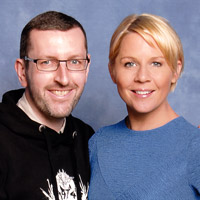 Add a Comment
79 comments
Average Guess (52 Votes)
5ft 11.42in (181.4cm)
Chris Junior Hernandez 1990
said on 7/Jun/20
He look tall in Bad Kids of Crestview Academy perhaps 6'0 is right. Understand he slouch and drop height with Rob so struggle to look 180cm.
Kaido
said on 24/May/20
he looks curently under 6 feet probarly 5' 10 3/4" 178 cm
Niagra
said on 25/Apr/20
In that picture looks barely 5'11
Jkiller
said on 29/Jan/20
Needs a slight downgrade Rob, 5'11.5 is more accurate.
Visitor
said on 9/Nov/19
I don't see how he could be LESS than 5'11... but not really more than that either.
Dhrew Ghelani
said on 23/Sep/19
Looks 5'11 tops
Logan M Barringer
said on 29/Aug/19
@Rob did he have a footwear advantage at all?

Editor Rob
Not from what I remember, a standard shoe
Lazar99
said on 3/Aug/19
No way strong 6"0" , he is 5'11.5" at most.
Importer
said on 7/Jul/19
With the slouch he looks 5'10-5'10 1/2. I think the average guess is the absolute minimum of what Ben could be. 5'11 3/4
Nik
said on 9/Jun/19
He looks under 5'11"!
VelikiSrbin
said on 6/Mar/19
Looks 5'10.75
Peter 180cm
said on 29/Jan/19
I see nowhere near 183cm.At most a solid 180cm judging by the photo unless he's dropping some height. In any case, closer to 5'11 than 6'0.6'1 is a very ignorant claim.
Nik
said on 23/Dec/18
He looks way under 6'0"!
Nik
said on 11/Nov/18
He does look under 6'0" in the photograph above!
Zampo
said on 25/Oct/18
I've come back to review Browder, off the photo, he seems around 5'11 flat assuming matching postures. I'm not a fan of being largely academical when assessing heights (leads to unnecessary speculation). Hence there is no way I can tell who is losing/gaining between Ben and Rob from this photo. All I can say is that I would expect him to be at least 5'11 as a starting point.
Bwk
said on 28/Sep/18
He looks 5'11'' at most in this photo with you, maybe even 5'10''7/8s. Unless you had more footwear than him here.
World Citizen
said on 16/Aug/18
Looks at most 5 ft 11 here.
Visitor
said on 11/Aug/18
Still puzzled. I just saw another Stargate episode, where they were in Atlantis and Browder looked taller than Flanigan and Shanks (those two looking roughly the same height) and again a LOT taller than Tapping. Browder was comfortably looking completely over her head, hair included. I've noticed they wear thick combat boots but I'd assume they're the same for all of them. So if Browder is only 181-182 cm, how on earth does he look that much taller than Amanda Tapping who's supposed to be 175 cm?
Another interesting thing is that Shanks looked surprisingly short, like 177-178 cm, next to Torri Higginson (who was NOT wearing the huge combat boots, but something that looked like mid top hiking shoes... a hardcore fan could probably find out the make and model... :)). And I don't mean Shanks looked "short short", but I would have expected him to look MUCH taller as Higginson is listed here at 170 cm. Weird...

Editor Rob
Up close I still think Shanks and Browder are hard to tell apart, Joe a bit shorter...though the last time I seen Michael, he wasn't quite as tall as 10 years back.
Junior Hernandez 1990
said on 13/Jul/18
He look 5'11 1/8 not sure if he stand worse than Rob. Footwear wise..
Visitor
said on 13/Jul/18
Don't know if it's relevant to this particular pic, but the eye height thing is not as straightforward as some assume. It depends on what you're looking at or who you're talking to. I know I lean, dip, hunch or whatever if I'm talking to someone shorter than me, if you measured my "eye height" there it would be pretty meaningless.
It's pretty weird how Browder is guessed substantially lower than Shanks. Their pics here would indicate a pretty similar height. Also in the Stargate ep I saw recently Browder looked comfortably 10 cm taller than Amanda Tapping, and also clearly taller than Shanks. I'd still guess him at 6' flat max, anything more is TV tricks.

Editor Rob
In person I'd have said both were very similar, although the last time I saw Michael he didn't seem as tall as 10 years back.
Nik
said on 29/Jun/18
A weak 6'0" is possible, the average vote is too low!
Zampo
said on 5/May/18
I think if he stood tall, he would have a 5'7 eye-level (more on the weak side), which is low for 6ft guy. He does however have a closer to 5 inch eye-level. Can't see him measuring anything higher than 5'11.75.
One thing I give Rob credit for is that he is meticulous with the language he uses in most of his posts hence leaving the option of one measuring a range rather than one specific height.. He has clearly stated in the description that "he was more about the 6ft mark".
Redwing
said on 22/Apr/18
Hey rob is his eyelevel in person 168 cm? And how do you measure your head length?

Editor Rob
Measuring head length can be a bit tricky. You could always try
This way
.
I think Browder does have close to 5 inch eyelevel, in person is he a full six foot? It's definitely possible.
Bobby
said on 12/Apr/18
@josh b, but then, why does the height scale show his eye level to be 5'6? A 6ft tall man has a 5'7.5 eye level, assuming their eye level is 4.5 inches from the top of their head to their eyes. Assuming his eye level was merely 4 inches, it'd be 5'8, or if 5 inches, it'd be 5'7. So in either scenario, a 5'6 eye level is not common for a 6ft tall guy.
Bobby
said on 12/Apr/18
He's 5'11 by the scale though, not 6ft. Solid 5'11 it looks like. Average guess is roughly 5'11.5, so weak 6ft.
josh b
said on 13/Jan/18
Well guys I was in the same boat as everyone, I looked at Rob's photo and thought "This guy is never 6 foot" but once again one photo is not conclusive. I saw this guy along with Michael Shanks, who most agree is 6 foot perhaps even slightly over, and well they were indistinguishable height wise. Browder may have even had the edge. Unbelievable really.
Anonymous
said on 9/Nov/17
Looks more like 5'11
John
said on 20/Oct/17
In this picture, he looks 2.5 inches above you, maximum.
Editor Rob: absolute lowest I'd have said 5ft 11.5, but then he does have a big head in person for near 6ft, would look proportional on a 6ft 7-8 man like Tyler Mane.
Bobby
said on 16/Oct/17
According to the height chart, he'd be 5'10.75, but he's clearly a lot taller than this.
Anonymous
said on 30/Sep/17
a weak 6 footer really weak , but nothing under 5'11.5" .
Anonymous
said on 19/Aug/17
There was a picture with ben browder and michael shanks in stargate sg1 they were standing next to each other looking at the stargate. Browder appeared to be about 1.25-1.5 cm shorter than Shanks. If shanks is 183 cm than maybe Browder could be 181.5 cm. The strange thing is that shanks does appear taller in a couple of photografs but sometimes they are of equal height. I still think that shanks could be a little bit taller than browder
even
said on 22/Jul/17
5'11.5" to 5'11.75"
S.J.H
said on 16/Jun/17
At least 6'0 with footwear if he didn't slouch
berta
said on 15/Jun/17
i thinkmichael shanks is legit six footer and this guy is closer to 182. Never looks tall
Pierre
said on 13/Jun/17
Ben look 5"10.5'/5"10.75' here
World Citizen
said on 26/May/17
I think he gives more a 5 ft 11 impression here, but I really don't have to forget that you will measure a good 5 ft 8.5 on a good day.
F97
said on 25/May/17
Rob who looked taller to you Ben Browder or Michael Shanks?
Editor Rob: I think they are really close if measured, Browder in person does have a reasonably big head which can make him not seem a big six footer...
Namor
said on 22/Apr/17
The 5'11 that's makes on him is that supposed to be 182 cm?
Editor Rob: he did look over 5ft 11 in person, taller I felt than benedict cumberbatch up close...
josh jeffords
said on 10/Mar/17
Yes I remember him SG1 and the super b one.. farscape?..looked 6 ft..in army boots 511 tops.
From pic he is 5 11 unless you have his big boots on, needs a big downgrade.
J World
said on 30/Jan/17
His eye level is 5'6 so that would make 5'11 at very most, 5'10 minimum. Definitely falls in between there but 6ft? NO CHANCE.
BigDave
said on 6/Nov/16
Browder is definitely 4 inches taller than you. So, given equal foot ware, I put him at 6'0".
Six years later and he got so fat I did not recognize him. Did NOT age well. Unrecognizable except for his voice.
Too bad. What a shame. I really liked him in SG-1. I thought he did a great job. He stayed very fit for those years.
Aza
said on 11/Oct/16
Looks a little over 5'11 to me in comparison with Rob.
Odinson
said on 26/Jul/16
How tall did he look to you? He looks 5'11...
Rory
said on 21/Jul/16
Looks about 180-181cm purely going by the picture.
slothee
said on 15/Jul/16
Nah, he doesn't look over 180cm. Is give him 5'10.75"
TJE
said on 22/Jun/16
Textbook 5'11.5 guy
Yaspaa
said on 4/Feb/16
I think he's dipping his head in for the shot. He does the same thing here.
Click Here
and more noticeably here
Click Here
Saying that, he's not as tall as Shanks in publicity shots like this one.
Click Here
Probably 181cm I would guess.
Rampage(-_-_-)Clover
said on 5/Jan/16
6ft looks like very generous listing and his 6ft1 claim is insane but typical of a lot of insecure actors.
Colberto
said on 28/Dec/15
looks 5'10.5" in the photo
Len
said on 25/Oct/15
Looks 5'11" at most in the photo above.
Nickname
said on 23/Jul/15
6'0"? That's really generous, he looks no more than 5'10.5-5'11 imo.
TJE
said on 11/Feb/15
Talk about bad posture!
184.3cm
said on 30/Sep/14
I think he looks more 182cm.Its funny because on Farscape i thought he was 175cm tops!
Berek
said on 25/Jun/14
The photograph suggest no more than 5'10", perhaps 5'10.5" if one were to be generous. I am not quite sure why he is listed at 6'; one of your more dubious listings, Rob.
avi
said on 18/Apr/14
@Rob
why does he look 5'11 area here tops? is he dropping an inch?
[Editor Rob: well if not, then he's under six feet...although sometimes a photographer angle can enhance or reduce height.]
french guy( 184-182 cm)
said on 26/Mar/14
looks 179-180 cm here but looks a bit taller than mmichael shanks
Rampage(-_-_-)Clover
said on 7/Dec/13
I see 181-182cm
MOF
said on 6/Dec/13
This guy needs to be reconsidered. He was smaller than Joe Flanagan by at least a half inch in a crossover episode of Stargate SG-1 (The Pegasus Project, season 10). Flanagan is listed as 5'11.5" but I think he's a bit smaller. Either way, full six feet seems unlikely for Browder.
truth
said on 10/Oct/13
I am seeing 5ft11 at most or 5ft10.75
thorterr
said on 23/Aug/13
i compared him to the leonard nimoy pic u have ,,spock is 5ft 11.75 and he looked taller than ben
LG69
said on 16/May/13
If both your shoes are of equal height, he looks 5'11" here. He does look to be standing pretty straight, so i don't see 6'0, let alone 6'1".
lolo
said on 24/Jan/13
he struggles to look 5'11 on this pic, are you sure rob about 6'?
[Editor Rob: I think he can look 5ft 11 if not standing at his fullest, but I thought he was near 6ft mark.]
Johnnyfive
said on 10/Dec/12
This guy is 5'10.5. How in the heck does he claim 6'1. Who does he think he is? Justin Timberlake?
rob89
said on 1/Dec/12
I agree with mId, looks around 5'10.5" or at the very most a weak 5'11" here. A true 6' guy should look much taller than this next to someone 5'8". But since Rob actually met him and still lists him at 6' i guess he's got to be close to that. Strange how a seemingly decent (for height judging purposes) photo like this can make someone appear significantly shorter/taller than they are.
[Editor Rob: he's certainly not a big 6ft 1 guy in person, though I thought he was near 6ft mark]
mId
said on 30/Nov/12
6 feet? looks about 5'10.5 in this photo. I mean really.. 4 inches apart? There's 1" between me and my brother and just 1" makes a whole difference standing next to eachother if you ask me. So I would never have guessed 4" apart based on this photo.
Observant
said on 17/Dec/10
Hes taller than shanks look at sg1 promo photos
greenery
said on 18/Nov/08
My husband and I met and talked to Ben Browder for about five minutes. My husband is 6'2.5" and he was definitely taller than Browder, by at least two inches. They were both wearing casual shoes. Browder's wife is tiny.
Bleemo
said on 13/Aug/08
Hmm sometimes this guy looks medium height in Farscape and other times tallish. I'm not so fussed about the fact that he is significantly shorter then Simcoe because he is a legit 6'5" man with a prosthetic head and boots on. I can forgive him for sometimes only looking several inches taller then Claudia because she is tall already and wears big chunky boots with extra sole on. But it is a little odd that he sometimes seems close in height to Virginia Hey who is around 5'11" when she wears thin plimsole like shoes and sometimes goes barefoot.
Here is a weirdo pic where he seems much taller then Ron Pearlman somehow...
Click Here
Looking 3 inches taller then Amanda tapping
Click Here
So I would say he is around 6'...
[Editor Rob: I've met Claudia, she wears huge heels though, but she could be 173 or max 174cm and thus Browder max 184cm yes. Sometimes he never looked much different than michael shanks.]
Anonymous
said on 18/Jul/08
he looked 6'0, maybe 6'0.5 max throughout farscape.
Nelssoni
said on 22/May/08
Hmmm...I see him 6' maximium too.
Jane
said on 11/Aug/07
In a recent eposide of Stargate Bea Bridges and Ben Browder were walking side by side in a forest scene. Ben was much taller than Beau. Beau's height is 5' 10". Ben definately looked taller than than 3 inches in that scene and we could see both their feet and yes they were wearing 'normal' shoes. I would have to say that Ben is definately 6' 1" tall.
Dude
said on 21/Feb/07
Well, he definitely isn't 185cm... in the latest Stargate there is a perfect side by side comparison with Lexa Doig (166), Amanda Tapping (175) and Ben... if the difference was the same between the first two, Ben should be much taller than Tapping, but looks just a bit (about 3cm). Unless both Tapping and Doig are wearing lifts, he isn't 6ft.
Big Dave
said on 15/Jan/07
I think he is more like 1.83cm. I do agree with camera angles making him look smaller though; I originally thought he was only 5'11 but he is obviously taller than this. In the more recent episodes of Stargate SG1 there have been many more close up shots of the actors, Browder appears to be about 3.5 inches taller than Claudia Black and about the same as Michael Shanks. It is also clear that he is 3 inches shorter than Chris Judge. I think he could do with downgrading slightly.
tchakaman
said on 2/Dec/06
Folks, just watch old movies to discover the truth...
In "Memphis Belle" Browder is standing face to face to M. Modine who is likely to be a true 6"3. Q:How come that a person of 6"1 looks 4 inches shorter than a Person of 6"3. Modine dwarves Browder in that scene...
A:Because he isn't even 6". Simple as that.
The tragic thing in this whole matter is that Browder is so desperate to appear 6"1 that he's wearing such lifts that one day he'll brake a leg.
horacle
said on 31/Dec/05
this guy is 181-183 cm
Boobula
said on 15/Dec/05
After having seen several of the new season episodes of SG1, it's clear to me that Browder and Shanks are about equal height. Sometimes it's difficult to judge because Shanks slouches quite a bit, but I think I've seen enough scenes of them together to come to this conclusion. Browder, by the way, has saved SG1 from the stagnation of the "O'Neil Lite" seasons. He and Shanks have a great chemistry. The producers hit the bullseye when they cast him.
CelebHeights Editor
said on 30/Sep/05
In a Scifi.com fan q&a he states:
"I stand 6' 1" and often look to be 5' 6"[because of camera angles on farscape]
tchakaman
said on 5/Sep/05
Watching old Farscape episodes i noticed Mr. Browder beeing visibly shorter than Virginia Hey who is listed at 5ft11. Even if she is one of those underlisted women of real 6ft, shouldn't a person of 6ft1 be taller or at least be as tall as a 6ft woman?!? Now, if Virginia Hey is 5ft11, how tall is Ben Browder...? (P.S. Virginia Hey plays a priest on Farscape and several times you can see that she just wears flat sandals)
CelebHeights Editor
said on 7/Aug/05
Pogo, Browder said this about Shanks:
"We don't look that much alike. That's a myth. He's six foot and built, and I'm 5 foot 3, 235 lbs and pasty."