Virginia Hey's Height
5ft 10 ½ (179.1 cm)
Australian Actress best known for playing Zhaan on science fiction television series Farscape, in addition to her role in Mad Max 2: The Road Warrior. On her official website she writes blogs and on 2 separate occasions:
"Im a giant person. 5ft 11 1/2" with a big Finish potato farmer frame and big plates of meat (feet). People think Im teeny when they see photos of me and nearly die when then they meet me."
and
"Im a giant person. 5ft 10 1/2". People think Im teeny when they see photos of me and nearly die when then they meet me.
This photo is from the 2010 London Film Con, she had 0.5 inch less sneaker than us that day.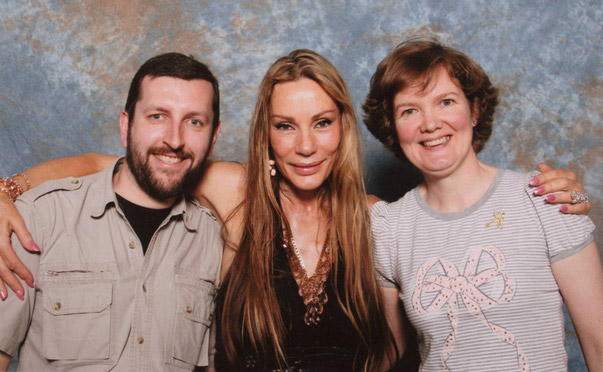 5ft 8 Rob, 5ft 8 Jenny and Virginia
You May Be Interested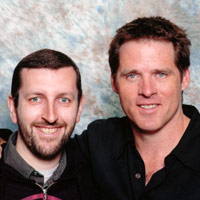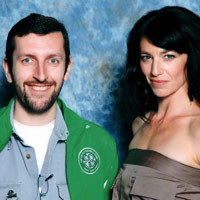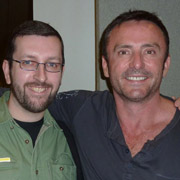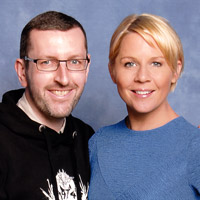 Add a Comment
39 comments
Average Guess (25 Votes)
5ft 9.9in (177.5cm)
Leif
said on 7/Oct/20
@ Leland, but isnt 5'11" or even 5'10.5" close to 6' feet anyway?
Nik Ashton
said on 15/Nov/19
This girl puts the T in tall! There is a certain symmetry about the above photograph, a photograph of 3 cool adults!
Hey, hey, hey! 😂😁😂!
Jimmy_ESB
said on 13/Nov/19
She's over 60 years old and still not enough confidence to stand to her full height :( guessing her is hard.
Heights4
said on 20/Jun/19
But yes if she stands tall she could be 1.79 m
Nik
said on 9/Jun/19
Rob, Jenny, and Virginia Hey, are like three peas in a pod!
Markey
said on 27/Oct/18
Sure not seeing it in the pic, Rob, even accounting for her slouching a bit.
I'd give her 5'9 1/2", tops. Still a very tall lady.

Editor Rob
Unfortunately she rarely stands tall, so I think over 5ft 10 is fair, because she looks it (when standing tall).
Nik
said on 14/Jul/18
This photograph is a joy to see!
Canson
said on 11/Nov/17
May be 5'10/5'10.5 but I agree with Rob she may not stand straight due to her height and also trying to "blend in"
Christian-6'5 3/8
said on 11/Nov/17
Rob, do you think the reason why she doesn't stand at her tallest in photos is because she's insecure?
Editor Rob: as a tall lady, she might have felt a bit aware of being quite tall when growing up and just developed a style of posing to look shorter.
Anonymous
said on 18/Oct/17
Shes around 5'8.5
Rampage(-_-_-)Clover
said on 8/Sep/17
She does look this in Mad Max 2. That photo doesn't do her height justice at all...
Editor Rob: I don't think I've ever seen Virginia stand tall in photo ops, although I would have said she looked taller than Mike Tyson that weekend...with less footwear.
even
said on 5/Jul/17
a legit 5'10" maybe even a little bit more
Victor Surratt
said on 4/Feb/17
Maybe she is 5'10.5 but in the picture she had a very bad posture. I saw pothos of her alone with a good posture and she appear to be a tall women, but with people her back is bowed, maybe it is intentional.
Editor Rob: I think it is rare she would stand tall for a photo.
LG69
said on 27/Sep/13
I've seen here look 5'10", but this photo makes her look 5'8".
[Editor Rob: she's tall in person, and really doesn't like to stand tall in any photo!]
lelman
said on 13/May/13
Definitely not 5'11.5", I doubt she was ever near 6', I'd say 5'10" absolute maximum - probably closer to 5'9".
[Editor Rob: she doesn't like to stand tall from what I've seen of her taking photos with people.]
Larc-186.7cm-188.6cm
said on 10/Dec/12
Here she is (in heels) next to 179 Vernon Wells:
Click Here
thorterr
said on 19/Oct/12
sprint84 ,you must be a young pup ,,shes gorgeous and shes not cat lady shes catwoman,,and shes not 49 shes like 57 now and im sure a confident happy woman all round
Sinéad
said on 12/Feb/12
It looks like she's 175cm (5'9") maximum. She doesn't look that taller than you two do.
Theman
said on 15/Dec/11
Shes really a height guessers nightmare. If a 4,11 person stood next to her she would simply bend right over to be as small as them lol.
Physics Enemy
said on 20/Oct/11
She's dropping a lot of height with her posture and she has a 0.5" footwear disadvantage. If she's taller than Tyson as Rob states, she's no less than her listing. I trust Rob, he's a legit height expert.
Soviet_Rebel
said on 10/Oct/11
No way she's taller than 5'8.
Greg
said on 6/Oct/11
Can't believe this woman claimed 5'11.5'', kind of odd for a taller woman to boost her height too.
She looks about the same height as you and Jenny with the -0.5 inch footwear desparity. That puts her at around 5'9'' tops.
[Editor Rob: problem is she rarely stands tall for photos]
LAN Jiao
said on 19/Sep/11
my few gal cousins and i would agree virginia hey had most worse posture for tall female celebrity in pics. she look 5ft10ish in tv screen, very bad bad posture in pics 5ft7-5ft9 best. very less chance see her stand up well. i believe 5ft10.5 if she stand still.
miss-hey is very near height proportion to 5ft11 kristanna loken in tv.
Mamun
said on 15/Sep/11
She is not only beautiful but she was also a kind and nice person as well !
Regards
SUPERMUN
Irshgrl500
said on 15/Sep/11
She's still very pretty, at ALMOST 60! Wow! The difference in her height, which she's quoted on her blog, could over a period of time, which could be due to legitimate shrinking. Many people, especially women start to shrink an inch or so from age 40 and on. So maybe she was about 5'11" and now is 5'9.5". Sounds plausible. Then again, maybe she fudged a little by adding an inch here and there, and that's why she now looks only about an inch taller than Rob. But that's why we're here.
Lastly, I am not sure why anyone thinks she's tiny; she looks like a hearty gal; beautiful but hearty.
Plump
said on 11/Sep/11
I'd say no more than 5-9. She looks taller due to her frame.
Legend
said on 15/Aug/11
she's 5'9.25
Mr. Tempus
said on 10/Jul/11
Well she is not a giant person, but certainly she is quite tall for a woman and she is a beautiful lady.
Cranberries (17m, 193.75-191.25)
said on 19/Jun/11
Just look at the size of those paws... Most women who are this tall retain feminine traits, but she really is a big lady.
TruebloodFan
said on 6/Jun/11
she did look ~5ft10 in 'Road Warrior'
runt
said on 29/May/11
If she is at least 179 then it confirms that Mel Gibson is as listed--5'9.5". In "Road Warrior" all they needed was to put Gibson closer to the camera while wearing his boots and no height difference is noticed. No box work necessary.
thorterr
said on 11/May/11
shes gorgeous,she looks tall in the farscape clips and if u say shes 5ft 10 rob i believe you ..you are the power,,welll on this site anyway,,so er do you have her telephone number?
[Editor Rob: the more I think, the more she looked at least 179cm and no I don't have a number ;) I am surprised if she is 57 years old in that photo, she looked 10 years younger.]
Matt
said on 19/Apr/11
rob did she really look 5ft 10.5 in person (without the leans)
[Editor Rob: I believe she was no less than 5ft 10, but then taking account she had less footwear I doubt less than 179cm.

in fact she looked more of a 5ft 10 (not accounting footwear) than Tyson did that day...]
Rampage(-_-_-)Clover
said on 18/Apr/11
178cm?
[Editor Rob: her claiming 5ft 10-11, I doubt she is just 5ft 10 flat.]
tyler
said on 21/Mar/11
she looks 5 ft 9
linke
said on 21/Feb/11
I first thought she was donatella versace.virginia looks pretty different now,I think her resume gives 5'10.
Dean
said on 21/Feb/11
Rob is that her standing straight? if so shes 5'8.5 add half inch probably 175-176 at most!? why 179?
[Editor Rob:
this photo was not worth putting on the front page as she drops height in most photos I've seen her taking with fans. Even with me doing a preemptive lean there, she still dropped 3cm more height than me...
]
K4
said on 19/Feb/11
Wait a minute, she looks the same height as Rob and Jenny, maybe even shorter despite the disadvantage. Maybe her proportions is making her look taller. Women can inflate their heights too, not just downsize. I swear, Rob is not good at guessing heights sometimes.
Mathew
said on 17/Feb/11
lol @ very giant person. She's not. I don't even see 5'10.5" let alone 5'11.5". I know she has a .5" footware disadvantage but still.