Claudia Black's Height
5ft 7 ¼ (170.8 cm)
Australian Actress best known for roles in TV series Farscape (as Aeryn Sun), Stargate SG-1 (as Vala) and films such as Pitch Black. In this photo she had a good 2.25-2.5 more inches of footwear than me that day.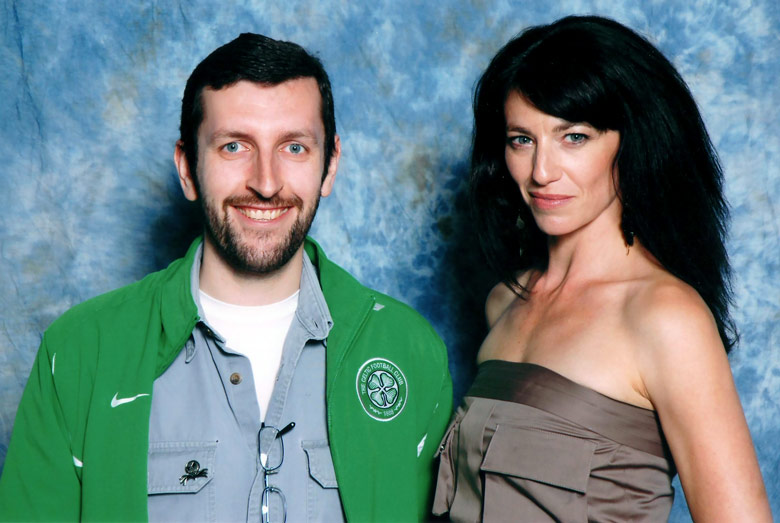 5ft 8 Rob and Claudia @ LFCC 2008
You May Be Interested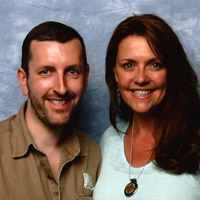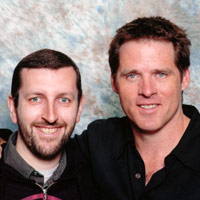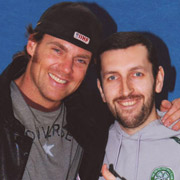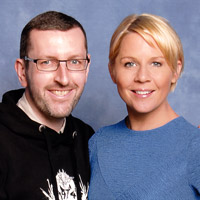 Add a Comment
29 comments
Average Guess (20 Votes)
5ft 7.41in (171.2cm)
Jordan87
said on 19/Nov/20
She has that Black hair and Blue Eyes !!!!......and 5'7".....Perfect!
JohnMoore-162cm
said on 1/May/20
She's 171 cm range , good listing
Ayy
said on 24/Mar/20
5ft7.5 or 5ft7.75 are both good estimates I think for this gorgeous gal. I seriously wish I could go on a date with her since we would be the same height when she wears heels lol
Ayyy
said on 15/Dec/19
Looks 5'8. 5'7.5 is probably closer to the real height. Can't be lower than 5'7.
Intevel
said on 13/Dec/19
Rob if she has a 2.5 inch difference in shoes, shouldn't she be close to 2 inches taller than you in this pic? You two look quite close!

Editor Rob
I think she did look over 5ft 9 for sure standing there, overall on Stargate I feel 171cm range is what she could look beside the rest of the cast.
Lazar99
said on 1/Jul/19
With footwear advantage she looks around 5ft9, although she lost some height at that pic.
I think 5ft7 1/4 fits her perfectly 🧤🍭
pip
said on 31/May/19
5'7.75-5'8
Christian 6'5 3/8"
said on 9/Mar/19
I don't get how some people are estimating her at 5'7.5". She just looks around 5'6.5" here, maybe best case 5'6.75"
Nik
said on 16/Jul/18
Said height is fair!
Nik
said on 7/Jun/18
Fair listing considering her posture!
Bobby
said on 28/Dec/17
She looks to be edging out Rob with her footwear advantage, I'd say maybe a half inch difference with the footwear advantage.

Editor Rob
she did look 5ft 9-10 at least, but had a decent heel on...certainly was minimum inch smaller than amanda tapping on Stargate.
BigDave
said on 6/Nov/16
I always thought her to be not short and not tall. About a good average height for a woman. I came to love her acting in SG-1. She grew on me. Unrecognizable as a blonde currently. Strange look for her. She is one person that rocks black hair. It should stay that way.
Aza
said on 11/Oct/16
Kinda exotic and formidable looking at the same time! I think she's 5'7
Judd
said on 18/Oct/14
5'7.5" is spot on...she's sexy...XD
J.Lee
said on 19/Jun/14
Rob how can she be a half inch shorter than you when she's wearing 2 inch heels higher than you?

Editor Rob
I think (not looking at her footwear) she appeared over 5ft 9, maybe dropped half inch that moment.
richkid123
said on 9/Feb/14
there is barely a difference. Is she dropping height?
Len
said on 29/Oct/13
Her eyes are almost the same height as Rob's in the pic, and if you ignore a small amount of the slightly poofy hair on Claudia, she's at most an inch taller than 5'8" Rob.
Account for the 2 to 2.5 inches more footwear that Rob cites, and it's hard to see how Claudia could be more than 5'7", even with her dropping a half-inch in height on slightly bad posture, as Rob cites in another post.
DANIEL
said on 6/Aug/12
Truly 1,71m
She´s one inch and little bit more thaller in pic, rob wearing 1 inch shoes, and she has at least 2,75 inches heells.
do not existe 3 inches heells,by convention is 5cm ,7cm , 9cm , 10cm , 12cm and 15cm heels.
Matt
said on 4/Aug/12
Looks 5'5.5 ish.
Mathew
said on 3/Aug/12
I would say Rob is an inch taller given the foot ware and posture differences.
Fouad
said on 27/Jul/12
She has to be at least a weak 5'9 Rob

Editor Rob
she has at least 3 inch heels on...
MaskDeMasque
said on 25/Jul/12
if she has a 2 inch advantage over you and if she was 5'7.5, wouldnt that make her taller than the pic? 5'7 i think or just below.

Editor Rob
I think she dropped half inch more posture in that shot.
George
said on 12/Jul/11
Here, she's still slightly shorter than Amanda Tapping by about a half an inch:
Click Here
So proposed height seems about right.
Jon
said on 12/May/11
What happened to all the comments?

Editor Rob
a comment purge from a few months ago
Mikel
said on 18/Jan/11
"Rufus says on 26/May/08
Click Here"
That's at a really weird angle.
Grace
said on 16/Dec/08
At first when I saw Claudia on Stargate I figured that she would be at least 5'6 or something, Turns out she really is 5'8.

Editor Rob
she looked a good 5ft 10 when I saw her, although of course she was wearing a heel giving her an easy 2 inches advantage over my sneakers. 5ft 8 flat could be more accurate.
M.P.
said on 7/May/08
At the very MOST, she's 5'8, because she's the shortest person on SG-1. Amanda Tapping is almost 5'9" and she's at least an inch and a half taller than Claudia Black. Her thin figure, however, makes Claudia look taller than she really is, whereas Tapping is more curvy, so she somewhat looks shorter.
Mari
said on 17/Dec/06
In Farscape she definitely looks tall, but now in Stargate she looks kind of short especially in the real life pics with her castmates...I am confused about her height, but think she may be shorter than 174cm