Michael Shanks Height
6ft 0 (182.9 cm)
Canadian actor, best known for his portrayal of Daniel Jackson on Sci-Fi series Stargate: SG 1. On the site LexaOnline, he said:
"Well I'm six foot tall."
In these convention photos Michael had about 1/4 inch more footwear.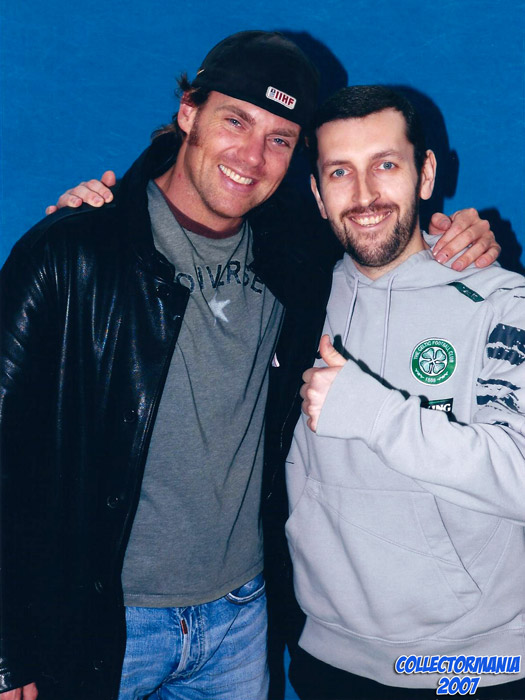 5ft 8 Rob and Michael @ Collectormania 2007 and Chevron 7.1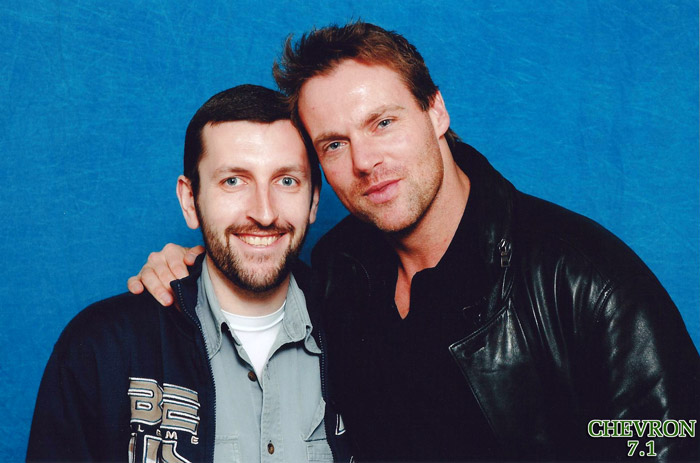 You May Be Interested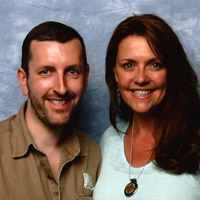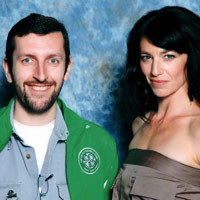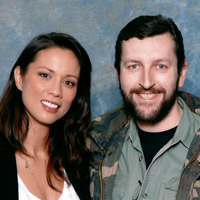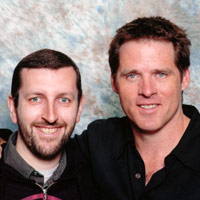 Add a Comment
63 comments
Average Guess (26 Votes)
5ft 11.77in (182.3cm)
Chris Junior Hernandez 1990
said on 22/Jan/21
Rob, do you think Michael Shanks edge out Ben Browder in person?

Editor Rob
Shanks the first couple of times I seen him looked a classic six footer, last time I wasn't as sure.

Browder I thought did seem near enough 6ft too, I do think he has a bigger head in person which decreased his perceived height.
Jkiller
said on 29/Jan/20
6 foot. Looked 6'0 throughout Stargate
Importer
said on 31/Oct/19
An edit to last comment. 171.5cm is actually the expected eye-height of a proper 6'0"...
Nik
said on 17/Oct/19
It would be great if his daughter Tatiana was given a page!
Nik
said on 17/Oct/19
Convincing 6 footer!
Nik
said on 17/Sep/19
He's losing a boat load of height!
Importer
said on 7/Aug/19
@Visitor to me a 6footer has a 172cm eyelevel. 171.5cm is definitely on the low end for a legit 6'0", but not unlikely.
Lazar99
said on 1/Jul/19
Tall man 🎩🤙
I would give him a tiny bit below the 6 feet mark, yes 5ft11 3/4
Visitor
said on 11/Jul/18
I just happened to see an episode of Stargate. There was one clear, perfectly aligned shot of Shanks with Ben Browder and Browder was noticeably taller. Then in another shot Shanks was standing next to Beau Bridges and they looked very close to the same height even though Bridges was in dress shoes and Shanks in combat boots! Those were some chunky combat boots btw (all of them, there was a brief close up of them).
Since both Browder and especially Bridges are a lot older than Shanks, if anyone had lost any height, it certainly wouldn't have been Shanks. So that's a bit puzzling. I don't know how tall Bridges was at that time but I don't think all three of them were 183 cm...
Visitor
said on 4/Jul/18
Charles-Guillaume, that's a bit of an odd example since (for males) a 9 inch head is spot on average, not small. Head size isn't really related to height either.
Assuming a 6 ft guy with a 4.5" eye level, the eye height would be at 5'7.5" ... Shanks doesn't quite look that tall especially as he's the one with the thicker shoes. Seems more like 5'11".
Charles-Guillaume
said on 12/Jan/18
Correction: I meant to say "eye height of 5'8", not "eye level". Bah.
Charles-Guillaume
said on 12/Jan/18
Bugs, a person with an eye-level of 5'8 or over would be quite unlikely to measure only 6'0, given that the average eye-level for such a height is a little bit over 4.5". For a "six-footer" to have his eyes over 5'8 he would have to have an eye level under 4" which is certainly unusual, probably more so than having an eye level over 5 inches (eye height of 5'7 or less for 6').
To take myself as an example, I am around 179.5 cm in the afternoon/evening and my eye level is 4.3 inches. I definitely have a fairly small head at 9 inches or a tiny fraction above. For someone more than an inch taller than me to have a significantly smaller eye level sounds fairly odd.
F97
said on 11/Aug/17
I dont think shanks has lost any height but the strange thing is that he pretty much always wears thick boots which seem to are about 5 cm that would make him 188cm. Why would a 6 guy need to wear massive footwear maybe he is Only a little over 5'11"
Andrea
said on 3/Aug/17
Good picture, Josh! Although he looks closer to 5'11 than 6', especially if you consider the fact that he has more footwear there...
I haven't seen much stuff of his. Only Smallville, in fact. From what I remember, he did look at least near 3 inches shorter than Tom. I'm sure I have seen a backstage photo with him and Tom a few years ago where he could look near 4 inches smaller, though. I can't find it now but maybe he's a guy who can look 5'11 with bad posture and stretch to about 6' when standing tall... Even with Rob he doesn't quite look 6'.
Nik
said on 21/Jul/17
@ Sandy Cowell
Rob will be giving you the keys to celebheights! Well I am not sure that Rob is a full 5'9" but he could be 5'9" if he rounded up! Maybe he is a little bit taller than he has us know! So I think you could be close! I also think that Michael Shanks is full value for a 6'0" quote!
Have a great weekend Sandy! I will probably stay at home and if the weather is nice sit in the garden, I will take it easy, and of course visit cekebheights! I will eat a lot of fruit!
Enjoy watching the new films!
Cheers!
Editor Rob: whilst Jenny has shrunk over the years of this site, I have remained steady, even though I spend too long in a computer chair.

Shanks looked an honest six footer in the Noughties at least, nowadays, well I was surprised he didn't seem as tall in 2017 as 2007-8.
Sandy Cowell
said on 21/Jul/17
@ Nik - Thank you very much indeed! It is true though, don't you think? The other 'lad' does look a good, healthy 5ft9, and I SO wouldn't say that if I didn't see it!
Anyway, enjoy your weekend too, Nik! Have you any nice plans? I intend to relax, eat lots of fresh fruit and see a film or two that will be fresh out of the wrappings, in other words, brand spanking new!
😁 🔮 🐣 💿 📺 😂 👍
Sandy Cowell
said on 18/Jul/17
WHAT A GORGEOUS PICTURE!
LUV IT!
I give the lad 6ft, but I must say, the 'other' lad looks 5ft9 - fact! (Oh, Yes!)
josh b
said on 8/Jul/17
Click Here
Looked a decent 6 footer actually but did have boots.
Bugsy
said on 7/Jul/17
He's not 6 ft. If he was, his eye level would be very noticeably OVER the top of Rob's head. It's nowhere near that mark. And don't bother mentioning his posture, he's NOT hunching or slouching. His back is straight and he's only slightly leaning.
Seeing that he also had thicker soled shoes closes the case shut. Straighten that lean and deduce that 1/4 of an inch (and the cap, and the hair compressed under the cap) - he's definitely not 4 full inches taller than Rob. He's 5'11 something. People these days don't seem to realize that a legitimately 6 ft guy IS TALL. It's a weird universal inflation phenomenon, people who are 6 ft are described or listed as 6'1" and so on.
Pierre
said on 13/Jun/17
Maybe a strong 5"11',not very easy to guess here
Rampage(-_-_-)Clover
said on 15/Apr/17
183/184cm zone is more likely than 182cm.
F97
said on 2/Apr/17
If I am 182 cm att my lowest how tall would I look if I stod next to michael shanks? How big of a difference would it be. Would it be noticible since I am almost 6'0" I am exactly 182.2 cm att my lo West. Thanks for answering all my questions Rob! I really appreciate celebheights👍
Editor Rob: F97, it depends...Shanks in many photos never stands tall, but if he did he'd look about 183cm, I'm sure would edge out a 182cm man.
F97
said on 11/Feb/17
Correct me if I am wrong Rob but it seems to me that shanks grew in his 30s. What I find strange is that if you look at season 1 and 2 of stargate sg1 shanks does look to be about 6 foot or ( 182-183 cm to me) compared to amanda tapping. Although he is towered by both richard dean anderson and Chris judge. In later seasons from season 7 and Especially season 9 and 10 judge looks to be about 4 cm taller than shanks and richard looks to be only 2 cm taller. What do you think Rob? Did he grow in his 30s or Did both judge and anderson lose height. Thought shanks looked maximum 5'11" in the first seasons and than in the later ones he Did look like a legit 6 footer.
Editor Rob: Anderson and Judge I feel dropped a fraction by later seasons...Judge was lifting heavy weights, over 15 years of that and I wouldn't be surprised if it effected him a bit.

Anderson isn't even over 6ft today, he's dropped well over an inch by mid 60's.
Sarah
said on 22/Dec/16
6'0 or a hair over that
morkem
said on 18/Nov/16
this seems right
josh jeffords
said on 10/Oct/16
I buy 6 foot he actually looks pretty average but kinda loose posture.
Actually wish he did more movies hes a pretty good actor but too much tv bit parts cant be good for career.
He did better than spader as the geeky dude forget his name.
Funny he can still pull off the cool persona hes gotta be like over 40.
F97
said on 19/Sep/16
I have heard that you go by afternoon/ lowest heights Rob. So IF you have listed shanks at 183 cm low can he then be as tall as 185 right out of bed/morning?
Editor Rob: he might be almost 6ft 1 out of bed.

If I could go back in time I'd have asked him to do a salute pose.
Odinson
said on 26/Jul/16
Lol don't mean to sound strange but this guy is handsome, I love his style of clothing. Good old 2000s I was just a baby.
Rampage(-_-_-)Clover
said on 13/Mar/16
I take that back. Looking at Stargate, he could look no more than 2in shorter than Christopher Judge (strong 6ft2). Solid 6fter, if not a fraction more.
Ron Lewis
said on 3/Jan/16
I think height is not important but quality of acting by Mr. Shanks is great, he is talented in acting and I would like to met him some day, I've had the pleasure meeting RDA in 1970 playing Hockey with Richard at Elliot Park MPLS, at NCBC. I think Michael really came into his own after his return to stargate sg1. I think all the cast made the show a highly rated.
Ron Lewis
said on 3/Jan/16
I think Mr. Shanks is great talent and would like to met him some day, I've had the pleasure meeting RDA in 1970 playing Hockey with Richard at Elliot Park MPLS, at NCBC. I think Michael really came into his own after his return to stargate sg1. I think all the cast made the show a highly rated.
Josh
said on 7/Apr/15
Looked this on Smallville. But then that would definitely make Tom Welling 6'3 at least. Looks more than 3 inches taller than him
Judd
said on 28/Jan/15
Rampage(-_-_-)Clover says on 2/Nov/13
Another 182cm guy, Rob?
[Editor Rob: can look 6ft to me]
No. this is not the case, IMO! i can accept that Jensen Ackles, for example, belongs to the 182 cms club, but i think Shanks is a legit 6'0" guy!
Hypado
said on 28/Nov/13
Legit 6ft (1.83 m).
Rampage(-_-_-)Clover
said on 2/Nov/13
Another 182cm guy, Rob?
[Editor Rob: can look 6ft to me]
Rampage(-_-_-)Clover
said on 24/Aug/12
With better posture he would look 184-185cm
somedude
said on 9/Aug/12
In the pic he looks at least 6'. possibly 6 1/2 - 6'1
Josh B
said on 9/Feb/12
While it does improve the picture and people's opinions regarding the celeb, it certainly doesn't help us height officiados when they lean in :P
horacle
said on 14/Jan/12
at least 6'
Sean73
said on 24/Dec/11
Awe cute,he likes you Rob.You two make a nice couple.Just kidding!He always seems like he`s a good guy.Flat 6 footer i would say.
Yaspaa
said on 5/Dec/11
He's making an effort in both pics, not just standing there.
T-Squared
said on 17/Nov/11
I had no idea he was married to Lexa Doig, that seems like a fitting science fiction themed relationship. I agree with whoever previously said (maybe Rob?) that its cool to see an actor willing to lean in for pictures like this.
Dom
said on 16/Aug/11
Good looking man
Rampage(-_-_-)Clover
said on 15/Jul/11
Upstraight he'd look 6ft1
Rampage(-_-_-)Clover
said on 7/Jun/11
You can't judge height from these pics at all
[Editor Rob: well you can tell he's not 5ft 11, so maybe he is 6 foot without a lean ;)]
James
said on 2/May/11
he's quite tall for an actor
Larc 6 ft 1.5 in
said on 13/Mar/11
Nothing over 6'0, he looked clearly shorter than 6'1.25-6'1.5 Richard Dean Anderson, who looked shorter than 6'2-6'2.25 Cristopher Judge on SG1.
Observant
said on 7/Mar/11
Looks 6 foot, and did so in stargate too, at least theres one celeb whos honest about their height
Jimmy
said on 4/Mar/11
6 feet exactly
SolidSnake
said on 26/Feb/11
I assume the 0.6 cm advantage is in the left photo but you should state which is which just to clear up any confusion
[Editor Rob: 0.6 inch, then 0.25 on right.]
Rampage(-_-_-)Clover
said on 1/Feb/11
Is 184cm possible, Rob?
[Editor Rob: I don't think so, he never looked more than 6 foot on stargate or in person to me.]
Sam Rick
said on 1/Jan/11
Happy new year Rob.This is a strong 6'0.25 because it's like he never wears shoe lifts and there is too much slouching in this picture.
J.J.
said on 2/Jul/09
Proper solid 6'0" barefeet
Josh.J
said on 29/Apr/09
big fan of him and always thought he was a solid 6ft guy. rob he seems like a nice guy, whats he like?
[Editor Rob: he was a likeable guy]
Alex
said on 14/Apr/09
If he stood straight he would stack up against Rob about the same as I did. He's at least 6'0. Could be a hair over maybe.
Daii
said on 30/Jul/08
if he stood straight there is an easy 3-4 inches there...6 foot in bare feet i would say he is
trueheight
said on 29/Jul/08
Josh, there's a 3in difference despite the lean. He's 6' EASY
Tony
said on 29/Jul/08
thats a full 6
Ronaldo
said on 29/Jul/08
From these pictures you can not conclude anything... only that he is clearly taller then rob.
[Editor Rob: yeah unfortunately he rarely stands tall with smaller guys, but one on left can show how a proper 6ft 0.5 guy (he's 6ft but has 0.6 inch more sneaker) would look with such a lean.]
Josh
said on 29/Jul/08
Mmmmm not sure hes a full 6'0 guy , I would say hes 5'11.5 (182cm)
Terra
said on 8/Jan/08
YAY!! he barely meets my standards! YAY SHANKS
Dan
said on 7/Mar/07
He looks around 6 feet. Agreed
CelebHeights Editor
said on 3/Sep/05

Actress Ellen Dubbin said:
"As a tall actress, I was struck immediately by how wonderfully tall and good looking [Michael Shanks] was. A lot of male actors look tall on camera and in person are not, so I was pleasantly surprised"