Australian Actress best known for her portrayal of Chiana on sci-fi TV series Farscape. On the Australian Showcast casting website her height was listed as 167cm and on the actorsaccess website her weight she gave as 115 pounds and imdbResume
"117 lbs"
. In this photo she had about
2.4-2.5in
more footwear than me.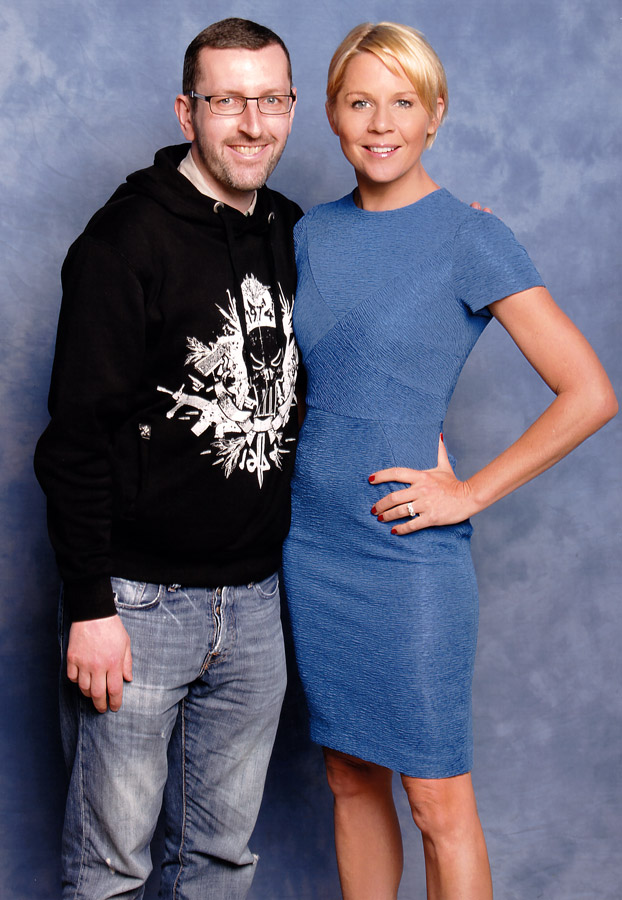 5ft 8 Rob and Gigi @ Collectormania 2014
Jimmy_ESB_182
said on 9/Sep/22
Average guess seems pretty good, 5ft 5.25-.5 range
ChristianPerkins
said on 14/Mar/22
@Pierre
While I think 5'5.5" is a bit too high, I wouldn't go with your guess either. 5'5" is okay for her.
JohnMoore-162cm
said on 1/May/20
She looks just over 5ft5 with Rob.
Littlelee5ft6
said on 19/Sep/19
Definitely the listed height she looks exactly robs height here in the heels
Nik
said on 17/Jun/19
Gigi can have all the 5's! I do like her name!
HonestSlovene
said on 6/Jun/19
I thought she was Amy Schumer, lol.
Nik
said on 15/Sep/18
@ Sandy Cowell - If Rob's posture is similar to Gigi's then I would definitely say that the three fives are liable, 5'5.5"! However if that is not the case then I dunno, but I have seen nothing concrete to suggest that Rob is dropping more height than Gigi or vice versa!
I think it sure is her shoes that are making her look taller than 5'5.5", I do like her name!
What can be a better way of starting your day than watching "Vintage Coronation Street" at 6 o'clock in the morning?
5'5.5"!
Sandy Cowell
said on 14/Sep/18
@ Nik - She looks taller than 5ft5.5, that's for sure! It must be her shoes!
Also, I have never knowingly seen her in anything as yet!
It's 6 o'clock in the morning, so I'm going to see 'Vintage Coronation Street' again. See you anon!
All the fives - 5ft5.5!
Nik
said on 21/May/17
So how tall do you reckon this particular random celeb is then Sandy?
I reckon Rob could be right quoting her at 5'5.5" or she could be 5'5.25", Rob mustn't be stood at his straightest and I have taken this into account!
Have you ever seen a film or television programme featuring Gigi Edgley?
Pierre
said on 23/Aug/16
She's about 5"4.25'/5"4.5' imo=even with his relaxed posture Rob is taller than her about 1 inch;with the same posture as Gigi Rob would be about 1.25/1.5 inch taller than her imo.So with the same shoes as Rob she's about 5"4.25'/5"4.5' imo.
Sirgerry
said on 27/Aug/14
Now this I don't believe, she is tiny as a flea, must've had a lot of heels and lifts
Sasha
said on 22/Aug/14
She is like 1 cm shorter then you
J.Lee
said on 22/Aug/14
Rob is she .25 inches taller than you in this pic?

Editor Rob
I think she is a little smaller there and in person. 5ft 5.5 is quite possible.
170cnn
said on 21/Aug/14
hey Rob me again you didnt answer me.Please help me I am 5,7 and 18.My parents are shorter than me few inches and I am gonna start the college this year.I dont wanna be the shortest guy please answer :(

Editor Rob
there is an outside chance, but I wouldn't get my hopes up too much. A proportion can still gain something from 18-21, but it is a much smaller proportion than compared to all the men at 18 who are finished growing.
Sam
said on 20/Aug/14
Looks just like my toddler's daycare teacher down to the hairstyle, haha...accurate listing considering her heels.
Alex 6'0
said on 19/Aug/14
With 2.5 inches more footwear Rob still looks 1/4 inch range taller. Minus 2.5 inches and 5'5.5 Id say she is
Tommo
said on 18/Aug/14
So she should look a solid 2 inches taller than you? When if anything you look taller, is she dropping loads of posture? It looks fine.
Hypado
said on 18/Aug/14
177cm with heels?
Kourosh177cm
said on 18/Aug/14
in the pic, are you edging her out or you had a solid inch on her?
frohike
said on 18/Aug/14
gorgeous, always looked about 166-7cm range
Carey
said on 26/Nov/05
If you watch Farscape you'll also notice that as Chiana she has a very weird posture. She seems to be half-crouching all the time.
Anshelm
said on 18/Oct/05
Never done any estimates on this one, but it should be noted that most of the Farscape cast were quite tall. From the 1st season main cast (Ben Browder, Claudia Black, Virginia Hey and Anthony Simcoe), only Black was (reportedly) shorter than 180 cm/5'11". So, in that company a 170 cm woman would look rather unimpressive.