Bret McKenzie's Height
6ft 0 (182.9 cm)
New Zealand comedian, actor and musician best known as one half of the Grammy-award winning duo Flight of the Conchords. As a songwriter, he also won an Academy Award for The Muppets best original song.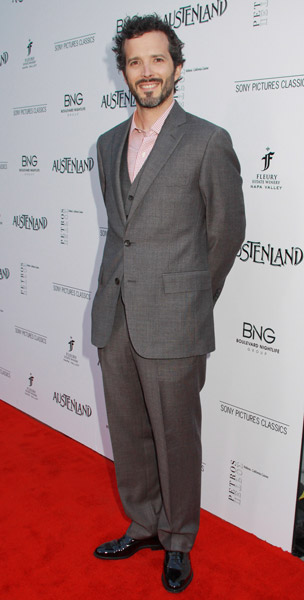 Photos by PR Photos
He's about 5'11" or 6 feet. Which to a six foot oner like me is considered very short.
-- Jermaine Clement
Add a Comment
12 comments
Average Guess (6 Votes)
5ft 11.71in (182.1cm)
Redwing
said on 14/Feb/18
Hey rob will you add Rhys Darby ?

Editor Rob
Maybe, I'm sure he had 5ft 11 on his resume, though can look shorter at times.
MsKitty
said on 11/Jul/16
One more thing...a request, Rob. :) Could you please add that Bret is a Grammy award winning musician for Flight of the Conchords, as well as an Oscar-winning songwriter, for his work on The Muppets (2011)? His work on the new Muppets film is really brilliant.
MsKitty
said on 11/Jul/16
Wanted to come back to say that I saw these fellas live a few days ago - amazing live show - best concert I've been to, which is saying a lot, as I've seen many rock shows over the years. So much talent and so funny. Really brilliant. I digress....I was but a few feet from the stage and they are both tall guys. Well, compared to me anyway (5'5.25"). I'm not good at guessing height once a person hits 6' though, as I always guess over. But I'd say they are both about 6'1"ish...they don't look much different at all compared to one another. Bret has worse posture and is thinner with has a lighter frame than Jemaine, obviously, which I think gives the impression of him being "small." Lol he isn't small. I love that episode, though. >_< Bret wore sandals, and often wears Converse/Chuck Taylor's which are about as low as you can get, short of going barefoot. I also watched a "making of" documentary about LOTR, in which Bret had a small role as an elf, and the casting director said for all of the elves, they specifically looked for actors who were 6 feet tall and up. So there's no arguing that he's at least 6' tall.
Rollo Tomasi
said on 27/Apr/16
Thought he was shorter than this...like 5'9 or something
i guess
said on 27/Mar/16
always thought he was 5'8 or so. he just seems short for whatever reason
MsKitty
said on 21/Mar/16
YAY! He's my favorite human being. If I were to design the perfect man, he would come out looking and sounding exactly like Bret McKenzie. <3
Sam
said on 20/Mar/16
You should check out Flight of the Conchords, really good musical comedy show. The two guys are really talented and Kristen Schaal & especially Darby are hilarious as well. Short Poppies, written by and starring Darby in multiple roles and directed largely by Jemaine, also is pretty good.
MD
said on 18/Mar/16
I hate distracting from the subject of the page, but can I just say I find Darby funny as hell? I've literally never seen him in anything other than the Comedy Central gameshow @Midnight, and he is just the funniest thing I've ever seen. lol
Sam
said on 16/Mar/16
I doubt 5'11" for Darby, he pretty consistently looks about 2 inches shorter than Bret, as well as the similarly-heighted David Duchovny, and 3 inches under Jemaine, as well as with the similarly-heighted Jim Carrey, which puts him around 5'10".
Rhys could be a fraction over 5'10" here with Duchovny but 5'11" is definitely rounded up I'd say.
Click Here
Big T
said on 15/Mar/16
I have met Rhys Darby a few times and he's a solid 5'10" minimum and thinner than he looks on TV. Maybe because he is small compared to Jemaine and short and stout compared to Brett he gives an illusion of being shorter than he is. It's funny how a recurring joke on the show is that Brett is 'small' or petite at a strapping 6 foot tall!
Sam
said on 14/Mar/16
Thanks for adding, as said before he can look only a smidge shorter than Jemaine and not look much different height in a premiere photo than Ty Burrell. Not really looking anything over six foot though if you compare him to Will Ferrell or Jason Segel.
Dave178
said on 11/Mar/16
Sounds about right. How tall could Rhys Darby be? (Murray from Flight Of The Conchords) 5' 10" ?
Editor Rob: not looked much at him, but his agency put him at 182/5ft 11!