Brody Hutzler's Height
6ft 2 ½ (189.2 cm)
American Actor best known for roles in tv soaps Guiding Light (as Zachary Smith), Days of our Lives (as Patrick Lockhart) and appearances on tv shows Charmed and Angel. These photos are from Starfury events.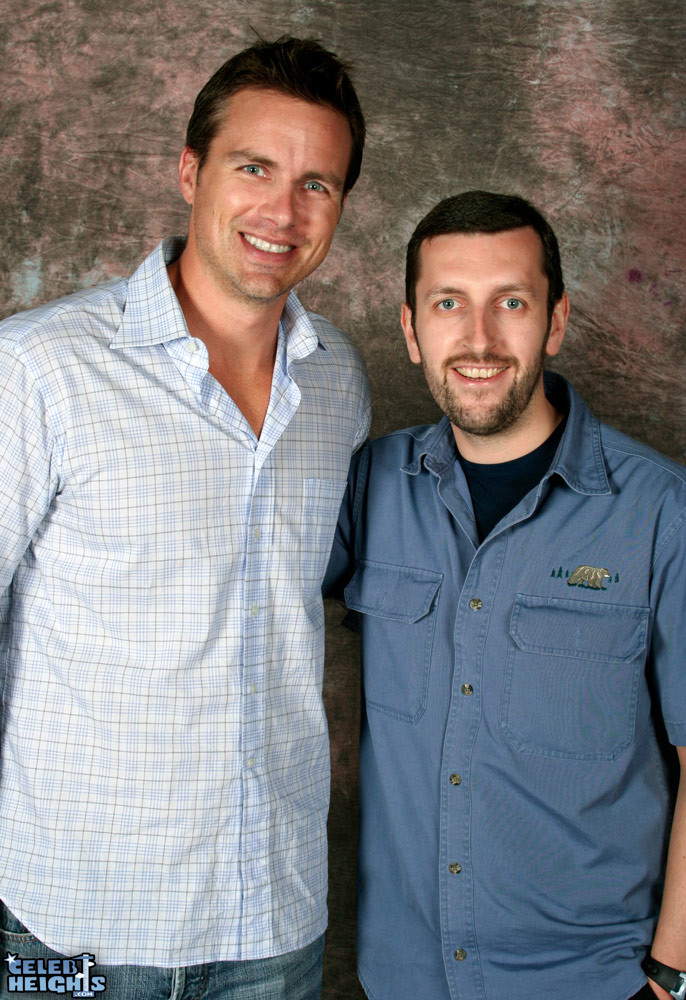 5ft 8 Rob, 5ft 8 Jenny and Brody
You May Be Interested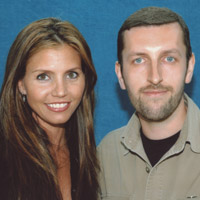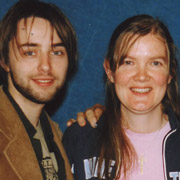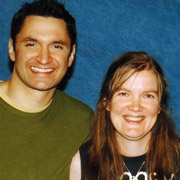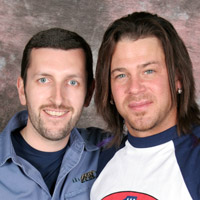 Add a Comment
59 comments
Average Guess (9 Votes)
6ft 2.28in (188.7cm)
Junior Hernandez 1990
said on 19/Apr/18
Maybe i'm wrong as i look more on Brody's work can see why Rob put him at 6'2.5" quite reliable listing.
Junior
said on 15/Aug/17
In Mega Shark vs. Kolossus he can look a big 6'3, i guess 6'2.5-6'2.75" on the record.
Rampage(-_-_-)Clover
said on 30/Jul/17
S.J.H, I'd give Routh 1st place and toss a coin between the other two. One rounds down and the other rounds up.
Brody isn't standing great in those photos though...
S.J.H
said on 21/Jun/17
Rob, Jack Coleman, Brandon Routh and Brody Hutzler who give you a taller impression?
Editor Rob: hard to say really...I think the first time I seen Routh he could look quite imposing, but so did the other 2, over 6ft 2 really when up close.

Really would need to measure all 3 to see who edged tallest, it may only be a very small fraction we are talking.
S.J.H
said on 15/Jan/17
Brody claim 6'3 but look strong side of 6'2 so 6'2.5 is accurate
berta
said on 18/Dec/16
looks stron 188 guy - 189
Peter 179cm
said on 24/Aug/16
Looks no more than 188.
Rampage(-_-_-)Clover
said on 8/Mar/16
Rob, how likely is 188cm for Brody?
He does struggle to see over it in both pictures
Editor Rob: in person he's really not much different than j august richards.
Dingus
said on 15/May/15
Almost 6'03.00" but it could be the footwear.
Joel12
said on 30/Mar/15
sorry but he looks 187cm....for max 188cm to me
ZTL
said on 9/Mar/15
Looks 6'3" to me.
joe 193cm night
said on 8/Mar/15
2.5in 6 pés (189 cm)
Katatonia
said on 1/Dec/14
Wouldn't be surprised seeing this guy measure a hair over 6'2 a his low to be honest.
Andrea
said on 27/Oct/14
Admitting i've not seen this guy anywhere (so i can't make any other comparisons), he looks nowhere near 6'3 with you, Rob. He doesn't look much different than the plumber. How much height is he losing? 1.5? If not, i can't see him over 6'2, let alone 6'3...
[Editor Rob: 6ft 2.5 could be a better estimate.]
Rampage(-_-_-)Clover
said on 25/Oct/14
I have a hard time seeing him eye to eye with guys like Kevin Sorbo or Billy Campbell. Probably an early morning 6ft3 guy. No way under 6ft2 though
Alex 6'0
said on 12/Aug/14
Looks solid 6'2, maybe 6'2.5
Crash
said on 11/Jul/14
All your eyes really pop out with the pink background. haha
But yes, 6'3".
Yazz
said on 23/Apr/14
I thought 6'1 after first seeing the pic
d
said on 3/Apr/14
you're way off on this one. 6'2 maximum come on rob
avi
said on 3/Jan/14
@rob
Are you dropping to match posture?
Greg
said on 26/Nov/13
Needs a downgrade. Not seeing 6'3" here. Looks more like 6'2" maybe 6'2.5" at the very most.
Pedro
said on 15/Sep/13
In his resume he is actually listed at "6 feet 2 in".
chuckles
said on 22/Aug/13
6'2" in shoes about 6'1" barefoot.he's only about 5 inches taller then R.ob
avi
said on 29/Jul/13
@Charlie says on 15/Jul/13
yes but there isnt a full 7 inches. Rob matches the posture
Charlie
said on 15/Jul/13
See alot of weirdos here that believes he is under 190. He is clearly hunching and not abit under 190 cm.
avi
said on 27/Jun/13
Rob you're merciful. he's clearly a 6'2.5 guy.
Bard
said on 6/Apr/13
Looks 6'2 in the pics
Nick 189
said on 15/Feb/13
Looks a legit 6'2
Rampage(-_-_-)Clover
said on 6/Oct/12
You can have it both ways. Be tall and successful
witchdoctor
said on 13/Aug/12
Rob he is not below 1.90m,you should have talked to him about his height he hates its,he says it a disatvantage when he has to work with tiny actresses like Rebecca budig,says he wishes he was around 6 ft!
Maximus Meridius
said on 12/Aug/12
Rob back too that comment how many actors in that are strong 6ft 3in would want too be a weak 5ft 8in not many if tom cruise was taller and had a nine o clock shadow he would stop wearing lifts he wouldn't need anymore how many actors 6ft and over will wear lifts not many but actors under 6ft will wear lifts brad pitt robert downey jr and mark wahlberg.
Maximus Meridius
said on 11/Aug/12
Rob he looks like Tom Cruise but only taller.
[Editor Rob: would he trade his height for Cruise's acting career...I wonder how many actors would swap say being 6ft+ to go to 5ft 8 if they had a better career.]
Rampage(-_-_-)Clover
said on 11/Aug/12
Looks 187-188cm max in both pics. Don't think he's an honest 6ft3.
ANDREA[ITA]
said on 7/Dec/11
yeah, 6'2.5 is about right for him! no more!
ChiasmataX
said on 25/Nov/11
189cm at most for this taller version of Tom Cruise. He's about the same height as the dude from height challenge # 5 without shoes.
LAN Jiao
said on 1/Nov/11
he look 6'2 if straight up with rob alone. in pictures he does't look as tallish than 6'2 geoff stults with similar build as him. im thinking he could be 6'2.5 or just 6'2.25 in person , let alone 6'3.
Moke
said on 16/Sep/11
Haha, he really looks a bit like Tom Cruise in the left pic :)
ANDREA[ITA]
said on 27/Aug/11
Ok! So you still think he's a legit 6ft3? In pics he looks 6ft2.5 max! 6ft3 could be his morning measurement!
[Editor Rob: I think he might be 6ft 3, he can look that height range]
ANDREA[ITA]
said on 24/Aug/11
Rob id you said he looked 1.5 inches shorter than Adam Baldwin, who might be even 6'3.5 or 6'3.75, why you keep this height? In the pics he looks no more than 189!
[Editor Rob: he did look noticeably smaller, but then I think baldwin could have a fraction thicker footwear.]
AK
said on 28/Jul/11
holy crap tom cruise is tall LOL
Cranberries (18m, 192cm dinnertime)
said on 3/Jul/11
He and Rob are both bobbing their heads inordinately toward eachother. Skewing and strange.
Rampage(-_-_-)Clover
said on 27/Jun/11
6ft2.5(189cm) is nearer
Terryman
said on 17/Jun/11
190cm tall he claims he's height gives him trouble with shorter daytime actresses Like rebeca budig(1,55m?) ,has said he even wishes he was just 6ft(1,83m)!
James
said on 14/Jun/11
yeah 6'2 on the right pic
Rampage(-_-_-)Clover
said on 4/Jun/11
I see a solid 188cm on the right
James
said on 31/May/11
6'1.25 (186cm) or 6'1.5 (187cm) in the right pic standing with very bad posture i am guessing?
thorterr
said on 16/May/11
theres no way this guy is 6ft 3 ,what was the shoe sizes rob? no more than 6ft 2inches here
[Editor Rob: not much difference]
Rampage(-_-_-)Clover
said on 16/Apr/11
6"2.5-6"2.75
James
said on 24/Jan/11
i think legit 6'2.75
ANDREA [ITA]
said on 15/Jan/11
Very tall guy! I think he's in the 188-190 range!
Pamco
said on 8/Jan/11
Looks to be 190, he's arching his neck in those pictures.
RobertJ
said on 26/Dec/10
He doesn't look taller than Brandon Routh yet he's listed as shorter.
Shaun
said on 1/Nov/10
Looks more 189-190cm to me than the full 6'3".
Mathew
said on 5/Jul/09
Yep, 6'3".
177cmmm
said on 21/Jun/09
Rob its funny because he signed his name in the space over your head.
Doug
said on 9/Jun/09
I'ts amazing how many of these American soap opera actors are not only good looking but are genuinely tall guys 6'2-6'3" seems very common for these sorts of actors. Compare this type of soap opera actor to most of the Hollywood film actors!!
yoyo
said on 22/Feb/09
he def slouch down alot in picture above. looks 6ft3 in tv.
Demp
said on 29/Jan/08
Looks quite tall there
wrestling
said on 21/Jun/07
this guy plays Patrick on the show , he always looked tall , 6'3" sounds very much right , maybe 6'4" can be his tops
[Editor Rob: he did describe himself as 6ft 3 and looks tall in person.]