Brooke Burke's Height
5ft 5 ¾ (167 cm)
American Tv presenter. She claims to be 5ft 7.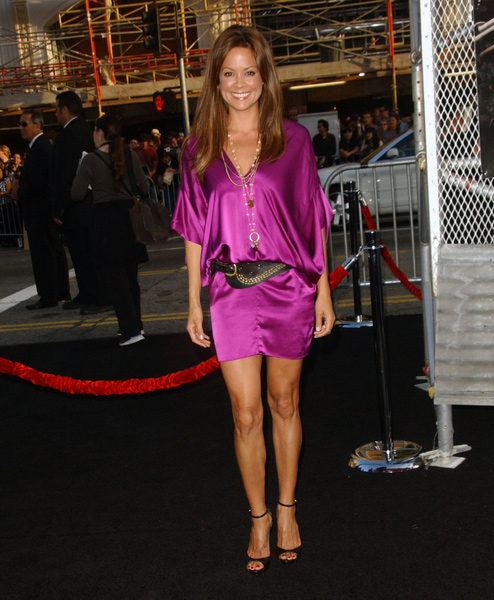 Photo by PR Photos
Add a Comment
26 comments
Average Guess (2 Votes)
5ft 5.75in (167cm)
kto
said on 25/Jun/13
I just saw the same special and based on her comment, her height assessment included the use of 5 inch heels. So by her words, at 5'7" she is actually 5'2" (but she would never say that explicitly as elusions are always nice). If she isn't towering over many people after putting on heels but only blending in, then this is likely the case. Otherwise, she would be well over 6', i.e., waaayyyy above average height.
mae
said on 23/Jun/13
I just saw her on an E! special about her life. She said she was too short to have been a true high-fashion model and described herself as "almost 5'7" on a really good day." She also said she often stood on her tiptoes as a model and she loves 5" platforms now.
J.Lee
said on 27/Apr/13
Rob, can u help me out on this? I'm trying to gain a perspective. So Brook Burke is listed at 5 ft 5.75. You also listed Maria at 5 ft 7.75 But in this pic below, Brooke looks quite a bit taller than Maria in her heels. I can't tell how many inches her heels are giving her, yet how much taller is she than Maria in these heels? She looks 2 inches taller, but her heels don't look big. Here is the pic, let me know if you will, thanks
Click Here
[Editor Rob: I would say the heels give about 3 inches, they could be closer in height]
J.Lee
said on 20/Apr/13
Rob these are monster monster heels, how tall u think she is in these monsters?
Click Here
[Editor Rob: probably 6.5 inch range, they are real monster type heels, the kind a 4ft 11 girl could wear and blend in as looking average]
Chisel
said on 26/Sep/12
She danced with Derek Hough, who is 5'10'' and except for the last, a free dance, wore high heels. So I'm surprised she didn't tower over him.
bb
said on 5/Jan/12
Just saw her on Live with Kelly promoting her new exercise DVD. Both her and Kelly were in running shoes doing various moves. This height is pretty accurate because I believe Ripa is around 5'2-5'3 and Ripa came up to Burke's eyebrows give or take a little. Oddly enough David Duchovny was cohosting and he didn't look that tall. But he seemed to have really poor posture, almost like he was hunching down. Maybe he didn't want to make Ripa look so short?
mf
said on 9/Aug/11
No way that she's shorter than 5'8".
da_truth
said on 10/May/11
another 5'5" woman
perfect
said on 21/Mar/11
She does look pretty tall on tv, but hot either way.
Britt
said on 14/Feb/09
She is definitely in that range.
Alex
said on 3/Dec/08
I would have closer to 5'7.
Phil
said on 4/Oct/08
Looks this height on DWTS Season 7.
Anonymous
said on 15/Aug/07
us weekly or star, ii forget which, just recently listed her as one of the hotties mothers who shed baby weight very quickly-and listed her as a solid 5'8.
Anonymous
said on 28/Jul/07
upgrade, please. we all know brooke is a tall woman, in the 5'7 range. she is not smaller than pam anderson, i think a little taller.
ms2000vette
said on 7/Jul/07
I've seen her in person, and conservatively, I would say 5'6 1/2...Perhaps a little taller, but definitely not shorter...
Anonymous
said on 11/Jun/07
saw her on the E! channel with her kids on the beach this past weekend, and she sure stands tall! she looked about 5'7-5'8. no less. i need proof that she's this small! i'm convinced she's tall
Anonymous
said on 24/May/07
rob, or glenn, any proff she is really only this height? other than they way she stands on tv? i'm almost certain she is no smaller than 5'7.
Anonymous
said on 15/Feb/07
she is 5'8. why stated so low???
Glitter1
said on 17/Jan/07
OK, IN THAT PIC WITH DAVE NAVARRO-HE IS 5'9-HE HAS A BOOT ON THAT EASILY GIVES HIM AN INCH OR 2-MAKING HIM IN THE 5'10 RANGE OR SLIGHTLY TALLER-SHE HAS ON ABOUT 2.5 IN CH HEELS-I'M A WOMAN, I KNOW SHOES. NOW, IF HE'S STANDING AT 5'10 IN THE PIC, AND SHE'S GOT THESE HEELS ON, THAT WOULD MAKE HER ABOUT 5'9-THERE IS ABOUT A 1.5-2 INCH DIFFERENCE BETWEEN THEM. SO, 5'9 IN HEELS IS ABOUT 5'7 BAREFOOT. I'M 5'7, AND THE WAY SHE STANDS AND LOOKS IN HEELS IS EXACTLY HOW I LOOK IN THEM. TRUST ME, SHE IS 5'7. NO LESS.
boo
said on 16/Jan/07
anonymous - yes she was a model - but she was BIKINI and FITNESS model. Slightly different height requirement for that one!
anonymous
said on 10/Jan/07
can u please upgrade brooke? i think she's actually close to 5'8. she's a model for god's sake! and on that show she hosts, rockstar or whatever, she appears very tall, not that much smaller than 6'1 tommy lee, and even taller than 5'8 dave navarro in high heels!
jay
said on 20/Dec/06
5'5? BS -this girl is a monster 5'6+ at least.
anonymous
said on 20/Dec/06
why is everyone's true height downgraded on this website? brooke is def. 5'7, no less. and pam anderson is also a true 5'7, and marisa tomei is at least 5'5-5'6-i've seen all 3 women in person, and this site needs 2 be more accurate!
Darren R.
said on 14/Dec/06
Really? I thought she was 5' 6", but guess she must be only 5' 5.75". Its amazing how wrong you can get it from what you see on TV, I would never have guessed that massive 1/4 inch difference!
Lil D
said on 12/Dec/06
Looks about right. She looks about that height on tv.
the shredder
said on 6/Dec/06
i thought she was 5'8 . well , thats what she gets listed at .