Bruce Spence's Height
6ft 6 (198.1 cm)
Australian actor best known for roles in The Road Warrior and Legend of the Seeker. He once joked in the Sunday Herald,
"Here I am at 5ft 7 and I'm still working!"
. He is listed 198cm on his agency resume and in a sword-of-truth.com interview he talked about his height, saying:
"I'm actually six foot six, I don't know where this six foot seven has come from. Surprisingly there are a few actors a little taller than me, but I definitely am one of the tallest in the business. It's been an advantage and a disadvantage. One of the reasons I've found myself in sci-fi and fantasy films to a certain degree is because of my physical shape."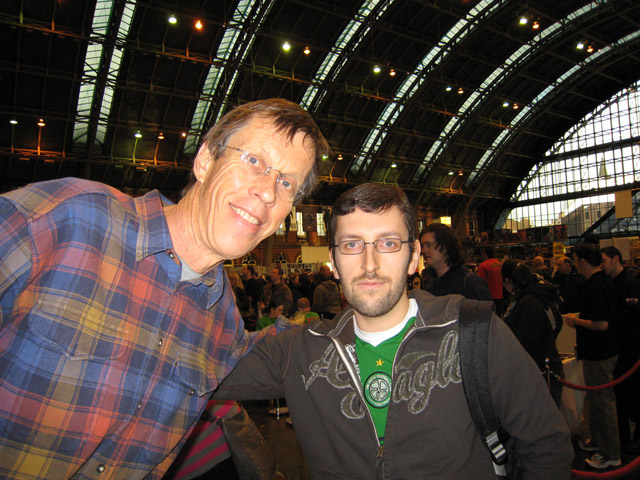 Rob with Bruce
You May Be Interested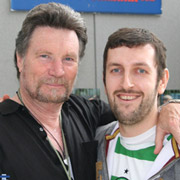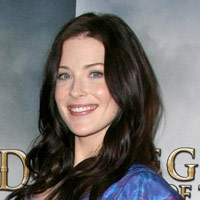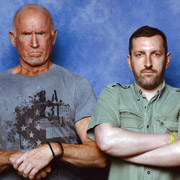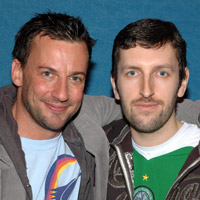 Add a Comment
53 comments
Average Guess (23 Votes)
6ft 6.37in (199.1cm)
JD1996
said on 28/Sep/20
6'6"-6'7" range, strong 6'6"!
Chris Junior Hernandez 1990
said on 18/Aug/20
@Dream I would have rule out close to 6'6 1/4 before bed for Bruce for his peak. I have never thought he look flat 6'6, he must have downplay a bit. But maybe he will look this listing now in his mid 70s.
Dream
said on 11/Jun/20
@Rob
Actually, do you remember his footwear that day? Also, how does someone like Rick Fox, stack up with him?

Editor Rob
Spence is a thinner guy, so I'm sure could appear taller to people than Rick does, although I don't think they are far apart. I believe when walking about he had a normal shoe on.
Dream
said on 7/Jun/20
@Rob
Actually, I think Bruce Spence could be taller, since you didn't mention any footwear advantage for him.
While Joshua did have a footwear advantage.
Nik Ashton
said on 20/May/20
5'7" is pretty close to average! 😂😂😂
Dream
said on 29/Apr/20
Rob, curiosity sake. Was he a little taller than Anthony Joshua, when you met them, or was it too close?

Editor Rob
Around similar range, taller than 6ft 5 guys easily
Rampage(-_-_-)Clover
said on 27/Aug/19
Strong 6ft6 peak I think is likelier than weak 6ft6. Nowadays he's probably in that zone though
Nik
said on 9/Jun/19
That is one heck of a lean!
Rampage(-_-_-)Clover
said on 6/Apr/19
Not as high as 6ft7 but little over 6ft6 possibly
Christian 6'5 3/8
said on 6/Dec/18
@Nik
I wish he wouldn't have leaned so that we could determine how tall he would stack up against Rob.

Editor Rob
Unfortunately it wasn't any good for height that shot, except maybe to say it's a big 4-5 inch lean! Talking to him, he did look very tall. Shame that this organiser was slow to implement photo ops, more photo areas etc as there were a good few guests from 2005-2008 that never done a 'paid for photo'.
Canson
said on 28/Nov/18
He for sure isn't under 6'6
Christian 6'5 3/8"
said on 7/Nov/18
@Canson
It's because he has a big head.
Canson
said on 4/Nov/18
He has the long face characteristic of a 6'6" or over guy
Gracian
said on 26/Jun/18
Rob, who in your opinion in their youth had the best chance of 6'6.25"(strong 6'6") Bruce Spence, Hulk Hogan or David Prowse?

Editor Rob
Maybe Spence, but all guys I think could have been close enough to 6ft 6 when measured. Hard to say which was the more certain of a strong or weak 6ft 6.
Dream(5'9.5
said on 22/Jun/18
Who Bruce be a candidate for 6'6 1/8th"?

Editor Rob
It could be arguable.
Gracian
said on 27/Mar/18
In the past, Bruce looked very tall naxt to people like 5'8" Richard O'Brien or 5'5.5" Sara Paxton:
Click Here
Click Here
I believe that when he was younger he was 6'7" out of bed, today he is probably really a bit shorter. I'm asking you again, he was giving him a peak height of 6'6.25" and the current height of 6'5.5".
Gracian
said on 28/Feb/18
Rob, please read my comment and take my opinion into account. I think Bruce can already get peak height and current height. I think the peak height 6'6.25" and the current height of 6'5.5" will be just for him. I am asking for your interventions, Rob.

Editor Rob
The 6.25 figure for him isn't exactly outrageous, he might have shrunk a bit by now too.
JJAK
said on 10/Aug/17
Easy 6 6 when he stands up straight at least during his uncostumed period..
He often had to do the stand way back or crouch so as not to diminish the smallish stars.
Even so like arness he towered and what some misnomer dwarfed all the tallest.
He was an ok actor funny how long his career lasted often having pivotal roles and dialogue.
I cannot remember a single time he actually was the star of a picture.
even
said on 22/Jul/17
a strong double six ( 6'6" )
Rampage(-_-_-)Clover
said on 7/Apr/17
Similar to Cudmore at peak
S.J.H
said on 17/Jan/17
I bet he could be a abit over 6'6 in his 20s-30s
Rampage(-_-_-)Clover
said on 16/Jan/17
6ft6-7 range peak.
Johno
said on 3/Dec/16
Judging by that picture, i am positive he is 6'6.25.
Christian-196.2cm (6ft5.25)
said on 30/Nov/16
I can't tell how tall this guy is just by looking at the photo above. You should have asked him to stand straight, Rob.
Editor Rob: Christian, that photo was just really to show I met him, but in person he did still look 6ft 6.
Rampage(-_-_-)Clover
said on 29/Nov/16
Rob, could be a little less than this today now that he's in his 70's?
I do think a strong 6ft6 peak is arguable though...
Editor Rob: 6ft 5.5 range today Rampage, is entirely possible.
Rampage(-_-_-)Clover
said on 27/Sep/16
A fraction over this peak is fair…
Canson
said on 27/Sep/16
He has the proportions of someone who is 6'5 or over mainly 6'6 or over with the long face. I wouldn't doubt that he was prjme
S.J.H
said on 26/Sep/16
Honest 6'6 claimed. He turns 71years old weeks ago. Might be a loss 1/4 by now at 6'5.75
Rampage(-_-_-)Clover
said on 3/Jan/16
This is what 6ft6 should look like.
Dingus
said on 4/Jul/15
looked about 6ft in mad max 2
G
said on 24/May/15
Spence has never 6'7. He always looked 6'6 since his debut film (Stork). In this film if you compare it with the doors it really looks 6'6.
Rampage(-_-_-)Clover
said on 25/Oct/14
Daniel Cudmore 200-201cm
Bruce Spence 198-199cm
Clive Russell 197-198cm
Nonzo Anonzie 196-197cm
Rampage(-_-_-)Clover
said on 24/Oct/14
He looks taller than Clive Russell or Nonso Anonzie do next to Rob.
In Mad Max 2, he made Gibson loo like a little kid
[Editor Rob: spence did look walking about a genuine 6ft 6 guy, nonso isn't really 6ft 6 though, he's nearly 2 inches smaller in person than daniel cudmore! Russell is still close to 6ft 6, at worst 6ft 5.5, although last time I met him still couldn't get a great photo - I asked jenny to watch us before the photo as I talked with him briefly before he decided to rest against he bloody counter and drop another few inches.

She said I wasn't really much above Clive chin...]
Judd
said on 21/Oct/14
6'6" fits him...
Rampage(-_-_-)Clover
said on 17/Oct/14
I think he'd measure similarly to Daniel Cudmore
Lorne
said on 22/Apr/14
Wow, I can't believe you got a pic with him! I always wondered his height, he looks massive! He is listed 6ft7, and I thought he could actually be that mark. Rob, he is 69 years old now... Could he have actually been close to 6ft7 when younger? I think you should give him a peak, or just an outright upgrade to 199cm, if he looked easy 198cm in his 60's...(Maybe that is why he jokingly said 5'7, he was knocking a foot off...)
176,2Tunman
said on 14/Mar/14
Looks like a genuine giant though hes probably closer to the camera,how tall is his head?And how tall is the guy just behind you?
Rampage(-_-_-)Clover
said on 7/Jan/14
Rob, is 199cm peak possible?
I've seen Mad Max 2 and he looked massive
[Editor Rob: well he does look a 6ft 6 guy in person, and 199 isn't impossible.]
logan noll 1996
said on 16/Dec/12
6'6 to 6'7. Did you know he played the Mouth of Souron in the extended edition of Lord of the Rings: Return of the King? It would've have been nice to see him and Aragorn toe-to-toe because he would tower over Aragorn.
Desann
said on 28/Oct/12
Could be a legit 6'6 1/2".
LAN Jiao
said on 21/Nov/11
Lol.. no one will argue bruce spence height.. because he is a certified 6'6 guy spot on.. rob should close this page.
CaptainSpaulding
said on 11/Nov/11
Jesus, even leaning over he has over a half a foot over you lol
LAN Jiao
said on 30/Sep/11
amount 6'6 claim/listed actor bruce spence looks the tallest to me. he could be a fraction more than 6'6. straight up here with rob he could be easily just 1/2in shorter than 6'7 daniel cudmore
Big King
said on 31/May/09
He looked 6'6" in one of the Star Wars episodes.
el toppo
said on 26/Oct/08
This guy has had such a mad film run! He was in Mad Max 2 and 3, Matrix 3, Star Wars 3, and Lord of the Rings 3!
Anonymous -15
said on 27/Sep/08
He looks like he'd be nearly a foot taller than Rob if he stood up straight , so 199 seems pretty accurate.
Haze
said on 16/Jun/08
whats up wit the photo. ur right arm is gone........ wierd
Tonero
said on 28/Feb/08
I'd give him 6'7".
frank barron
said on 18/Jan/07
i'd like him to stand next to robert barone. Clash of the titans
S to the C
said on 18/Jan/07
he is the helicopter pilot in mad max beyond thunderdome
Markus
said on 17/Jan/07
Hey isnt he the helicopter pilot guy from Mad Max ?
[Editor Rob: yeah, worked with Gibson...]
Britannia
said on 25/Nov/05
I'd say that 6'7" was probably very accurate. Watch a few more of his movies and you'll be left in no doubt. Dark City, for example, is proof enough.
Mr. X
said on 19/Jun/05
Hmmm... he is tall but is he tall enough to be 6'7"? Noted he doesn't have the best posture, and that could be the reason why he seems to be a tad off the 6'7" margin. The only problem is that I have the Matrix Revolutions at home and there was a scene in that movie where he stood next to Keanu Reeves, both of them looked to have the same posture, and Bruce looked more like 6'5" when comparing him to 6'1" Keanu.