Vernon Wells Height
5ft 10 ½ (179.1 cm)
Peak height was 5ft 11 (180.3 cm)
Australian Actor best known for playing the villainous role Wez in the classic 80's post apocalyptic movie Mad Max 2: The Road Warrior. Other noted appearances have included Commando and Fortress.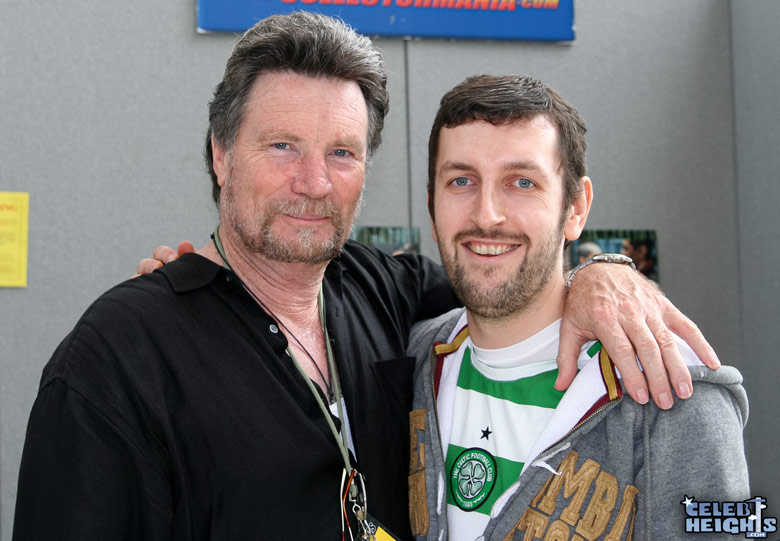 5ft 8 Rob and Vernon @ Collectormania 2006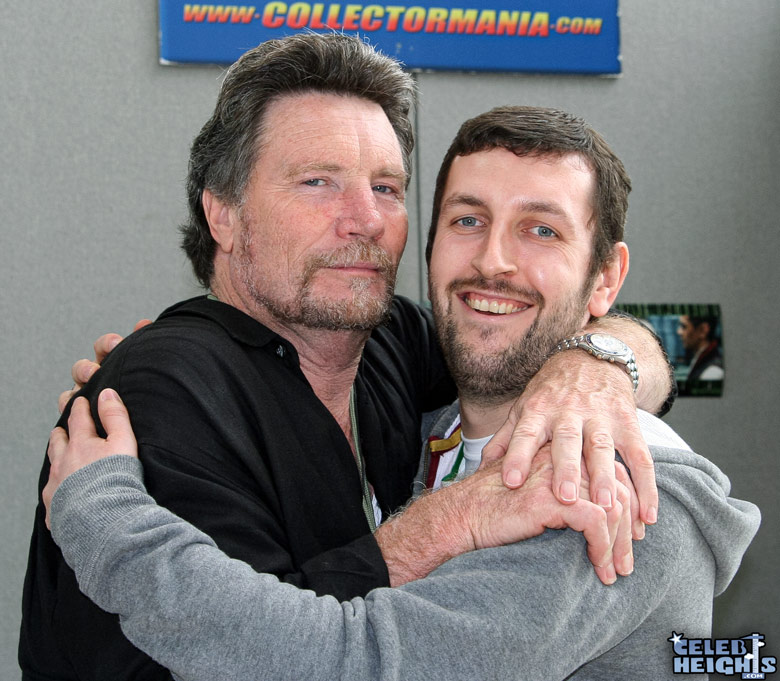 You May Be Interested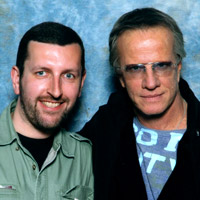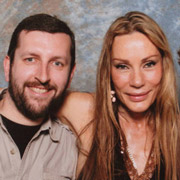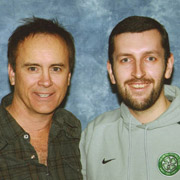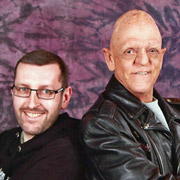 Add a Comment
74 comments
Average Guess (13 Votes)
Peak: 5ft 11.35in (181.2cm)
Current: 5ft 10.6in (179.3cm)
Rampage(-_-_-)Clover
said on 4/Nov/20
181cm is possible
Halen 5'8
said on 14/Oct/20
With Ann Marie Crouch from Wild Force Power Rangers who appears in all episodes.
They have a identical pose to your photo with him lol.
Click Here
berta
said on 1/Jul/20
if this guy was 180 cm peak then arnold was at best 184 cm. i can believe 181 vs 185 cm
Nik
said on 16/May/20
Legit!
Josh Jeffords
said on 6/Apr/20
Did lots of tv roles as well other than Road Warrior he often has the distinct accent and style.
Very much a character actor always thought he was 6 ft or even more back when people believed arny's claims.
He measured well to Macg as well I'd say weak 6 ft peak clearly above average but he did wear boots in many roles.
Facu
said on 2/Nov/19
He was a great villain in Power Rangers. He must be added to the PR section
Sandy Cowell
said on 15/Aug/18
Great pictures!
Vernon certainly doesn't look below the listed 5ft10.5, so that's what he gets.
I saw the rather crazy action movie 'Mad Max II' at the pictures. I KNEW his face was familiar....
Vernon hasn't lost much height over the years - good luck to him for that! Oh, and he gets 5ft11 peak from me.
Bri
said on 25/Apr/18
Looks 179 here
xXViklynXx
said on 14/Apr/18
Terry....i dont need no gun!! I dont need no gun!!
Let off some steam bennett!!
Commando is one of my faves!
Terry
said on 14/Jan/18
I watched Commando last night and he does look around 6'ft peak, he looked only slightly shorter than 6'1 Arnie in that film so i think a strong 5'11-weak 6'0 is fair for this guy. I liked him in Commando, good actor and underated.
Pierre
said on 19/Oct/17
G 5"11'=no more ridiculous than yours imo... Vernon's nose isn't long.Rob's eyes seem to be a little higher than Vernon's nose by this two pics.Imo the distance between the mouth and the eyes is around 3 inches on a classic head like Rob or Vernon, and Rob's eyes are max for the same distance from Vernon's mouth and from Vernon's eyes so around 1.5 inches by this two pictures.now about the postures=Vernon don't lose a lot of height even if his posture look relaxed,only his head seem to tilt a little ,Rob's neck never look very straight,he always seem to slouch a little.
G 5'11
said on 28/Jul/17
@Pierre how are you seeing below 5'10? that's ridiculous Rob's eyes are looking at his nose he's at worst a strong 5'10 range.
Pierre
said on 13/Jun/17
Vernon look 5"9.75'/5"10' next to Rob
Peacegamersd95
said on 13/Jun/17
The actor played as Ransik, the Time Force Ranger's main villain in Power Rangers Time Force.
Revisionist
said on 10/Jun/17
He really doesn't look taller than a weak 5'10 in these pictures. His hair is 5'11 though!
phil
said on 30/Apr/17
why do yall keep saying he not 5'9.5 he 5'10 1/2 cms
Giorgi
said on 8/Dec/16
Click Here
I think he looks tall enough for this measurement.
mike
said on 19/May/16
he doesn't look 2 inches taller than you in that photo. Especially if you consider the height of his hair.
NBAer
said on 21/Mar/16
Looks 177cm(strong) in both pictures
Rampage(-_-_-)Clover
said on 11/Jun/15
Height loss has been minimal.
Joe
said on 18/Nov/14
5-11 looks about right in his prime, I believe when he was standing next to Schwarzenegger, Arnie appeared to be two inches taller than him. That is why I believe Arnold was 6'1" during his prime, possibly only 6'0.5" prime. He certainly was not the 6'2" that he claimed.
stu
said on 20/Sep/14
he seems a little too attached in the second pic rob lol 5'10.5 max
[Editor Rob: well, it's not only ladies who are attracted to me ;)]
Giulio
said on 14/Aug/14
why does he look 176 here ?
[Editor Rob: he did look a few inches taller I feel, but not a 5ft 11 range.]
Ally
said on 1/Aug/14
Looks 5'9 in pics
Vibram
said on 22/May/14
I think 179cm peak (5ft10.5) in the early-mid 80's. 177cm Today (5ft9.75).
the shredder
said on 8/May/14
Rob this guy does not look taller than 5 '10
[Editor Rob: I find calvinator's estimate of 11.5 today hard to believe, although peak it is possible ]
calvinator
said on 24/Feb/14
Just met him at an event, I'm 6' and he was easily my height…maybe 5'11.5"+ little shoe advantage…Rob, this guy needs upgrading. I believe him saying he was 6'1" in 1984! , he is a heavy build with large head…can look shorter, I was surprised he was that tall when he stood up! had white sneakers similar to mine within 1/8"…very nice guy. :)
Rampage(-_-_-)Clover
said on 5/Dec/13
He wouldn't be 5ft11-6ft now but for sure at least a strong 5ft10.
Rampage(-_-_-)Clover
said on 17/Oct/13
Strong 5ft11 in the 80s is possible...
PLB
said on 14/Jul/13
Mr. Wells had to fight a one-on-one final battle with Schwarzenegger in Commando. Arnold was taller and much more muscular. Wells had to rely on just his snarling and grimacing to afford the battle some interest and a degree of verisimilitude. He was a better foil for the smaller Gibson.
But of course in all these movies everybody has a gun and a saber yet the final duel is a fist fight. That must be a challenge for the screen writers.
I like Vernon Wells I have pleasant memories of him but what does a former movie tough guy do in his declining years? There's probably a drunk in every bar who wants a piece of him.
Ali
said on 19/Jun/13
Rob he is clearly more than 5'10.5. I would easily put him at 5 11.5
Johno
said on 24/Mar/13
5'9.25 - 5'9.5 in them pics
Tony
said on 24/Jan/13
@Carl I thought the same thing. Like wow Vernon Wells looks a lot darker on television. Hes on The Angels now btw.
Aragorn 5'11
said on 22/Dec/12
5'9.5 MAX!!!
tom
said on 20/Dec/12
5-10"max imo
Johnnyfive
said on 15/Dec/12
I see 177-178. Weak 5'10 guy.
Larc-186.7cm-188.6cm
said on 8/Sep/12
Peak 5'11.5 is possible, he was just 2 inches shorter than Arnold in Commando.
Lost just 1 inch or so now at 67y.
Carl
said on 12/Feb/12
He looked way different in his Blue Jay's uniform.
the AMAZING Babushka
said on 25/Jan/12
looks 5'9", his hair gives him another inch
Mathew
said on 5/Dec/11
He looks like he's got Mamun by 3" in the pic.
jake
said on 15/Jul/11
Peak Height: 5ft11.25 (181 cm)
Current Height: 5ft10.5 (179 cm)
Dmeyer
said on 4/Jul/11
Mid 60s average loss is 2.5 cm so 5 ft 11.5
Dmeyer
said on 4/Jul/11
Hé looks aleast 5 ft 11.5 peak give him that
Dmeyer
said on 4/Jul/11
Looks solid 177 with Rob 181 cm with mamun
Dmeyer
said on 4/Jul/11
Now hé is of course not over 179-80 but 28 years ago in commando hé looks raughly shorter than arnie and aleast 3 inches on 175 hedaya hé looked near 6 ft in that movies is182 cm peak possible since hé looks 5 ft 11 with mamun and hé looks old could havé been easy 2 cm more
[Editor Rob: it is possible, in Fortress he could look 5ft 11 range, maybe I will give him that peak anyway.]
dmeyer
said on 4/Jul/11
rob this guy looks 3near in on 5 ft 9 hedaya so near 5 ft 11.5 peak 5 ft 10.5 now thats whi arnie didnt look much on him , because if he was only 179 peak then arnie was 183cm peak , he looks 5 ft 10 with 5 ft 11 with mamun so 5 ft 10.5 now he looks old enaugh to have droped 2-3cm
[Editor Rob: to me I never thought he was over 5ft 11, although he can look no less than that mark in the supermamun one.]
Dmeyer
said on 17/Jun/11
Solid 5 ft 10 with Rob 5 ft 11.25 with mamun
Dean
said on 6/May/11
No way in hell does he have the same size shoes on you cant look 177-178 in 1 pic and then 181-182 the 2nd pic! ok his posture is slightly better but he is no way JUST 179cm if mamun is 173cm and theres no footware advantage.
Rampage(-_-_-)Clover
said on 18/Apr/11
178cm with Rob...181/182cm with Mamun
LG69
said on 12/Apr/11
Mamun doesn't look as tall as Rob, when standing next to Vernon.
James
said on 24/Feb/11
looks 182cm or 183cm with mamun.
Rampage(-_-_-)Clover
said on 29/Jan/11
5"11(180cm) peak
5"10.5(179cm) today
Eisregen
said on 29/Nov/10
Looks a legit 5'11".
dmeyer
said on 17/Nov/10
is 5 ft 11 to 5 ft 11.25 peak possible
rk
said on 6/Jul/09
in commando he looked about 6' maybe
Mathew
said on 15/Jun/09
Fair enough listing.
Doug
said on 25/Mar/09
Huh there is a picture of Angelina Jolie looking 5'9" next to Condoleezza Rice
HOARDAK
said on 24/Feb/09
Don't forget VERNON WELLS (who I figured was 6'1") reprised his ROAD WARRIOR character "WEZ" in 1985's WEIRD SCIENCE, one of my A.T.F.s & 1989's romantic comedy "SHRIMP ON THE BARBIE" with his ROAD WARRIOR co-star BRUCE SPENCE "The GYRO Captain" (who has got to be between 6'3"& 6'6") & Richard "CHEECH" Marin who I think is somewhere between 5'6" & 5'9".
SuperAnonymous
said on 7/Jan/09
In the airport scene in Commando, when he is standing next to Arnold, Bill Duke, Arnold is towering over him by 4 inches easily.
Anonymous
said on 14/Dec/08
I could see he wore lifts in commando, hes definatly small.
Anonymous
said on 9/Dec/08
I meant same size as arnold schwarzenegger in commando, if not taller.
Anonymous
said on 30/Nov/08
This guy looked exactly same size EXACTLY SAME SIZE IN COMMANDO IF NOT, TALLER!
el toppo
said on 12/Oct/08
No way! **** off! I always thought this cat was at least 6 foot 1! He looked tall in Road Warrior ("ARGH! You can run! But you can't hide!") and roughly Arnolds height in Commando ("John? Stick yer head out! One shot. Right between the eyes. I'll make it quick, just for old times sake!") **** me. Learn something new every day. Does he still have his Australian accent?
[Editor Rob: yes, not as strong mind you.]
D-Lurker
said on 20/Dec/07
hahahahahaha, totally cool..oh your secret is safe with me mate, i won't tell anyone..
dmeyer
said on 2/Oct/07
rob was he taller as a younger so you can give him peak height
[Editor Rob: he's 60 there, so yeah maybe 179cm is closer.]
dmeyer
said on 2/Oct/07
look more 5'10.5 with you rob exept if he had more shoes was probably aleast 5'11 back in comando
Steevn
said on 27/Jun/07
Aged alot? Road Warrior came out 1981, and he looks the same... but 25 years older, duh. Still wouldn´t wanna get in a fight with this dude. Pretty sure he was part of a REAL commando unit once. Not just that Arnie-flick.
Mr. T
said on 23/Jun/07
Hey, Bennett! Has aged a lot.
guy
said on 23/Jun/07
I don't think filmakers are concerned about maintaining realism when it comes to casting actors. They have always smudged certain actors actual attributes through tricks and tactics. There is no reason to think actors on screen are exactly proportional to their actual specs. This guy above seemed 3 or 4 inches taller than 5'9" Dan Hedaya in commando. So there we have the problem because Schwarzy is only slightly taller as depicted in their final showdown. Bill Duke, whom Schwarzy fights and kills in the motel room is listed as 6'4". He seems only a bit taller, maybe a couple of inches, than Arnold.
Markus
said on 22/Jun/07
And he played in Wierd Science as well haha! Kelly leBrock :P
Markus
said on 22/Jun/07
Was he the mad bulky punker guy with the red mohawk in Mad Max 2?
I thought he looked at least 6'1" ...but he was quite a bit shorter than that body builder gangleader in the leather suit though. Some swedish guy, whom I read was 190 cm.
[Editor Rob: yes, mohawk guy on bike. I thought he'd be bigger too...]
glenn
said on 22/Jun/07
cool to get.
The Horse of FUNK
said on 22/Jun/07
Whoa you've gotta be kidding me. He's only 5'10? He looks wayyyyyy taller in Commando for some reason.
King
said on 31/May/07
Let off some steam, Bennett!