Candice Accola's Height
5ft 6 ¾ (169.5 cm)
American actress best known for playing Caroline Forbes on TV series The Vampire Diaries. In this photo I had
Nikes
, whilst
her shoe
was near 1.5 inches.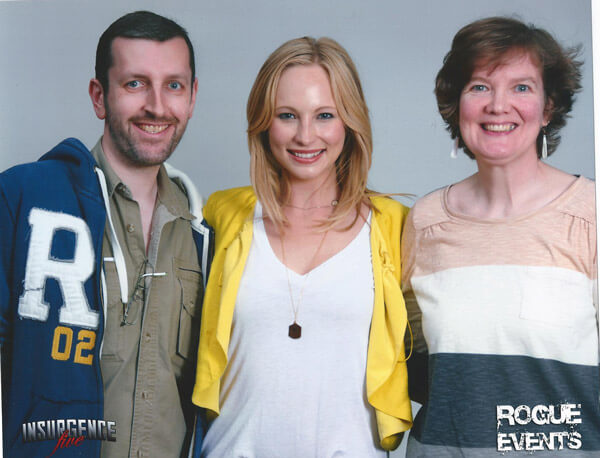 5ft 8 Rob and Candice @ Insurgence 2013
You May Be Interested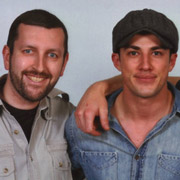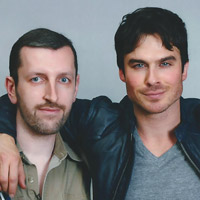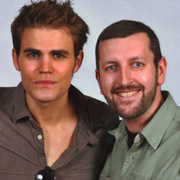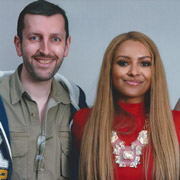 Add a Comment
53 comments
Average Guess (40 Votes)
5ft 6.74in (169.5cm)
Christian 6'5 3/8
said on 7/May/20
@Rob
Only 2.5cm is pretty thin for a
Nike Shox
. Do you own any other models of Shox that are thicker?
Click Here

Editor Rob
Remember that pair in the video is 10 years old, and lost a few mm from when new. There are thinner versions in the Shox brand like 'street shox' and the style like NZ, Turbo or R4 are thicker like 1.3-1.4
JohnMoore-162cm
said on 5/Apr/20
@Bresha - How she is 5ft8 when she was shorter than Jenny and Rob in that photo ??
Bresha
said on 26/Feb/20
If you look her up, she's actually 5 foot 8 inches. 🤷🏻‍♀️

Editor Rob
I looked her up...and down, and compared her beside Jenny and if she measured 5ft 8 barefoot I'd be shocked.
Jacky Huynh
said on 4/Sep/19
Fair enough Rob.
Jacky Huynh
said on 3/Sep/19
So Candice had a half inch footwear advantage in this photo? I see. But she also appears to be slouching and possibly somewhat further away from the camera. I think 170-171cm works for her. Just my opinion.

Editor Rob
I would stick with a weak 5ft 7 range from meeting her. If she was 171 she'd have been very close in height, but still looked an inch shorter beside jenny.
#FiveElevenSquad
said on 19/Apr/19
3.5 or 4 cm difference, WooHoo, she gets 5'6.5
Christian 6'5 3/8"
said on 5/Mar/19
@Rob
"Sometimes"? In about 80% of photos, you make celebs next you look shorter than what you list them as.
Intevel
said on 1/Mar/19
Rob is it just me or do you look more than an inch taller than Candice? You look 1.5 inches taller or more.

Editor Rob
in the photo yes, but in person Sometimes you can end up a bit taller or shorter. And of course your estimate could at times be a fraction different. I think the listing is still ok compared to other castmates
Nik
said on 19/Feb/19
The average vote works out to be 5 ft 6 5/8! I-N-T-E-R-E-S-T-I-N-G! This is probably the most she is likely to be!
Nik
said on 29/Jul/17
She looks about 5'5.75" to me!
KH
said on 26/Jul/17
She looks an inch and change shorter then Rob to my eyes in the pick so that plus the footwear difference makes this listing just fine. Weak 5'7. This lady is really pretty.
160cm
said on 17/Jul/17
Looks 5'6.25 to me
Nik
said on 8/Jul/17
You've gone too high here Rob!
Martin
said on 8/Jul/17
She looks as if she were your height!

Editor Rob
she was a big inch smaller than me that day.
trickytricky
said on 7/Jul/17
i think rob gives everyone here a .25 inch advantage. at least for me they all seem 1/4 inch off...
Sepanta
said on 7/Jul/17
Looks around 5'6.
World Citizen
said on 5/Jun/17
Looks 168 169 here
World Citizen
said on 3/Jun/17
I think she looks 5 ft 6.25 here
Christian-196.2cm (6ft5.25)
said on 13/Apr/17
Doesn't look 170 at all, even with the shoe advantage. But I guess she is, since Rob is the one who personally met her, not me.

Editor Rob
she is a kind of weak 5ft 7, certainly seemed a bit shorter than legit 5ft 7 people I measured.
same
said on 3/Oct/16
rob are you kidding me? she has shoe advantage, the only possible explanation is that her posture is looser.
Adele
said on 28/Jul/16
Rob she is 5"7.5 and I think you are taller then 5"8, maybe 5"9, because you are taller then Jenny

Editor Rob
Candice really isn't over 5ft 7 up close.
chris
said on 29/Dec/15
But Rob, she looks 2 inches shorter than you! Especially if she had a footwear advantage, i think 168cm is her height!
Ally
said on 2/Jul/15
My friend is her brothers girlfriend sister and she is 100% 5'8 she has met her and candice was only 2 inches shorter and she was wearing flats so candice is a solid 5'7 no more not less.
Geoff
said on 12/Mar/15
Really 5'6.75"? Unless you were more like 5'8.5" at the time of the picture, you look at least 2 inches taller plus she had a little more footwear.
max
said on 14/Nov/14
Rob, i think you estimated wrong here, she looks no more than 5'6 plus, clair holt(169cm) was taller than her in TVD, i think candice no more than 168cm
Judd
said on 30/Sep/14
5'6 with rob
SAMMY DERRICK
said on 29/Sep/14
Jack,SERIOUSLY!!!Your going to criticize one of the prettiest ladies in Television,I wish my girlfriend looked like Candice.I'm 5'8.5
Jack
said on 26/Aug/14
she has a huge forehead
J.Lee
said on 23/Jul/14
Rob you look quite taller than Jenny

Editor Rob
as I say before, sometimes posture/subjects position/camera lense/tilting/photographers position can change things.
J.Lee
said on 19/May/14
Rob if she had more shoe than you, you are at least 1.5 inches taller. Her eyes are only up to bottom of nose
Rhonda
said on 18/May/14
Alex not trying to nit pick but Docs at least the standard doc sole is little less than 1.5 inch. It is about 1.3 inch while wearing, no more than a well soled training shoe gives a Nike trainer air max very much the same and they don't give 1.5. The jadon docs give more but not sure exactly could be close to 2 inch though never measured them.

Editor Rob
it's a 'doc style' shoe,
looking at it
again I would definitely peg it as pretty near 1.5 inch
saraxoxoxo
said on 4/Mar/14
The thing is, Jenny looks smaller than you in this picture even though she is 5'8, and candice looks around jenny's height but jenny's hair gives her a bit more of a boost. I still reckon candice is 5'8 or a high 5'7. 5'6 is too small.

Editor Rob
believe me, Candice is 100% smaller by at least an inch ;)
divincodino92
said on 28/Nov/13
She's 169! 5 feet 6.5 is perfect
J.Lee
said on 21/Oct/13
any chance she's leaning down? you do seem to be 2 inches taller than her, rob. I'd say 5 ft 6.25

Editor Rob
she looked taller than 5ft 6, the photographers are so fast at that event you barely had time to say hi! There is a chance she's 5ft 6.5 though.
Alex 6ft 0 1/8
said on 20/Oct/13
Doc martins give a good 1.5 inches but its certainly not near 2 inches. I have a pair of sketcher boots and those give 1.5 inches
Mathew
said on 17/Oct/13
With the slight footware advantage it would seem 5'6.5" tops.
the shredder
said on 17/Oct/13
More shoes ... 5'6.5 is better.
Steve92
said on 16/Oct/13
5 feet 6.5, could be Rob? Or you are really sure that she's only 0.5 cm under 170?

Editor Rob
it could be a possibility yes, especially as her shoes are thicker that day.
Bakura
said on 14/Oct/13
Does look a weak 5'7 if you all had similar footwear.

Editor Rob
I had 1.1 inch nikes, Candice is in
This exact outfit with doc martin style shoes
that day...Jenny had nikes I haven't measured, but are roughly 0.8 inch.
if you believe the words of our good friend G when
Talking about Doc Martins
, then they are 1.75-2 inch :) Although I think they are close to 1.4-1.5 range.
that quote about converse being nearly 1 inch is also hokum!
Andy 185cm
said on 12/Oct/13
@Rob How many cm is her forehead, i think its the biggest forehead ive ever seen!

Editor Rob
maybe because her head to eye is a bit longer (maybe 1.5cm) than her eye to chin it can make the top half of head appear longer...her actual head isn't quite 9 inches.
Alex 6ft 0 1/8
said on 12/Oct/13
Rob, no I didn't get to meet G. I had met you the day after you met G. I would have met G but we just never made plans. Frank wanted to meet you but it was too bad he didn't know of the date you came to NY since he lives here too
Alex 6ft 0 1/8
said on 11/Oct/13
Rob, yea G was 5'6.75 at best at his low. More closer to 5'6.5 likely!

Editor Rob
I know you saw frank/mamun, but did you ever see G...I know he wouldn't want to meet me again whenever I return to America, but he had nothing against other posters like you/frank.
Alex 6ft 0 1/8
said on 9/Oct/13
It does look nearer 2 inches than an inch difference. At least 1.5 inches
Alex 6ft 0 1/8
said on 9/Oct/13
Rob, same footwear here she has as you? 5'6.5-5'6.75 looks about right though

Editor Rob
no less, basically she's about G's height I think in person
chrisss
said on 5/Oct/13
Rob she's 168cm
Bran
said on 8/Sep/13
She's defiantly not 5ft7 on this photo; another vampire diaries actor over listed ( listed 5ft8 on there sight), in which adds to the whole cast.
J.Lee
said on 8/Sep/13
Agree @ mask, Rob and Jenny both look close to 2 inches taller than her. Rob have you been extra nice to the ladies lately?

Editor Rob
I thought she looked similar height to 'Big G', in the 5ft 6.5-6.75 zone.
J.Lee
said on 6/Sep/13
rob you look 2 inches taller
LEALVL
said on 6/Sep/13
She's really beautiful!! Her blue eyes together with blonde hairs! That's the best combination..Mmm
MaskDeMasque
said on 5/Sep/13
Why do you and Jenny look 2 inches taller than her Rob? Was she not standing up properly?
herber185
said on 4/Sep/13
169 cm / solid 5'6.5, decent tallish height for a girl
Pink
said on 18/Jun/13
She looks about one or two inches taller than Nina dobrev on the show, and Damon said that Elena is 5'7, so that would have to make candice about 5'8.5

Editor Rob
trust me, she's smaller than me, more a weak 5ft 7.
RentGirl
said on 14/Nov/12
Always thought she was 5'6. Her character is always in heels.