Michael Trevino's Height
5ft 8 (172.7 cm)
American Actor best known for playing Tyler Lockwood on TV series The Vampire Diaries. In a TvGuide video interview, Michael said:
""[Joe from true blood]...he's like 6 foot 8 or something, I'm like a..good 5-9 on a good day"
, I thought he was around our height. This photo is by Rogue Events at their Vampire Diaries Convention in 2011, I had 0.8 inch sneakers, jenny 0.6ish and Mike's pretty similar to mine.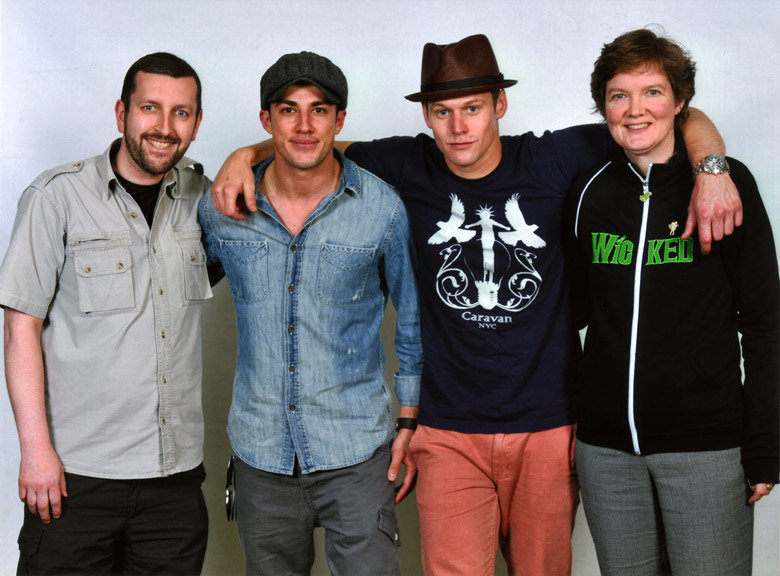 5ft 8 Rob, Michael,
Zach Roerrig
and 5ft 8 Jenny
You May Be Interested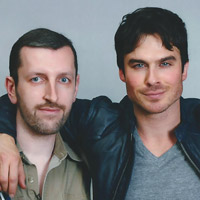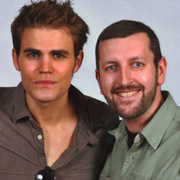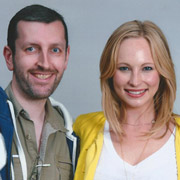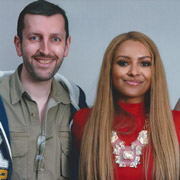 Add a Comment
39 comments
Average Guess (22 Votes)
5ft 8.03in (172.8cm)
Tys da 5'10 7/8
said on 4/Feb/21
5'7 seems closer imo
Nik Ashton
said on 5/May/20
Everyone but Jenny has lousy posture!
Jacky Huynh
said on 2/Sep/19
Could be 174cm
Pierre
said on 18/Jun/19
Rob slouch a lot but the top of his head is always the same height as the top of Michael's cap.Then i go with max 5"7.5'/ 5"7.75' .Nice pic.
Nik
said on 17/Jun/19
@ Rob - Why does Michael look shorter than Jenny?

Editor Rob
Nearer the camera and better posture, I doubt I am much over 5ft 7 that moment.
Mercury
said on 1/Jul/18
Click Here
Is he wearing lifts in the 8th photo?

Editor Rob
Hard to say because that kind of
Sneaker
does look like that.
World Citizen
said on 1/Jun/17
Unfortunately it's difficult to estimate with that cap on his head.
eww
said on 20/Oct/16
smaller head, thus looks taller
Adamz
said on 21/Sep/16
Not the full 1 7 3 cm
G dragon
said on 29/Dec/15
Is 172 cm possible for michael?
Editor Rob: he looked around similar height to us I thought
Tunman
said on 11/Jan/15
maybe 5'7.75 is closer,you seem to drop a little bit of posture.
You list this guy at 5'8 and you give yourself the same?I would be shocked if you ever measured the same,pretty close I'm sure but you're definitely taller.
built dude
said on 10/Oct/14
Nico45: I think that when you measure yourself, you should keep your back straight and not lean. Stand as if you were saluting in the military. That's the height you should measure. I think when we stand stiffly, we do have a tendency to lean back, and lose maybe a 0.25".
SAMMY DERRICK
said on 12/Sep/14
5'8 solid!!!
Nico45
said on 4/Jun/14
Hi Rob. I have a problem with measuring my height. It's about my knees. When I keep them really straight (it's not really straight it's kinda round), I'm shorter than if I keep them normal (almost straight like a rule). I mean, when I lean them back, I'm shorter. What is correct?
[Editor Rob: I've never experienced that, I can't really explain it!]
173cmsam
said on 14/Aug/13
Rob, could you tell me why Jenny is that taller than Michael or even you, please?
[Editor Rob: I'm losing a bit of height and she's nearer the camera there.]
maverick
said on 27/Jun/13
rob he is Michael seems to be wearing lifts in this picture, look at his hands they are shorter than yours, seems to me he is like 5'7 at the most
[Editor Rob: I think he seems a 5ft 8 range guy the times I seen him]
lol93
said on 11/Dec/12
I think Michael trevino is shorter than Rob,Rob is slouching more trevino is wearing a hat that makes him look taller maybe 172cm
Ka
said on 1/Sep/12
5'8.25, considering Rob's also in the same mark
Soviet_Rebel
said on 11/Feb/12
looks much shorter than jenny. 5'7", nothing more
[Editor Rob: you think Roerig is 5ft 10 and trevino 5ft 7.
This
is pretty much how they looked in person to me, a 177 and 173 guy.]
Jack
said on 12/Jan/12
all of you look around the same height in this pic.
lol93
said on 22/Oct/11
with 172cm rayn seacrest
Click Here
rayn needs downgrade
Very short and stocky
said on 12/Aug/11
Looks 172 here. Might be 173.5 out of bed.
LG69
said on 5/Jul/11
5'8" on the dot
A
said on 29/Jun/11
@Jed: the thing I've noticed is that on pretty much every CW show, mostly all male cast members are wearing really thick boots.
brandonknight
said on 28/Jun/11
Those are not elevators. They are Nike Dunks, which give about 0.8 inch. Always thought this guy was 5-9, but clearly he's a good 5-8.
MD
said on 27/Jun/11
I don't get it. Either he is nearly and inch taller than Corbin Bleu or he isn't. It's visually obvious that he isn't that much taller than Corbin Bleu even when you account for the difference in footwear for the pictures I posted.
[Editor Rob: I'm just telling you the height I saw Michael as was about our height, I let Jenny greet him first and I couldn't tell a difference between them...

It's always possible Corbin could have better posture/position in those photos.]
Jed
said on 27/Jun/11
I think Ian solmerhalder and Paul are given lifts during VD on occasion. Although the characters in the books are supposed to be average height. They look tall in a lot of scenes.
[Editor Rob: they do wear thick beasts on that show.

I still think having met both of those guys Wesley is taller than Ian.]
horacle
said on 26/Jun/11
rob his shoes from your picture are elevators, he's 5'7
[Editor Rob: elevators, they looked like typical high top about, like nike 6.0 style which give around 0.8 inch or so.]
Kaylene
said on 25/Jun/11
Thank you, Rob! :D I didn't know he was already listed here.
[Editor Rob: he was a cool guy to meet]
MD
said on 24/Jun/11
Rob,
Here is Michael with Corbin Bleu (far right), who you have listed here as being 5'7.25"
Click Here
Click Here
Now, Corbin has on heels, but Michael has on some very thickly soled gym shoes, so I'd think the footwear about evens them out. Either Corbin is taller than the 5'7.25" listed or Michael is probably more about 5'7.5" than he is 5'8". What do you think?
[Editor Rob: I saw mike a few times and thought he was our height, I didnt think he was half an inch under}
Yaspaa
said on 22/Jun/11
He's leaning a fair bit.
lol93
said on 22/Jun/11
i dont get it if he is 173cm why he apears so much shorter than 176cm ian somerhalder???
Click Here
Click Here
Mathew
said on 21/Jun/11
He's looking a little shorter than 5'8" compared with Jenny, Rob is dropping a lot of height and looks like if he straightened up he'd be taller too.
Kaylene
said on 21/Jun/11
You should add Zach Roerig's height too.
[Editor Rob:
Here
is a page for zach, I thought he was nearer 5ft 10 than 5ft 9.]
VD-Fan
said on 20/Jun/11
Coool, its very cool that you got them rob!, but none of you is standing up straight (besides Jenny).. and how tall do you think Zach Roerig is ? rob?
[Editor Rob: he looked nearly 5ft 10 I think]
A
said on 20/Jun/11
I think you have him bang on, Rob. I noticed that he usually gets listed at 5'9" on other sites such as I M D B.
Brad
said on 19/Jun/11
As listed, he isn't 5' 9" unless with a wedge.
DashT
said on 19/Jun/11
is jenny your sister?
Josh B
said on 19/Jun/11
Rob, i'm not a fan of vampire diaries and respectfully ask if you could point out which one of the 2 blokes is Michael, i'd guess it's the one on the left, or the one nearest to you. Thanks.