Carrie Anne Moss Height
5ft 8 ¼ (173.4 cm)
Canadian actress best known for roles in The Matrix, Memento, Disturbia, Unthinkable and TV shows Jessica Jones, Vegas and Models Inc. She said to the Sun Times that
"I'm 5 feet 9 inches tall"
. In 1994 she was described as standing 5ft 8.5 in a couple of newspaper articles, although in 2015 Yahoo Beauty said
"I'm tall. I'm 5'9" - I'm not outrageously tall, but I'm a strong person"
. In this photo I had 1in sneakers, Carrie about 1.2 inch boot.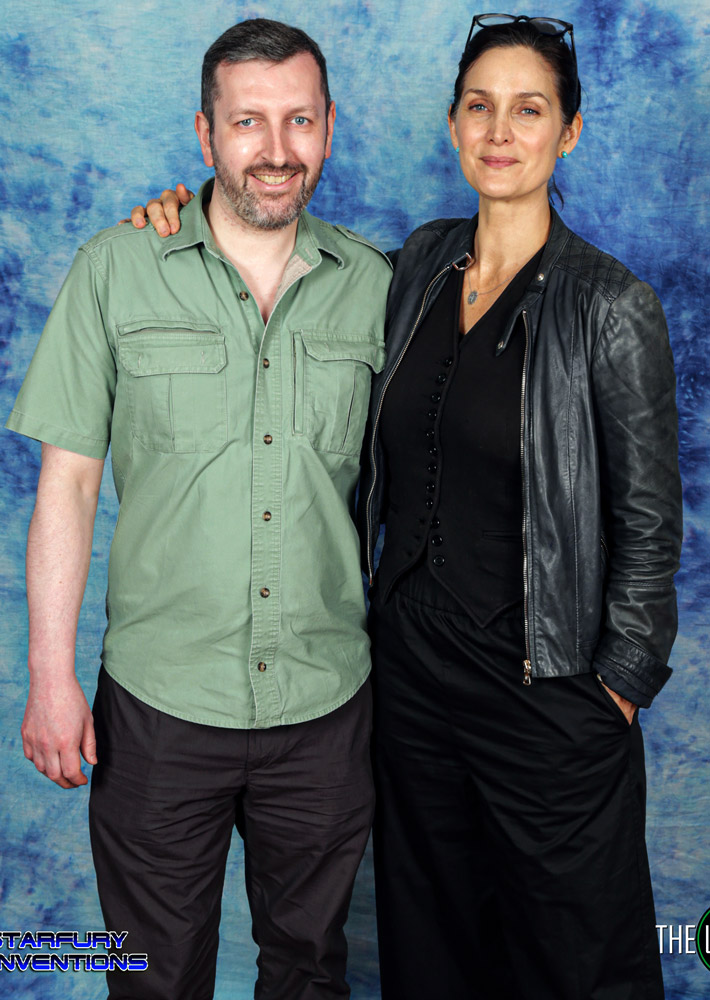 You May Be Interested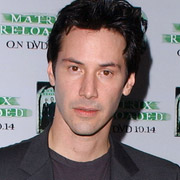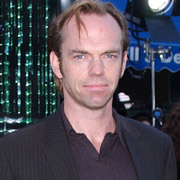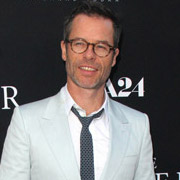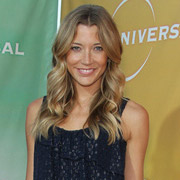 Add a Comment
60 comments
Average Guess (51 Votes)
5ft 8in (172.7cm)
Miss Sandy Cowell
said on 22/Aug/20
🎂🍀💐 Belated Birthday Wishes! 💐🍀🎂
A Very Happy Birthday to Carrie Anne, who celebrated her 53rd special once-in-a-year occasion yesterday. XXX
I found 174cm for Carrie Ann, which is highly likely when she gets up.
5ft8.25 🥂🍰
🎂🍀💐🎁🎂🍀💐💝🎂🍀💐🎁🎂🍀💐💝
Slim 6'1"
said on 9/Aug/20
tob, downgrade to flat 5'8"
Slim 6'1"
said on 3/Aug/20
Solid 5'8" is reasonable
Chris Junior Hernandez 1990
said on 20/Feb/20
A gentle fact is that Keanu Reeves look to be 13 years younger than Carrie Ann Moss than 3 year older than Moss.
Miss Sandy Cowell
said on 27/Jan/20
Carrie Anne is around Rob's height. I saw her recently in a rather extreme version of 'Frankenstein', with Danny Huston playing Frankenstein and Xavier Samuel playing the monster. She did look tall.
5ft8.25. 😁👍💐
Gerry Blue
said on 8/Oct/19
Just watched Memento again, Guy Pierce towers over her, then I guess he was in a soapbox for those shots.
Nik
said on 17/Jun/19
Maybe she's Rob's height twin!
Oneiroi
said on 24/Mar/19
Strong 5'8
khaled taban
said on 13/Feb/19
173cm is a fair guess.
Peter 180cm
said on 11/Jan/19
Doesn't look over 173-174cm honestly so a flat 173 i'd guess.
berta
said on 20/Dec/18
hm i think you look aabout the same height, its hard to know who is taller but her boot really looks like it could be 4 cm. I thought she was maybe a 174 girl but she could be 173 flat. Judging by the photo and seing her boot, then i would have thought maybe 172 cm

Editor Rob
I didn't think it was as big as 4cm
Intevel
said on 15/Dec/18
Rob is she half an inch talker in this picture? Most people say you look the same.

Editor Rob
She's quite close in height.
Danimal 5'9 3/4
said on 11/Dec/18
She's a 51 year old woman. It's very possible she was at least 5'8.5" in his 20's, if not a full 5'9". Hasn't Jenny (your girlfriend) lost height Rob?

Editor Rob
Carrie in person looked to have no indication of obvious loss like half or 3/4 inch...though 1/4 inch could be possible.
World Citizen
said on 8/Dec/18
I think she is a flat 5 ft 8
Logan Hedlund
said on 28/Nov/18
Hi Rob, thank you for sharing this pic with mrs. Moss
Can you please tell me when did you took this photo?

Editor Rob
In the seaside town of Blackpool on 13th May 2018.
Jdubbz
said on 27/Nov/18
@Christian it's a bit of an optical illusion since she has a small head and is looking slightly upwards. But yeah when you compare the top of their heads, it's obvious she's a little shorter.
Michael, 5'10" 178 cm
said on 27/Nov/18
She looks around the same height or a little bit taller than Rob does here in the picture. I wouldn't have guessed that she was this tall, but I can definitely see it because she kind of gave off a taller impression in the Matrix movies next to Keanu Reeves and Laurence Fishburne who are both around 6 feet tall. She didn't look too short next to them, so you could probably tell from those movies if you're good enough of telling celebrities height that she is definitely taller for a girl. Carrie looks 5'8" in Memento too, I didn't think she was too much shorter than 5'11" Guy Pearce. I'd say 5'8" or possibly a little bit more than that.
Johno
said on 25/Nov/18
There would be 0.5-inches between Rob and Carrie if both stood straight and about ~0.75-inches taking footwear into account with Rob being the taller 5'8.
6footTom
said on 23/Nov/18
Is it possible that she could have lost a fraction at age 51?

Editor Rob
By age 50 in this photo I am not sure anything noticeable beyond a few mm.
Marquis
said on 23/Nov/18
She looks 5'8", no more no less.
Patrick|1.76m
said on 23/Nov/18
Now way she is currently 1.73.5cm tall, when she actually was wearing this boots which more look like a cowboy-heel.

Editor Rob
It's not that big a heel really, not less than 1.25 inch, but I don't think (unless there is a big insole) much more.
Christian 6'5 3/8"
said on 23/Nov/18
The fact that some people here actually believe that she looks taller than Rob, cracks me up.
Tall Sam
said on 22/Nov/18
Yeah on evidence a solid 5'8" looks a good fit for Carrie Anne.
Littlelee168cm
said on 21/Nov/18
She wouldnt be a quarter inch under 5ft 8 shes always looked pretty tall to me never dwarfed by Keanu Reeves or Lawrence fishburne and hardly shorter than shia in disturbia
5ft7Accountant
said on 21/Nov/18
Rob, how much did you pay for this picture?
Thank you.

Editor Rob
£55 for a photo, which is roughly 70-75 dollars.
184guy2
said on 20/Nov/18
Possibly more 5'8 than a quarter over
Zampo
said on 20/Nov/18
I agree with Andrea. Based on the photo 5'7.75 (172.1 cm) is entirely fair. Although, I don't think from what I have seen of her she measures that low. Before this photo was included, I would have said 173.5 cm or so possibly although this was during the Matrix series 15+ years ago.
The fact that Rob has even stated that she walked around with "pretty good posture" emphasizes the fact she is probably close to her measured height in this photo as well. I do have a suspicion though that if she is slightly lifting her heard up and if lowered a bit to look even-level with the camera, she may appear the same height as Rob. So I could buy she may appear 173 cm however taking the footwear into consideration that would put her in the 5'7.75-5'8 range.
Andrea
said on 19/Nov/18
Jdubbz, unless I'm overestimating her hair, I'd say she comes in a little shorter than Rob here:
Click Here
How much is arguable, depending on how thick her hair is in fact, but, considering that she also has a 1/4 of an inch more footwear, I certainly wouldn't put her over 172, IN THIS PHOTO...
Littlelee168cm
said on 19/Nov/18
In no way does she look shorter than him here and a quarter inch footware advantage would make virtually no difference
Zampo
said on 18/Nov/18
She looks more like to measure slightly under 173 than over in my opinion. I feel a flat 5'8 suits her which would make 173 cm the nearest cm mark.
Christian 6'5 3/8"
said on 18/Nov/18
@Junior
No, she looks a bit shorter even with footwear advantage.
HonestSlovene
said on 18/Nov/18
Edges out Rob, probably measures near 5'9" earlier in the day.
Littlelee168cm
said on 17/Nov/18
She doesn't look any shorter than him at all in this photo this listing is pretty accurate
Nik
said on 17/Nov/18
The average guess may be correct!
Jdubbz
said on 17/Nov/18
@Andrea how does she look shorter than Rob? Maybe it's the high eye level and small head fooling me, but she looks the same height if not slightly taller than Rob with the footwear advantage.
Andrea
said on 16/Nov/18
Considering that, despite the footwear advantage, she still looks slightly shorter than you, Rob, she certainly doesn't look over 172 here, all things considered...

Editor Rob
I don't think by age 50 in this photo, Carrie's lost anything noticeable in height. Walking around that weekend, she had a pretty good posture and seemed somewhere around 173cm range...
Junior Hernandez 1990
said on 16/Nov/18
She look fraction taller than Rob. But the boots i view to look its like near 2" than 1.25".
Nik
said on 16/Nov/18
The 5'8" - 5'8.25" range is likely for Carrie Anne Moss!
Tunman
said on 16/Nov/18
Rob,you edge her by 0.2"in this pic.Is she more like 172 today?
Zampo
said on 16/Nov/18
When I saw the photo pop up. I instantly thought...isn't that Trinity? I genuinely don't think I've seen much of her on TV over the last 10+ years.
Looks around 5'8 flat to me. I think she may have been a solid 5'8.25 range (would edge Rob,possibly 173.5 cm at a low) in her prime.
SS
said on 27/Oct/17
No way she looked much shorter next krysten ritter
Afka9
said on 6/Oct/17
She look like 5'6-5'7 to me.
Slim
said on 26/Sep/17
The full 5'8"(172/173) she looked it in memento and the matrix. Anything more or less is probably incorrect.
SS
said on 20/Apr/17
5'8 at most
josh jeffords
said on 11/Oct/16
Ok she is still hot never forget her in vinyl..uh yeah and she is tall.
She has good build for a tall athletic woman.
Looked 5 9 in the 90s possible footwear easy 5 8 and change.
Rampage(-_-_-)Clover
said on 14/May/16
Rob, maybe a weak 5ft9?
Just
said on 19/Aug/13
She's taller than Julia Roberts.
Click Here
lwntgngr
said on 6/Jul/13
I think she needs an upgrade. She is more like 5'6"
Balrog
said on 8/Apr/13
Reeves has at least 5in on her. She's 5'7'' range at best.
Hullywood
said on 13/Sep/12
No!!! Rob! That cant be real, 1.74m? Guy Pearce was near a half head taller then her in "memento". So please, explain me, how the difference between these 2 poeaples can only be 4cm?...
-
Click Here
4cm? No.
[Editor Rob: she did make him look more a 5ft 11 guy yeah]
carnegie
said on 29/Dec/11
shes so hot shes taller like 5ft8
nosure
said on 5/Sep/11
she looks 5-6 next to neo using heels
Bon_
said on 11/Jul/11
171-172 cm
dmeyer
said on 30/Dec/10
in the movie unthinkble she is wearing a 3 in heels and she dosnt look that tall 5 ft 7.5 to 5 ft 7.75 is mush closer rob is 172cm possible for her
[Editor Rob: yeah maybe 173cm might be nearer than 174...172cm I'm not as sure of?]
Bon
said on 8/Dec/10
If not shorter, about 5'6. She hasn't got that natural lankiness and long-legedness of 5ft7+ or so women, but still extremely sexy.
Bon
said on 5/Dec/10
More in the 5'7-5'8 range I would say
tom
said on 13/Sep/08
if she's 5'9" then guy pearce is at LEAST 5'11", in some scenes in memento she makes him look 6'1". he's a lot taller than her in it
clooby
said on 6/Mar/08
Carrie Ann stood next to Monica at a group photo -op for one of the previews, she still had a couple inches on Monica. And Monica was wearing bigger heels. Carrie is at least 5'8.5" or 5'9".
Coffeecakes
said on 12/Jul/05
Not really, since Monica wears monster shoes. Plus, Carrie was probably wearing either flats, or small heels since she was pregnant at the premieres where they seemed pretty even in the height departmant.
Mr. X
said on 6/Jul/05
Can Carrie Ann be shorter? She looked about the same height as Monica Bellucci in the Matrix Reloaded, and we know that Monica's 5'10" listing is most likely an exaggeration.