Chad Kroeger's Height
6ft 1 (185.4 cm)
Canadian musician and singer from rock band Nickelback. He once claimed
"I'm Six-Two"
.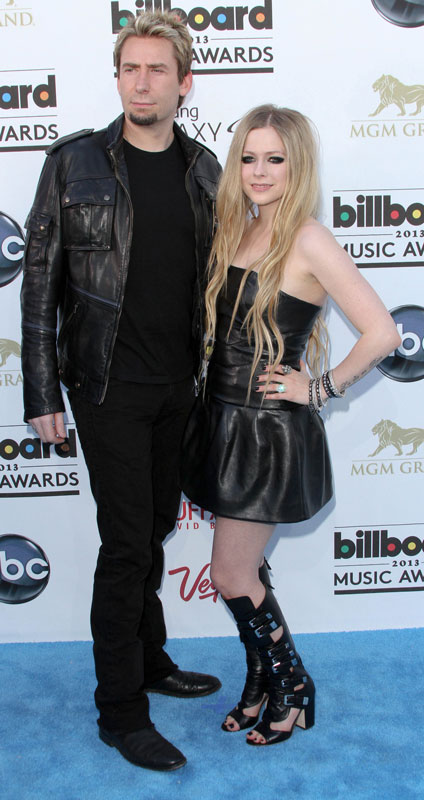 Chad with
Avril Lavigne
Photos by PR Photos
Add a Comment
43 comments
Average Guess (21 Votes)
6ft 1.21in (186cm)
Ethan Larsen
said on 14/Jan/21
Idk about 6ft 2, but 6ft 1 1/4 or 6ft 1 1/2 is more believable.
Damon Blank
said on 3/Apr/19
Probably looks 6 ft 2 in shoes. I'd say he's about 6 ft 0, maybe peak at 6 ft 1 in the morning.
aknawkneemoose
said on 17/Jan/19
Click Here
chris cornell looks nearly 2 inches taller than chad. kroeger is maybe a flat 6'1
Gracian
said on 28/Nov/18
Rob, I hope you saw the pictures of Chad next to Avril (without heels) and Kid Rock. Do you see chances of 186 cm for Chad? Please answer my question.

Editor Rob
Either 6ft 1 or 1.25 is arguable, whether I have seen enough to go with 1.25 I'm not sure yet.
Gracian
said on 15/Aug/18
Hey Rob! I think you should look at Chad again. You said that Avril can look anywhere from 5'1"to 5'1.5" and she really look very short next to Chad when she haven't wearing high heels, here's the proof:
Click Here
In this photo on which are Chad and Kid Rock, you can see that Chad is taller than Kid by more than just one inch:
Click Here
Most people in the comments agree that 186 cm would be better for Chad. Rob, 6'1.25" is possible for him?
Rourke
said on 10/Jul/18
Strong 6'1" and gives a tall impression
berta
said on 15/May/18
this guy look 185-186,5 to me. i can believe 186 to be his actual height.
QM6'1QM
said on 27/Mar/18
Real 6'1" guy (he is like James Hatfield).
Matthew Robinson
said on 29/May/17
186 cm seems like it'd be a good listing. Looks a strong 6'1" and has claimed 6'2".
Rampage(-_-_-)Clover
said on 10/Feb/17
186cm is a strong possibility.
berta
said on 9/Feb/17
hm i think he is littel taller than this he looks "talish" like he can be 186-187 range but not 188. 186 listing would be better with a chanse of 187
ben
said on 6/Aug/14
I stood side by side to this guy at The Wheel, my favorite Nashville bar on the strip. I am 6' even. Never had a problem admitting my true height. Chad K. Is no taller than 5' 10". I could see straight over his head. He also couldn't figure out how to sing his own 'Rockstar' song with a super hot country band he & John Rich interrupted during their celeb night out. Anyways no where near 6'. I don't ever lie. Ever.
Rampage(-_-_-)Clover
said on 17/Jan/14
Rob, is 6ft1.5 possible for Chad?
Mathew
said on 9/Jan/14
katy says on 7/Apr/13
Chad himself said in a new interview he's 6'2: https://www.youtube.com/watch?v=-scL6UGdKII ( Check out min 1.45)
---
Good find, I've never seen him claim a height before but apparently he says he's 6'2". I think that's at least worth noting, and I think splitting the difference at 6'1.5" could actually be a good listing.
lelman
said on 24/Oct/13
I think 6'1.5" is probably a good compromise, doesn't often look taller than that.
Hypado
said on 18/Oct/13
185 is the right height.
Rampage(-_-_-)Clover
said on 23/Sep/13
Rob, is it possible that Chad might be a bit taller than this?
Looks 6ft1.5-2 with Tommy Lee and Kid Rock
Katherine
said on 5/Jul/13
More proves he's 6'2:
Next to 6'0 Kid Rock:
Click Here
Next to 6'2.5 Tommy Lee:
Click Here
katy
said on 7/Apr/13
Chad himself said in a new interview he's 6'2: https://www.youtube.com/watch?v=-scL6UGdKII ( Check out min 1.45)
Mathew
said on 4/Mar/13
He sure looks like a legit 6'1" to me.
taytay
said on 21/Sep/12
Chad is about 6"1 he is very tall and i saw him in concert so good love him
Rampage(-_-_-)Clover
said on 21/May/11
Definitely looks around 186cm...and I agree Nickelback are awesome
Anonymous
said on 23/Dec/10
At 6 foot, he's perfect height.
But, Nickelback is just plain awful.
chadroxx
said on 6/Dec/10
I met the band a few times and i can say that I am 5'7 (way too small) and ryan is 8cm taller than me at most! and chad is between 6'1 and 6'2 not more. Daniel is not as tall as chad. he is 5 mm smaller and mike is 5mm smaller than ryan
stan
said on 22/Apr/09
hes 6'1....if he wears boots hes gonna be obviously taller....end of discussion.... :)
Hugh 190cm
said on 13/Apr/09
Chad isn't that slim anymore. I beleive he weighes about 190lbs now. He also stands atll at 6ft1 or more.
#1 Nickelback fan
said on 25/Feb/09
I'd say he's around 5'10,5'11 cause i was watching him on The E and i thought that the girl was short but He's just tall...he doesnt weigh 170 pounds he weights 171 pounds and his shoe size is 10...he has it all...he can play drums he plays guitar he sings he owns a band he's funny,smart and soooo extremely fine
Hugh
said on 3/Jan/09
C'mon 187cm at least. I saw these guys live. He looked to be towering over everyone onstage.
fsdfldj
said on 31/Dec/08
If he is listed at 6'1" on his internet movie data base profile and most people on this site say he is 6'1", end of discussion.
Hugh
said on 24/Nov/08
6ft1 - 6ft2.
September
said on 16/Nov/08
He reminds me of a hotter version of Nicholas Cage. I think he looks like a solid 6'2.5" but that can be because he's so slim.
phil
said on 4/Aug/08
im 6ft 2 in and i have met chad a few times he has to be 6ft 3in or taller
Alexandra
said on 18/Jul/08
Yeh he looks around that height.He is my favourite singer!
Midnite
said on 11/Jun/08
Rob, I think this guy could maybe even be 6'1.5
Dawn
said on 11/Dec/07
Me and my husband went to see Nickelback this summer,and my husband who is 6'1" said he was a little guy, and I argued that he was probably 6'2". We never got close enough to see, so it's funny to read that Chad is the same height as him.
Pat
said on 4/Dec/07
5'11'' or 6'1''it doesn't matter chad kroeger is extremely fine
MD
said on 19/May/07
Hey, Daniel Adair looks to be the tallest in the band. Does anyone know how tall he and the rest are?
Random Person
said on 3/Apr/07
I just met the guy not too long ago on the street. We were both in similar shoes (I might have had a 1 cm advantage) and he was about two inches taller then me (I came to the middle of his forehead). I am a little bit under 5'10 so that'd make him what 5'11/2 to 6 Ft. He does look quite tall on stage though.
Anonymous
said on 20/Sep/06
i think he is 62" and 170 pounds~ but hes really cute
15and5'7
said on 28/Mar/06
He he does look tall....i'd give him 6'1+
Anonymous
said on 21/Oct/05
Well I went to a recent concert of his and got to meet him back stage. I'm 6'0" and a half, and he's just a tad taller than me. He's 6'1" in my books.
tank
said on 1/Oct/05
my brother was in a queue with him and nickelback at miami airport two years ago. My brother is dead on 6 foot and said that Chad Kroeger was about an inch taller than him. He also said that he is a really nice bloke and so are the rest of the band
canadasown85
said on 24/Sep/05
hes actually 5'11" 1/2 (181-182) ... ive bin on tour with them a lot ... and Simmons is 6'1" (184-185)