English actress best known for playing Janine Butcher on BBC soap opera Eastenders. In a 2004 Closer magazine article it mentioned her height as being 5ft 5 inches and weight as 10st 9lbs, which went down to 9st 4lbs after training, although her Spotlight resume has her weight even lower:
"Height: 5'5" (165cm), Weight: 8st. 12lb. (56kg)"
.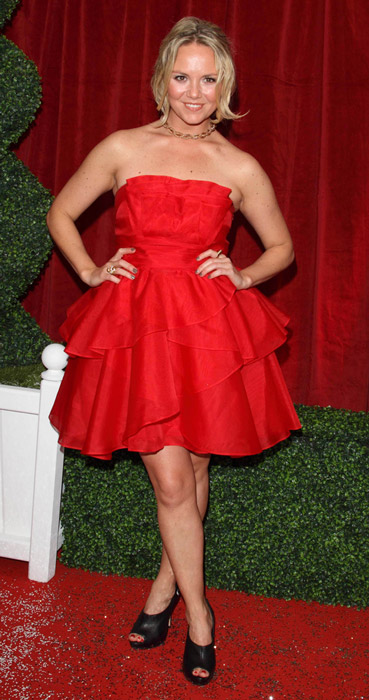 Photos by PR Photos
Sandy Cowell
said on 8/Aug/18
@ Rob - Any possibility of looking taller went clean out the window in that episode of 'Heartbeat', I'm afraid!
🤷
Sandy Cowell
said on 8/Aug/18
No comments yet? Well, here goes:
I caught Charlie playing an abused wife this morning in an episode of 'Heartbeat'. I'd seen it once before and it was really quite hard to forget.
It starts with the shooting of an innocent little white dog, but we soon find out that the upper-crust hoodlum's cruelty stretches to far more than murdering little animals - and enjoying it. He beats his young wife, played by Charlie, who still loves the rat because she lives in hope that things might one day be like they were when they first met, and he was nice to her. The awful man cannot stand the noise of their little baby son, and the nurse who goes round to see the young Mum soon finds out that there is something a miss.
5ft4 Charlie looks tiny in comparison to her 'orrible 'usband, but when the Police get involved, the rotten yob ends up looking the smallest of all! Fortunately, they persuade the Mum to leave and divorce him, and it goes quite without saying that she gets custody of the child, which is something the bully claimed she never would, which was all part of his bullying tactics.
Charlie looked divine as a long-haired brunette, and she had lost her London accent for the part!
She gets 5ft4.

Editor Rob
Charlie is one lady who on TV I think at times could give a taller impression, like somebody in 5ft 5-6 range...