English actress best known for films such as The Night Porter, The Verdict, Swimming Pool, Georgy Girl, 45 Years, Stardust Memories, Angel Heart, Zardoz and D.O.A. In a 1970's Spotlight Casting directory she was listed as being "5 feet 6 inches".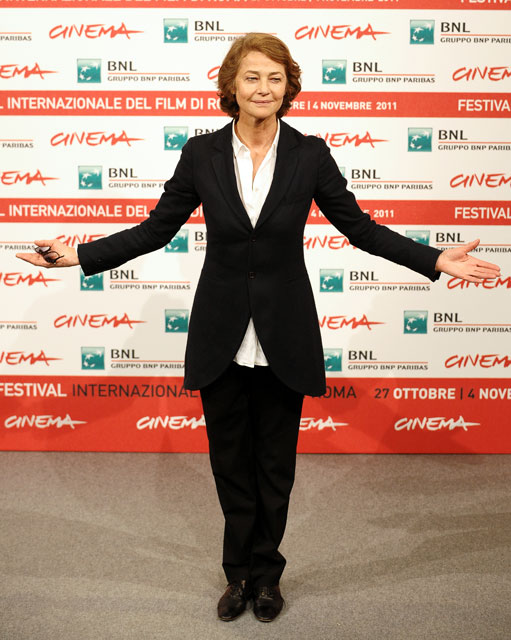 Photos by PR Photos
Sinclair
said on 5/Jul/22
Rob, does Ventura look under, on or over 5'7" with Rampling?
Click Here
Click Here

Editor Rob
She looks to have worse posture, but maybe she has more heel...an unknown.
Nik Ashton
said on 19/May/21
@ Rob - When was the above photograph taken?

Editor Rob
I was going to say it's a Pr Photos shot (company no longer exists), but then I looked at the photo and it has the banner with 2011 on it 👍
Rampage(-_-_-)Clover
said on 31/Dec/20
Shorter than I thought...thought at least 5ft9!
mister_lennon
said on 23/Feb/17
yes, i thougth that she was about 5´9 or 5´8. she is a beauty, by the way.
Sandy Cowell
said on 23/Feb/17
I would have expected taller for Charlotte Rampling, I must say! Part of the reason for this is, of course, her very slim build.
However, she was in a superbly creepy film called 'Asylum', and she played alongside Britt Ekland, who was, I read, 5ft6 in her prime, though that might be a bit of a fabrication because I read differently on this site and totally believe she's smaller at about 5ft5.
In the film, from the 70's, you can see there is a difference between the two 'friends', who are in fact, alter egos!
I'm going along with 5ft6.5, although I did think her to be about one-and-a-half inches taller.
It might be a good idea to compare her to Keira Knightley (5ft7), in the couple of films they are in together. I think they are 'Never Let Me Go' and 'Duchess'!
Arch Stanton
said on 23/Feb/16
Her thin build and features give the impression of a much taller woman. Even in 45 Years she has the look of a 5'9 woman.
Chase Witherspoon
said on 7/Oct/15
I've no idea how tall she was/is, looked 5'7" perhaps, she had decent heels on next to Harris in Orca '77, but gorgeous, beguiling specimen....
Gonzalo
said on 21/Sep/15
Beautiful and atractive woman. She looked a bit under the 1`70 mark
Sam
said on 21/Sep/15
In the category of "I thought she already had a page". Could have passed for 5'7" I thought next to Paul Newman in The Verdict.
Arch Stanton
said on 19/Sep/15
Cheers, I'd thought about 5 ft 7, 5'6.5 might be spot on, looked taller than 5'6 flat.

Editor Rob
I think 5ft 6.5 or 7 is arguable. 5ft 6 seems a round-down.