Christoph Waltz's Height
5ft 7 ¼ (170.8 cm)
Austrian Actor best known for roles in movies like Django Unchained, Inglourious Basterds and The Green Hornet. In an interview (MonsieurHollywood) mentioned by a visitor to the site, he said
"I'm only 170 [cm]"
and in the 1980's listed himself as
5 feet 8 inches
tall.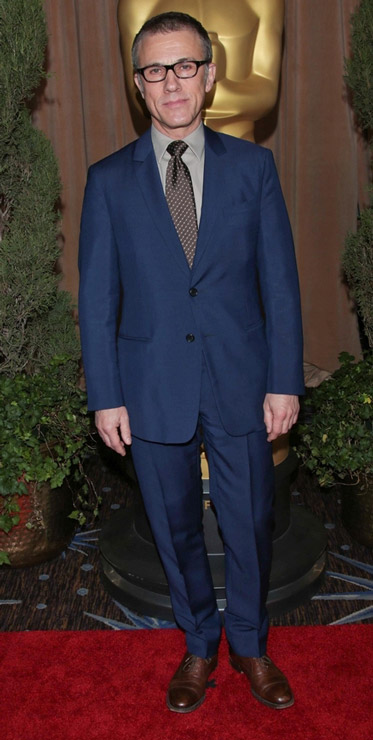 Daniel Day Lewis
,
Jennifer Lawrence
,
Anne Hathaway
and Christoph Waltz
Photo by PR Photos
Add a Comment
120 comments
Average Guess (63 Votes)
5ft 7.08in (170.4cm)
Lorne???
said on 30/Jul/21
Rob would you bet on 171.5-172 peak? He looks taller than he claims in his 50s

Editor Rob
I think he held onto his height well over last decade, might not really have lost anything noticeable.
Lorne???
said on 15/Jul/21
172cm peak
An excellent actor, his performance in "Django Unchained " was, well.he deserved his 2nd Oscar/Academy Award
It his hard to.judge because when he became famous; I am not sure about a bigb2 inches between him and Foxx
Evan Soloway
said on 2/Jun/21
definitely think a 5'7.5 or 5'7.75 peak is possible; seems hard to judge for an actor who only became famous in his 50s.
Jpooo
said on 15/Mar/21
Guys, he's austrian, not American. He would not claim the wrong height in cm, that makes no sense. He's probably rounding down a bit though.
Sammy 6'5"
said on 15/Feb/21
Looks about 5'7.5, maybe had a 5'8 peak
Miss Sandy Cowell
said on 4/Oct/20
🎁🎂🎈 Happy Birthday Christoph! 🎈🎂🎁
Many Happy Returns to Christoph on his 64th Birthday!
5ft7.5 😃👌🎊
🎁🎂🎈🎊🎁🎂🎈🎊🎁🎂🎈🎊🎁🎂🎈🎊
Miss Sandy Cowell
said on 15/Jun/20
.... but I bet he is the full five foot eight when he climbs out of bed in the morning!
Like Christoph, my grandfather on my mother's side was Austrian.
His intelligence makes him very attractive.
5ft7.25. 💪
Miss Sandy Cowell
said on 14/Jun/20
What a splendid actor! You can't watch a Quentin Tarantino film without laughing, but I think his partaking in 'Inglourious Basterds' has more sadness than humour.
Chapter One, in which Christoph's character goes round to a French dairy farmer's house because he is 'hiding' Jews (so would I have done Monsieur LaPadite), displays to us a taste of things to come. He is proud of his brutality. Then, when he produces his funny-looking pipe for a smoke and says the word 'squirrel', we just fall about laughing!
The rest, however, is not so funny, but his part in 'Django Unchained' is completely hilarious! (That tooth on his van: 😂😂😂)
I'll give this very clever, multilingual actor 5ft7.25.
Chris Junior Hernandez 1990
said on 16/May/20
I'm buying 5'7.75" for Waltz for at least his peak and 5'7.25" can be his current height. My previous comment i mean in Austria most measurement were took in metric (cm) not in feet, i had a austrian friend who was 174cm but he just go who 5'8 claim in canada.
Miss Sandy Cowell
said on 4/Oct/19
🎁🎂🎉 Happy Birthday Christoph! 🎉🎂🎁
Many Happy Returns to Christoph on his 63rd Birthday. XXX
One brilliant, talented actor! 😎👍
5ft7.5.
🎁🎂🎉🎈🎁🎂🎉🎈🎁🎂🎉🎈🎁🎂🎉🎈
Dmeyer
said on 8/May/19
Even with counting footwear and posture he makes Damon look 5'8,5
Rising - 174 cm
said on 16/Dec/18
I never thought Christoph looked 5'10"+. He can sometimes look taller than 5'7" flat, but his build and the impression he gives have always struck me as a below average height 5'7" range guy to me.
FrankR1
said on 10/Dec/18
It's kind of a shock to learn that Christophe Waltz is 5'7.5." He looks 5'10" to 6'0" in many roles. He's probably worn lifts and stood on platforms in several of his films.
World Citizen
said on 1/Nov/18
Hey Rob, wasn't he listed as 5 ft 7 before?

Editor Rob
Yes, but I feel he can pull off a stronger 170, maybe at his worst he measured in 170 range.
Rising - 174 cm
said on 26/Oct/18
Waltz speaks multiple languages so I'm pretty sure he wouldn't be converting in the first place, nor would he have trouble doing so. He's just an honest 170 cm and that makes him come cross a bit taller at times because most others inflate their height. I certainly trust a metric claim more.
Junior Hernandez 1990
said on 19/Oct/18
I still see Waltz look 172cm with almost all his co star. Waltz going on a measurement at 171cm in reality could be a hit but certainly not quite a low. That 170cm of his claim could be an accidently downplay by wrong feet converting in cm. Waltz is austrian. In Austria most measurement are took in feet rarely came in cm from the doctor office.
Rising - 174 cm
said on 14/Sep/18
@Junior: Well I've had Damon at 5'9.5" for a long time, but now I think that's the most he likely is. There's definitely a chance Leo is more like 5'11" flat as well and strangely 5'7.5" guys like Spielberg and Ridley Scott could only look around 3" shorter.
Junior Hernandez 1990
said on 5/Sep/18
@Rising - 174 cm I was suspecting most of his co star are listed 1/2 higher that is why he could pull off 5'7.75" such as actors like
Matt Damon
, Jason Bateman, Leonardo Dicaprio, Jason Sudeikis, Charlie Day, Robert Pattinson that makes him look a strong 5'7 1/2 to 5'7 3/4.
Rising - 174 cm
said on 17/Aug/18
@Junior: I see a chance of 170.5, but a very good chance of 170 as well since he claimed it himself. He looks pretty much exactly 2" shorter than Jared Leto who Rob still has a flat 5'9". Leto could also be 176 seeing him with McConaughey and Colin Farrell, in which case Waltz would look 171 with him, but I think those are their ranges. If Waltz was 171.5 then it'd be a peak height as there's no way he'd shave 1.5 cm off his own height.
Junior Hernandez 1990
said on 16/Aug/18
@Rising - 174 cm He could 170.5cm round down 170cm like you say. But def not a flat 170cm guy. 5'7 1/4 is fair.
RutgerKoresh
said on 7/Aug/18
Definitely not below 170,I'd say 171.5. He's a small guy with a slight frame.
Rising - 174 cm
said on 14/Jul/18
@Junior: Waltz was thinking in metric units when he claimed 170 cm, not half inches so I don't understand that comment. He's likely honest and around the 170 cm he claims, but why would he claim that if he were closer to 171.5 cm? Someone claiming a height in metric units is more likely to be precise. That's one reason I see a better chance of
James McAvoy
being around 5'7.25" and rounding to the nearest inch. Of course, Waltz could be say 5'7 1/8", which would be almost exactly 170.5 cm. Most would probably round that up to 171 cm, but it's possible he's humble and didn't care.
Junior Hernandez 1990
said on 1/Jul/18
5'7 1/2 now since he was listed 5'8 in 1980s. Might be downplay saying 170cm just don't care about the half inch. If he apear in hollywood films 15 years earlier everyone might think he is legit 5'8.
Gracian
said on 5/Jun/18
Rob, look at each of the pictures below:
Click Here
Click Here
Click Here
Click Here
Click Here
Click Here
Click Here
Click Here
Click Here
All these pictures provoke me to think that Waltz is about 172 cm tall. Flat 5'7" was definitely too low for him, the more that his hair usually does not help him. Rob, or at least 5'7.5" is still possible for him?

Editor Rob
He can look 5ft 7 to 7.5 mostly.
berta
said on 3/May/18
i think he ooks 170 cm man and if he also claims it then i believe its right. he could be 171 but then he would claim it. a guy that is 185 cm ore taller may not care about fractions aand say he is 6 foot 4 it he is 194 fo example but i have never meet a 171 guy that claims lower. they often claim 175 cm ore something ridicolous
Dmeyer
said on 7/Jan/18
Defenetly could have Lost 1cm so Peak 171,5 now 170,5
Psychedelic Earth 187
said on 6/Jan/18
Rounding down 9 mms? lol.
randomuser
said on 25/Dec/17
Bad upgrade. He claimed 170 cm. Why would he understate his own height?
Slim 186
said on 8/Dec/17
Nice upgrade.
The Shredder
said on 6/Dec/17
I totally appreciate the upgrade as it didn't have to be done , Even though I still can't see below a good 5'7.5 even if Scott is 5'7.75.
The Shredder
said on 5/Dec/17
I'll say this much , it proves He is at best 5'7.75 , but shows he is over 170cm ... 5'7.5 might be the best listing for him.

Editor Rob
well a fraction over 5ft 7 may well be closer than just a 170cm mark.
The Shredder
said on 4/Dec/17
He looks more 5'8 than 5'7 - 5'7.5. He looks no shorter than Rob does next to Mads Mikkelsen , He's always an inch or more taller than 5'7 guys listed on here , He holds up really good next to 6 footers , he was taller than Ryan Seacrest , He makes Kerry Washington a max 5'3" , He looks barely shorter than Jamie Foxx etc... The only photo I've ever seen where he does look about 5'7 is with Daniel Craig , but Graig might be a lift wearer because he looks near 6'0 next to Harrison Ford.
To me Waltz is a 5'8 guy that claimed the wrong height in cm. That are he wears lifts to look 5'8.
Junior
said on 20/Nov/17
I would say Christoph Waltz look nothing shorter than 171cm with all actors he work with. Christoph Waltz may look shorter stand alone because he had a tall men head length 25-25.4cm head like rob unlike most 5'7-5'8 guys had smaller head 22.7-23.7cm head. Longer head length and bigger head width make people look shorter most of time an example like Ryan Reynolds, Ryan Gosling both had 10" head. Peak Christoph Waltz maybe measure 5'8 in the morning and not under 172cm. Bare in mind that Waltz is 61 years old.
Junior
said on 10/Nov/17
Christoph Waltz had to be at least 5'7.5" the more i look into it. Leo is supposed to be 5'11.5" maybe not 5'11.25" and look nothing over 5'10.5" with Waltz. Christoph Waltz generally make many actors look 0.5-0.75" shorter. 6'0.25" Robert Pattinson look nothing over 5'11.5" with him.
Sandy Cowell
said on 21/Oct/17
@ Shredder - Yes, Christoph isn't very tall at 5ft7, at times looking slightly shorter, but is he multi-talented OR WHAT?
Such a mean piece of work in 'Inglorious Basterds', yet witty as hell in 'Django Unchained', this guy can do no wrong in my books! That reminds me, isn't he in a recent James Bond movie? Although Bond isn't my usual cup of tea at all, I'm still going to check out the Bond movie Waltz is in, just like I did when Mads Mikkelsen was in one the other year! 'Twas indeed the same old Bond cr*p, just as I expected, but I am willing to sit through anything for the actors I adore!
I will give Christoph 5ft7, though I somehow think he might well be 5ft6.75 more accurately.
Interestingly, he is listed as
5ft8 in the 80's. Rob, do you think it's possible that he's already lost a good inch or more?

Editor Rob
I don't think he looks like a guy who has lost height...

If he comes out with 170cm, and he's been brought up in a land with metric, maybe he got measured that mark or even 170.9cm and thought, I'll be modest!
Shredder
said on 21/Oct/17
I don't see a point in an upgrade unless Rob gives him close to 5 '8 , I mean the only reason to not give him 5'8 is because of the 170 cm claim , but your right , no sign of lifts. To me he said the wrong number and is 5'8.
Shredder
said on 20/Oct/17
I'm not 100 % ruling out that he would measure 170 cm , which is actually a hair below the 5'7 " mark , but he has looked like a 5'8 guy many times.
With Mads Mikkelsen , he looks no shorter than you do and if anything Mads has the bigger footwear and he looks an inch taller than Ryan Seacrest and had about 2 inches over Tim Roth.
In my opinion it is one or two thing , he really is the 170 cm he claims and wear lifts or it's a case where he called out the wrong number and is really 5'8.

Editor Rob
171cm is a possibility.
kevin
said on 19/Oct/17
saw couple of pics of him again and it doesnt look like hes wearing lifts so i eally think hes taller than 170 flat
lil upgrade should be fine
Shredder
said on 17/Oct/17
Rob , is it possible he is over 170cm? He does look it. Maybe he really is closer to 5 ft 8 and doesn't know it in cm?

Editor Rob
well, he could certainly look a bit over it like 5ft 7.5 at times...but why come out with 170cm directly. Modesty?
Slim 6'
said on 17/Oct/17
Needs a 169.5 CM downgrade.
Slim183
said on 15/Aug/17
Guys, I'm a huge fan of his work in the the Tarantino films and James Bond, but you must admit being below average height, you'd claim your highest (morning height) and he's probably only 169.... maybe 169.5 at the absolute highest.
S.J.H
said on 13/Jun/17
At times he look nothing over 5'6 due to his big head but standing with any co-star he can pull off more like 5'7.25 especially next to Leo
josh jeffords
said on 10/Mar/17
Odd he does a good villain but forgettable, sucky movies not really his fault.
Clearly a small short man does little to hide it but has a commanding presence none the less.
He looks about 5 7 and his claim is likely in shoes so 5 7 -.25 on the high 5 6.5 the low.
Sandy Cowell
said on 11/Oct/16
Yes, one can tell he is small from his films but he makes up for this with his wonderful acting, FANTASTIC language skills and his ability to effect other accents than his native German. Menacing in 'Inglourious...', sharp and cunning in 'Django,' I want to see a lot more of this talented actor!
Word1234
said on 14/Mar/16
@rob when you say his eyes would match up at 5'2.5 does that mean he would just see over the head of someone that height?

Editor Rob
he'll be looking at their hair, he might start to see over someone about 5ft 2, but his eyes might still be looking around top of hair.
James C
said on 22/Feb/16
In feet and inches where would his eyes match up?

Editor Rob
most likely about 5ft 2.5 range
ghijok
said on 30/Jan/16
Definitely taller than Tim Roth. Either Roth is 5'6 or something or Waltz is 5'8. My guess is that Roth is under 5'7.
Click Here
Ivan
said on 18/Nov/15
Looks tiny next to Craig in Bond. At least 4 inch difference. Craig possibly with a slight lift.
CD
said on 16/Nov/15
Could be 5ft 6.5-7 range since he looks between 3 and 4 inches shorter than Daniel Craig.
Big C
said on 15/Nov/15
I don't know guys I don't think he looks under his claim, looks like a decent 5ft 7 guy to me.
Big C
said on 14/Nov/15
Yes waltz is definetley a legit 5ft 7 he looks it with Daniel Craig
Click Here
defo 3 inch difference there, he's one of the most legit 5ft 7 guys out there, he's honest about his height right rob? Would you put him down as one of the most honest celebs?
OilTar
said on 1/Nov/15
I saw Jenny-Law at banquets a couple of times. She's 5-10 because i'm 6-01 and when she was barefoot, she really was 2 and a half inches shorter than me.
hugzz123
said on 26/Oct/15
Rob have you seen the recent pictures of him with Daniel Craig? Has Waltz possibly lost some height? He looks smaller. I get a 5 foot 6 and a half impression.

Editor Rob
I'm not sure he looks much under 5ft 7. He could of course dip under that mark.
Bishop
said on 9/Apr/15
Outstanding actor. His performance in Inglourious Basterds is one of the best I've ever seen. Always gave me more of a 5'6" impression, but seeing photos, he really does look 5'7". Looking forward to seeing him in Spectre.
the shredder
said on 12/Feb/15
He looks well over 5 '6 , I believe his claim 170 cm.
leonari
said on 11/Feb/15
Not a smidge over 5'7" on a good day-
jtm
said on 10/Feb/15
looked 5'6 with jamie foxx and jared leto.
littlesue
said on 29/Jan/15
Lawrence looks about 2 inches taller than Hathaway in this pic?? should be similar heights, I would imagine both in high heels

Editor Rob
she sometimes does wear really big heels.
Arch Stanton
said on 28/Jan/15
I honestly think he'd come in at something like 5'6.75". Just under that 5'7" mark.
Adamz
said on 10/Jan/15
Could be 169. Wouldnt surprise me.
Sam
said on 22/Dec/14
This guy was born to play a Bond villain, even though my feelings are mixed on Craig and him continuing in the Bond role. I do suspect that Craig occasionally has some high-quality lifts on his shoes.
Arch Stanton
said on 16/Dec/14
Fantastic actor IMO, right up there with the greatest living actors. What a shame it took Hollywood so long to recognize his talent.
Arch Stanton
said on 16/Dec/14
In Django Unchained this guy looks close to 5'7" flat with 5'9 Foxx, 169-170 range, certainly nothing over it. His posture at times isn't great though.
cole
said on 7/Dec/14
@Arch Stanton: I was just about to post that one over at Craig's page. In general a shot like that is great for comparing, I wish all pictures of celebs meeting celebs was like that, it would be so much easier on the "estimating height side of things". The hi-res makes it better to spot what kind of footwear they're wearing as well - which in Craig's case does look like he'd fit a 0.5in-ish lift in it, just to solidify his height, like Rob said. In the grand scheme of things 180 cm is nothing special, but to some 178/179 cm range guys I think it's often a case of them feeling a bit of "so close and yet so far away".
Arch Stanton
said on 6/Dec/14
Interesting you think that. His shoes do certainly look more like the type in which you could do that and we do know that he wore lifts in some Bond films so at the press release isn't impossible. At times he can look a weak 5 ft 11 but other times like in that Francis Bacon picture in the late 90s honestly seemed 5 ft 9 range in proporitions. I think he generally looks 5'10 ish but I think you might be right that his footwear is explainng the 5'11 look at times.
Arch Stanton
said on 4/Dec/14
Click Here
Looks no taller than G here with Daniel Craig.

Editor Rob
this is a kind of photocall I would expect Daniel Craig to have a 1/2 inch lift in his boots...pretty much undetectable but just solidifies his height.
tolwyn
said on 15/Nov/14
The highest nation in Europe are citizens of Montenegro and after them Croats.
Judd
said on 15/Oct/14
andrea, just one picture doesn't mean nothing...you have to think before speaking...
for what we know, it's even possible that Waltz wore lifts when he took part at the oscar cerimony...Daniel Day Lewis is a perfect example of 6'1" man, with a good chance to be 6'1.25"...he showed it a lot of times next to guys like Jim Broadbent (6'2"), Liam Neeson (6'3.5-4"),
Ben Affleck
(6'2")...
anything below 6'1" for Day Lewis is just ridicolous...
tallwestman
said on 24/Sep/14
Moerlitz says on 5/Jul/14
Realist: I'm not sure where you got the idea that "Germans claim to be one of the tallest countries in Europe". I have never heared of that "Claim" but if it means that average German people are taller than in most other countries it's actually true. European citizens are averaged 4cm taller than US Americans and the tallest average heights in Europe are in Scandinavia, the Netherlands, Austria and Germany.
Me I'm a 187cm German and I know I'm above average height but I don't feel that tall at all since I permanently walk into much taller guys (and at times even girls).
When it comes to our actors and actresses height standards I'm not so sure but I know that some of the German actors you mentioned are not even German.
@@@@
And Germany has different average height in regions. Northern part is much taller than Southern and Eastern Germany. The tallest city is over 185cm in Germany.
Phil
said on 11/Sep/14
@Mark:
Yeah, I agree wholeheartedly. If what Waltz said in that video was true, then Jim Carrey shouldn't have played the main character in 'The Mask'. It just goes to show that (as a wise poster on another site said regarding the casting of actors for the 2012 Three Stooges movie) 'Height has no bearing on one's ability to play the role and embody a character.' I can see how what Waltz said could be soul-crushing to the aspiring slapstick comic (or any comic who utilizes the same elements as Louis De Funes, Three Stooges and/or Lou Costello). If an average heighted actor (though seeing how Waltz was born in Austria, where the male average is presumably between 5'10" and 5'11", he'd be considered quite short already would he not?) for example was forced to not act out his naturally crazy and funny personality simply for 'not being short enough', he'd for sure become one miserable son of a gun. Sounds extreme, yes, but I'm just highlighting the complications of telling people how they're supposed (or not supposed) to act based on height. In that case, we might as well live in a society similar to 'Divergent' where personality is instead determined by which height range you fall under. But I agree with Waltz on ONE thing though, messing with a legacy would be a catastrophe, that is understandable, and should be the ONLY reason Waltz shouldn't play Louis DeFunes.
Andrea
said on 31/Aug/14
Rob, is this how a legit 186 guy looks against a 170 one?
Moerliz
said on 30/Aug/14
@Billy I'm aware the US hosts ethnic minorities of shorter growth but believe it or not the same goes for every wealthy European nation and Germany is the wealthiest so you would have to consider that with every country or with none.
the shredder
said on 3/Aug/14
DDL is listed 6'1.25 , I don't see more than 5 inches in this pic up.
Billy
said on 2/Aug/14
Moerlitz, you are wrong with saying Europeans are on average 4cm taller than Americans. The average height in America is about 176,4 and even in Germany the average height is only 178, BUT many European counties, especially mediterranean ones are even shorter than that. And even in America, the average height is shorter because of many Hispanic and Asian immigrants. So there is not much difference at all between the US and Germany.
Moerlitz
said on 14/Jul/14
@Realist
I wasn't refering to Daniel Brühl. He is in fact German. Christoph Waltz(not Walt) on the other hand is Austrian and Bruno Ganz (not Granz) is from Switzerland.
Realist
said on 11/Jul/14
@Moerlitz
I have clearly mentioned Bengini as Italian, but i did'nt know Bruhl was born in Spain. Sorry bout that.
Moerlitz
said on 5/Jul/14
Realist: I'm not sure where you got the idea that "Germans claim to be one of the tallest countries in Europe". I have never heared of that "Claim" but if it means that average German people are taller than in most other countries it's actually true. European citizens are averaged 4cm taller than US Americans and the tallest average heights in Europe are in Scandinavia, the Netherlands, Austria and Germany.
Me I'm a 187cm German and I know I'm above average height but I don't feel that tall at all since I permanently walk into much taller guys (and at times even girls).
When it comes to our actors and actresses height standards I'm not so sure but I know that some of the German actors you mentioned are not even German.
Pizzaman
said on 3/Jul/14
Realist, all Dutch actors and actresses that broke somewhat trough outside the Netherlands are Carice van Houten(GoT), 166, Femke Janssen, 182, and Michiel Huisman (Got) 183/184, so a way above average in the USA. Furthermore, I'm pretty sure that the average in Germany is a solid 180 and even a 182 for the new generation of guys, as it's my neighbour country and they're just a tad below the Netherlands with height.
hannes
said on 3/Jun/14
I agree he is more 5'8 or '9.
Mark
said on 23/May/14
I know 'Me's' post from way below is very old, but I'm sorry, if Waltz thinks a person has to be short in order to be 'funny', then he really doesn't know comedy that well, does he? And wasn't Louis De Funes listed on the web as 5'4.5"? He certainly was a lot closer to that height than the 4'11" Waltz claimed DeFunes to be, at least from the pictures I've seen, like this one:
Click Here
By Waltz's logic, the Marx Brothers, Laurel & Hardy, Buster Keaton, Charlie Chaplin and the Three Stooges (Moe and Larry were about 5'3"-5'3.5", but Curly was 5'4.5-5'5", and Shemp was 5'5.5-5'6") shouldn't have become comedic legends because they were all closer (in Moe and Larry's case though, just a very tad bit closer, if not in the middle)to Waltz height than 4'11". I know I'm making this to be a much bigger deal than it should be (especially considering that Waltz's specialty isn't exactly comedy, but playing the roles of bad-ass characters, both good and evil, and very well too), but DeFunes didn't become a legend for being short, he became a legend because he learned how to utilize his style of comedy and acting very well, simple as that. Personality is not determined by height, otherwise I'd be one miserable person at 5'6" if I'm not allowed to act funny and crazy due to me being closer to Waltz height than DeFune's 'as said by Waltz' 4'11".
the shredder
said on 4/Apr/14
I am not saying he is taller than 170 cm but he does look taller at times
Balrog
said on 3/Apr/14
Rob, McAvoy also claim 5'7" and I think he had worn lifts at times, Waltz could be the same case, a very solid 5'7" in any case.

Editor Rob
I think his 170 though is honest enough though
the shredder
said on 24/Mar/14
I agree , He looks more 5'8 range , I believe his claim though , but he does look taller than just his claim , which in inches is 5'6.75 to 5'7.2.
Arch Stanton
said on 21/Mar/14
Looked taller in Inglourious Basterds
the shredder
said on 20/Mar/14
Rob , can he be in lifts? He looks bigger than a weak 5'7 which is 170 cm.

Editor Rob
at times he can look nearly 5ft 8, but then other times I think 5ft 7 range is fair. He wouldn't strike me as a kind of character to wear lifts when he's only saying 170cm!
the shredder
said on 18/Mar/14
Rob , have you seen him with Orlando Bloom? There is no 3.5 inches , more like 2.

Editor Rob
waltz can look taller than his claim, Bloom (with thin footwear) suddenly can look barely even 5ft 10 at times.
My2Cents
said on 2/Sep/13
Here's another one
Click Here
Emil
said on 25/Aug/13
He's 56 now so he likely was a bit taller in his youngest days
Sain\'t
said on 24/Aug/13
One of my new favorite actors. In his younger days he may have been a weak 5'8". He is one alpha handsome guy too, kinda bad ass actualy.
moerlitz
said on 23/Aug/13
I think his agency listed him as a 174cm-man but these datas are probably from the late 70's. Now he's an older guy and he unfortunately hurt his back.
But I think he's still more than 170cm. Waltz is just not the Tom Cruise type Hollywood actor who tries to match a questionable idea of manliness by looking taller.
Hi
said on 4/Jul/13
He does look quite short. Take a look at this pic.
Click Here
mande2013
said on 17/Jun/13
Meh, you do find the occassional 'lowballer', although they are the exceptions that prove the rule that no guy would ever underestimate his own height. Then again, no man would ever lowball by more than a fraction of an inch, so maybe Waltz is really 171-172cm. I knew a kid in college, for instance, who claimed he was 5'7 1/2, but he was clearly a 5'8 bloke, no less. I was a little shorter than him though, and I suspect he was just yanking my chains, trying to make me feel a tad short than I am.
Lastly, judging by that picture from Cannes below, Daniel Auteuil, who's listed as 5'6.75 on this site can't be more than 5'6 flat if Waltz is under 5'8 himself and Ang Lee is in the 5'7 range. Granted, he may have lost a cm or 2, but Lee, Spielberg, Waltz, and Auteuil are all fairly close in age, which I think rules that out as the explanation for his apparent shortness. What do you think Rob?
Tracy
said on 31/May/13
He is a really great actor and I just love him to death, but I thought he was short like meeeee.
Sam
said on 16/May/13
He is around the same height as both Steven Spielberg and Ang Lee:
Click Here
Click Here
SantaMonica
said on 3/May/13
Just saw him today near where I live. I would guess 5'8" max, probably 5'7" but he sat down real fast so didn't get that good a look. He has almost white hair but very youthful, unlined skin.
Joe257
said on 30/Apr/13
I would have guessed a weak 5'8"! Christoph Waltz does look shorter than the average height for a man (5'9" - 5'10") but I do not think he looks quite as short as 5'7". Maybe he's 5'7.5"!?
Mark
said on 28/Apr/13
I actually think his flat 5ft 7 claim is under. In the photos I've seen of him with Jaime Foxx, there never seems to be a full 2 inch difference between them. Definitely a 1 inch difference (1.5 tops), but not a full 2.
Tempest
said on 8/Apr/13
Yep, the downgrade is right. I KNEW Christoph Waltz was a flat 5'7" or maybe a bit less. If Waltz is 5'7" then Bradley Cooper is 5'11.5".
Emil
said on 7/Apr/13
He's cool as hell so he doesnt need height to boost his ego
Me
said on 5/Apr/13
You're welcome :)
leonari
said on 3/Apr/13
Exactly Shredder! Alfonso should admit to not even being 5'6
Craig 176
said on 1/Apr/13
Click Here
180 for Brad Pitt is way off then!
leonari
said on 1/Apr/13
Thats what a legit 5'7" guy looks like. Short but not stand out out short. Nice downgrade.
Me
said on 30/Mar/13
Just thought I'd add that Christoph Waltz mentions that he's 170cm in an interview with Monsieur Hollywood when he was asked if he would consider doing a remake of any of Louis De Funes' films. He said he wasn't short enough, that he is only 170cm, but still too tall to be as funny as De Funes. The interview was posted on January of this year on YouTube.

Editor Rob
thanks for mentioning the source!
Me
said on 26/Mar/13
He mentions in an interview that he 170cm.
Anonymous
said on 11/Mar/13
are you serious? he really is 5'9!!! i met him and i stand about 177cm
Hew
said on 20/Jan/13
It doesn't really matter how much shorter he looked than Jamie Foxx in Django, that's mostly because of camera-angles etc. Jamie is 5'9 at most, Waltz is more or less 5'8, 5'7.5 maybe.
Sam
said on 15/Jan/13
I could also post one where Waltz and Foxx look similar height:
Click Here
But overall I would agree that Foxx has about an inch over Waltz:
Click Here
billybkk
said on 14/Jan/13
Absolutely brilliant actor. Who cares if he's shorter than average?
leonari
said on 8/Jan/13
looked short in Django unchained. More 171-172 in my opinion.
MaskDeMasque
said on 6/Jan/13
I thought he looked an inch and a half shorter than Foxx in Django. I think Foxx possibly might be 5'9.25. So Waltz 5'7.5-5'7.75 range.
(s)ain't
said on 31/Dec/12
I think he is more around 5'7". Jamie Fox looked a couple inches taller then him.
moerlitz
said on 14/Sep/12
From what I have seen of him he's 5'8''-5'9''ft.
maio
said on 26/Dec/11
he's a strong 5 ft 7 in/170 cm.
jake
said on 7/Sep/11
Kimmel is 181 cm max in my opinion yet claims 6ft1.
thosch
said on 7/Jun/11
yesterday i was on a flight with him from vienna to berlin, and i saw him standing next to me: he's just like me about 175(-176)cm, but not shorter...
trueheight
said on 11/May/11
funny, he looked only 2in shorter than Jimmy Kimmel
ember
said on 8/May/11
He looks rly rly short in green hornet and average in inglorious basterdz.
I'd say he is 5'7 - 170cm.
kilopt
said on 6/May/11
**** the fact he is short, in 3 years he became my favorite actor... he ****ing rocks the set like no one else can
Waltz
said on 4/May/11
i loved him in green hornet chudnofsky. 5 ft 8 is a good height