Cirroc Lofton's Height
6ft 2 ½ (189.2 cm)
American actor, best known for playing Jake Sisco on TV series Star Trek: Deep Space Nine.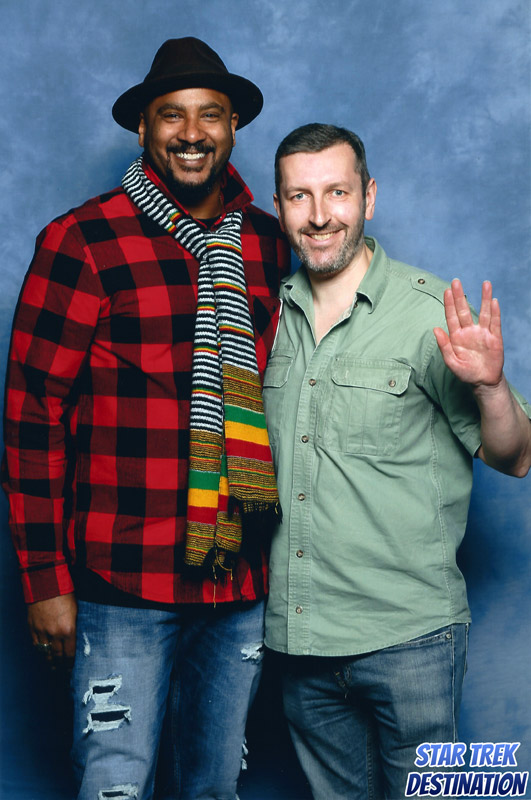 5ft 8 Rob and Cirroc @ Star Trek Destination 2018
You May Be Interested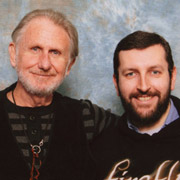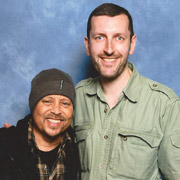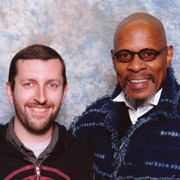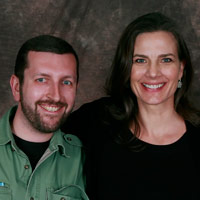 Add a Comment
30 comments
Average Guess (26 Votes)
6ft 2.25in (188.6cm)
Nik Ashton
said on 18/May/20
@ Onabill Choudhury - Totally agree!
OriginalAnon
said on 16/May/20
Fair enough, Rob. I haven't seen him much elsewhere to comment, so I will certainly take your word for it.
This may sound odd, but re-looking at the photo, I seem to get a greater sense of someone's height from the photos which include some of the legs. It is obviously not at all an eventual indicator of height as different people have different proportions and someone with long legs and a short body would give a different impression to the reverse.
OriginalAnon
said on 18/Apr/20
He looks 6'2'' MAX.

Editor Rob
In person he really looks over 6ft 2 flat.
Johan 185 cm
said on 30/Jul/19
Looks more 6'2.25" from what I can tell, not sure how anyone sees 6'3" here.
Junior Hernandez 1990
said on 24/Jun/19
Strange but i have to mention that Cirroc look taller when he was like 30lbs lighter than now a decades back. Maybe overweight now making his posture poorer?
Onabill Choudhury
said on 25/May/19
Looks 6 ft 2 1/2 , genuinely confused how people think he's below 6 ft 2 lol but hey if that's your opinion that's your opinion
'Annonymous'
said on 18/Apr/19
Rob, I'm glad there are a lot of people who you've met personally😄🤗! It helps in creating your website and it is much easier to guess the height from people you've never met.

Editor Rob
Although we might not agree on some heights - it is usually in many cases 1/4 or 1/2 inches - I do understand people have different estimates and it doesn't mean their estimate is wrong - the truth could lie right on my estimate, but it could potentially be above/below it.

I'm not sure if any other websites are doing the same as celebheights, with an editor who also meets and gets photos...I feel that aspect has been helpful, as people know I measure 5ft 8 range and I am trying to give reasonable estimates - I have no personal stake/interest if an actor is 5ft 8 or 9, but I care about trying to offer what I believe are honest estimates.

Although I have been slow to start this year with photos, believe me, there are still a few good ones still to come.
bobbh3342
said on 29/Mar/19
6,1.75 to 6'2 flat
JD
said on 17/Mar/19
Best campaign shirt in history.
Oneiroi
said on 17/Mar/19
6'2.5 sounds legit for this guy.
Sandy Cowell
said on 9/Mar/19
@ Rob - That's a very tall young lad!
Sandy Cowell
said on 6/Mar/19
Was Cirroc the son of Avery Brooks's Captain? They're both very tall and could pass for father and son!
6ft2.5 for Mr Lofton from 'Deep Space Nine'. 👽🤖👾

Editor Rob
Yes, I think by season 5 he had grown to 6ft 2+, at least he had at least an inch on avery at that point.
Nik Ashton
said on 5/Mar/19
I could buy 6'2.25"!
Benjamin Fritz
said on 5/Mar/19
Looks 6'2"-6'2.25"
Mickie
said on 4/Mar/19
I'm sorry, I don't get how anyone sees 6'3" here. Looks 6'2".
viper
said on 3/Mar/19
Canson I don't see 6-3 at all.
I see just 6-2
Peter 180cm
said on 1/Mar/19
Looks 188-189cm so a 6'2 1/4 for me.
josh b
said on 1/Mar/19
He's a big guy, seems to like big coats/jackets that make him look bigger than he really is. I'm sure he had a little more footwear than myself, wouldn't go above this listing but reckon he has an inch on Mark Henry though,
Andrea
said on 1/Mar/19
I'd say Tom looks 0.5 inch or so taller than Cirroc next to Rob, 184guy2:
Click Here
Rampage(-_-_-)Clover
said on 1/Mar/19
He looks much heavier than 200lbs
184guy2
said on 28/Feb/19
lol @Andrea
If you are able to see Tom Welling 6'2.5 with Rob , than you also should be able to see Cirroc ...
They look exactly tha same beside Rob
Jordan87
said on 28/Feb/19
Looks about 6'2, no more than that.
slothee
said on 28/Feb/19
I don't get these 6'3" guesses! He looks at most 6'2" to me, in both photos.
Agent Orange
said on 18/Sep/18
He looks 6'3.Rob how much do you think he weighs?
Thanks
Agent

Editor Rob
Maybe 200 pounds.
Christian 6'5 3/8"
said on 1/Sep/18
@Arch
It think the reason why the average black celeb on CH seem taller than other races, is because a good chunk of them are pro athletes. On average though, blacks are about the same height as whites, give or take.
Canson
said on 28/Aug/18
Proper 6'3. This is how a guy who is 6'3 at his lowest with those proportions looks
Arch Stanton
said on 27/Aug/18
I suppose I'm thinking of the Paul Pogba footballer types and Snoop rappers types who often seem 6'3-6'4 range.
Arch Stanton
said on 27/Aug/18
I don't want to come across as thinking colour matters, but is it me or is a higher percentage of famous black men over six foot rather than under? I suppose Kevin Hart badly knocks down the average, but it seems there's a lot of black guys on here who are 6 ft 3 or 4, any stats Rob?

Editor Rob
It might be interesting statistically, but off-hand I couldn't even hazard a guess about the percentage. With sport stars, it would definitely help increase the average.
Junior Hernandez 1990
said on 24/Aug/18
Look a bit taller than 6'3.
Sandy Cowell
said on 24/Aug/18
You don't say! Ha ha ha! Fantastic! The little lad has grown up - TO SIX FOOT THREE! That's amazing! Seems like yesterday....🎶😉