Rene Auberjonois Height
5ft 11 (180.3 cm)
Peak height was 6ft 0 (182.9 cm)
American actor best known for roles from Star Trek: Deep Space Nine (as Odo) and Boston Legal (as Paul Lewiston). On his website he said he stands at 6 feet. In 2012 he mentioned his height on twitter, saying that
"I'm barely 6' and shrinking"
.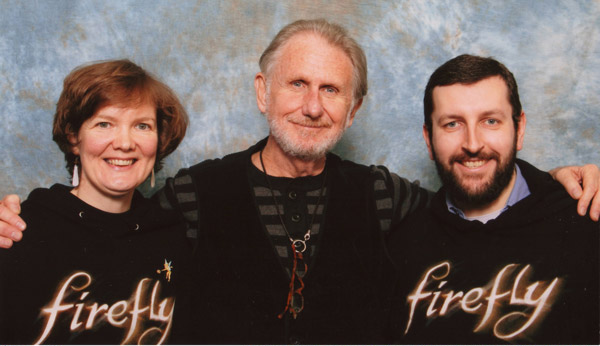 5ft 8 Jenny, Rene, 5ft 8 Rob @ Collectormania London 2011
You May Be Interested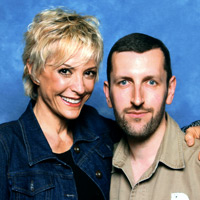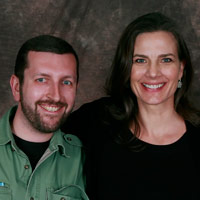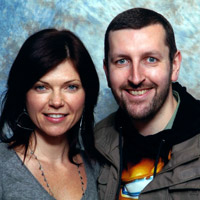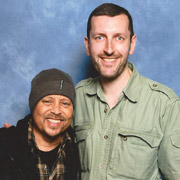 Add a Comment
29 comments
Average Guess (18 Votes)
Peak: 6ft 0.18in (183.3cm)
Current: 5ft 11.15in (180.7cm)
Miss Sandy Cowell
said on 30/Jun/19
Phwoar! I fancy him!
6ft0.25 peak and 5ft11.25 now.
Paul NS (6ft 0.5)
said on 31/Jan/19
His quote is interesting, it comes off as implying he was like 5'11.5" or something. But did generally look 6 foot range on DS9 (where it's not totally inconceivable he would've already lost a small bit)
Paul NS (6ft 0.5)
said on 29/Jan/19
5'10 1/2 today, Rob? He's still active, and doesn't quite look 5'11 anymore.

Editor Rob
He can walk about and look between 5ft 10-11 range, but might still manage near 5ft 11.
Sandy Cowell
said on 24/Aug/18
I watched it* again the other night and...phwoar! I second and third everything I said the other times!
6ft0.25 then and 5ft11.25 now!
* 'The Eyes of Laura Mars'.
Sandy Cowell
said on 5/Mar/18
Watching 'The Eyes of Laura Mars' again, and I second everything I said last time!
Tall, dashing and effeminite in a way I find quite irresistible, if you like him in his Star Trek episodes as 'Odo', you really have to check this out!
From Odo alone, I could have NEVER judged him to be 6ft!
5ft11.25 - now
6ft.0.25 - back then!
Danimal
said on 26/Feb/18
He's 77 years old. I'm sure he's lost more than just 1" Rob. By 77 the average male will have lost 1 3/4".

Editor Rob
Last time I seen him was about 3 years back, he certainly might be under 5ft 11.
Sandy Cowell
said on 5/Jan/18
@ sev7enfool - Try to see Rene
in 'The Eyes of Laura Mars'! He was really quite a dish!
Se7venfool
said on 4/Jan/18
5'7 3/4 Jenny and 5'8 1/4 Rob
Editor Rob: back then, Jenny still managed to be similar range, but shrank half inch.
Rampage(-_-_-)Clover
said on 27/Dec/17
Could have been a strong 6ft, not impossible
Sandy Cowell
said on 7/Dec/17
I am watching Rene in 'The Eyes of Laura Mars' again and he really does look a healthy 6ft, something that I hadn't picked up upon in 'Deep Space Nine'!
The aforementioned 'Star Trek' is soon coming to the 'Horror' Channel, which I look forward to immensely as I'll have the opportunity to check out ALL the actors heights again, as well as Rene's! Not only that - the stories are great and the alien characters aboard the ship are something else!
I go for 5ft11.25 for today's height and 6ft.0.25 for his maximum height!
Greg
said on 21/Oct/17
This dude was a bare minimum of 6' on Benson
World Citizen
said on 15/Jun/17
Looks 180 as listed. Seeing a 7 cm difference.
Sandy Cowell
said on 26/Apr/17
What a lovely, friendly-looking man!
Of course, when I see his name, I think of his part as Odo in 'Deep Space Nine', but Rene is currently on my TV, starring in the 1978 film 'The Eyes of Laura Mars'!
He looks possibly a bit more than 6ft in this film, though that might have something to do with his plentiful hair - very Seventies, and it suits him!
I will go for 6ft for his peak, and 5ft11 for today's height!
184-182
said on 10/Apr/16
Strikes me as 5'11.5" from the picture. How thick was his footwear compared to yours Rob?
Editor Rob: we're in just under inch sneakers, his wasn't noticeably different.
Giulio
said on 8/Dec/15
looks 5 11 1/2 here
Rampage(-_-_-)Clover
said on 11/Nov/15
Maybe just 5ft11 today. I do agree with his peak though
Editor Rob: I did see him up close again and would say he struggled to look over 5ft 11 now...he's right about losing height, on DS9 he had better posture and looked taller.
josh b
said on 26/Oct/15
Here is my Rene photo
Click Here
He looked very close to myself.
[Editor Rob: he could be at most 5ft 11 today]
josh b
said on 24/Oct/15
Here is my Rene photo
Click Here
He looked very close to myself.
[Editor Rob: he could be no more than 5ft 11 now.]
JanHam
said on 4/Oct/15
Sat next to him at the Mark Taper Forum, I'd peg him at 6 foot.
Rampage(-_-_-)Clover
said on 15/Aug/15
Looks tallish. Definitely a solid 6ft in his prime.
Shaz
said on 9/Jan/15
He looks 5'11 in this picture... the eye level difference is barely 3 inches.. Maybe if he tilted his head he might be close to 5'11.25...not tall in this picture. maybe tallish
Judd
said on 9/Nov/14
With rob he does look a strong 5'11" or so...
However i think 6'0" as peak height is accurate...in the patriot (2000) he was a strong 1" shorter than Heath Ledger (6'1").
Mr. R
said on 16/Sep/14
I saw him last year at an art gallery. He was close to 6-1 but with chunky heels. But definitely taller than my 5-11.5. He is just over 6 foot.
Emil 182.5-184.5 cm
said on 14/Sep/14
Looks 1.79-1.80 in this pic but he could easily stretch out a bit more. 5'11.5 is fair for him
MOF
said on 4/Jun/14
Another point. There's an episode in the seventh season of DS9 called "Chimera" which features Rene and J.G. Hertzler heavily together. They share many scenes and one where they walk side by side for a long time. The camera angle is steady and even and Hertzler is clearly about an inch taller.
Hertzler is listed as six feet even on this site and looks it. Rene is about 5'11", I have seen no evidence in the 15 years plus I have observed him as an actor that indicates otherwise.
MOF
said on 4/Jun/14
Nearly always looked the same height as Colm Meaney in Star Trek: DS9 and he's listed as 5'11" and probably is. He doesn't look taller than 5'11" in that photo despite that he seems to tilt his head slightly.
I doubt he was ever more than 182cm in his prime.
Sam
said on 3/Dec/13
He is a guy who can look slight on-screen in a comic role and tall and imposing in a villainous role. He definitely seems to be a convincing six footer at his peak.
thorterr
said on 2/Mar/13
yes he in the 5ft 11ih bracket
Anonymous
said on 2/Jul/07
In the 1970's, Rene looked more like a 6-1er. Watch the forgotten classic "Brewster McCloud" or even "M*A*S*H" and you'll see what I mean.
[Editor Rob: I asked this guy in a shop for a photo but he was in a rush to get food and said no. Looked not quite 6ft, naturally lost a little height.]