Cliff Richard's Height
5ft 9 (175.3 cm)
Peak height was 5ft 10 ½ (179.1 cm)
British Singer and actor from Summer Holiday. He said about his height,
"I am 5ft 10.5in - Mr Normal, average height"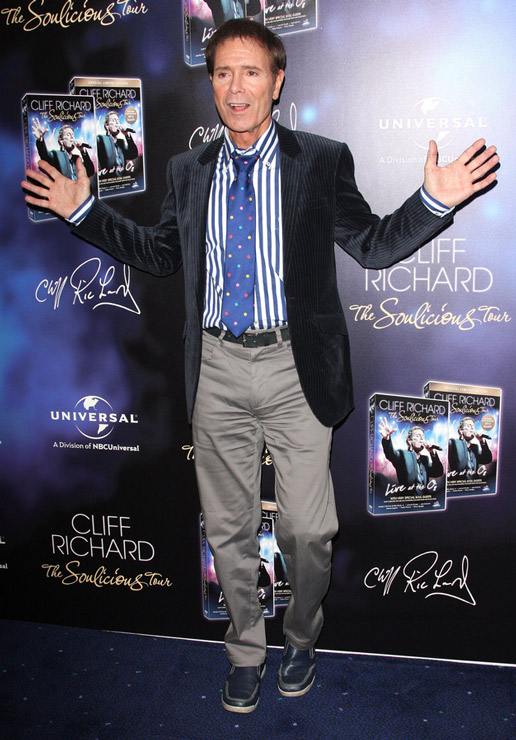 Photo by PR Photos
Add a Comment
27 comments
Average Guess (5 Votes)
Peak: 5ft 10.4in (178.8cm)
Current: 5ft 9.05in (175.4cm)
Miss Sandy Cowell
said on 17/Oct/20
@ Arch Stanton - Rock 'n' Roll keeps them young, Arch! 😉
Arch Stanton
said on 15/Oct/20
How is this guy 80?? I know he's always been very clean living but still. I know the hair dye helps but him and Ringo star really don't have that old man look about them!
Miss Sandy Cowell
said on 14/Oct/20
🎂🎁😇🎶 Happy 8️⃣0️⃣th Birthday 🎶😇🎁🎂
So the 'nice boy' my Mum's millionaire boss used to live next door to turns eighty years old today; he wears it so well.
Have a Very Happy Birthday, Cliff. I've never heard a bad word said about you! 😉👍
5ft10.5 peak; 5ft9.25 today. 😆🎊🎈
🎂🎁😇🎶🎂🎁😇🎶🎂🎁😇🎶🎂🎁😇🎶
Anne Stalker
said on 10/Sep/20
I thought you were taller Sir Cliff. Probably about 6 foot when I met you in 1977. Looked so tall and handsome. People may have talked as you were a little older than me. Me. Still a minor then. Agree with other review. Sir Cliff so friendly and chatting to fans.
Amazing Sir, no matter how high he is or was. We all still adore you north of the border.
Miss Sandy Cowell
said on 14/Jul/20
I found out on Sunday that my boyfriend has met Cliff Richard and says exactly the same as my mate Bert, who also met him, said.
He makes time for everyone and will chat to you as if he's known you for years.
5ft10.5 peak; 5ft9.25 now.
😁🎵🎧🎶👍
Vibram
said on 12/Dec/18
Rob, there's no way he's 177cm today. He's about 173cm. I'd say he was 178cm peak (aged 30), 173cm today at age 78. Look at pictures of with with princess Diana (177cm) in the late 1980's, he's about the same height... and she's not in heels.
Sandy Cowell
said on 10/Apr/17
Probably 5ft10.5 in his younger days, now 5ft 9.75.
My Mum, many moons ago and before I was born, worked for a man who lived next-door to Cliff! He said of him that he was 'a nice boy!'
Mat
said on 23/May/16
Rob, why would he claim that 5'10.5 is average height? I'm sure in his days he would be considered tallish at that mark
Editor Rob: yeah 10.5 isn't really average in the 60's.
Equin0x
said on 15/Oct/15
Ok here's what I think, my boss has just met Cliff in southern Ireland 2 weeks ago and taken a couple of pictures with him standing side by side, the thing is my boss was leaning slightly towards Cliff and equal footwear, and my boss was still around 1.5 inches taller than Cliff, the thing is I am 6'0 tall, a strong 6 footer at 184cm and still 183cm at night and I'm at least 2 inches taller than my boss, does that put cliff in the 5'8 range? I'm confused as people on here are saying Cliff is way taller than what he seems.
Greg
said on 22/May/15
Was just looking at a clip from a 1973 morecambe and wise show, on which Cliff was on. He and the comedians appeared to be wearing pretty standard dress shoes. He was noticably taller than Eric Morecombe - my guess would be between 5'10" and 5'11", closer to the latter. Also, I think Eric Morecombe was likely around 5'8", which is surprising since next to Ern he gives the impression of someone about 6' tall.
Rampage(-_-_-)Clover
said on 11/Dec/13
5ft10.5 peak, Rob?
He's aged very very well. No plastic surgery or anything.
[Editor Rob: yeah I will add his claim which is exactly that...in his prime that mark might have been fair.]
Christian
said on 11/Mar/13
Looks exactly the same height as Paul McCartney in this clip. See 2.48 and forward.
Click Here
Tim Lewis
said on 21/Sep/11
He featured in Thunderbirds so that puts him at about 1ft 10in. LOL
Click Here
Millie
said on 4/Dec/10
I dunno how tall he is but I saw him in Cannes once, around 5ft 10, yeah
Lyeemoon
said on 22/Jun/09
I squeezed into the police at 5'8" and I stood next to him in his pomp and he was at least two inches taller. As he is now into his late 60's he is likely to have shrunk.
Dylan
said on 7/Jun/09
He has always been listed as 5'10.5" yet when you look at him next to other celebrities it just does not ring true. If I would have had to guess his height it would have been about 5'8", he looked alot shorter than Bruce Welch and Hank B Marvin and I would not have thought he was as tall as John Lennon either.
Reg
said on 30/Apr/09
Bruce Welch was the tallest (5'11") of The Shadows and Cliff standing next to him looked 3" shorter which makes Cliff 5'7" /5'8".
Jimbo
said on 30/Dec/08
In today's paper he admits to being 5'10.5" but wearing lifts to take him up to 6'.
Hail Hail.
Trevor
said on 17/Dec/08
Cliff is no 5'10" ! More like 5'8" or 5'7".
I don't know why pop stars lie about their height. It's silly !
Robert MacDonald
said on 10/Sep/08
I believe Cliff is only about 5. 7 and a half according to the photos I have with my dad a few years ago. The producers can make actors look taller.
Ron
said on 3/Sep/08
I met Cliff about 20 years ago he was staying in a Hotel where I was working we met in the main corridor to me he appeared to be 5'8" same height as me.
Anonymous
said on 3/Sep/08
His peak was probably 5'10, now with age 5'9
Ron
said on 2/Sep/08
I met Cliff in a Hotel wear I was working several years ago and he is not 5'10" more like 5'8" same height as me.
Brad
said on 15/Mar/07
5' 9" at the Savoy in NYC in '81. Nice to see a U.K. legend in concert.
Robert.R
said on 21/Jan/07
He has always been listed between 5'10 and 5'10.5" yet he has never looked over 5'8" to me.
TJ
said on 4/Dec/06
I have a pic of my grandfather presenting Cliff with an award in 1960 - Cliff would have been 19, going on 20. Both appear to be standing up straight and my 5'10 grandfather looked a little taller. It's feasible that Cliff could have grown just a little more after this I suppose.
Frodo
said on 11/Oct/06
Passed him in an airport recently - I'm just under 5'9 and he was on par or shorter - definitely