Cliff Robertson's Height
5ft 10 (177.8 cm)
American actor best known for roles in films such as Charly, Spider-man (2002), Picnic, Autumn Leaves, The Honey Pot, Obsession and Three Days of the Condor.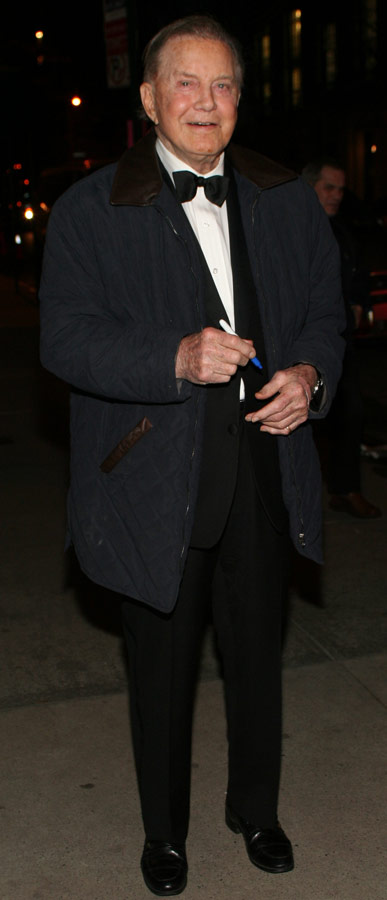 Photo by Allan Light
Add a Comment
11 comments
Average Guess (3 Votes)
5ft 10.33in (178.6cm)
Arch Stanton
said on 13/Jan/17
Looked a strong 5'10 with Rex Harrison.
Steve
said on 6/Mar/15
He must have been wearing lifts. I doubt he was any taller than 5'10".
jwwjr
said on 4/Mar/15
I met Cliff Robertson in the early 1990's.in Connecticut. I was standing 3ft from him.Later shook his hand. Talked. He was wearing very casual loafers. Low heal. Im five eleven and One eighth. Sorry but he was at least my height.
Mike T
said on 29/Mar/14
I'd say 5'9"-5'9.5 at peak and 5'8"-5'8.5 in his remaining years before his death. He was probably 5'8 range next to Tobey Maguire in spiderman and he was in his 70s at that time.
Knowitall
said on 7/Jul/13
Barely. He was two inches shorter than Bill Holden in Picnic. Holden was reportedly five eleven.
When Robertson appeared again with Holden in The Devil's Brigade, he was the same height. But in that film he wore obvious lifts.
Robertson also wore lifts in Gore Vidal's The Best Man.
jwwjr
said on 14/Sep/11
I met mr.Robertson around 1987.shook his hand,talked to him.He was wearing casual loafers, looked like no lifts, but maybe,he was close to, 6ft ".
Dave Geraldo
said on 13/Dec/06
I met Cliff and he admitted to me that he wears 1.75 inch shoe lifts that he purchases online to grow taller
jimw
said on 25/Jul/06
I talked to Cliff Robertson a bit and stood very near him ,about 15 years ago.It was at an event in Bridgeport ,Conn.I would say he was 5 ft 11 ,maybe even a little more.He was wearing loafers.
Frank2
said on 13/Mar/06
5'10" is correct. I worked with Cliff on JW Coop. One day when we ran the answer print for him, Cristina Ferrare showed up fro the screening. She had a large part in that film. I was instantly in love! We spoke for at least an hour waiting for Cliff to arrive. We really liked each other and I could tell she was interested in me. In fact after the screening I walked her to her car and even tried to ask her out on a date. At that time I was a struggling lab technician working at Metrocolor and she was already a highly-paid fashion model. Anyway after a long pause she said goodbye and drove off. Later she married car designer John DeLorean who got into trouble with the US government in a sting operation trying to sell cocaine in order to get money for his ailing car company. He was later found not guilty.
larry
said on 13/Mar/06
Looks like 2-3 cms less for Mr. Robertson to me, so 5'9.5" to 5'10". Haven't seen him in a LONGGG time.
Frank2
said on 12/Mar/06
Cliff with 5'11" Bill Holden:
Click Here