Colin Baker's Height
6ft 0 (182.9 cm)
English actor, best known for playing the Sixth Doctor in Doctor Who. On his agency CV he was listed 6ft and 17 stone. In this convention photo I was wearing
Converse
thin , whilst Colin had Crocs, giving him about 0.3 inches footwear advantage over me.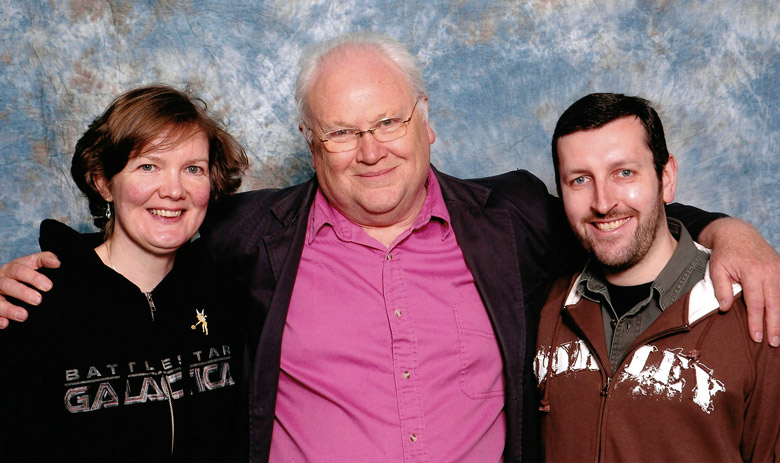 5ft 8 Jenny, Colin, 5ft 8 Rob @ Collectormania 2010
You May Be Interested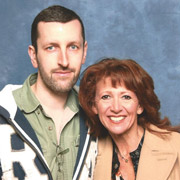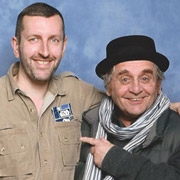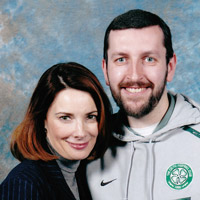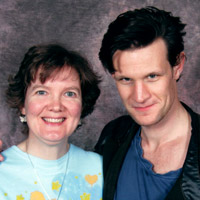 Add a Comment
32 comments
Average Guess (34 Votes)
6ft 0.53in (184.2cm)
Miss Sandy Cowell
said on 9/Sep/21
Soap fans will soon be able to check out and see how well Colin has maintained his height over the years because he's due to take up a role in 'Emmerdale'.
With so many actors of varying heights included in each Soapy cast, we can through the regular viewing and, often inadvertently, learning off by heart these hard-working stars' heights, seeing an actor in a Soap opera enables us to - sooner or later - make the most unbeatable guesses.
For the meantime, Colin gets 6ft0.25.
I look forward to his debut!
📺....😃👏🍵🐈🐈🐈
Paul Swailes
said on 1/Dec/20
I met Colin in the early nineties and I'm 6ft and was as tall as me.
anomalous
said on 14/Sep/20
what would you say the height cap between peter davison and Colin Baker is

Editor Rob
I think in peak years within 1/4 inch, it could be argued davidson was slightly over 6ft.
Miss Sandy Cowell
said on 7/Dec/19
Colin looks half a head taller than Rob but not Jenny! It must be Jenny's hair!
6ft.
Mickey
said on 11/Sep/17
still looks it somehow
even
said on 20/Jul/17
a legit 6 footer and a legitimate 300 pounds
Sandy Cowell
said on 15/Apr/17
I never saw him as Doctor Who, but judging from the picture here, he looks no more than 5ft11 at most, but I'll add half an inch on, as I have read some of the comments below.
Colin looks friendly and jovial, and with a pretend beard and a red suit, he would make a lovely Father Christmas!
(It's Easter Saturday, so I must have festivities on my mind!)
jay
said on 16/Aug/15
met him yesterday at comic con in sheffield he was 1inch shorter that me and im 6ft
120
said on 22/Mar/15
6ft is spot on
mike
said on 2/Oct/14
Rob, how come he doesn't have a peak and current height than?

Editor Rob
I was thinking I might get him again as he's now age 70, I'll see, I guess he still does some acting.
miko
said on 22/Mar/14
He could well be down to barely 5'11 flat looking at recent Dr Who photos.

Editor Rob
today yes probably nearer 5ft 11, over last few years looks to have lost a bit of height.
Themotorbikeman
said on 25/Jan/14
Looks about 6ft in the photo comparing to Rob.
Lenad
said on 28/Dec/13
could be more 5'11 range these days
Rampage(-_-_-)Clover
said on 2/Nov/13
The heavier guys tend to look shorter than they really are.
I can believe 6ft (or near it at least) but he's way more than 17st.
Over 20st for sure. Looked massive on I'm A Celebrity
glynny 182
said on 27/Oct/13
rob again spot on 183cm for him

Editor Rob
in the last few years I think he's lost half inch, he looks shy of 6ft these days, but he's what, 70 now.
LG69
said on 3/Jun/13
6'0 seems accurate.
Mastro
said on 15/May/13
Ha! He had Crocs on when I saw him in LA. 6 foot is accurate.
Lenad
said on 21/Feb/13
from that pic i can buy 182cm at the lowest today!
Mathew
said on 24/Dec/12
Peak height 6'0", a current height of 5'11.5" is probably more accurate.
Yaspaa
said on 7/Dec/12
The 17 stone thing may be a little outdated, lol.
Chaz
said on 6/Dec/12
you see him told by the Dr when he come out of the Jungle he was 127kg,that is just under 20st when he went in,he lost 28lbs,that is just over 12.5kg,so he is about 18st now.
Arch Stanton
said on 3/Dec/12
Did he? Mmm I think he's being rather modest, if you saw him at the beginning in the jungle his belly was grossly huge. I'm usually pretty good with weights and I think he looked more 21-22 stone. Actually in height and appearance from a distance he reminded me of Harold Bishop in the jungle, and he's what. 5'11.5" maybe?
Arch Stanton
said on 28/Nov/12
Rob, I think nearer 22 stone would be accurate for his 2012 weight when he went in the jungle. Might be 20 currently after losing some weight but his belly is massive.

Editor Rob
I only saw a few clips of the show, but he is pretty big. He said early november he was 20 stone.

I don't think he's quite a 6 footer today.
Arch Stanton
said on 28/Nov/12
Looked 6 ft on I'm a Celebrity but 17 stone today is a joke. This man was nearer 22 stone when he went in the jungle.
magic
said on 14/Nov/12
6ft in height maybe but very heavily built. He wasn't like this when he played Doctor Who. He was quite athletic if my memory isn't fooling me.

Editor Rob
he says he's 20 stone today
Zachary
said on 6/Aug/11
that man is really happy!
Matt (6ft 1/4 - 6ft 1)
said on 7/Jul/11
James says on 3/Jul/11
maybe more 182cm?
[Editor Rob: last year he looked probably 5ft 11.5 at most, 5 years ago I first saw him and he looked 6ft, taller than peter davison.]
lol, you have an outstanding memory, there have been several occasions where youve recalled things from years back

Editor Rob
since starting this height I remember more things to do with height, that stuff sticks.
dmeyer
said on 4/Jul/11
he shrinked 1 cm in 5 years

Editor Rob
I think he reached the age where he might have lost 1cm yes.
James
said on 3/Jul/11
maybe more 182cm?

Editor Rob
last year he looked probably 5ft 11.5 at most, 5 years ago I first saw him and he looked 6ft, taller than peter davison.
Rampage(-_-_-)Clover
said on 3/Jul/11
Looks 180cm
Anonymous
said on 17/Dec/06
as the rest of them are here, does anyone have any idea how tall the first 2 doctors(william hartnell and patrick troughton)were?
Eye Sea
said on 28/Aug/06
Yes, correct.