Colm Meaney's Height
5ft 11 (180.3 cm)
Irish actor, best known for playing Chief O'Brien on Star Trek: Next Generation/Deep Space Nine and Thomas Durant on Hell on Wheels. In film he has had memorable roles in Con Air, Layer Cake and Law Abiding Citizen. In this photo I'm wearing 1 inch
Nikes
and Colm about the same shoe thickness.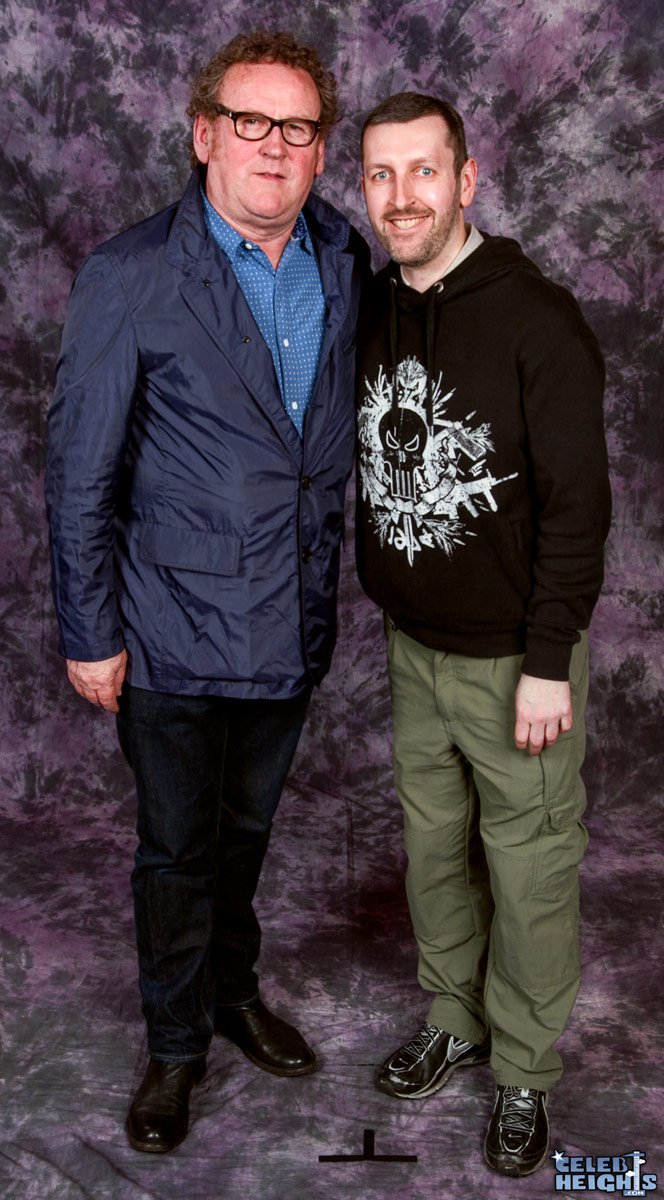 5ft 8 Rob and Colm @ Memorabilia 2015
You May Be Interested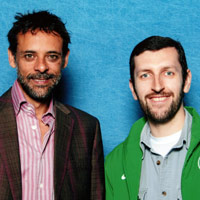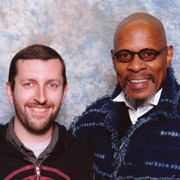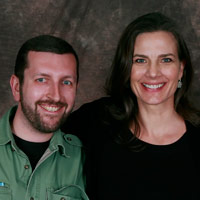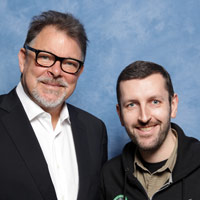 Add a Comment
53 comments
Average Guess (24 Votes)
5ft 10.91in (180.1cm)
Jkiller
said on 4/Aug/20
A decent 5'11, lowest would be 5'10.75 I reckon.
Chris Junior Hernandez 1990
said on 24/Jun/20
I use to think he look 5'10 before i learn that Rob had a picture with him. So def close enough to 5'11.
Nik
said on 20/May/20
I'm sure he can pull it off!
Nik
said on 16/Apr/19
Rob is slouching a bit!
Rampage(-_-_-)Clover
said on 20/Mar/19
It wouldn't look oversized if he was 6ft3
Rampage(-_-_-)Clover
said on 19/Mar/19
Strong 5ft11 peak, lol 6ft3

Editor Rob
He does have a fairly big head for a 5ft 11 range guy, for a 6ft 3 guy it would be more proportional.
VelikiSrbin
said on 19/Mar/19
@Rob
pretty good genes then, also his head is massive for his height
VelikiSrbin
said on 16/Mar/19
Maybe 6ft peak?

Editor Rob
He was shorter than Alexander Siddig on DS9, so he didn't shrink much by age 60.
Greg99
said on 10/Mar/19
Easy 5'11" - Young Rob, having the date of the meet is always useful since it's relevant to height.

Editor Rob
I normally do that, usually when I go back to a photo to change to a bigger size I would then mention it in the description.
rawdshaq
said on 17/Feb/19
He is way underlisted. He looks 6'3"
Sandy Cowell
said on 6/Oct/18
@ Bobby - So that's what it is! I could never pinpoint exactly what it was that gave Colm that much taller look, but you have hit the nail on the, eh, head! (Every pun intended!)
Colm gets 5ft11, though it can be quite hard to swallow when watching him in some of his productions.
Bobby (5'10)
said on 5/Oct/18
This guy has the head of a 6'4 person.
poli90
said on 25/Aug/18
He has a head and a face of a 7ft guy.
Sandy Cowell
said on 6/Jun/18
Colm came over as much taller in the film 'Where the Devil Hides'! I really thought he topped 6ft, but seeing is believing, and he clearly isn't that height here!
I will agree with the average of 5ft10.75.
6ftMedium
said on 4/Jun/18
5'10" with weird proportions.
Nik
said on 26/May/18
I will have to be a meanie and on the 26/May/18 say that Colm Meaney is sub 5'11"! Not by much though!
Pierre
said on 8/Dec/17
around 5"10.5'/weak 5"11' to my eyes, Rob slouch a little more than him imo
Colberto
said on 28/May/17
Has a build lie he could be 6'1" with the head but he looks 5'11" exactly. I see 3" between rob and him.
S.J.H
said on 21/Sep/16
I think most people fool by his hair and rob look dropping fraction posture leaning forward. He was just around 5'10.5
Editor Rob: Meaney is still close to 5ft 11, he is shorter in person than alexander siddig though, who is over 5ft 11.
Johno
said on 8/Apr/16
5'11 sounds right
Rampage(-_-_-)Clover
said on 13/Sep/15
He does look around 5ft11 w/h Rob.
Jones
said on 28/Aug/15
averagejoe says on 23/Jun/15
wow, he's actually pretty tall. I was totally thrown off by that tall ds9 cast.
I'd say relatively tall is a better description.
A6'2Guy
said on 2/Jul/15
@averagejoe He is more strong averagetallish to be honest, I wouldn't (myself) say he is "pretty tall" but that is just me.
kio
said on 28/Jun/15
looks taller than terry farrell who is listed as 5'11.75
Modeus
said on 27/Jun/15
he still look 5ft11 even today
averagejoe
said on 23/Jun/15
wow, he's actually pretty tall. I was totally thrown off by that tall ds9 cast.
Rampage(-_-_-)Clover
said on 15/Jun/15
Pretty much no one who Rob meets will stand with good posture.
He looked 5ft11-6ft w/h John Cusack in Con Air.
[Editor Rob: a lot do, a lot don't (and in a lot of instances like that I have lowered my own height), a portion even have better stance than me.
In Colm's case he's standing not too bad actually...of course I'm not standing at my tallest, as seen by me leaning to my right, but he looks in this photo what he appears in person.
]
TJE
said on 10/Jun/15
Looking 5'10.5-10'75 with Rob; won't doubt he's 5'11 though.
Lorne???
said on 8/Jun/15
So maybe 180 now, 181 peak. Could've been a solid 5'11, and now has dropped a small fraction, and barely hangs on to the mark by afternoon.
He really does look legit 180cm here, as Dmeyer said.
GX791
said on 7/Jun/15
he barley looks 5'11 he looks 5'10 3/4 maybe 70.9 inch but a weak 5'11
Rampage(-_-_-)Clover
said on 5/Jun/15
"Peak height was 5ft 11½in (182cm)"
Dmeyer
said on 4/Jun/15
Height loss has to do with genes the Guy isnt in shape and l'ost almost nothîng at 60+
Alex 6'0
said on 3/Jun/15
Looks about 5'11 here
Dmeyer
said on 1/Jun/15
So about 5'10.75 in person maybe 5'11.25 peak
Dmeyer
said on 1/Jun/15
Rob he looks 7cm taller than you so solid 180cm is it possible he lost nothing by over 60
[Editor Rob: in person I think he was near enough 5ft 11, on DS9 I don't really think he was much over, he could have been measured a little over 5ft 11 and lost only a small fraction.

Some people can make it to 60 with minimal loss.]
Dmeyer
said on 31/May/15
You mean 5'11 peak and now at over 60 Still 5'11
Dmeyer
said on 30/May/15
Looks more 5'11 than most 5'11 guys you have photo with , is 5'11 now and 11.5 peak. Possible
[Editor Rob: on Deep Space Nine he was shorter than 5ft 11.75 Siddig. Siddig in person (at least in 2008) looked taller than Colm in person.]
Danimal
said on 30/May/15
Looks like he lost height in the neck area (slight curvature/compression). I'm sure he's dropped some height since his peak. You're comparing a man in his early 60's to a man in his late 30's (Rob).
MrTBlack
said on 30/May/15
Always wondered about this guy but looking at it now yes, he does look like one of the few honest 5'11ers"
lelman
said on 30/May/15
@Ras
Seriously? This guy is definitely taller than 5'10" flat. 5'10.75" minimum.
184.3cm (Night)
said on 30/May/15
Surprisingly tallish i thought he was 5'9 or 5'10 max.
Kourosh
said on 29/May/15
omg hes got a massive head
Judd
said on 28/May/15
I don't know if his shoes are a little thicker than yours but I think in the picture he does look a little taller than a flat 5'11"...maybe 5'11.25"?
[Editor Rob: from seeing his boot side on it looked 1.1-1.2, my
sneaker measures
right between 1-1.1. So not really anything noticeable.]
Hypado
said on 28/May/15
Colm Meaney height: 5ft 11in (180 cm)
And looks 5ft 11.5in in the peak.
Hypado
said on 21/Feb/15
Colm Meaney looks this, 5ft 11in next to Daniel Craig.
Lieutenant Height
said on 16/Sep/12
Either Avery Brooks is shorter than listed, or Colm is.
John
said on 25/Feb/11
I've seen Colm near people whose height I know and I would agree on about 5'11" for him.
Bon
said on 8/Jan/11
But I think a legit 5'11 after all.
Bon
said on 26/Dec/10
More on the 5'10 side I think
He's really big and robust dude and may appear taller, especially on film
Hugh 190cm
said on 16/Apr/09
Not looking 5ft11 next to Martin Sheen in Damned United. More like 5ft10-5ft10.5.
Hugh
said on 8/Feb/09
181-182cm maybe.
The Horse of FUNK
said on 23/Oct/08
I was home sick the other morning and watched 'The Boys from County Clare' and I honestly figured this guy for 6'1". He's the tallest 5'11" I've seen in a while.
[Editor Rob: he's shorter than alexander siddig on DS9, and siddig claims he's 5ft 11.75 and actually...is that height in person.]
Cindy
said on 9/Oct/06
When I met him he seemed taller but I am only 5'1 so everyone seems tall