Cory Michael Smith's Height
6ft 0 (182.9 cm)
American actor best known for playing Edward Nygma in TV series Gotham. On
twitter
he once mentioned his height, claiming to stand tall at
"6' ... 6'1" ... depending on how confident I'm feeling that day."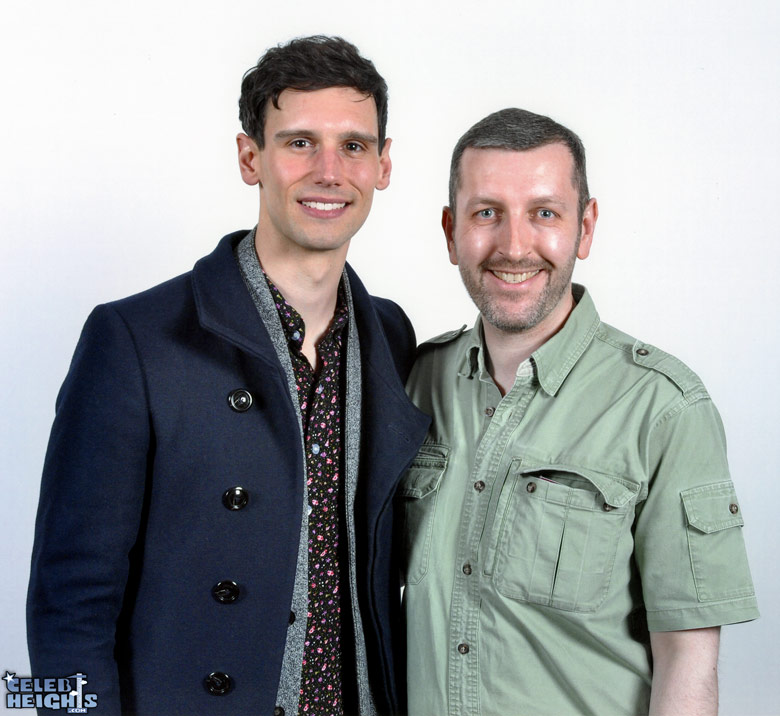 5ft 8 Rob and Cory Michael @ City of Heroes 2
You May Be Interested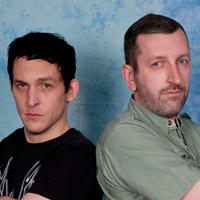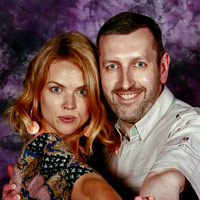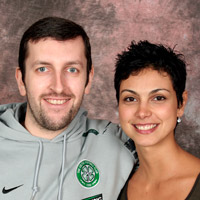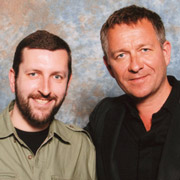 Add a Comment
64 comments
Average Guess (65 Votes)
5ft 11.92in (182.7cm)
Cbrady
said on 28/Feb/21
5-11 3/4 to 7/8 seems right for Corey. Reminds me of one of my cousins who has a six foot frame but a smaller head and measures slight under six foot.
Torrinator
said on 28/Feb/21
5ft 11.75 would be bang on. He definitely does not look 5ft 11 flat with Rob but with poorer posture can look 11.5 especially with smaller head.
Sakz
said on 27/Feb/21
A lot of people are clearly not accounting for the lean, hence the 5'11 guesses. If he stood straight, I don't see Rob being much over his eyebrows so 6'0 seems about right. 5'11.75 would be worst case.

Editor Rob
I'd certainly add on a fraction for that, how big a fraction is another matter.
Talking of how height can vary in photos, look at these 3 with Cory and Pablo Schreiber:
click here
click here
3rd shot with Pablo maybe a bit closer it makes Cory struggle with 5ft 11:
click here
Canson
said on 25/Feb/21
@Editor Rob: that isn't 4" if that's the case

Editor Rob
there is a chance he is a fraction under 6ft, although in person I think most would guess he had a six footer's frame (slightly smaller head than average too).
Canson
said on 25/Feb/21
Rob is closer to the camera obviously but Smith can look 5'11 tbh

Editor Rob
I'll blow up the forehead hair part:
click here
shows you how difficult it can be to sometimes judge object distances.
The top of my head is not closer than his forehead 😎
OriginalAnon
said on 19/Feb/21
I don't see 4 inches between Rob and him. More like just over 3.
slim 6'1
said on 19/Jan/21
As listed, nothing 5'11" about him
Slim 6'1"
said on 7/Aug/20
182.8 at his low, close enough
berta
said on 30/May/20
honest claim 6 foot during the afternoon and 184,5 in the morning.
Nik Ashton
said on 17/May/20
He's a genuine 6 footer!
Que lo Que
said on 1/May/20
Holds up well with butch
Christian 6'5 3/8"
said on 4/Sep/19
Looks max 5'11.5", unless he's dropping more height than what it seems. Either way, 6'0" is a bit too generous of a listing.
Chris brady
said on 2/Sep/19
I'll take your word for it rob. I suppose robin would come to just past Corey's nose then?

Editor Rob
Yeah, generally I think Robin looks near end of Cory's nose in half the photos of them together, even
with erin richards
in heels he's 5 inches taller than her and she's an honest 5ft 5 range.
Chris brady
said on 1/Sep/19
How can Corey be six feet when the height chart has his chin a bit below 5-2 range and his head is about 9.1 inches? Could Corey stand straighter and get his chin to 5-2.9 range?

Editor Rob
In person he's much nearer 6ft than 5ft 11, though his head size is smaller than it looks on TV, but he really is near 6 inches taller than say robin lord taylor.
Thomas Henderson
said on 14/Aug/19
I think he can pull off 6' 0.25 at times, his lanky physique makes him look 6'1 with shorter actors.
Rob, im 15, mi voice is barely changing (meaning half way through puberty) and i am 5'11, you think i could reach 6'1-6'1.5?

Editor Rob
Still a chance to hit 6ft 1, on average that might be what a 15 year old could reach...but some might stop early, others could still gain many inches.
Zampo
said on 6/Sep/18
@Junior Hernandez 1990,
My feeling is that a decent proportion of 6'0 listings are likely to be 182-182.5 guys that have good posture or proportions. It would be virtually impossible to tell the difference though even in person (even for someone as versed in height measurements such as Rob). One would probably have to measure within that range (5'11.5-6'0) whilst being very observant to be accurate 90% of the time. I do think the vast majority of Rob's measurements are "near" enough.
Junior Hernandez 1990
said on 5/Sep/18
Although Cory only look 181cm with Rob but only Rob met him in person so he knows well..

Editor Rob
It is hard to tell in person if Tom Cavanagh or Cory were much different.
Zampo
said on 21/May/18
Hmm...I think I may change my mind. I can see him possibly measuring 6'0 on the nose at noon. He's standing reasonably well. He looks similar to myself at a low (5'11 7/8), only difference is this is probably a late morning to lunchtime photo however he may also be at a low at this point. He's definitely a tricky guy to assess but clearly very near the 6'0 mark.
Zampo
said on 19/May/18
The height chart is useful in this scenario as Rob is standing well. The listing is reasonable if standing straight would measure in 5'11.75-6'0 zone I feel, probably nearer to 5'11.75 in my opinion. As these listings are based on a afternoon height, I believe he would measure between 182.1-182.5 cm.
Roughly how big would you say his head is in inches?

Editor Rob
Looks bigger on screen than in person, I doubt really much over 9 inches.
Tunman
said on 14/Apr/18
Possibly a weak 6'standing straight,seems hard to see Rob's head at his eyebrows level,more like 5'11.5"unless he dropped more height than expected
MJKoP
said on 13/Feb/18
Rob caught him on a low-confidence day. :D
MAD SAM
said on 22/Jan/18
I'll give this guy 183 cm
Anonymous
said on 6/Jan/18
He looks at most 5'11.25 - 5'11.5", his hair makes him look a little taller, and you can see he is nowhere near 6'0" normally.
Jordan87
said on 5/Jan/18
If he Straightened out he would still be under the 6' mark still. Guess in real life he must not be " Confident" based on his little quote there lol
Psychedelic Earth 187
said on 17/Dec/17
@Paul, i'm fine with listing, but not 1 mm above it, his lanky frame makes him look taller, i would say by dinner time hes within the 182 neighbourhood. we go by dinnertime heights in case you're wondering.
@danimal, i no longer put my personal feelings into my guesses, so speak for yourself mate.
Paul NS (6ft0.5)
said on 11/Dec/17
If he's not 6ft then Pertwee isn't 5ft11.5
Danimal
said on 10/Dec/17
Slim 185 said on 1/Dec/17
Sorry Rob, he's 5'11.5"-5'11.75", definitely not the full 6', and who knows if he had a footwear advantage, might be even shorter.
You can really see the difference in a .25"? I mean COME ON, how ridiculous is that. You just WANT him to be shorter to make yourself feel better.
Slim 185
said on 1/Dec/17
Sorry Rob, he's 5'11.5"-5'11.75", definitely not the full 6', and who knows if he had a footwear advantage, might be even shorter.
Csimpson 6ft
said on 24/Oct/17
I 100% agree with you Nik he definitely does look closer to 5'11.5 or 5'11.75 than the full 6'0, infact i actually think 5'11.75 may be likelier now than 5'11.5, btw do you have Facebook? If you do add me, my name on my profile is "Connor Simpson"
Nik
said on 30/Sep/17
I don't see Cory being 6 foot tall! He appears more in the 5'11.5" - 5'11.75" range to me. He is an apt random celeb to pop up, just after I had been on Helen Worth's page!
Cameron
said on 30/May/17
Seems more like a strong 5'11" here.
World Citizen
said on 26/May/17
Looks 5 ft 11.25 to me
Peter 179cm
said on 22/May/17
He looks 181-182cm range with Rob.Probably just a solid 181-definitely closer to 5'11 range.
Powerhouse
said on 21/May/17
Looks a flat 5'11 unless he has a footwear disadvantage.
Sam
said on 21/May/17
He looks bang in the middle 5'11-6'0. Not sure exactly where he would be closest to but he's definitley around that area. At first glance easily gives the impression of 6'0 or at least nearer that than 5'11 as others have pointed out. Also, he looks like he is half-way slouching and his posture is a bit more relaxed than Robs so might even measure taller than 5'11.5.
Tejaswi sharma
said on 21/May/17
As tall as me 182cm
Rampage(-_-_-)Clover
said on 20/May/17
I certainly get a taller impression from this guy than Sean Pertwee...like more than 1in difference...even though they're listed a fraction apart
Editor Rob: he can look a good inch taller, in many photos...but actually in person a 45 year old Pertwee isn't more than half inch different than Cory I felt...
Kaneff 6'0.25"
said on 18/May/17
5'11.5" max. I see a 3.25"-3.5" difference in the picture, certainly not a full 4 inches.
Csimpson 6ft
said on 17/May/17
Im not sure about 5'11 flat Andrea but i can definetly see him looking 5'11.5 with Rob, but yes hes definetly closer to somewhere in the 5'11 range than 6'0.
Aza
said on 17/May/17
Agree with LG69....6ft tops...that's it.
Andrea
said on 17/May/17
So, how thick is his hair here, Rob?
Shredder, under 5'11.5 is far away from trolling... The difference in the picture is a lot closer to 3 inches than 4, that's a fact!
You're probably getting fooled by his small head, which is probably an inch smaller than Rob's, but he looks 5'11.75 range WITH the HIGHEST part of his hair! 180-1 range is what he looks with Rob...
Editor Rob: wouldn't have thought less than 2cm
LG69
said on 16/May/17
@ 5ft10guy,
Clearly he's not 5" taller than Rob. He's barely 4" taller.
6'0 tops.
Oanh
said on 16/May/17
Not quite 6'0 in photo. Could be 5'11.5"next to Rob. Maybe out of bed he is a 6 footer. At first glance he appears taller, but I think that's due to his small frame.
Shredder
said on 16/May/17
He does seem more about 5'11.75 , but 5'11.5 is a low blow and anything under 5'11.5 is just trolling.
shiva 181 cms
said on 16/May/17
His claim of 6'-6'1 is to make his 6' seem more legit
Ally182
said on 16/May/17
Looks 182cm, I'm sure he's exactly as tall as me
Bard
said on 15/May/17
Seems pretty honest
Csimpson 6ft
said on 15/May/17
Im not seeing 3 7/8th inches here Rob, with you he looks closer to 5ft 11.5 than 6ft.
shiva 181 cms
said on 15/May/17
Rob, Judging by this photo he looks a weak 6' maybe 5'11.75 is a better LISTING
Editor Rob: well just under it isn't impossible, but one thing is definitely far from 6ft 1.
Rent
said on 15/May/17
If he stands straight, he is clearly a 6'footer. 5'11" like we can read here from some people is a joke. Your eyes are about 2 inches under the top of his nose, that's clear.
Andrea
said on 14/May/17
Is this the guy you mentioned on Kyle's page, Rob?
He doesn't look much more than 5'11 with you, to be fair... I mean, he looks 182 range WITH ALL OF HIS HAIR and I don't think he has flat hair, here!
Looks like his claim should be more "6' ... 6'1" ... depending on which kind of shoes I'm wearing that day."
But if you gave him 6', he must have looked very near that mark in person!
I can already imagine your answer: "he looked a lot nearer 6' than 5'11 in person, at worst I'd say a fraction under" :P
Too bad that the picture speaks otherwise, again :(
One thing, he seems to have quite a small head, especially compared to yours, which can certainly be an advantage and trick people into thinking he is taller than he really is.
Editor Rob: he has a classic appearance of a six footer from 5-10 feet away, up close he is certainly closer to six foot than 5ft 11!! 😉😉
Shredder
said on 14/May/17
Awesome pic , I think 5'11.75. Lord Taylor looks 5'5 ish
Some Guy
said on 8/May/17
He is so skinny he looks like 6' 2'' in this picture. But in Gotham he is still a little shorter than Nicholas D'Agosto who is legit 6' 1½''.
Ben
said on 1/Apr/17
Ok so this is how the (a few of them) characters in Gotham are listed in the comics:
James Gordon: 5'9" - Ben: 5'8"
Bruce Wayne/Batman: 6'2" - David: 5'8"
Oswald Cobblepot/The Penguin: 4'10" - Robin: 5'6"
Edward Nygma/The Riddler: 6'1" - Cory: 6'
Alfred Pennyworth: 5'10" - Sean: 5'11.5"
Mike
said on 20/Feb/17
Looks a clear solid 4 inches taller than Ben and sometimes more, so he is definitely a legit 6ft.
Victor Surratt
said on 31/Jan/17
He looks very close to 6'1" in the picture, maybe 6'0.75". I think he is very similar to Keanu Reeves.
Benjamin Fritz
said on 22/Nov/16
Rob, which one do you think?
a) 1,83/1,81
b) 1,84/1,82
c) 1,84.5/1,82.5
d) 1,85/1,83
e) 1,85,5/1,83
f) 1,86/1,83,5
g) 1,87/1,84
Editor Rob: Fritz, more chance of anywhere in B-D range.
Johnny
said on 26/Jun/16
@Rob do you think this guy can edge out Christian Bale?
Editor Rob: tough to say. He has the right proportions to look taller in photos, a slim frame and not a big head...
Johnny
said on 17/May/16
@Rob do you think he can be 5'11.75" after a very hard day??
Editor Rob: I think he has a smaller head for about 6ft height which also adds to perception of height...on a bad day falling under six foot is possible.
Johnny
said on 16/May/16
@Rob is 6'1" a possibility for him? Because he looks very tall on Gotham.
Editor Rob:
I have watched Gotham and beside others can see how his frame and slenderness adds to his height, but I think he is a 6ft barefoot and 6ft 1 in shoes guy...

Jay
said on 24/Dec/15
He kinda looks like a Franco.
Dan
said on 22/Dec/15
He looks tall but that's probably because he's extremely thin. Actually he's pretty average, 6' 0.25" seems correct.
5ft10guy
said on 11/Dec/15
I think he's 6 feet1
pablo77bar(184cm)
said on 29/Nov/15
Ow Rob,maybe you should make a research on what kind of relationship confidence has with height hahahaha
Editor Rob: I'm sure many of us have days were you can feel shorter and days maybe you feel taller...