Sean Pertwee's Height
5ft 11 ½ (181.6 cm)
British Actor best known for roles in movies like Dog Soldiers, Event Horizon and Soldier. On TV he has appeared in Gotham. This photo was taken at the 2010 London Film Con.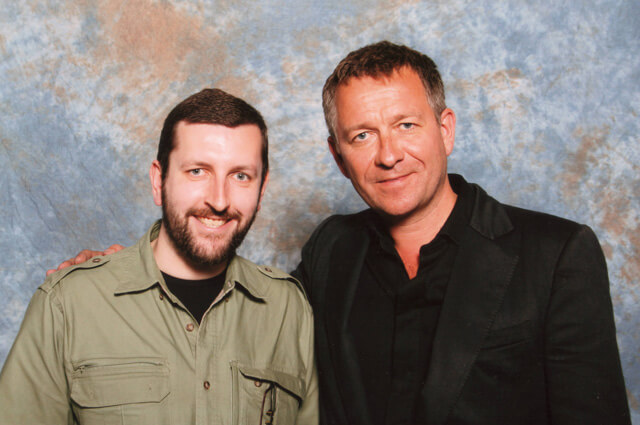 5ft 8 Rob and Sean
You May Be Interested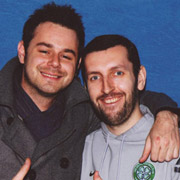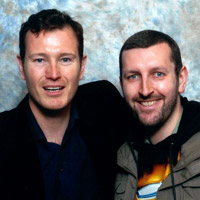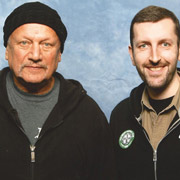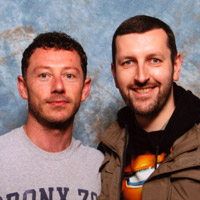 Add a Comment
45 comments
Average Guess (23 Votes)
5ft 11.41in (181.4cm)
berta
said on 30/May/20
180-182 cm i think 181 cm
Miss Sandy Cowell
said on 21/Mar/20
@ Rampage Clover - That's an interesting point you have there, Rampage! It's not very common for a son to be 2.5" shorter than his Dad, but by no means unheard of. Not one of my Dad's four sons reached his 5ft11.5 peak height. The eldest is 5ft8, and I'd say a fairly weak one, and the youngest three are all 5ft10. It makes sense that they grew taller, their mother being 5ft6, and the first son's mother 5ft4.5.
Enjoy your weekend, Rampage and keep yourself safe and healthy.
Sandy 😁👍 XX
Sean gets 5ft11.5.
Rampage(-_-_-)Clover
said on 19/Mar/20
Wonder how tall his mother was considering his dad was 6ft2
Miss Sandy Cowell
said on 4/Jun/19
🎂🎁🎈 Happy Birthday Sean! 🎈🎁🎂
Have a great Birthday Sean - I must say, if you're in a film, it's a strong recommendation, so I'll watch it! 😁
5ft11.5.
🕯️🎉🕯️🎉🕯️🎉🕯️🎉🕯️🎉🕯️🎉🕯️🎉🕯️🎉
Christian 6'5 3/8
said on 6/Mar/19
Just looks about 5'11" with Rob. I can see 5'11.25" at the very most but not 5'11.5"

Editor Rob
He was over 5ft 11 the first time I seen him, but in recent years I'm not sure if he's now lost 1/4-1/2. Like John Barrowman, I think it's possible to lose a fraction around 50 range.
Sandy Cowell
said on 4/Oct/18
I saw Sean in 'St George's Day' the other afternoon playing a copper... a bent one! He towered over Jamie Foreman, who was also a copper... a tough-nut sweary one, but not on the make!
I thought Sean was around 5ft11, so I'll go for 5ft11.25 - a neat split down the middle between Rob's 5ft11.5 and my estimate. I reckon he looks nearer 5ft11 in the above picture - at the most! 😜
EthanCouch
said on 15/Aug/18
Do you think he could be leaning towards the 5'10.75 mark nowadays Rob?

Editor Rob
On Gotham when he stands well he still seems somewhere in 5ft 11+ range.
EthanCouch
said on 6/May/18
One of my favorite actors ever! Do you think he is 6'0 even Rob?

Editor Rob
From the couple of occasions I've seen him, I think he looked 5ft 11.5 zone nearly 7 years or so ago, but 2 years ago he didn't seem that much over 5ft 11, I wonder if he's lost a fraction!
Yht
said on 4/May/18
6ft 2 inches shorter than his father
Bruce Wayne
said on 29/Dec/17
The guy is leaning his head to Rob. Stop saying 5ft 10in smh.
He is 183-181.5cm (morning-night height)
Psychedelic Earth 187
said on 19/Dec/17
eye to eye with 182 laurence here:
Click Here
Psychedelic Earth 187
said on 16/Dec/17
Good news rob, he's made films with heaps of 182ers like fitchner, neill and Fishburne, I reckon if there's any good scenes I could definitely convince you to give him a 182 upgrade.
JJAK
said on 9/Dec/17
Sorry seen him in 30 plus movies looks average for his age 5 10 even a bit under at times.
He does look about 5 11 in photo at best not perfect posture.
Guess I was wrong he is getting up there gotta be over 50, 53 and claims 6 foot..
Slim 186
said on 8/Dec/17
ROb, could you argue 182cm in his 20's and 30's? He's a tallish guy,
Editor Rob: possibly
Private Caparzo
said on 5/Jun/17
181 - 181.5 cm is believable.
Average height and slim
said on 3/Jun/17
Lol, everyone wants to downgrade him to 180 cm but i think he deserves an upgrade to 182 cm (5"11.75)
Because he looks 9 cm taller than Rob. Regardless of height his performance as Alfred pennyworth is outstanding!
World Citizen
said on 31/May/17
Looks 5 ft 10.5
Rampage(-_-_-)Clover
said on 15/May/17
Honestly, he looks around 5ft10 w/h Rob...
Victor Surratt
said on 26/Mar/17
He is 5ft 11.5in (182 cm), good listing.
Sam
said on 23/Mar/17
Looks like a solid 5'10.5 or 5'10.75 in the top photo comparing where his head measures next to Robs. Doesn't seem to be standing much worse than Rob either so could measure nearer 5'11.5 at best.
Yes yes
said on 25/Jan/17
Rob, please add David Mazouz. He's kind of...you know...famous right now :)
I think he's around 5'8" right now, he's turning 16 in february.
How tall do you think he'll be? I think around 6' or a little bit more.
I remember myself being 5'9 1/4 when I turned 16, I´m 16 and I'm very close to 5'11 now, I'm turning 17 in 2 months. Plus my brother and I have always been following the same "height path". He was also close to/was 5'11" at my age and he is 6'2 3/4 now at 20, turning 21 in 8 months.
Editor Rob: I was waiting till he was older.
Redwing
said on 18/Nov/16
Who do you would look taller him or max Adler? 😉 Btw Pertwee looks like a clone of his dad, looks a solid 182.5 or just 182 cm.
Editor Rob: very close, but true six footers are taller in person than both.
Rampage(-_-_-)Clover
said on 18/Nov/16
I don't see it Rob. If anything he appears to be struggling with it
Peter 179cm
said on 18/Nov/16
Actually he can barely pass for a flat 5'11 with Rob.
Editor Rob: I think he is a bit over 5ft 11 in person.
Jim
said on 2/Nov/16
Rob could you add David Mazouz, he plays Bruce Wayne in Gotham. Sean and him are in it. Sean plays Alfred.
I think David is 5ft 7.5in.
Editor Rob: I did see him at the same show I saw Stephen Amell and he was more like 5ft 6 range, that was several months ago, he might have gained more height.
Pierre
said on 2/Aug/16
179.5/180 imo
Editor Rob: I think he does look over 5ft 11 in person.
mrtguy
said on 29/Apr/16
looks like he's dropping height
Peter 180cm
said on 25/Apr/16
181cm imo,i can imagine this guy looking a solid 7-8cm taller than Rob,both standing straight ofcourse, eye-level and top of head wise...So 181cm/5'11.25.
mohammad 186cm
said on 22/Jan/16
In dogsoldiers movie he was shorter than cooper... but cooper was 180 cm... cooper = steven maccid
HH
said on 15/Dec/15
i think he lost a inch of height and he used be 183 cm when he was younger.
183 at night
said on 19/May/15
On screen this guy can appear anywhere from 5'10 to 6'0 with some change. I used to have him pegged at 5'10.5 but when i met him at a convention his height surprised me. accurate listing here i reckon
Dinosaurman
said on 10/Apr/15
Great actor! He almost looks a little taller than 182cm. Hey Rob, could you add him as Alfred on the TV series Gotham?
Rampage(-_-_-)Clover
said on 6/Apr/15
5ft11-11½ tops for this guy. Surprised he wasn't taller
Hypado
said on 11/Feb/15
Sean Pertwee's height is 5ft 11.5in (182 cm)
This, a good height.
mike
said on 26/Sep/14
He looked 4 inches taller than Ben Mckenzie in Gotham maybe downgrade Ben to 171-172?
Connor 184cm
said on 29/Jul/13
Rob i think sean could be 6ft -183cm if you were both stood straight your eyes might come just under his bottom lip rob. Ive no idea why i said 5ft 10.5 for him lol.
[Editor Rob: with some con friends, he looked similar to a french friend who is 5ft 11 and shorter than a scottish friend who is a 183-4cm guy.]
truth178.5cm
said on 16/Mar/13
Definately the height listed, he should claim 183cm with 182cm at lowest.
Connor
said on 19/Nov/12
Dog soldiers is a good movie loved it one of my favourite action horror films, sean I think is more likely to be 5ft 10.5 than 5ft 11.75 because if rob and sean stood up straight you could definately see the eye level comparison so sean would be 2.5 inches taller than rob.
ChiasmataX
said on 17/Jan/12
A solid 5'11 because a 5'10 guy's eye-level will be the middle of Rob's forehead in pictures. Both are leaning in the pictures so it is safe to compare them straight up.
Misha
said on 15/Oct/11
He is leaning toward Rob, and is defnitely taller than he seemed in "Dog Soldiers" where for some reason (perhaps the shaved head and round cap) he
looked shorter than he obviously is. I don't agree with "5'11" on the dot" -
he is leaning and if he straightened up would surely be close to six feet.
[Editor Rob: obviously he's lost some height tilting his head, but I'm not standing totally straight, there is a tilt to my head aswell ;)]
James
said on 10/Jun/11
5'11 (180cm)
Rampage(-_-_-)Clover
said on 27/Apr/11
He's 5"11 on the dot
Rampage(-_-_-)Clover
said on 26/Mar/11
Close to 6ft with Zane...
SAK
said on 19/Feb/11
He is 180cm and nothing more. Please downgrade this guy.
James
said on 15/Dec/10
Yeah i think he's a 5'11 guy more not 6'0. Maybe in his 20's he might have been a little over 5'11. One thing is for sure though he is way shorter than his farther.
With Billy Zane
Click Here
With 6'2 Samuel L Jackson
Click Here
Jackson
Click Here
With 172cm Michael Owen
Click Here
Click Here
Click Here
Click Here
rob do u think with michael owen sean does not look over 5'11?