Nick Moran's Height
5ft 10 (177.8 cm)
English actor known for starring in Lock, Stock and Two Smoking Barrels and for playing Scabior in Harry Potter and the Deathly Hallows. In a 2003 Handbag.com interview he mentioned his height:
"I'm 5ft 10in"
, which is consistent with his claim from
1997
.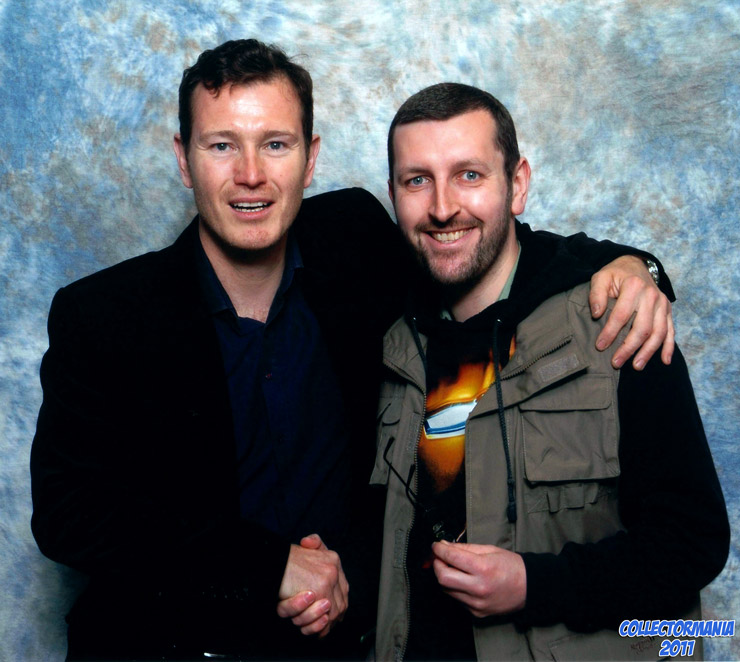 5ft 8 Rob and Nick @ Collectormania 2011
You May Be Interested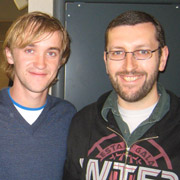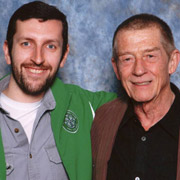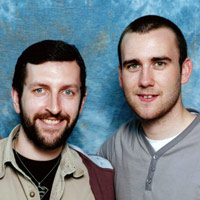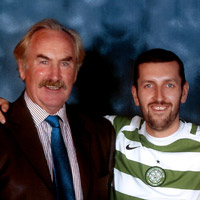 Add a Comment
27 comments
Average Guess (23 Votes)
5ft 10.1in (178cm)
slim 6'1
said on 16/Jan/21
178cm range
Chris Junior Hernandez 1990
said on 3/Aug/20
In 13 Eerie i had no question from Rob listing for Nick. I would have believe he goes to bed at 5'10.
.
Nik Ashton
said on 3/May/20
@ Gaga - I like your name! I think he could be under 5'10" too!
Yang (5 footer 8, 173)
said on 24/Oct/19
True list like he claimed!!!!!! 5ft 10 dude for sure....
Peter 180cm
said on 2/Jan/19
Looks about 178 as claimed-at worst maybe closer to 177 but still an honest guy.
Nik
said on 7/Sep/18
The average vote is too high! I think that Nick Moran is 5'9.75" - 5'10", Rob is losing posture!
HonestSlovene
said on 7/Aug/17
Looks like a decent 178 cm.
World Citizen
said on 28/May/17
177 178 cm somewhere around that.
Bobby
said on 23/Mar/17
@rob89.... He doesn't look a full 5'10 to you? I'm seeing a max 2.5 inches of height difference, maybe even 3! He looks like a weak 5'11 in this picture.
Bobby
said on 23/Mar/17
The eye level looks closer to around 2 inches, he looks 5'11 next to Rob. Then, again, he's got a long forehead and based on forehead difference, he would be 5'10 but the eye level throws you off, and makes you think he's at least 5'11, if not 5'10.5.
Editor Rob:
I mean I have 0.2 inch hair, he has half inch more hair... 😄
I'll give myself a similar half inch more hair than Jenny and put on Tackhead boots that give 1.6 inches. Since I'm about 0.4 inch taller than Jenny barefoot, this means the photo below is an exact 2 inch difference:
Click Here
...👍 😉
I never thought Moran was more than his claim and could understand if he measured a little bit under 5ft 10. I'd be shocked if he was anywhere near 5ft 10.5 though!
Rory
said on 6/Nov/16
Rob, are you losing posture in this picture because I think the difference can look a little more than 2 inches ?
Editor Rob:
If he had a 0.2 inch hairstyle like mine...but I think his hair was at least 1cm thicker than mine.
johemoth the dog
said on 5/Jun/16
Thought he looked a bit taller in lock stock and 2 barrels. had a hard time guessing his height some reason.
5'10man
said on 13/Jun/15
Good listing Rob
Chris
said on 6/Mar/14
His eye area looks weird. Looks like he had some botox there or something
avi
said on 1/Jul/13
Looks like the difference between me and my big 6'2 friend. Solid 2. He could be 5'10.5...
LG69
said on 28/Apr/13
5'10" and not a millimeter over.
LAN Jiao
said on 28/Sep/11
he might be a solid 5ft10. rarely see a celebrities with a real solid claim height hereby rob with nick moran really a outstanding picture shot!
Gaga
said on 9/Sep/11
Rob is always stooped in photos, this guy is not over 5'9.5
dmeyer
said on 4/Jul/11
finaly a guy who is 5 ft 10 and looks near 5 ft 10
Legend
said on 22/Jun/11
He's 5'9.5
Dave
said on 19/Jun/11
Looks a legit 5'10" if not more for sure.
rob89
said on 13/Jun/11
More like 5'9.5" i'd say, strong 5'9" guy rather than a full 5'10". It seems he's standing a little straighter than Rob and yet he STILL doesn't look 5'10" to me.
Josh B
said on 11/Jun/11
Cranberries are you named after the band by any chance?
Cranberries
said on 6/Jun/11
Everyone looks tall next to Daniel Radcliffe, A. I like that Moran is honest about his height too. Very few 5'10" guys who openly admit to being the bare average; many bump themselves up to 6'0".
James
said on 6/Jun/11
5'9.75 (177cm)
A.
said on 26/Nov/10
In Harry Potter and the Deathly Hallows, he looked pretty tall compared to Daniel Radcliffe. I thought he was probably a couple less than 6'.
pianochris123
said on 6/Jan/07
Saw this chap outside theatre in Cardiff after seeing Educating Rita the play. He's definitely less than 178 if this is a barefoot estimate. Funny how sooo many guys claim to be 5 foot ten exactly.