John Hurt's Height
5ft 8 ½ (174 cm)
English actor, best remembered for roles in films such as movies like Alien, Elephant Man, Hellboy, 10 Rillington Place, 1984, The Osterman Weekend, The Hit, Scandal, Midnight Express, V for Vendetta and Indiana Jones and the Kingdom of the Crystal Skull. In a 1990 NY Times mentioned as "5 feet 9 inches, 145 pounds".
5ft 8 Rob and John (1940-2017) @ LFCC 2008
You May Be Interested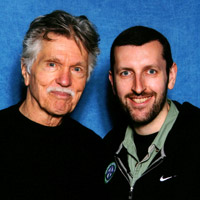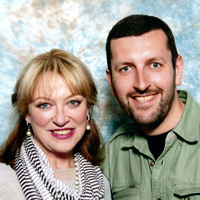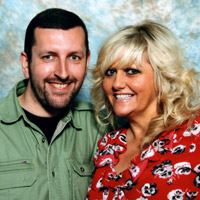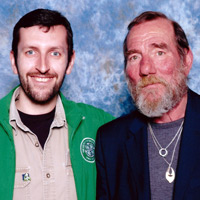 Add a Comment
68 comments
Average Guess (54 Votes)
5ft 8.42in (173.8cm)
Miss Sandy Cowell
said on 22/Jan/21
John Hurt was born 81 years ago today. He passed away five days after his 77th Birthday.
5ft8.5.
RIP John XX 🕯️
22nd January 1940 - 27th January 2017
JohnMoore-162cm
said on 20/May/20
@Rob- With you He looked 170 or 171 cm based on this photo , in 2008 John was 68 years old and on average men lose an inch by 70 , 173.4 peak listing spot on or 174 cm at most. I noticed you gave him 5ft9 peak listing in 2005 though. Do you think he really could be 5ft9 peak ?

Editor Rob
In the 70's he looked somewhere between 5ft 8 and 9 from what I've seen, but by time I seen him looked to have lost height, though he still seemed 5ft 7 range 7 years after this photo, not long before he passed.
Mister lennon
said on 30/Apr/20
Peak 5'7 range. No more. And sometimes looked 5'6.
5'8 and a half is way too high for his peak. Never looked that.
JohnMoore-162cm
said on 29/Apr/20
peak 5ft8 1/2", RIP
Miss Sandy Cowell
said on 22/Jan/20
Today John Hurt would have turned 80 years of age. What a shame he didn't make it.
5ft8.5.🕯️
lazar_99
said on 6/Dec/19
@Rob Paul.
When you put 174 cm for John Hurt , Do you refer to his 20's peak height ? Was he really 174 cm peak ?

Editor Rob

Yeah in his 20s maybe 174

Yang (5ft 8 Chinese men)
said on 3/Jan/19
He seems like 5ft 7 quarter in the picture with you (5ft 8 1/8in).. Definitely shorter than you as I can see it...
Guest
said on 8/Dec/17
Rob, has anyone ever told you that you look a lot like Vincent Gallo? If you grew your hair longer you would look identical to him.
Editor Rob: no, I never heard that one!
mister_lennon
said on 1/Oct/17
i still think tan his peak was 5´7.
jdrock
said on 24/Sep/17
No way 5'9". From the photo with Rob, one can tell from their shoulders that John Hurt was clearly shorter than Rob. Hurt looked the smallest man in his star-making performance as Caligula in "I, Claudius"; even shorter than some of the ladies. Nor do I accept this nonsense that he "shrunk"; his shoulder squarely place him shorter than Rob in the photo. Nobody shrinks that much. His whole body is proportionately shorter than Rob. Plus, Hurt may be wearing lifts in this photo! And he's still shorter than Rob. 5'7.5" tops and that's being generous.
heightmaster
said on 12/Sep/17
I met John in the Coach and Horses in SoHo around 1990. He seemed a lot shorter than listed, but then he was slumped over a lot. I would have guessed 5'6".
He was also exceptionally drunk, even for the Coach and Horses, and this was a time when Jeffrey Barnard was still alive and normally asleep at the bar. In fact, I've never been in a situation where there was a very famous movie star in a pub and everyone tried to ignore him. I was impressed by his celebrity and started a conversation, but it didn't take long for me to realize my mistake.
Bobby
said on 26/Aug/17
He certainly doesn't look as tall as Rob, but I can understand if he's shrunk, or passed away. Maybe he should have a peak height if retired? It's possible his peak height was 5'9 or 5'9.5. Over here, he looks 1.5 inches shorter than Rob. Well actually, I would say two inches, so, 5'6 is my guess based on this photo alone.
Realist
said on 20/Aug/17
After shrinking he's 171 max you got easy 2 cms on him you rip your own height off and up each celeb
Editor Rob: I thought he looked a bit taller in person than the resulting photo.

Was barely any shorter than pete posthlewaite that day.
Rising - 174 cm
said on 12/Aug/17
Thanks, Rob. Yeah, I usually skim through the comments in those cases to see if you mention how they looked, but every now and then I see a comment like "Why does he look shorter than you, if he's a half inch taller" so it seemed like a convenient update like adding a credit or a photo, at least whenever you get around to updating pages like that.
S.J.H
said on 19/Jun/17
Peak 5'8 , now 5'6.75 with big rob
mister_lennon
said on 27/Apr/17
Desagree. He did look shorter than 174. He looked a weak 173 peak at best. Derek jacobi was about 174-175 and hurt was shorter in i claudious. Anthony hopkins was 175-176 peak and hurt was about 2 or 3 inches shorter in elephant man.
His peak was not more than 173
RichardSpain
said on 26/Apr/17
Excellent British actor
174 cm is possible when he was young in peak. Now, before his death and after I see the photo with Rob ...about 172cm no more.
mister_lennon
said on 24/Apr/17
Rob, probably he could be 5'7 in his last days. I think a weak 5'7.
But i think that 5'8 and a half is too much for him at his peak. Watching him in elephant man or i claudious o in other movies and tv series, i think that he looked more a 5'7 guy. A weak 5'8 at best, and that being generous. Almost everyone is taller than him in his movies.
so sad about his passing, by the way. He was a great man and a genius.
Sandy Cowell
said on 21/Apr/17
@ Gladstone Screwer - I was absolutely devastated myself to find out. Just days before, I'd written a comment on him and then I found out through reading the 'Latest Comments' page. I was genuinely numb. John was one of a kind!
mister_lennon
said on 21/Apr/17
He was strong a 5'7-weak 5'8 peak.
strong 5'6- weak 5'7 his last days.
Editor Rob: last time I seen Hurt up close was at an event in Brighton (a place I am not fond of)...he was still about 5ft 7 I felt, although had a hat on mind you!
John
said on 24/Mar/17
He could have possibly been 5'8.5 peak. Although he was 5'7" in this picture, and could have been shorter at time of death.
Arch Stanton
said on 18/Mar/17
Yeah, 5'8.5 peak looks about right, Topol looked 1.5-2 inches taller in Before Winter Comes and he looked 5'10-.25 range.
Editor Rob:
in the film
Partners
with Ryan O'Neal, I think this range is believable.
Sandy Cowell
said on 1/Feb/17
Oh no, what an awful shock.
I just this minute found out John has died in the process of visiting his page. So terribly sad. I can't believe it.
RIP John xxx
mister_lennon
said on 31/Jan/17
Rip sir john, one of the greatest actors ever.
He was no more than 5"8 peak. Maybe 5'7.
Yes yes
said on 28/Jan/17
Rest in Peace John
Sandy Cowell
said on 26/Jan/17
Please can you add 'Midnight Express', Rob?
John's one of our finest actors of all time. He's made films which leave a lasting impression - like 'The Elephant Man', and who can forget his part in 'Alien'? Not me, that's for sure!
Every so often on TV, 'Midnight Express' gets shown on what is now called the 'Sony Movie Channel', whereas it used to be 'Movie Mix'.
Twice running, I have ended up watching it when I hadn't planned to! I love the music, the plot's based on fact and the outcome's positive, but I don't like the hanging of John Hurt's pet cat!
John was still young in that film, and that is why I am citing it as a prime example of a film which shows him at his optimum height. I believe the film was from '78; I'll get back if I find out that I'm wrong!
When I saw it recently, I thought John looked at the very most 5ft9. He does a lot of sitting though, as the film is set in a prison!
He didn't look short next to Joanne Whalley, 5ft3 then, in 'Scandal', but in 'Skeleton Key' he is clearly smaller, though as a general rule, he has a good straight back and stands as tall as he can! I will say 5ft8.75 for John at his peak and 5ft7.5 for his height nowadays. I like him a great deal! He is a gentleman with a lovely voice just made for the Silver Screen and the stage!
Giorgi
said on 17/Dec/16
Rob, do celebrities ever recognize you? Althought they probably won't admit if they do ;)
Editor Rob: Giorgi, I believe a few would.

I mean, don't believe any celebrity who says they don't read reviews or searches for things about themselves...they are in a business based on vanity, adoration and perceived self-worth.
mister_lennon
said on 20/Nov/16
172-173 peak
170-171 now
mister_lennon
said on 20/Nov/16
He never was 5'9. He was a strong 5'7 peak and now a strong 5'6
josh jeffords
said on 19/Nov/16
Yeah he used to pass for 5 9 but has shrunk getting on in years.
Guy is quite an actor and lasted years in noticeable memorable roles!
Since 2003 id guess a weak 5 7 maybe full 5 7 standing against a wall.
Hope he gets better cancer is the worst we need to stop making blue pills and get a cure!
Pierre
said on 30/Aug/16
Around 5"6.75 / 5"7' imo.
Sam
said on 6/Jul/15
Rob, could you add to his credits?: 10 Rillington Place, The Osterman Weekend, The Hit, Scandal, Dead Man and V for Vendetta.
george209
said on 18/Jun/15
Yeah just reading the other day its been caught early so he is optimistic for a positive outcome,
george209
said on 16/Jun/15
Rob, did u hear the news he has cancer?
[Editor Rob: yeah, it's a tough cancer pancreatic, hope he recovers...and similarly to anybody suffering ill health, I hope you to get well.]
Dmax
said on 14/Jun/15
He looks a weak 5'7 here.
george209
said on 3/Jun/15
Rob, he's brilliant in I"Claudius did you ever see it?
[Editor Rob: not for such a long time, that were I to view it again I doubt I'd remember much about it.]
Sam
said on 6/Jan/15
It's hard to believe over 5'7" based on his appearance here compared to you, Rob.
Sam
said on 23/Dec/14
What kind of footwear did he have that day?
[Editor Rob: a normal dress shoe, I had just under inch sneaker, so really within similar range.]
i turn lesbians bi
said on 10/Dec/14
5'6.5/5'7 max
Sean73
said on 21/Oct/14
Spot on rob!Great actor,and by the way probly the best picture i've seen of you.You look really good and happy.
Vibram
said on 16/Oct/14
I think 170cm here and 173cm peak.
Orwell's Advocate
said on 29/Sep/14
Either way he's taller than me! John Hurt is the best actor ever
Realist
said on 30/Aug/14
Almost an inch shorter 5'7.25 would be a better listing. LOL on 2 inches. Max 1 inch difference minimum .5 inches.
[Editor Rob: visually that is over an inch, it's more in 3cm range:
Click Here
.
My hair level is in the 169 range, he's not much above it, so he can look near 170cm, although I didn't think he looked quite that short that day.]
Arch Stanton
said on 2/Apr/14
Looked a lot shorter than Hopkins in the Elephant Man :-)
avi
said on 2/Mar/14
@Rob Rob you must admit theres definitely at least .9-1.2 inches here. I look like this next to 6'1.6 guys. I remember standing face to face with a 6'1 guy and saw in the reflection of a wall mounted TV that I looked closer than this to him. This must be over an inch here or at least 1 solid inch minimum.
[Editor Rob: well I'd say there was at least 3cm, but it didn't feel like he was 3cm shorter, at times I think he can look barely 5ft 7 though, other times standing tall maybe he is 171 today! ]
cd
said on 22/Nov/13
How about 5'7.25 then Rob if he looked between 170 and 171? (If he was 170.5 he'd actually be 5'7 and 1/8th!). 5'7.5 is really 171.5 cm.
Hypado
said on 18/Nov/13
great actor.
Greg
said on 21/Oct/13
I saw him in the 1980's walking in the theater district in London, UK, looking very dapper. Seemed to me maybe 5'8" or so.
Mathew
said on 5/Oct/13
Apparently I thought this only looked an inch difference max a year ago? I think it's between 1 and 2 looking at it now.
avi
said on 21/Aug/13
@Rob
2 inches here almost but in reality maybe 1.5. 5'6.75- Weak 5'7 sounds better right Rob? This looks like the difference with me and that 6'2.5ish friend i showed you ,solid 2 inches.
[Editor Rob: I don't think he's as short as G, but 170-1cm range if measured.]
mister_lennon
said on 31/Jul/13
He never looked a full 5'9. 5'8 tops at peak. For me , i really think that he never was more than a strong 5'7 or a weak 5'8 at peak, and about 5'6 and a half or a weak 5'7 now.
avi
said on 29/Jul/13
@Rob
what the heck is this? i though he was 5'9 flat 5'8.5 absolute minimum! when i saw him in the first Harry Potter he looked 5'9ish maybe 5'8.5 could he have lost .75 in last 12 years or so?
Mister_Lennon
said on 7/Apr/13
With more movies that i have seen of him, i think that he was 5'7 in his peak height and about 5'6 now. He looks too short in his movies, even in his youth, to be even 5'8. Almost everyone is taller than him.
Aragorn 5'11
said on 15/Jan/13
5'7.5?!!! That's insane!! He's 5'6.5 at best! I saw him at the Harry Potter and Deathly Hallows Part 2 premiere in Los Angeles and he barely looked 5'6.5 in dress shoes! His peak height was probably 5'7.5 or a weak 5'8, but now he he is definitely under 5'7! Trust me on this one.
[Editor Rob: taller than G *if* he stretches to the max ]
The Exorcist
said on 10/Dec/12
Looks 5'7"
Mathew
said on 8/Oct/12
John says on 23/Jul/12
He look almost 2 inches shorter than you Rob in in this photo...your comments are kind to him!
---
That's not 2 inches, that's 1 inch MAX.
[Editor Rob: I don't think
that difference
is 2 or just 1, I think it's somewhere between 3 and 4cm. Hurt certainly can look a 5ft 7 man nowadays but standing for a measurement would be more.]
jtm
said on 24/Jul/12
don't think he would be more than inch shorter if he stood up straight.
John
said on 23/Jul/12
He look almost 2 inches shorter than you Rob in in this photo...your comments are kind to him!
robert
said on 22/Jan/11
russ, thats a very strange comment. so if your average you are short?
maximus meridius
said on 6/Jan/11
His peak was 5ft 9in he is still 5ft 9in and his only 70 he didn't lose any height at all he needs to be upgraded i thought he would have lost some height by now but he didn't he must be lucky.
Russ
said on 13/Dec/10
John Hurt is quite short, but not below average.
Mister Lennon
said on 14/Oct/08
I think that he could be 5'8 at very peak and now probably 5'7 or even less. He was clearly Shoter than 5'9 (not 5'8 as i said before)Anthony Hopkins in the elephant man and wearing that huge head. I really think that he has always being short.
Mr. T
said on 13/Oct/08
I don' think he ever looks short. Slightly-built, but not short.
[Editor Rob: he can look 5ft 7 nowadays...trust the rob.]
Anonymous
said on 5/Aug/08
i just watched 'the elephant man' and he certainly looked short,even with that huge head.i dont know if he was really 5'9,but then again,with all the monstrosity he wore in that movie,i wouldnt judge him by it.he's not below 5'7 in any case.
paul nicholson
said on 10/Jun/08
How can john hurt be 5" 9' when he's shorter than Gorge lucas ( 5" 6' ) and steven speilberg ( 5" 7' ) in a photo standing next to them. Kate blanchett 5" 8.5' who's also in the photo and with at least three inch heels on is also the same height as lucas.
[Editor Rob: Hurt's posture is a bit weak, see end of Indy movie where he's behind Ford and straightens himself up...lot of older guys carry themselves shorter. George Lucas wears enhanced footwear, big ugly things.]
Mister Lennon
said on 12/Jun/07
No way that john hurt is 5'9. IN the elephant man movie, even with a big and false head, he looked clearly shorter than Anthony Hopkins, who is about 5'8 or 5'8 and a half.
Franco
said on 4/Apr/07
one of my fave actors ever, especially Frankenstein Unbound movie :)
he looked 5'10 in that movie thanks to shoes, but i agree 5'9 is his height and today definetely looks 5'8.
Heightfind
said on 19/Oct/05
Hurt appeared in Paul McCartney's "Take It Away" video promo in 1982 - and Hurt looks only an inch or so shorter than Macca in the shot near the end of the Promo. Which means that McCartney was 5'10" in 82'?