Damon Wayans Height
6ft 1 ½ (186.7 cm)
American actor, known for films like The Last Boy Scout, Major Payne and TV series Lethal Weapon and My Wife and Kids.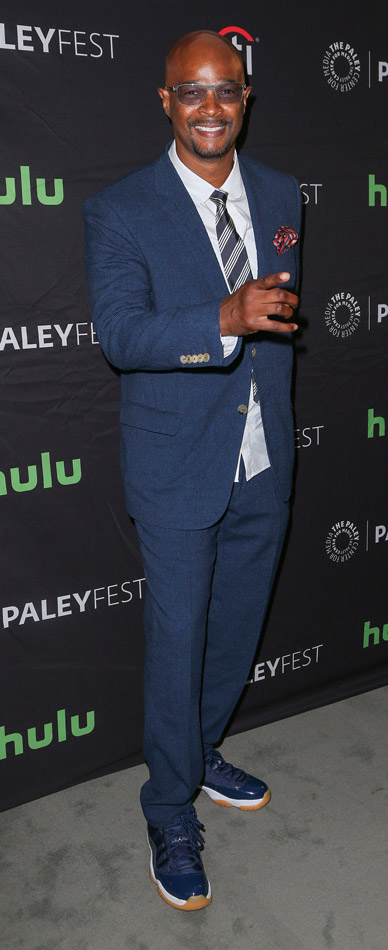 Photos by PR Photos
Add a Comment
59 comments
Average Guess (14 Votes)
6ft 1.43in (186.5cm)
James B 172cm
said on 17/Sep/20
Tall but not exceptional tall
Canson
said on 6/Jul/20
Actually after seeing the video again, Jordan had closer to 4" on him. More 3.5ish than 3
Canson
said on 23/Jan/20
He's definitely over 6'. Jordan had 3" on him. As listed
Johan123
said on 21/Jan/20
Doesn't really look over 6 ft.
berta
said on 20/May/19
Keenan Ivory Wayans 6"3 1/4 (191)
Damon Wayans 6"1 1/2 186,5-187 ish
Shawn Wayans 6"1 (185,5cm)
Marlon Wayans 6"1/2(184-184,5cm)
JJAK
said on 25/Sep/17
Dunno he often barely looks over 6 ft and can look full 6 2 other times.
Odd he and his brothers all like to slouch making height tough to guess.
He looked too short in Celt Pride barely taller than an overwieght aging akroyd.
Id say he was likely peak 6 1 he did seem to age well but my dad has a few years on him and has lost less than half an inch working steel his whole life
Faza
said on 10/Aug/17
Gotta be 187 -188cm he was taller than 6 1 dan akroyd in celtic pride have you seen that movie rob?
Canson
said on 10/Jul/17
Looks right Jordan at 6'4.5 has him by 3"
berta
said on 30/Mar/17
TO ME HE LOOKS like a barely 187 guy
Rampage(-_-_-)Clover
said on 18/Sep/15
He looks 187-188cm if Crews is 189cm.
Judd
said on 4/Dec/14
i think father and son are both in the 6'1" range, no more or less...
James B
said on 31/Jul/14
6'1.5 but gives 6'1 flat impression.
TEd
said on 23/Jun/14
he looks quite lose to terry crews, so 187 looks right.
ray33
said on 6/Jun/14
He was 1 inch taller than Bruce willis so i guess his 184 cm
cole
said on 23/May/14
@®: Damon Wayans Jr. has looked between 6'0.5 and 6'1 to me compared to the cast of 'New Girl' even considering they are all around 5'9 range and not 5'10 as all of them are listed elsewhere (Jake Johnson, Lamorne Morris and Max Greenfield). Compared to his father he can look that as well, and with Will Ferrell and Mark Wahlberg in 'The Other Guys'.
@Editor Rob: What's your opinion on him?
Johnny Blaze
said on 23/Jan/14
This is wrong. I've stood near both Damon and Shawn and I'm 6'2. Shawn is 6'1, but Damon was taller than me, he is 6'3.
®
said on 11/Dec/12
How tall is his son? 5'11?
James
said on 5/Nov/12
Looked 6'1 next too Michael jordan
Greenbolt
said on 27/Sep/12
Oh, sorry, forgot the link:
Click Here
Wayans is around 6'.05'' on second glance, seeing that the top of his head reaches just above MJ's eye level.
Greenbolt
said on 27/Sep/12
3:19 in this video provides a perfect height comparison shot with both Damon Wayans and Michael Jordan holding similar posture.
Wayans is just about exactly at Jordan's eye level, which would make him 4.5 inches shorter than Michael's measured 6'4.75''. So I'd give Damon Wayans 6'0.25''.
carlton
said on 3/Sep/12
Uncle Phil from Fresh Prince was several inches taller when he guested on My wife and Kids. He played the wifes college professor.
Silent d
said on 20/Dec/11
187cm. He looked tall on my wife and kids.
Candyman
said on 4/Sep/11
Michael Jordan is only 6'4.75" so that would make him what he is listed here.
Height Expert
said on 3/Aug/11
I would have to say about 6'2" because he was like 3 or 4" shorter than Michael Jordan in that Jordan Flight School TV Episode in "My Wife and Kids".
James
said on 10/Jun/11
6'1. I think 6'2 is too high for this guy
the shredder
said on 5/Jun/11
Keenan Ivory 6'3
Damon 6'1
Shawn 6'0.5
Marlon 6 foot
Rampage(-_-_-)Clover
said on 1/Jun/11
I think he may be 6ft2 on the nose
James
said on 24/May/11
My brother thought he was 6ft
Mathew
said on 15/May/11
I agree he's a legit 187 cm guy.
Rampage(-_-_-)Clover
said on 13/May/11
Terry Crews is 189cm(6"2.5)...not quite the full 6"3.
Jake F
said on 24/Apr/11
I think in that episode of my wife and kids where Terry Crews had him beat at 6'3. Damon must be about 6'2 or 6'1 3/4.
Rampage(-_-_-)Clover
said on 14/Apr/11
Keenan Ivory Wayans 6"3.5(192cm)
Damon Wayans 6"2(188cm)
Shawn Wayans 6"1.25(186cm)
Marlin Wayans 6"1(185cm)
donald
said on 10/Feb/11
you see 6ft1.5 is pretty tall but not even close to robert wadlow 8ft11 tall
but he beat me because i am 5ft7.5 tall
Rampage(-_-_-)Clover
said on 23/Dec/10
187cm-188cm might be closer
James
said on 9/Nov/10
Yes Demeyer I agree 186-187cm seems bang on.
dmeyer
said on 7/Nov/10
6 ft 1.5 fits him perfect wath a great height
\-_-_-(Hugh)-_-_-/
said on 21/Feb/09
He looks slightly taller than Shawn and Marlon and about 1 inch shorter than Keenan.
Mark D.
said on 20/Feb/09
Jim almost never stands straight, that's part of his image. I met Damon and the
6'1.5" estimate there would be accurate. And the picture shows it. They're both
leaning a bit, and there's no way he's more than 5 1/2 inches taller than Glenn.
Lenad
said on 17/Jan/09
In Earth girls are easy he was at least an inch taller than Jim Carrey but Jim probably wasnt standing straight.
Hugh
said on 5/Jan/09
Keenan is the meanest of them apparently.
Hugh
said on 5/Jan/09
I think Keenan is a bit over 6ft3. Damon is a full 6ft2.
el toppo
said on 23/Nov/08
I literally just finished watching last boy scout and I would say wayans is an inch at the MOST taller than willis.
carl
said on 23/Oct/08
He is 6 foot 2 1/2 tall 189 cm, damon is great comedian/actor, my wife and kids is the best he was the best on that show with junior brilliant i have them on dvd.
Hugh
said on 23/Oct/08
Actually Damon was 2 inches taller than Willis in that movie. He's 6ft2 depending on whether Willis was 6ft at that time.
Alex
said on 30/Sep/08
I just re-watched the last boyscout and hi is barely taller than Willis so i think 185-186 (6.1) is accurate.
nate
said on 16/Jul/08
looked 6'1.5- 6'2 next to sandler in "bulletproof"
Mark D.
said on 19/Apr/08
Given the picture, it illustrates what I already knew. Damon is about 6'1".
I met him in person. I'm an actual 6'4.5" (contrary to those who exaggerate
their height) and a good juge of heights. So I'd say this is very accurate.
Chris
said on 3/Feb/08
He is a full 6'2''. About 2 inches taller than Willis in The Last Boy Scout. Willis was a full 6 footer peak hight.
brazilianchick
said on 24/May/07
always looked exactly the same height as Jim Carey in living color
AA
said on 7/Mar/07
Looks 6'1" to me. Maybe shorter.
Ball-A-Hallic
said on 20/Jan/07
yea he is def 6'1 ish in last boy scout idk if willis was at his peak of posibly 6'0 or jsut flat out 5'11 but wayans looked about 1.5 or 2 inches taller.
Derek
said on 16/Dec/06
Looks a shade under 6'2".
Anonymous
said on 5/Dec/06
then bruce looked 1.5 to 2 inches shorter so it make sens now because 6'3 didnt make sens for him
sleuth
said on 4/Dec/06
MOF, Willis is 5'11.5"
Lil D
said on 2/Dec/06
Man I thought he was 6-3 at least...he seemed really tall on My Wife & Kids.
J.
said on 1/Dec/06
Marlon has a bad slouch in the photo posted below. Damon can still pass for 6'2" though if straightned up next to Keenan, based on the same photo.
John Doe
said on 30/Nov/06
In the movie "Celtic Pride (1996)" in which he is a pro basketball player, when he steps onto the court they announce his height as six-foot-three.
Markus
said on 30/Nov/06
Hehe you look a bit scared Glenn, and looks like you have a good reason ;)
glenn
said on 30/Nov/06
He did that on purpose.he is the toughest of the bros.all of them are against posing.
[Editor Rob: they spend half their lives in front of the camera, always annoys me slightly when you read about the lengths some 'stars' go to to avoid giving a little back to joe public. At least he stopped and posed, if he wants to look like a zombie good on him :)]