Dominican-American Actress best known for roles in films X Men 3, Premium Rush and Quarantine. On TV she appeared in Heroes and Devious Maids. In this photo Dania had about 2 inches more footwear than me. On her twitter, when someone mentioned happy birthday to this 5ft 4 actress, she swiftly replied
"5'5!"
.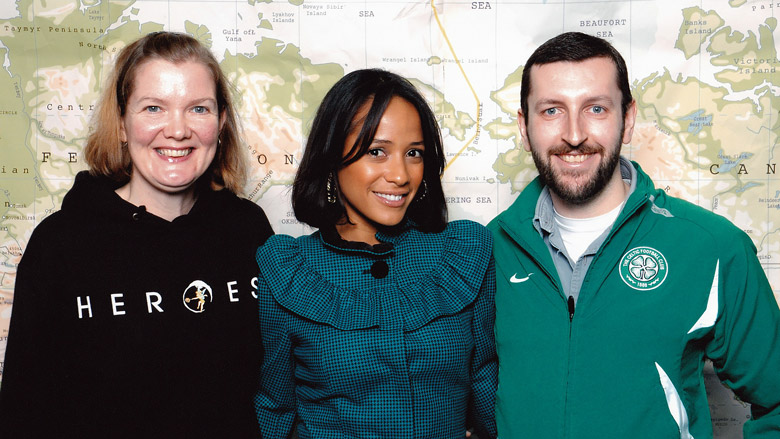 5ft 8 Jenny, Dania and 5ft 8 Rob @ Massive Events 2008 Eclipse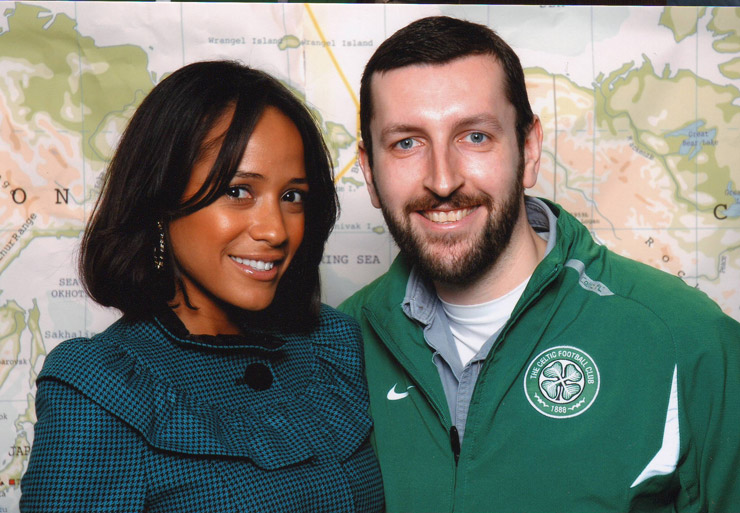 Nik
said on 1/Mar/20
I wonder what she says when people wish her Merry Christmas! 👌
Miss Sandy Cowell
said on 12/Apr/19
Aha! I was going to ask whether Dania had a footwear advantage over you, Rob, and Jenny, and yes, she has!
This stunning actress appeared as a Random Celeb, and I thought, "I know that face!"
I wasn't in any way surprised to see that Dania was a star with horror regular Jennifer Carpenter in the film 'Quarantine'.* Jennifer is a tall girl of 5ft8.25, and there was around half a head's difference between the two, or coming up to that. Let's just say, it was sizeable, and Dania would have to wear a pair of extremely high heels to be the same height as a bare-footed Jennifer!
By the way, if you're interested in Dania, try to find a picture of her with dark crimson lipstick. She looks an absolute knockout!
I agree with Rob's 5ft4.5.
Interesting Facts:-
The word 'quarantine' originated from the days of the plague, when shipsful of people would arrive on the shores of Dubrovnik, Croatia, then called Ragusa. It comes from the Italian word 'quaranta', meaning 40, and 'quarantina giorni' meaning 40 days. This practice started in the mid-17th Century and was eventually employed all over Europe. I found this out from Tony Robinson's 'The Real Da Vinci Code', who was obviously talking about this rule being applied in Italy, and then I took it from there....
Nik
said on 19/Sep/18
I like her swift response of "5'5!" when someone wished her happy birthday on her twitter! Maybe she is 5'4.5" when compared to Rob ... In Northampton!
LG69
said on 19/Sep/17
5'4" seems right. A pretty white and black woman.
Nik
said on 5/Jul/17
I think that 5'4.5" is too generous!
MrTBlack
said on 19/Apr/14
Hey Rob,
She's actually from Dominican Republic which is considered Latin America.
Just thought I'd tell you.
Arch Stanton
said on 8/Aug/13
Women who are a cross between Black and Spanish have such attractive features!
J.Lee
said on 25/Jul/13
Rob, don't you think you round down a tiny bit? Often I see you with other 5 ft 8 celebrities, and you do seem to be a fraction taller then them most of the time. I have seen you give other celebs the benefit of the doubt. You list the lowest height possible for yourself. For me, I'm usually not a full inch shorter at night. Sometimes I can go on a 12 mile walk and still only be a half inch shorter than in the morning, other times I am almost a full inch shorter than in the morning. And usually I'm only a little less than 1/2 an inch shorter after a few hours. Do people's height fluctuations vary? It's hard for me to understand why you actually shrink a full inch after only a few hours. That doesn't happen for me.

Editor Rob
generally the average shrinkage from out of bed to night is about 0.7 inch range. But you can have people shrink only 1/3rd inch, other tall people might shrink 1.5 inches!
J.Lee
said on 24/Jul/13
Rob in this picture, you list Jenny taller than you. What is her morning height? Are you not taller than her in the morning?

Editor Rob
best change the old 'rounded up' height...

can't remember the last time I checked it, it's been a long time! In any case a few years ago she could (on stadiometer) manage 5ft 9 straight out of bed and some days shrink the full inch to 5ft 8 at night.
ANDREA[ITA]
said on 10/Sep/12
Rob, is she slouching? :O she should be just 3 cms shorter than Jenny and about 4 cms shorter than you, but she looks noticeably shorter!

Editor Rob
her range I'd say is 5ft 4-4.5, so I'm giving her the top of it, she had about 4 different high heels that weekend, on the friday night I talked to her and she looked about 3cm smaller but had a bigger platform heel than what she had in this photoshoot
Johnnyfive
said on 2/Sep/12
Spot on 5'4.5 of pure Dominicana heaven! Looks taller on screen because of her amazing body proportions.
Shaun
said on 13/Feb/12
Yes, indeed, Legend and Kostas. Oooh she looks like she is part black part Hispanic, a very exotic sexy look.
josh
said on 28/Jan/12
for some reason id thought shed be taller then jerry ferra (turtle) from entourage
Kostas
said on 11/Sep/11
@Legend,I totally agree with you
Legend
said on 5/Sep/11
She's exotically cute. Nice height for a girl too.
Chester
said on 17/Feb/11
Rob : You shorter than Jenny? I thought you're taller...

Editor Rob
it depends on the time of day. Jenny's low is 5ft 8 flat after a day at work, but at conventions it's more 5ft 8.25. I list my height as my low which is a few mm over 5ft 8.

at least prior to this message it was.

In the future who knows, maybe I'll shrink, or you never know, maybe I'll add a fraction ;)

linke
said on 22/Dec/10
was she in carlos santana's video??

Editor Rob
yeah the one with sean paul and the chad kroeger into the night video aswell.
Alex
said on 15/Dec/08
Rob, yea at midday 5'8.5 for her but shes normally 5'8.25 by evening right?

Editor Rob
at 2.30pm she can be 5ft 8.25. On non-working days might be 5ft 8.5, although that is not as often I've found.

In this picture it was if I recall 4 hours after we woke. I'd still be a little over 5ft 8 here if measured at that moment.
Alex
said on 14/Dec/08
Rob, you list Jenny at 5'8.25-5'8.5. Does her afternoon or evening height flucuate often like that?
Anthony
said on 23/Dec/07
Looks around this on "Heroes." Devastatingly attractive, too.