American actor and tattoo artist, best known for playing Happy in TV series Sons of Anarchy. In this photo I had a little more footwear.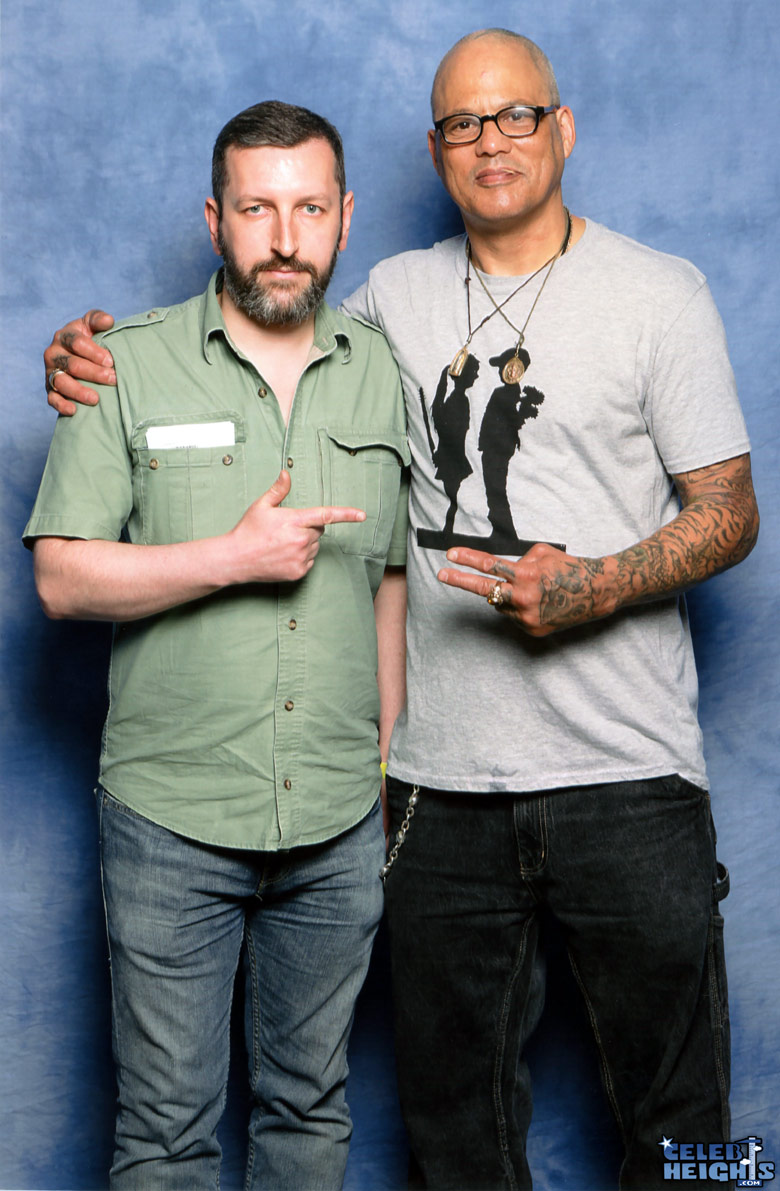 5ft 8 Rob and David (age 52) @ London Film & Comic Con, 2017
194cm Leprechaun
said on 27/Aug/23
He seems 5'11.25" a legit 6' or 6'1" would be taller .
Jawilder
said on 17/Apr/23
@Rob looks an easy 6'1 with Charlie.
Click Here

Editor Rob
He could pass for that mark with Charlie. In person certainly looked taller.
mark thompson
said on 4/Apr/22
@Rob oh really? how tall is big lewis now?

Editor Rob
I didn't video them, but I did
a Quick video
showing a couple of photos including the one with Lewis and 6ft 5/8th challenger.
Andrea
said on 13/Mar/22
The 6'0.5 challenger is probably the most legit 6'0.5 person Rob has seen... :)

Editor Rob
That challenger was p****d off recently that Big Lewis now "Towers" over him...and by Tower, I mean a couple of inches.
Hyper
said on 20/Feb/22
Do you think he's the most legit 6'0.5" person you've seen?

Editor Rob
I'm sure he measures right around that mark barefoot
Rampage(-_-_-)Clover
said on 17/Nov/20
Clearly taller than Hunnam and Coates.....
Jkiller
said on 27/Oct/20
Looked 6'1 in sons of anarchy
Nickrhf
said on 26/Oct/20
What would you say his weight was?

Editor Rob
maybe in 180lbs range.
Christian 6'5 3/8"
said on 2/May/20
No less than 6'0.25"
Dream
said on 13/Nov/19
182 cm is just absolute non-sense.
He's standing a bit loose and he has less footwear, yet he gives a similar impression to David Tennant.
Peter 180cm
said on 4/Jan/19
About 184cm.
Christian 6'5 3/8
said on 18/Sep/18
@Zampo
Yeah, especially when Rob has no more than about 1/4" footwear advantage over him, because when he doesn't specify the amount, it's most likely max 0.2"

Editor Rob
It was near 0.2 inch, usually a little is referring to 0.1-0.2.
Rampage(-_-_-)Clover
said on 18/Sep/18
182cm is out of the question when you look at him beside Perlman, Hunnam, Coates and Flanigan.
Edged all of them
Zampo
said on 17/Sep/18
Looks a flat 6'0 in the photo not taking footwear differences into consideration. So 6'0.25 makes sense.
Rourke
said on 26/Jul/18
@F97
Rob clearly says he does have the edge in footwear 😂 182cm for this guy is ridiculous he can pull off a weak 6ft1 at times
Nik
said on 24/Jul/18
I think that he can just about pull off his listed height!
Redwing
said on 20/Apr/18
Rob in that pic the man looks well over 6 ft, looks like challenger 10.

Editor Rob
In person a solid 6ft range, a little less footwear and I think he might measure around 184cm on the nose.
Dream(5'9.5
said on 15/Apr/18
Rob, he looks taller than Jon Heder in this photo. Plus, he has less footwear.

Editor Rob
I think they'd measure within the same 1/4 inch range, although always a chance David is more stronger 184 range than Jon
Deloris's
said on 2/Apr/18
About 10-11 cm taller, minimum 183cm guy.
F97
said on 22/Mar/18
I Think honestly that he is max 182 cm. Rob has less fotwear and Robs head is tilted down a bit while david is looking pretty straight. If Rob were to look straight ahead ( raise his head so he is looking straight ahead). Then Robs eyes would be at Davids mouth Making it an 8 cm difference at Most. I am 183 cm tall exactly and my friend is 173-174 cm and even when be gas more fotwear the difference between the two of us is slightly ligger than that in the pictures between Rob and David. I just dont see a solid 184 guy. 182 is my guess for him no taller
berta
said on 19/Mar/18
looks very strong 184
Psychedelic Earth 187
said on 11/Jan/18
Solid 184cm.
Jacob
said on 5/Oct/17
Thinking back to the show I guessed at least 6'1" for him
Rampage(-_-_-)Clover
said on 30/Sep/17
Nice add. He does look taller than Perlman, Hunnam and Coates.
Andrea
said on 26/Sep/17
New picture? I don't know him but he looks more around 6' than near 6'1 with you...

Editor Rob
he did seem over six foot flat I thought.