David Soul's Height
5ft 11 (180.3 cm)
Peak height was 6ft ½ in (184.2 cm)
American actor best known for his role in the Starsky and Hutch TV series and in films such as Magnum Force and Salem's Lot. In his Silver Lady heyday, 6ft 1 (170lbs) was a height mentioned in a 1979 TV SuperStars book. We met him at a Collectormania event in London, 2009.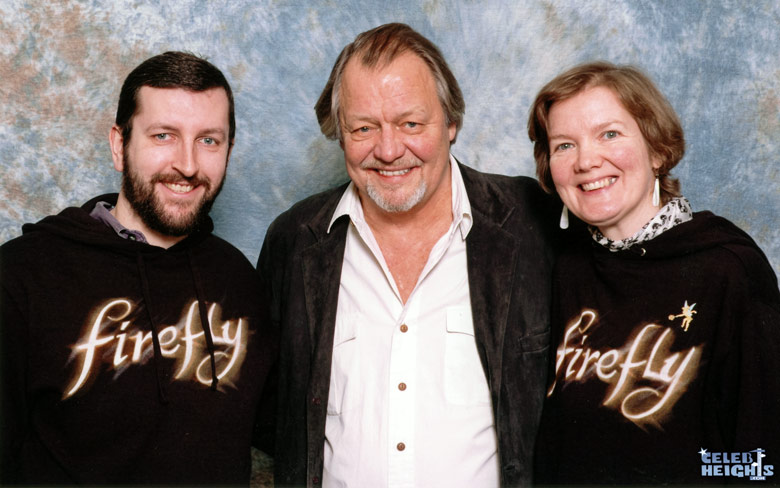 5ft 8 Rob/Jenny and David.
Add a Comment
70 comments
Average Guess (13 Votes)
Peak: 6ft 0.31in (183.7cm)
Current: 5ft 11.17in (180.8cm)
Ehsan Jabar
said on 9/Oct/20
what would you estimate his eye level to be

Editor Rob
I think in that photo tilted down it looks lower than it might be...but 4.8-5 could be a possible range looking at some photos of him, a bit lower than average.
movieguy12
said on 21/Jun/20
David Soul was huge in the 70s something that younger people who visit this site probably don't realise. Not only was he the co-star of a massive TV show that everyone talked about. He also was a very successful singer and a bit of a heartthrob for a few years. I think he was particularly popular in the UK.
In the 70s he looked tall and blond, I'd guess this was partly the reason he was cast in 'Magnum Force' where he played the leader of a vigilante group of motor cops who had fascist leanings. This is the film where the Dirty Harry character who is sometimes depicted as a rightwing fantasy shows that he is not really politically motivated but someone who believes in upholding law and order.
Christian 6'5 3/8"
said on 26/May/20
No way he's even 5'11", at least based on the pic.
Richie
said on 24/May/20
I think Soul's peak height was 6', he used to wear cuban heels in Starsky and Hutch which is why he towered Glaser by some three inches.
Nik Ashton
said on 17/May/20
@ 120 - Yup!
Pierre
said on 25/Apr/20
Click Here
=here is the type of heels he was wearing sometimes next to Paul Michael =
Click Here
Click Here
Click Here
= here standing a bit closer to the camera than Paul Michael
Click Here
I ask myself if he was full 6"0' finally.
Click Here
=here is Paul Michael a lot closer to the camera than Don Johnson,average guess a bit under 5"9' .Camera very low
Click Here
=here by the vertical lines of the wall behind them I guess the pic inclined in favor to Paul Michael.And Don does not stand very straight.With a rectified angle of about 3 degrees their eyes are the same height in fact.
Duffer 5ft 11
said on 29/Jul/19
Looked a strong lanky six even in Magnum Force, perhaps a weak 5'11" nowadays.
Sandy Cowell
said on 20/Nov/18
I've been seeing a great deal of David Soul over the past couple of days. He, among others, was emblazoned all over the bedroom walls of the two Hodgson girls in the film 'Conjuring 2' and the series 'The Enfield Haunting', just like was the case in 1977!
David gets 6ft0.25 for peak and 5ft11 for now's height.
Jim hoppa
said on 12/Jul/18
Looks correct,was 6-0 in prime for sure.
Rampage(-_-_-)Clover
said on 6/Oct/17
Rob, really 5ft11 when you met him?
I gauge a little over 5ft9 in that photo...granted he is slouching a fair bit
Editor Rob: well he wasn't really much different than misha collins beside the photographer, certainly well over 5ft 10 I thought!.
Charlie
said on 8/Aug/17
I see 5'9.5 for David Soul here.
Sandy Cowell
said on 16/Jul/17
Just over a year and a half ago, I got hold of an inexpensive copy of 'Salam's Lot' when I was plumping out my collection of Stephen King films! I also bought a nice new 'Sleepwalkers', with my brother in mind, because I'd told him about the cat scenes and I decided that, being as it was his Birthday, we could spend the evening watching it, which went ahead exactly as planned and he loved it, particularly the multi-hued and uni-coloured cat gatherings!
Of the other films I bought, including 'Night Flier' and 'Creep Show', the one I enjoyed beyond all expectations was 'Salam's Lot'! Out of the four stories, only 'Night Flier' was unseen by me, but I got by far the most enjoyment from 'Salam's Lot' and the reason for it wasn't just the uniquely original storyline, but of course, the acting. I did occasionally watch 'Starsky and Hutch' and I loved it when I could see it, but I had to always put my 🐖ing homework first at the orders of my Mum, so this was the first decent opportunity to find out why David's pictures adorned so many of my classmates' bedroom walls.
I knew from my teenage magazines, that Mr Soul was around the 6ft mark! He was ready and willing to be interviewed for the mags, and then, of course, we received double bubble of pictures and articles on him because he became a pop star, but even back in that era, I went for progressive rock, though as far as pop songs were concerned, I found his above average, or if they'd been unfortunate enough to find their way into my home, they'd have been used as big, black skating-rinks for the household mice!
Yes, folks, he was a popular heart-throb back then, and if you do decide to invest some time and money in finding out why, I can't think of a better way than by grabbing yourself a copy of 'Salam's Lot', which ran as a mini-series on TV, and contains one of the most frightening horror scenes ever, as voted for by fans from literally decades, 5 I think, of scares! It expresses brilliantly an encounter between a couple of boys - friends - in an eerie night-time blood-lust scene! See it - it's as great today as ever it was!
David gets 5ft11.5 for his height now and three-quarters- of-an-inch more for his tallest height.
World Citizen
said on 31/May/17
Looks 177 but he is tilting his head.
Rich Brake
said on 19/Oct/16
You guys are wrong about Glaser being 5-11. He was never more than 5'9" in his life. He may seem shorter to you now because you see him on stage or in the public. Soul was listed as being 5'11" during the Starsky and Hutch years, but he did have a slight slouch. He may well have been a little over 6"0." Huggy Bear looked like he was about 6'0."
BigHands
said on 22/Jun/16
In the Pilot for Starsky & Hutch, there's the steam room scene - both David Soul and Paul Michael Glaser are in flip-flops and towels, making it easy to compare height. They are very close - but Soul has much longer legs, a shorter torso, and a leaner build than Glaser, making his added 1.5-2 inches seem greater. Also the difference in character personalities contributes: Starsky the "ball of energy" and Hutch the "reserved Scandinavian." Soul at 6'1" and Glaser at 5'11" (in the 70's) should be about correct. Antonio Fargas - Huggy Bear - is hard to judge with his "hip" gait and posture. Any ideas for him?
richie
said on 4/Mar/16
I always reckoned 6' for David Soul and 5'9" for Paul Michael Glazier
120
said on 26/Jan/16
Looks more 5'10", if he's standing up straight maybe he could be close to 5'11".
Rampage(-_-_-)Clover
said on 2/Jul/15
"Peak height was 6ft 0¾in (185cm)"
Did look about 6ft1 in Magnum Force.
Bobbi
said on 3/Feb/15
Soul was indeed tall enough to be at least 6'1" during "Here Come the Brides" he was as tall as Robert Brown who was about 6'2/6'3 ... Keep in mind while filming S& H he hurt his back while landing on the car roof during the pilot and had a couple of back surgeries. Which would account for the slouch. Most everyone loses height, in their 50's and 60's .. now DS is over 70years old. Most definately height loss is expected.
Rampage(-_-_-)Clover
said on 11/Dec/14
@thebad7: You makes some pretty well-articulated points.
James B
said on 11/Oct/14
Rob closer to 6ft flat at peak maybe?
jeff
said on 3/Sep/14
not taller than 6'0 on a good day...next to Eastwood (6'3) he looked taller because he probably wore lifts...
Greg
said on 6/Jul/14
Just saw a 1978 Top of the Pops TV show, with Soul standing next to Peter Powell (the DJ) and he dwarfs him. I don't think Peter Powell was much taller than about 5'9, Soul looked about 6'1"ish.
thebad7
said on 15/May/14
I used to think he was shorter than what he claimed, but after watching the first two seasons of STARSKY & HUTCH, I'm confident he was telling the truth. If you watch Soul in MAGNUM FORCE, note that his character always stands and walks with ramrod straight posture--no doubt his approach to playing a homicidal totalitarian part. Compare that to Soul's Det. Ken Hutchinson: Hutch is a tough but kindhearted character, and Soul tends towards loose--almost sloppy--posture when he plays Hutch, but if you watch carefully when he does stand with good posture, there's no doubt he was above average in height.
As a young man in his early 30s (1973 - 1975), Soul was definitely 6'1". One of the best places to judge is in MAGNUM FORCE: pay attention to the scene in which Eastwood and Soul escort the fallen Charlie McCoy's family to the airport tarmac. Both men stand side-by-side in suits with good posture, presumable similar footwear (dress shoes), and Ray Ban shades. Eastwood has 2.5" - 3" on Soul, and I believe Eastwood to have been 6'4" in his peak--he was this height in 1973 as he compares that way to other 6'4" actors. Also, the scene at the indoor pistol range is another good place: Soul stands side-by-side with a bevy of tall actors including Tim Matheson, Robert Urich, and Kip Niven. Eastwood is noticeably taller than both Matheson and Urich--both of whom I believe to have been about 6'2" at peak. In one still, Kip Niven stands side-by-side with Robert Urich, and he is only a hair (hair = less than 1") shorter than Urich, placing him at about 6'1". Keep in mind during this scene: all four actors portraying the vigilante force are wearing knee-high motorcycle boots with about a 1" heel while Eastwood is pounding the pavement with a pair of nondescript, flat-soled sneakers. Despite the footwear advantage, Eastwood is still taller than the rest of the group. Having said that, I think that Soul's peak height is trickier than most to figure because he's notorious for loose posture/slouching in STARSKY & HUTCH, his most well-known work. At peak, I believe Soul was exactly as he claimed: 6'1". Now in his seventies, he's definitely lost height. I'd say strong 5'10"/weak 5'11" today.
tb7
Rampage(-_-_-)Clover
said on 17/Jan/14
Could've been 6ft0.75 in his Starksy & Hutch days.
Greg
said on 29/Oct/13
Plenty of pics all over the net that show a young David Soul walking next to a young Paul Michael Glaser in the Starsky and Hutch days, and he was about 2 inches taller than Glaser. Glaser then looked about maybe 5'11" (he was a bit taller than 5'10" Topol in Fiddler on the Roof). A young David soul was indeed about 6'1". Glaser has since lost much more height than David Soul. In the picture with Rob and Jenny, his posture a bit hunched. I personally have trouble seeing three inches difference there, but I'll defer to Rob's judgement.
LG69
said on 21/Oct/13
Slightly tilted head, but I'd say he's 5'10.5" at most...probably 6'0" in peak years.
Rampage(-_-_-)Clover
said on 29/Jul/13
Looks about 5ft10 there, maybe 0.5in more tops. That's a big lean. What were his shoes like, Rob?
I will admit though, he did look 6ft1 in the 70s
cd
said on 27/May/13
Looks about 179 cm here.
richkid123
said on 18/May/13
Uhm... not disputing the listing, but isnt't Rob looking a weak 5'11" right here.
GraceW
said on 3/May/13
None of you know what you're talking about. David is 6'1". He's still taller than "Starsky."
Jamesy
said on 2/Feb/13
183-184cm peak
Tony G
said on 11/Nov/12
I met and talked to him at an autograph show in Burbank in early October. I asked him what his "peak height" was. He said 6'1".
angeleyes
said on 1/Nov/12
6'1'' in younger days I think is probably accurate. Now older and slouching obviously looks shorter at least in that photo. I remember watching a nostalgia show in which someone said that stars don't always look so impressive in real life as on TV but he said David was an exception to this. When he came to Britain to sing in the 70s he did look the part in real life. Tall and handsome.
James
said on 19/Oct/12
Not 184cm if Clint Eastwood was a weak 6'4
Jake: 1.82 m-- 1.83 m-- 1.84 m
said on 28/Aug/12
He looked 6ft0.5in- 6ft0.75in (1.84 m- 1.85 m) range in Magnum Force with Eastwood.
Mr. R
said on 12/Jun/12
I met him many years ago in New York and he was 6-1 then.
tom
said on 10/Jun/12
Doubt he was ever over 6-0"
shrapnel
said on 21/Jan/12
I remember watching S & H as a kid and I used to think that "Hutch" towered over "starsky," but there is not much of a difference in height and he was much shorter than I thought.
Mark
said on 12/Jan/12
5'11 was what all the magazines "I" ever read, of the day, said. And I read alot of them.
Mathew
said on 21/Dec/11
He looks like he could be 5'10" in the picture. Maybe 5'10.5". Although he's slouching I think.
indianfactmachine
said on 18/Dec/11
ROB
Whats going on with this beard ?
[Editor Rob: hadn't been trimmed for a month, well a month more than normal '2 week' trim.]
Sean73
said on 26/Sep/11
Wow did he lose height!He looked to me to be a solid 6 footer in magnum force.He looks like Yoda now!
Rampage(-_-_-)Clover
said on 23/Sep/11
179cm(5"10.5) today and no taller.
Probably an even 6"0 in his prime give or take 0.5cm
Shaun
said on 17/Sep/11
Clearly slouching here. Looks like he'd masure 5'10.5"-5'11" stood fully straight, compare Jenny's head level with his. I think he's lost 1-1.5, peak 6'0.5" seems right. He was 3-4 inches shorter than Clint Eastwood who was a legit 6'4".
Truth
said on 15/Sep/11
..and to think he was listed at 6'2" way back when......
mcfan
said on 13/Sep/11
Bullcrap! The guy simply was never over 6ft and had everyone fooled. Subtract an inch from him and Glaser...making them 6ft and 5'10.
James
said on 12/Sep/11
he's aged a lot since magnun force :0
Mr. R
said on 9/Sep/11
When I met David in the mid nineties he was btwn 6 and 6-1. I saw Michael PG a few months ago in LA and he is about 5-9 now.
Rampage(-_-_-)Clover
said on 7/Sep/11
5"9.5(177cm) with Rob and Jenny.
Weird, I always pictured him as a 6"1 guy on Starsky & Hutch.
Perhaps he was never over 6"0 to begin with, Rob?
Brad
said on 5/Sep/11
If he stands at attention he'd be right under 6'. 6' 1/2" on "Here Come The Brides" peak. Bad posture...like Clooney: loose. I always thought Glaser was a small guy, he really wasn't.
mcfan
said on 5/Sep/11
Looks more like 5'10.25, Rob, if you're 5'8.25. I didn't even recognize him. Well, we know he's shrunk for sure, but I know this guy was only 6'0.
James
said on 5/Sep/11
Brad says on 5/Sep/11
Clooney posture, hard to tell, weak 6 feet for decades.
how tall was he peak?
Brad
said on 5/Sep/11
Clooney posture, hard to tell, weak 6 feet for decades.
James
said on 4/Sep/11
he was 3-4 inches shorter than clint eastwood in magnum force so 184-185cm peak.
with rob and jen he looks no taller than 5'10 (178cm)
Rob would u say he looks 5'10 with you and jenny?
thebad7
said on 21/May/11
For peak, I think 6' 1/2" is spot on for him--I don't think he was quite 6'1" but I don't think he was a flat six-foot, either. Watching MAGNUM FORCE several nights ago, he looks 3" shorter than Clint Eastwood, and his 6'2" co-stars Tim Matheson & Robert Urich have him by over an inch--a noticeable difference several times over the course of the film. He must have always had a loose posture--he always had it in STARSKY & HUTCH.
tb7
jtm
said on 22/Apr/11
that is correct mcfan.
mcfan
said on 17/Apr/11
6'0 was his height on Starsky and Hutch. Paul was 5'9.5.
Samantha
said on 22/Apr/08
David Soul was 6'1" during Hutch heyday, and Paul Michael Glaser was 5'11". Clint Eastwood looks taller than Soul in Magnum Force because he IS taller at 6'4". Michael Gross looks taller than David Soul in The FBI Murders because Gross is (was) also 6'4".
glenn
said on 29/Feb/08
thats correct on paul.i have a photo with him.
Sarah
said on 28/Feb/08
David Soul was 6'1 in Starsky and Hutch, and Paul Michael Glaser is 5'11
Height Tracker
said on 19/Dec/06
Clint Eastwood appeared a good 2-3 inches taller than him in Magnum Force. I believe Soul really was 6'1" during that movie.
Mr. R
said on 8/May/06
David Soul was 6-1 when I met him in 1985. I knew his father in New York (Richard Solberg), and his brother Dan from one of my "previous" careers.
Frank2
said on 2/May/06
Maybe he borrowed Carmen Miranda's or Mae West's platforms.
D. Ray Morton
said on 1/May/06
The very same! I'd forgotten that he was shorter than Stewart in "The Man Who Knew Too Much."
Well, there must've been stilts under that vampire garb. He did say that the makeup and contact lenses were uncomfortable, but failed to mention the 12" platform shoes (it was the 70s, afterall).
Frank2
said on 30/Apr/06
This Reggie Nalder?:
Click Here
The same scarred faced actor who played the assassin in the remake of The Man Who Knew Too Much who tries to shoot the big shot of some mythical country while attending a concert in Albert Hall? That Reggie? Well, he was a lot shorter than 6'3" Jimmy Stewart in that film. In fact, during the scene where he's instructed on at what precise time to fire the fatal shot by listening to the phonograph record, he's shorter than British character actor Bernard Miles who was just about six feet tall. So if Reggie towered over Soul he either wore huge lifts or Soul was shorter than I thought.
D. Ray Morton
said on 29/Apr/06
How tall was the Austrian actor Reggie Nalder? He towered over Soul in "Salem's Lot."
Frank2
said on 26/Apr/06
I have a strong feeling that David was never more than 5'11". Paul is 5'10". I met him at some AIDS function and he was shorter than me by at least an inch.
George H
said on 26/Apr/06
I know he shrunk a bit after severe back problems and back surgery. He was in several skiing accidents and stunt mishaps. His co-star, Paul Glaser, who was always an inch or two shorter was the same height when they were in Europe about two years ago. We saw them from quite a distance when they were posing with Ben Stiller and Owen Wilson and that cool Ford Torino in London. The original Huggy Bear was there too. We didn't know it was them until somebody told us (we were drawn there by the sight of the car!). Anyway, my buddy and I were amazed to see that Glaser was more than a few inches taller than both Stiller and Wilson, because he always looked so short on the series. Does anyone know the height for Soul's TV cop partner Paul Glaser?
[Editor Rob: paul reiser's brother? I always get those guys mixed up...I actually thought Glaser might have lost a cm himself...hmm, I'll add him to the site just now...]
Mikex
said on 25/Apr/06
I think this is spot on. When they show old clips it's surprising how tall he looks as I never remembered him as a tall guy. He was on Little Britain in a cameo and appeared to be between 1-2 inches shorter than David Walliams who is 6'2''.