American actor best remembered for roles in films such as The Ice Pirates, Magnum Force and for his work in TV, starring in shows such as S.W.A.T, Spenser:For Hire and Vega$.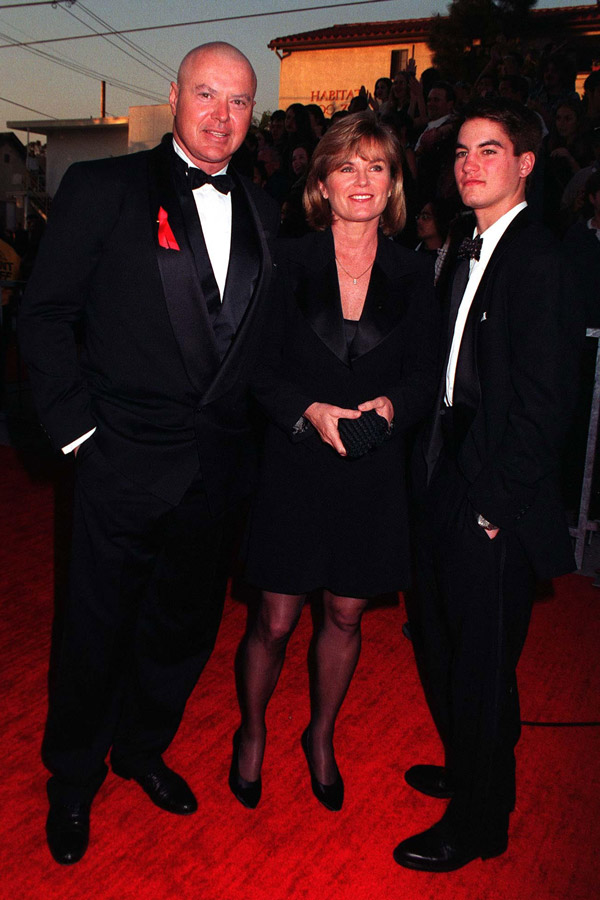 Photo © ImageCollect.com / Paul Smith / Featureflash
[Why he's sent scripts about Detectives] Maybe it's because I fit the description of all detective writers - 6-foot-2, dark hair, dark eyes...They're all the same, and they all describe me. I'm 6-foot-2 and all the rest.
-- Austin American-Statesman, 1985
Rampage(-_-_-)Clover
said on 26/Oct/21
I gotta say he does look quite imposing in that photo
Rampage(-_-_-)Clover
said on 13/May/18
187cm maybe closer, Rob?
Sean73
said on 20/Mar/18
6'2" for Spenser and 6'1" for Hawk.
Ronald
said on 25/Aug/17
Maybe a little off topic,I can't keep my eyes off of him ,when I watch Vegas. He was so striking .
davec
said on 4/Aug/17
Ran into him in an elevator in Boston when he was filming the Spenser TV show. I would say 6.0 maybe 5'11" much slimmer than I thought he would be 170-180lbs.
RichardSpain
said on 2/Aug/17
He was strong 6'1
With boots 6'2
Jewel
said on 1/Jan/15
if he was at a cowboy festival in all liklihood he was wearing cowboy boots? Just sayin
Joe
said on 19/Nov/14
I do not believe he was 6'2', but definitely not far off, looked a good 6'1" in his prime years.
tex
said on 22/Apr/13
met Robert Urich at the Cowboy Hall of Fame in Oklahoma City in 1995. He was every bit 6'2".
penguinboy25
said on 18/Apr/13
In my opinion he looks about 6'1 to 6'1.5 max. I'd go 186 next to Avery Brooks.
Robert Jay
said on 5/Apr/13
I ran into Urich(nearly literally) on a Boston sidewalk in 1987 and was surprised at how not tall he was. Definitely not 6'-2".
thebad7
said on 19/May/11
6'2" is right for him. He looked this next to several 6'2" range actors in 1973's MAGNUM FORCE. I remember him most from his great run as the title character in SPENSER: FOR HIRE. He looked to have an inch on 6'1" Avery Brooks.
tb7
Shadow2
said on 25/Dec/10
Urich seemed a legit 6'2" in "Swat" and "Vegas", but in "Spenser for Hire" he looked closer to 6'1.5" compared to guest actors. Near the end of his life, cut short by cancer, he looked 6'1".
Robert Jay
said on 24/Dec/10
I lived in Boston in the late 1980's. While walking down Beacon Street one day in 1987 I noticed a green late 60's Mustang Fastback parked up ahead. What first caught my attention was that the license plate was clearly made out of cardboard and I instantly realized that this was car used in the TV show "Spenser: For Hire". As I got closer Robert Urich and Avery Brooks got of the car and stepped up onto the sidewalk right in front of me. As I walked passed them I was very surprised at how small they both seemed. I'm 6'-3 1/2" and I would swear on a stack of Bibles that Urich looked only 6'-1" to me.
Anonymous
said on 11/Dec/08
seemed slightly shorter than a young Eric Lasalle in a Spencer episode..I say 6'2 tops, maybe 6'1.5.
Hugh
said on 12/Nov/08
Ron Perlman should be close to 6ft2 then.
Tom
said on 27/Aug/08
I remember the late 70's show VEGAS. Robert played a detective named Dan Tanna. He was 6 ft 2 in. RIP
Scott B.
said on 7/May/08
My wife met him a few years ago in a Best Buy store. She said he was a Big guy. 6'3.
Marcelo C.
said on 5/Oct/07
Almost as tall as Steve Forrest. 6´2" is O.k. for me.
patrick
said on 13/Apr/07
I always considered him as 6'3, never less; Are you sure of 6'2 what i must admit, i read everywhere; He probably 6'2 ion the 90ies; i buy it; But when younger, whether it is las vegas or shortly after, no; He was 6'3; i could bet anything on it !!
Gramps
said on 4/Dec/05
I'd say you've got him about right - - 6'2" to 6'2.5".
Gramps
said on 3/Dec/05
Urich looking about 6" shorter than the 6'9" Larry Bird:
http://www.spenser.de/roberturich-com/larrybobchuck.jpg
Florida State Urich on a football card listed as 6'2":
http://www.spenser.de/roberturich-com/fsback.jpg
http://www.spenser.de/roberturich-com/fsfront.jpg
With 6'2" Michael D. Roberts and 6'1" Ron Perlman (although the two of THEM look much more an one inch apart!):
http://www.theperlmanpages.i12.com/bsmovies/gfx/icecol01.JPG
Looking 1/2" to 1" taller than the 6'1" Jeffrey Tambor:
http://www.gailedwards.com/perfect_murder.jpg

Editor Rob
I think Urich had cowboy type boots in the perlman film...not 100% though. I noticed Mr R had remembered him as being described 6ft 3 on the other comment on this page...
CelebHeights Editor
said on 3/Dec/05
From website myhollywoodstar,
"I first worked VEGA$ when it was filming in Las Vegas. I worked 6 episodes there. In one scene I stood in for Bob while his regular stand-in was away for some reason. Bob came back to the set and saw me in his position in the scene. He said, "Hey, you replaced me with a big guy." I am 6'4" tall. Bob was about 6'3".
Mr. R
said on 3/Sep/05
Urich is the tv king - I think he was on at least 7 or 8 series. Usually he was the tallest around, and he was always listed at 6-3.