Deidre Hall's Height
5ft 7 (170.2 cm)
American actress, best known for appearing in soap Days of our Lives. Her official 'Marlena' site gives her resume height as 5ft 7.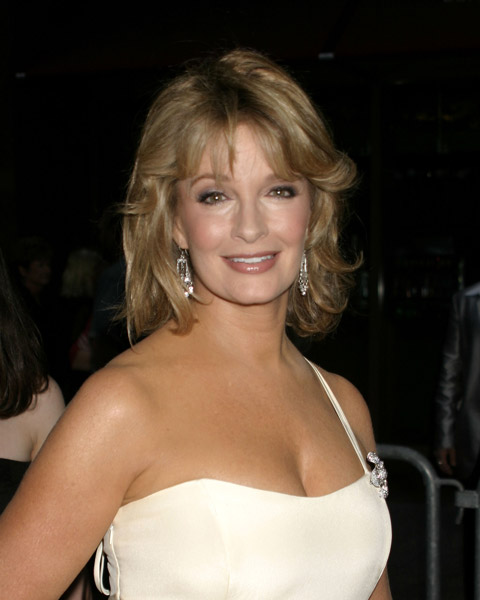 Photos by PR Photos
Add a Comment
15 comments
Average Guess (2 Votes)
5ft 7.5in (171.5cm)
Nik
said on 16/May/20
5'4" is not a very short height!
MacKenzie
said on 28/Dec/12
Deidre is definitely 5'7'', she's just a little bit taller than me, i'm 5'5''.. She's smaller than most of other the actors on days..
Jo
said on 18/Aug/12
Yeah that seems about right. I'm the same height and based on my high heels and her boot heels standing next to her it's pretty accurate. The reason she "towers" all other actors is because they're like 5'1 - 5'3.
Brad
said on 25/Jul/12
Oh god no, met her 10 years ago, 5' 9" at the least. Resume height downplayed for casting, common as the age fib.
ronnie.browning
said on 21/Oct/11
Theres no way diedria hall is 5 foot7 she over towers all other actors like a skyscraper mybe and thats a long shot she mite be 6 foot 11 but never 5 foot 7
Audra
said on 21/Apr/09
I've met Deidre Hall twice. Sorry folks she is only 5'4". She wears heals all the time. She is beautiful and stunning, but not very tall.
Yvonne
said on 9/Dec/08
Also stood beside Deidre Hall at the Beverly Hills Hotel in the lounge. She is very tall and a large boned woman. I am 5 feet 4 inches and she is easily 5 feet 9 or 10 inches. She is extremely beautiful as well with gorgeous skin and not a wrinkle on her face. She is stunning.
Brad
said on 24/Aug/06
59 this year. Looks MUCH younger in person. 5' 8" at Ray Courts' celebrity get together in North Hollywood a few years ago.
sandra
said on 14/Aug/06
hey frank2 i have a question to ask u if deidre hall is only a few month younger that u so how old is she than? plz reply me to my address sisocuteprincess@hotmail.com
Frank2
said on 22/Mar/06
Yep. That's me. I'm also with George Segal and with Tippi Hedren. I had been in love with Deidre for years. At this event where we met and had our photo taken I started talking about Polaroid cameras since that's what was used to take this photo. I informed her I had the very first one ever sold which had belonged to my dad. She looked at me and said, "That was before my time" which cracked me up since Deidra is only a few months younger than me and for me the big "Six-O" is coming up sooner than I'd like.
sf
said on 21/Mar/06
Ahhhh..so that's the infamous Frank2!!!!
Frank2
said on 21/Mar/06
As you can see, she's about four inches shorter than me and if I remember correctly she was wearing shoes with heels that were about two inches or so.
Frank2
said on 8/Mar/06
I have a photo of me with her and she's about that height. Lots of botox.
norwegian
said on 28/Sep/05
Deidre has too long legs to be just 5 ft 7! :p But seriously, I've watched pics from when she was younger and those legs and that figure make more than 5 ft 7, probably 5 ft 8 as bella says. She is also right considering the comparison to her co-stars on the show.
Have a nice day! =)
Bella
said on 4/Sep/05
Just from watching "Days", I would say that Deidre is a little taller than that-maybe 5 ft 8. I realize she probably wears heels a lot of the time, but Drake Hogestyn, the actor who plays John, is 6 ft 2, and I don't think she looks seven inches shorter than him. I also read in a magazine that she's 5 ft 8. She also looks tall compared to some of the other actresses on the show.