Scottish Actor best known for playing Wedge Antilles in Star Wars. He has also appeared in Local Hero and tv shows such as Bleak House and New Tricks. His 'imperial' starwars.com listing was 1.70 metres, although he used to get described as
Height 5 feet 8 inches
.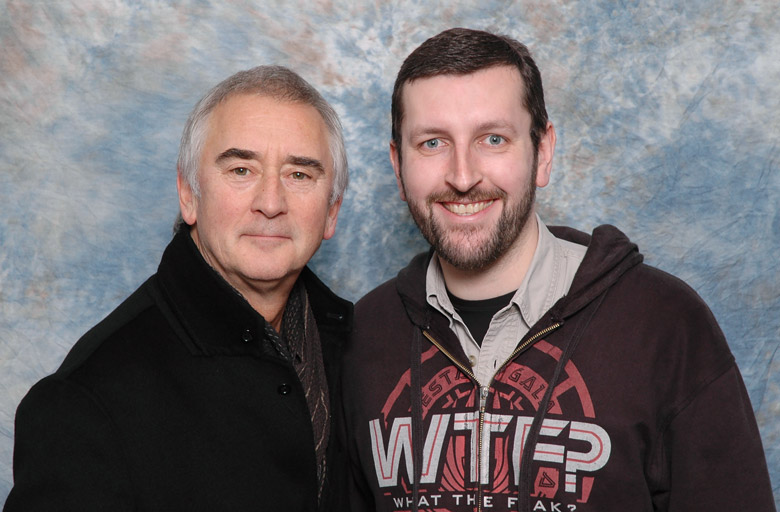 5ft 8 Rob and Denis @ Collectormania London, November 2010
M.P.R.Stephenson.
said on 1/Aug/20
He was married to the lovely Sheila Gish,look at her grave, not a flower in sight !It doesn't reflect well on this man!
JohnMoore-162cm
said on 6/May/20
5ft7 to 5ft7 1/4" peak
Nik
said on 28/Jan/20
He doesn't look over listed'
'Annonymous'
said on 24/Apr/19
I think that the height of Denis is the same case as Christoph Waltz, who once said 5'8" and then 170 cm which looks a bit modest. Rob, look here at Denis next to Tina Hobley in 2005 and pay attention to her heels:
Click Here
In addition, in 2005 Denis looked the same height as Peter Mullan:
Click Here
Click Here
Click Here
In 2000, Denis looked 1.5 inches taller than Keith Allen, and he really didn't look as short as the flat 5'7" next to Michael Barrymore:
Click Here
Click Here
Like Christoph Waltz, Denis also could look like 5'7.5" but I generally think that a fraction of over 5'7" as his peak height can be okay. Rob, will you give him an upgrade at least until 5'7.25"?

Editor Rob
I'm not sure if I've seen enough of him to say 7.25 is likelier - there is a chance though, he might have shrunk 2cm by the time I seen him, though sometimes people can get to 60's with barely anything, others succumb to 1-3cm losses.
Paul Wood
said on 12/Aug/18
He's listed in most places as 5ft 8in but I've never thought he is that height. So many actors are listed as that height when they are clearly shorter.
errybodyshutup
said on 9/Jul/17
@World Citizen right? another 1/4 inch advantage when he is clearly shorter... I think its because Rob tries to be generous as much as possible so that he won't get hated on...
Blake
said on 8/Jun/17
How long is his head?

Editor Rob
possibly just under 9 inches
World Citizen
said on 6/Jun/17
I think he is 5 ft 6.25
hey rob
said on 13/Mar/16
his hair cant even reach 5'7
littlesue
said on 2/Oct/15
I would say a fraction over 5ft 6
Armandy
said on 23/Aug/15
I see 168 too
hey rob
said on 28/May/15
what the hell is the difference between 168 and 169 exactly? because I am seeing 168
Oanh
said on 6/Mar/15
I'm seeing 5'6.5"
CD
said on 2/Feb/15
Rob how do you think he'd be in a staredown with G today? Judging from the pic it looks like he's just below your hairline which is 169 range... although I know he's probably lost some height... I'm just wondering who looked taller in person Denis or Big G?

Editor Rob
both similar range, maybe 169 range is possible today for him, I think he definitely looked in the similar 169-170 zone that G appears in.
Arch Stanton
said on 1/Feb/15
Generally 5 ft 8 seems a stretch but he could look it in Local Hero. Now, nearer 5'6.5.
Arch Stanton
said on 1/Feb/15
Peak he could look 5 ft 8.
Bishop
said on 17/Dec/14
Looks more 5'6.5"
fsd
said on 10/Sep/14
rob he looks closer to 5'6 ft
Arch Stanton
said on 8/Sep/14
I always thought 5 ft 8 was a stretch!!
I don't have a name
said on 29/Jun/14
You may or may not know that Denis Lawson is the uncle of Ewan McGregor who of course was in the second Star Wars Trilogy.
SaveUsY2J
said on 9/May/14
Maybe 5'8" peak, Rob?

Editor Rob
not sure how much he would lose, but a big inch I would be surprised...he is aged 61 in this picture and in person I'd have put him a weak 5ft 7er, so 5ft 7-7.5 range peak is possible.
Mathew
said on 25/Jun/13
I think he looks closer to 5'6" than 5'7" here.
Robby D
said on 27/Apr/13
He looks more than an inch shorter than Rob in that photo. If Rob is 5'8" I would say Denis is more like 5'6".
Tigon Man
said on 17/Sep/12
About the same height as Dennis Waterman in New Tricks.
Anonymous
said on 14/Feb/06
Im about the same height as denis lawson, im 5 ft 7