Dermot O'Leary's Height
5ft 7 ½ (171.5 cm)
British tv presenter known for Big Brother and X-Factor. He claimed in Lucire that
"I'm 5 '9"
.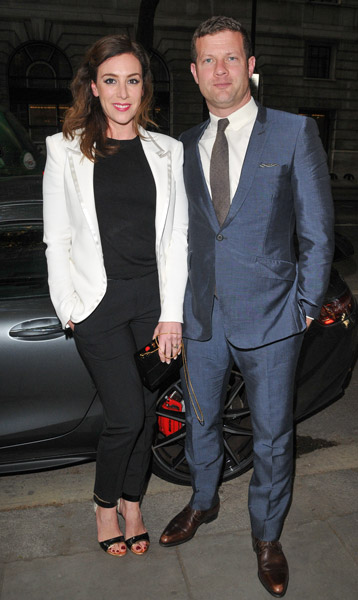 Photos by PR Photos
I'm not as short as everyone says I am. I'm Five Foot Nine ISH...Ten on a good day.
Add a Comment
133 comments
Average Guess (12 Votes)
5ft 7.1in (170.4cm)
Paul17
said on 24/Oct/20
He posted a photo on his twitter with Bruce Springsteen where he looks more than 3 inches shorter than the boss, granted we can't see their lower half/footwear in it.
Nik Ashton
said on 29/Sep/20
It would be great to see a photograph of Dermot with Rob!

Editor Rob
I would be surprised if he turned out 5ft 9 in person.
However, if his claim were a shoe height, it's not so bad....
Arch Stanton
said on 28/Sep/20
5'10 LOL., he can even look G height at times!
James Brett 172cm
said on 27/Sep/20
rob he gives legit 5'10ers a bad name doesnt he?

Editor Rob
I'm sending him over for Mike Tyson to have a word with him. He'll show him what 5ft 10 on a good day really looks like!
James B 172cm
said on 24/Sep/20
Rob on Jonathan Ross he claims "5ft9, 5ft10 on a good day"
Click Here

Editor Rob
I think I might write a letter to Points of View complaining about it!

thanks for pointing it out, I'll add the quote, good to see Jonathan still has some height interest :)
Paul Wood
said on 1/Feb/20
He's always looked to be of fairly compact, well built stature to me, so I think this listing is correct, but it would be interesting to see him standing next to Ant who is always listed as 5ft 8in flat. I must remember to look at a few photos on Google. I know Dermot was listed as 5ft 8.5in for many years on many sites, but I can easily believe he's an inch shorter since many celebrities have their 'official' height and their actual height.
Nik Ashton
said on 1/Nov/19
He didn't look at all short when I saw him on TV last weekend!
Kimblemur
said on 15/Jul/19
@Vote987 No chance. 5'7 flat.
Vote987
said on 14/Apr/18
5'8.5", no less.
James B
said on 20/May/16
His weight rob?
Editor Rob: I'm not as comfortable typing 'dermot o'leary barechested' into search engines.
It might give jenny the wrong idea if she walks by ;)

I'd say he is somewhere between 160-165 range
MD
said on 1/Apr/16
@Rob,
Here he is with Labrinth, on whose page I've argued may not even be the flat 5'9" he's listed:
Click Here
O'Leary even has a footwear advantage, which may or may not be cancelled out by posture. Either way, it's still more than a 1.5" difference. I think Dermot is closer to a flat 5'7" than above it.
Editor Rob: yeah he can look no more than a 5ft 7 there, at most...he's a tricky guy, sometimes he can pull off near 5ft 8 then other times like there can barely be 5ft 7.
Joannha Kinder
said on 30/Mar/16
Ten years ago in his T4 days he seemed to be about the 5 ft 5 - 5 ft 6 mark (even admitting to being 5 ft 5 as per one of the comments below), yet now seems to be around the 5 ft 8 - 5 ft 9 mark (and claims 5 ft 9). Does anyone know this happened? Has he had a growth spurt? Is he the type to bother with lifts? The fact he might wear lifts has created more discussion around his height than if he'd settled at 5 ft 5 and accepted it.
John86
said on 4/Dec/14
I seriously just don't buy it. Thing is he has a rather large/well sized head so he can get away with wearing massive lifts and still look normal, coupled with a thick neck and broad'ish shoulders so it doesn't arouse suspicion.
If I wear lifts it's obvious as I'm more narrow, skinny neck and small'ish head. I still say 5'8 minimum as he looks 5'10 in X factor with his 1.2" dress shoes on + small lifts.
stev
said on 31/Oct/14
Shorter than Alan Carr on chatty man, strangely doesn't appear short at all though with his tailored suit and dress shoes. But was more 2 inches shorter than Alan Carr.
ses
said on 20/Oct/14
If O'Leary is 5ft9, then it's because he has the booster shoes on. He used to look about 5ft6 when he was on the Big Brother extra programmes a few years ago. Now that he is on stage with a suit on all the time, they obviously felt he needed to look a bit taller.
Rhonda
said on 19/Oct/14
Pharrell Williams isn't 5ft9
SAK
said on 19/Oct/14
He gets towered by X Factor Contestant Chloe Jasmine who is a model and probably wearing heels. He is a classic short man; not abnormally short but shorter then most men he stands next to.
John86
said on 15/Oct/14
Looked a little taller than 5'9 Pharrell Williams on X factor last week. Either Dermot wears large lifts or is taller than this listing.
Saz
said on 11/Oct/14
I always thought he was really tall and every one else was really tall
Corky
said on 16/Mar/14
Dermot looks a good foot shorter than Mike Massiimino, who's listed at 6' 3".
MD
said on 16/Dec/13
@Keltoi,
Already said it earlier, but here's the photo I posted on Barlow's page with O'Leary:
Click Here
Where are you getting that Gary is two inches taller than O'Leary? They are practically the same height. Maybe Gary's half-an-inch taller or so. BTW, Nick Grimshaw, who I'm not quite sure who he is, is mentioned a lot on the site, so that may help nail down both of their heights.
Keltoi
said on 15/Dec/13
Noticeably smaller than Gary Barlow and Elton John.
Barlow had a good two inches on him and Elton looked an inch taller. Maybe those two were wearing lifts, it's likely, especially with Elton's previous with platform heels.
Elton looked an inch smaller than Barlow, so provided both of their listings on here are accurate. I'd guess Dermot at 171-2cm in shoes, 169-170cm barefoot. Barlow looked 176-7cm range with a small lift and dress shoes, Elton 173-4cm range in a small lift and dress shoes. I'm giving him the benefit of the doubt by saying Elton and Gary were in lifts, because it's very unlikely that he's 167cm. He looks shortish most of the time, but not that short.
boo
said on 14/Dec/13
I didn't get a picture of it but for anyone watching x factor this year, Dermot is not measuring up to his height listing of 5 7.5. Brandon flowers was at least 2.5 inches taller on xfactor tonight.
MD
said on 1/Dec/13
Well, Saran, I've already shown on Gary Barlow's page (5'7.5") that those two are about the same height, so it must be Zayn who is listed incorrectly, then, because neither Gary nor Dermot really anything above what they are currently listed.
ian
said on 30/Nov/13
The One Direction guys wear lifts. O'Leary rarely does.
sarans member
said on 28/Nov/13
However, Zayn Malik's and Dermoot's heights are listed the same on this site (5' 7.5"), so clearly at least one of their heights is definitely wrong.
sarans member
said on 28/Nov/13
I saw the X factor on Sunday night as well. I wouldn't say Zayn was at least 2 inches taller than Dermot to be honest, maybe an inch to an inch and a half maximum, when Dermot stands up straight. If you look at it carefully, Dermot doesn't stand up straight a lot of the time whilst he's interviewing them, Zayn does - he has really good posture.
MD
said on 25/Nov/13
@boo, if you could, a picture showing this would be great. That's the only way Rob even considers changing a height. Thanks. I'm still thinking he's a flat 5'7". Can't see him lower than that until I see some photographic proof.
boo
said on 24/Nov/13
Again, all the one direction guys were comfortably taller than Dermot on x factor tonight, Zayn Malik look at least 2 inches taller and hes list at 5'7.5. I think Dermot can't be as tall as 5ft 7.5
boo
said on 24/Nov/13
Was considerably shorter than Olly Murs on x factor, at least 3 inches between them, maybe more.
!?
said on 25/Oct/13
He was described as 'Little Man" by Joey Essex in the recent episode of Celebrity Juice, the panel went on to say "he is rather short"
I was amazed to be honest, can't imagine an almost 5'8 guy would be described in such a way.
MD
said on 23/Oct/13
This is a proper height to list him at, as he's a half-inch shorter than Tinie Tempah, and that's only if Tinie is his listed 5'8" solid. I guess my point is that he's certainly no taller than listed.
Bran
said on 21/Oct/13
Maybe I was wrong maybe he's taller, I don't know if your an x factor fan Rob but I struggle to find a male in the live finals comfortably taller than him, also Robin Thicke hardly towered over him and thicke is every bit of the 6ft1.5 you've got him at, could he he a lift wearer Rob ?
[Editor Rob: close to 5ft 8 seems better than his own 5ft 9 claim, but I don't watch much reality at all the last few years]
Bran
said on 1/Aug/13
Look at him next to a 16 year old Liam Payne, if Dermot is 5'7.5, Liam must of been 5'9 back then, plus Bieber's taller than him, and his lifts are not 2 inches I would think.
truth177cm
said on 4/Jun/13
lol at 5ft9 with a stretch.
danny
said on 25/Jan/13
Saw him today attending a graduation ceremony.He appeared around 5'8 to 5'9, but closer to 5'9. I didn't see his footwear. I am 5'7.5 exactly, and he was roughly an inch taller.
sj
said on 19/Jan/13
Dermot is shorter than 5' 7 I met him on the x factor and he's about 5' 4
SAK
said on 3/Jan/13
On celebrity big brother 2013 launch, Rylan was asked how tall he is. He replied 6f5.
Arch Stanton
said on 30/Dec/12
SAK says on 24/Nov/12
Arch Stanton says on 5/Nov/12
SAK how tall would you guess that Ryan Clark to be? I read he claimed 6'4" and disbelieved it at first but he actually looks that tall next to Dermot who comes up to his mouth level.
------------------------------------------------------------
I think he looks over 6f3. Maybe 6f3.5, not a full 6f4.
He is actually a legit 6'4", he has 1.5 inches on David Walliams and what seemed like 4 inches on Gordon Ramsey. Surprising but I think he is a genuine 6'4" claimer, he actually looked close to 6'5" next to Ramsey.
esperance
said on 11/Dec/12
He's a solid 5ft 6 surely?
Arch Stanton
said on 4/Dec/12
I won't watch it, but like TOWIE I see them in the newspapers. Not sure on James Arthur but that Rylan weirdo looked a good 8 inches taller than Dermot I thought even taking into account heeled shoes. I think Dermot is a flat 5'7" guy.
SAK
said on 24/Nov/12
Anyone take a guess at how tall James Athur is?
SAK
said on 24/Nov/12
Arch Stanton says on 5/Nov/12
SAK how tall would you guess that Ryan Clark to be? I read he claimed 6'4" and disbelieved it at first but he actually looks that tall next to Dermot who comes up to his mouth level.
------------------------------------------------------------
I think he looks over 6f3. Maybe 6f3.5, not a full 6f4.
Keltoi
said on 11/Nov/12
Ed Sheeran, listed at 171cm on here, was at least two inches taller than him on X-Factor there.
Now, it might have been camera angles or something, but I highly doubt it somehow. I rarely watch X-Factor because, to be frank, it's crap. But on this viewing, he looks noticeably shorter than pretty much everybody that stands next to him on the show, so I'm really struggling to see him being a 171cm guy.
Rob, is it possible Ed could be 173cm and Dermot 168cm? That to me seems more realistic.
Arch Stanton
said on 5/Nov/12
SAK how tall would you guess that Ryan Clark to be? I read he claimed 6'4" and disbelieved it at first but he actually looks that tall next to Dermot who comes up to his mouth level.
Arch Stanton
said on 5/Nov/12
Same height as Bryan Adams I'm told. 5 ft 7.5" tops.
SAK
said on 3/Oct/12
@Shaun, agreed ID are overrated and irritating. But I would like to know as well what heights they are, as they seem to be on every show so are good for comparison.
Saw them on Alan Carr show, I was surprised most looked slightly shorter then him. Does anyone know how tall any of the members are?
New 171cm listing is good for Dermot. He seems short when interviewing auditionees on XF.
Shaun
said on 5/Sep/12
No, please no One direction entries, most overrated musical group in recent times! Glad you downgraded him Rob, I always said he was a 5'7"er.
indian factmachine
said on 5/Aug/12
@ rob judging by pictures i saw of him he definately looks every inch of his 5 ft 9 claim...
5'8 guy
said on 6/Jan/12
could you start a page for the one direction lads Rob, they seem really popular just now.
Dean 5ft 9.25
said on 9/Nov/11
5'9 Alan Carr had about 2 inches on him on chatty man tonight..However Carr had chunkier footware so Id say 5'7.5-5'8 is definetly at least fair for Dermot.
He never looks noticably short anyway. Id be suprised if hes under 172cm.
Steve
said on 5/Nov/11
5'4 - 5'5 Nicole Scherzinger bare foot was only an inch or two shorter than Dermot O'Leary in dress shoes.
That makes Dermot 5'8.5 in shoes and Nicole is most certainly not that barefoot. He's 5'6 barefoot and 5'7 in shoes.
james
said on 28/Oct/11
i know someone who has interviewed him and he's like 5ft 3in
Shaun
said on 29/Aug/11
5'7". Jedward who I think are about 5'9" minus the quiffs are easily two inches taller.
hy
said on 26/Aug/11
i think he is FIVE FT 7 IM five foot ten in a half but im fifteen LOL,,
AND A HALF
A star
said on 14/May/11
rob either peter andre needs an upgrade to 5ft 8 or dermot o leary needs a downgrade to 5ft7 because there is a clear inch between them.
Shaun
said on 14/May/11
I doubt Chiles is even a flat 6' let alone 6'1". He looks 5'11" to me.
Niall
said on 21/Mar/11
He looked shorter when standing next to Michael Jackson who is roughly 5' 9" - 5' 10"
Shaun
said on 24/Feb/11
170-171 is about right.
Shaun
said on 24/Feb/11
Rob I think he's 5'7" (170). Andre looked at least an inch taller than him. He looked 5'7" next to Jon Bon Jovi too. 171cm though at least it more accurate than the 173 or 174 you once had this guy at.
Anonymous
said on 16/Feb/11
Rob can you explain how you have this guy at 5'8 and Peter Andre at 5'7.75
no way, I have just watched the Breit Awards Aftershow and he was at least an Inch under Peter Andre standing together, I assume they both had dress shoes on, No way is this guy 5'8.
He is more like 5'7 If Peter Andre is the height you have him.
A star
said on 15/Feb/11
Anonymous: but look at the angle that the picture was taken from, so hes obviuosly gonna look taller than he is
Anonymous
said on 18/Dec/10
im not sure check out this pic:
Click Here
dermot looks bloody 6ft next to 6ft1 adrian chiles as listd on here
Anonymous
said on 18/Dec/10
compared to other people dermot is bare tiny or little
wyatt
said on 15/Dec/10
Look at this dude with 6ft Andy & next to the fence. 5'8 people don't look that short next to 6ft guys. He is way below his eye level + Andy's relaxed posture makes up for the slight advantage in closeness to the camera. 5'7 flat for this guy.
Jimmy
said on 11/Dec/10
I thought Liam from One Direction was 5'11 based on how tall he looked standing next to Dermot.
Robbie Williams (5'11) sings with One Direction and Liam Payne looks a weak 5'10 at best, more like 5'9.5
No way is Dermot remotely close to 5'8
jon
said on 5/Dec/10
Dermot o leary is a dwarf, with lifts he may just reach 5'8". One Direction dwarfed him-5'8", dont piss on my leg and tell me its raining!!!
Sandra
said on 4/Dec/10
Rebecca looks a good 4 inches taller than Dermott so she must be 6ft with heels!!
Shaun
said on 29/Nov/10
Looked 3-4 inches taller than Justin Bieber who is 5'4" in my book. Weak 5'8" more likely 5'7".
miko
said on 29/Nov/10
Rob, I've been watching some of the X-Factor this year (although it's not my cup of tea!), and I have to say, O'Leary is looking very short on stage. Cowell always has a good 1.5" on him (in cowboy type boots though) and most of the girls in heels are the same height or taller than him.
Justin Bieber also looked taller next to O'Leary, than he does next to 5"8 listed Usher.
He's looking more solid 5"7.5/5"7.75 than 5"8. I think he's proportioned very well which might make him appear taller.
Steve
said on 24/Nov/10
I'm 5'8 and I recently took a photo with my 5'11 brother. It was on a steep road in which he had better posture and was standing slightly further up than me. We both had equal length shoes and his eye line was just under the top of my head and this included that extra inch or so he'd gained from road + posture.
Compare that to "5'8" Dermot in the picture above. Even accounting for Andy being closer to the camera (and bending down), the tip of his head doesn't reach Andy's eyeline.
Jimmy
said on 23/Nov/10
Anonymous, I've noticed that too. Matt and Paige are about 5'7, Aiden is 5'10/5'11, Wagner is 5'11, John Adeleye was about 6', Storm Lee couldn't be more than 5'6, Nicolo wasn't there for long enough to gauge a height and the One Direction boys look anywhere between 5'6 and 5'9 with Liam being the tallest at 5'10.5/5'11.
I even thought JLS' Marvin was 6'3 or 6'4 before I found out that Oritshe was only 5'9 and Aston 5'5.
Daniel
said on 21/Nov/10
I'd say Dermot O'Leary is 5ft7.5
Anonymous
said on 20/Nov/10
Has there ever been a 6' x factor contestant? It can't be a coincidence that every year all the men are well under 6'. I've met Dermot and 5'8 is a joke. At 6'1 with nothing more on than thin plimsoles he was at least half a foot shorter. Robbie Williams made him look tiny. He's 5'6.
I read somewhere that the dude last year with the Afro was at 5'11 the tallest contestant to ever reach the final. Someone explain that one? As of writing this in fact Liam Payne from one direction - who I thought looked tall - seemed inches shorter than Steven gerrard. I'm surprised the media haven't noticed it.
sandy
said on 20/Nov/10
no way, hes more like 5ft 6 !!!!!!!!!!!!!!!!!!!!!!!!!
rudebhoy
said on 16/Nov/10
shorter than Gary Barlow who is listed as 5ft 7.5 on here. He's shorter than nearly every contestant on the show!
wyatt
said on 15/Nov/10
5'7
I think he might wear lifts or inserts on X-Factor.
Jimmy
said on 7/Nov/10
Rich, are you sure about that?
He is smaller than all the contestants bar Treyc, Cher and Mary. All the guys were at least the same height or taller than him. Even 5'8.5 Cowell looks a good 2' taller than him in his lifts.
Samwise
said on 7/Nov/10
Rich he is nowhere near 5ft10. He was 2 inches smaller than Jon bon Jovi. He is mostly smaller than the X factor males apart from some of the young teens in the show. He's also significantly smaller then Walsh and Cowell who are about 5ft9.
Rich
said on 7/Nov/10
Clearly gets close to 5 10 with his fairly well heeled shoes, as he looks taller than or as tall as most X Factor male contestants. Unless you believe everyone on there this year is tiny, even while wearing boots, there is simply no way he's 5 5 or 5 6.
Samwise
said on 3/Nov/10
Pete, I think you are including Rihanna's sizable hair. They are the same height. Rihanna has some big army boots on too, Dermot dress shoes.
Pete
said on 1/Nov/10
Shorter than Rihanna here who is 5`8.
Click Here
Near the end
Steve
said on 31/Oct/10
Amie
Quite a few times over the years Cheryl has stood next to Dermot and she's been just shy of his height. I'd put Cheryl as 5'2/5'2.5 so for this 5'8/5'9 claim to be right, she would have to be wearing 6-7' heels.
Considering that she spoke to Dermot after performing, it's unlikely that she would have been dancing in 6' heels. He's probably 5'5-5'6.
black jesus
said on 31/Oct/10
i believe he is 5.9 bcause on this is it he was half inch taller than 5.9 michael jackson
JL
said on 31/Oct/10
no way is he 5'9 ot 5'8 he small for a man i would say he about 5'6 5'7 at a strech xxx
Samwise
said on 31/Oct/10
Dermit looked 5f7 next to 5f9 Jon Bon Jovi and 5ft11-6 Richie Sambora on X-factor tonight( don't think he is 6ft more 5ft11)
Polly
said on 28/Jan/09
No, I think he's definatly about 5'8! I'm 5ft6 and he quite a bit was taller than me!
MD
said on 21/Jan/09
Rob,
Are you going to go back over this one?
Doug
said on 20/Jan/09
No way 5'8"! He's tiny. 5 ft 6 Beyonce towered above him by at least five inches. I've always seen Dermot as a definate 5 ft 6 guy and am sure I've read that somewhere. Hes 5'6", even Britney was taller than him.
Tom
said on 18/Jan/09
5ft7.5 no more
Anonymous
said on 13/Jan/09
Britney Spears with very small heels was taller than him
kramer
said on 1/Jan/09
I was suprised how much smaller he was than most people on stage in the x factor. However Dermot seems pretty comfortable with himself (who wouldnt with his looks and success) and is happy to wear plimsoles and skinny shoes next to folk wearing heels. I think thats why folk think he's smaller than he really is, all of the other 5ft 8ers are in heels!!
Lauren
said on 19/Dec/08
No way. he looks so small on the x factor. Britney was the same size as him and she only had small heels on. However, cheryl cole in her massive 6inchers is still shorter than him!
MD
said on 15/Dec/08
Anyone got any telling pictures? It seems to be that he's not 5'8", but no one has added any good photos, recently?
Aaron
said on 14/Dec/08
I have just been talking to a friend of mine who went to the X Factor semi finals. She is only 5'0" and she had her photos taken with JLS and Eoghan Quigg. She says Aston of JLS and Eoghan are only slightly taller than her about 5'2" or 5'3". Well if that is true, neither of them were exactly dwarfed by Dermot O'Leary on stage so I cannot see him being 5'8" at all.
Vibram
said on 13/Dec/08
He is small; 5ft7 absolute tops, more like 5ft6 and a smidgen. Another guy claiming - and giving - 5ft9 guys a bad name!
elio
said on 13/Dec/08
The other week, last years winner of the XFactor, Leon Jackson did a guest spot on the show. Afterwards when Dermot O'Leary came on to talk to him, Leon said to Dermot, 'You've grown!'. To me, this indicates that Dermot has recently took to wearing big (e.g lifts) shoes for that show.
Mikey
said on 11/Dec/08
I've worked with Dermot and he's tiny. 5'6 maximum.
Pete
said on 29/Nov/08
5`4 Britney in 3 inch heels was a tad taller than him on the x factor. No more than 5`7.
Aaron
said on 28/Nov/08
I think Dermot O'Leary is the British equivalent to Ryan Seacrest if he states he is 5'9", he does not seem to be taller than anyone onstage and was dwarfed by Mariah Carey. Granted, Mariah was wearing heels, however, last week, he seemed to have no height advantage over Gary Barlow or Mark Owen who are listed as 5'7.5" and 5'5" respectively on this site.
Lozz
said on 25/Nov/08
He has the right thin body shape for his height making him look bigger"
Aaron
said on 16/Nov/08
I saw him once and I would have said at maximum he is 5'7".
katie
said on 15/Nov/08
holly is about 5ft 8 and a half.
FartFace
said on 12/Nov/08
Dermot is 5'6.
theenforcer22
said on 10/Nov/08
Mariah Carey is 5ft 9.
Peter
said on 9/Nov/08
Holly is 5`7 she said it hereself! Dermot is 5`7.5
Anonymous
said on 8/Nov/08
That's a loada bull ****! Because holly willoughby is 5ft8 and wears heels on x factor and is about an inch taller so he's 5ft10 I know for fact as I've met him and I'm 5ft7.5 and he was taller than me by a good bit!
Parker
said on 12/Oct/08
I've read Dermot claim 5'8 recently. I've also read this morning that Leon Jackson,last years X factor winner who was on last night, also claim 5'8. I'd guess Dermot 5'7/5'8, and Leon at least 2 or 3 inches shorter.
Caleb
said on 15/Sep/08
He states he's 5'8" in this week's Fabulous magazine, and that people always comment on how short he is when they meet him. I'm pretty sure he's giving himself an extra inch.
Annoyed
said on 3/Jun/08
MET HIM! 5'7" ! i am a legit and scientificly measured "172.5 cm" ( a little under 5'8" ) and he was DEFINETLY shorter than me in a pair of K-Swiss trainers.
Matt
said on 15/Jan/08
The odd thing is that I've heard several celebrities, particularly female ones, mention how small O'Leary is. Usually the comment is something like "He's so lovely! But soooo small!" I know that 5'8" isn't particularly tall, but I'd still be surprised to hear so many "short" comments about someone who is 5'8". Even a 5'8" guy should be able to best most females for height, but O'Leary regularly gets dominated. Any chance of 5'7"?
TheMan
said on 29/Dec/07
id say on oleary he's probably 5,8 when he first gets up but he's no more than about 5,7.5 normally.
dave
said on 11/Nov/07
i saw dermot and shane on x factor, and no way 2-3 inches; abt 2 max, and ppl have said shane is short so take that as under 5'10" or sumin'
Joy
said on 11/Nov/07
shayne ward is 5`9, dermot was 2-3 inches shorter than him!
vegetable man
said on 10/Nov/07
No way is he 5'9, I've seen him. 5'6, 5'7 max.
Luke99
said on 3/Nov/07
Dermot looks 5'6 on X factor live shows...
joy
said on 21/Oct/07
He is shorter than the lsited height. Leona lewis was 2 inches taller than him in heels. But when shes with simon shes an inch short than him. Hes 5`7 no more and no less!
Jackalar
said on 26/Aug/07
Video of him talking to Fearne Cotton on Xtra Factor
Click Here
She looks slightly taller than him and she's listed as 5ft6.
Fluffy
said on 24/Aug/07
My boyfriend bumped into him at V and said that he doesn't think he's much taller than 5'5". I had a dream about him once and he was horrible to me in my dream, so I don't like him. I'm glad he's short. I hope he has to ask people in supermarkets to get stuff of the high shelves because he can't. Boooooooooooo Dermot O'Leary!
Peet
said on 22/Apr/07
He's lie! His height can't be 5'9''!! He just only 5'7.5'' - 5'8''. And in the picture , he shorter than 6ft too much (about 11 cm.) I give him 172 cm. tall.
DeanT84
said on 13/Apr/07
On, Jonathan Ross he clearly state's his height at being 5'9''.
Shaun
said on 26/Jan/07
Dermot always appears to wear flat trainers which don't do a lot to increase his height. I would estimate his height in the 5'8" range and no shorter. I myself have a morning height of 5'7 1/4 [1.70.8cm] and an evening height of 5'6 1/2 to 3/4 [1.69.4cm]. O'Leary's height is around [1.73-74cm] which isn't short as it's just a little under the British average of 1.76cm [5ft 9 1/4 inches] for men. Look out for his footwear on BBLB.
[Editor Rob: this is true, 1/2 inch styles he wears a lot of the time]
kramer
said on 18/Jul/06
have you seen the irish psychologist/psychiatrist guy who comments on a monday night (bbbb). Not only terrible fake tan and make up but the biggest heeled boots i have ever seen on a man. He must have been scared that his feet wouldnt reach the ground when sitting down, but how ironic that somebody commenting on narcassism and insecurity is sitting wearing a pair of enromously heeled cowboy boots.
Andy (as above)
said on 7/Jul/06
Yup, that's me up there in the pic with Dermot, from October 2005, when Radio 2 came to Aberdeen.
I was surprised by how small Dermot looked, cos he was hidden from view completely when down talking with the crowd. I'd say we were both stooped a little when I got the photo taken, but he seems about 5'8 (my wife's 5'7 and he was only a tiny bit taller)
Abbie
said on 5/Jul/06
hey! just to say that Dermot's friend went to my school-St.Lawrence College in Ramsgate, KENT, England- so he came to hav a look around and i got in a picture with him!and yes, i was taller than him!
magink
said on 23/Jun/06
every one says john bradshaw layfield is not 6 foot 6 but dats a lie he is 6'6 cause im 6'7 and im clearly one inch taller than him when i met him
paulie
said on 8/Jun/06
hes on paulogrady, he just took his shoes off and standing next to 5'4'' kelly homes, and he looks only 2 inches taller, tops
Warya
said on 1/Jun/06
Eubank (5'10) looks a clean 2-3 inches taller than Dermot. (Was on Big Brother)
TheMan
said on 24/Jan/06
Yeah 5,6 5,9 even 5,7 is a big stretch. Everyone on he's programmes woulden't dwarfe him so much otherwise that is 100% wrong.
Claire
said on 20/Jan/06
On Big Brother Little Breakfast this morning, the gorgeous Dermot admitted that he was 5ft 5 tall!!!!
Dan
said on 25/Dec/05
Dermot - 5'9 or 5'10 ?? crap !! been to big bro live many times and he's walked straight past me and is my height - 5'6 !!
Johnny
said on 16/Apr/05
No i dont believe hes 5'10. i've seen him say hes 5'9 in a few interviews. but i dont believe it. my girlfriend met him a couple of times, she was 5'6, tho probably in heels bringing her to 5'8ish, and she said he was a lot shorter than her. i think she probably exaggerated but i would put him at 5'7.