Elise Avellan's Height
5ft 5 ½ (166.4 cm)
Venezuelan actress best known for roles in Machete and GrindHouse. In this photo (from Entertainment Media Show in london) both girls had about 3-3.5 inch heels, I had a 1 inch sneaker. Elise was actually taller than she looks here, more about my height (5ft 9 in sneakers), her twin sister Electra looked about an inch shorter.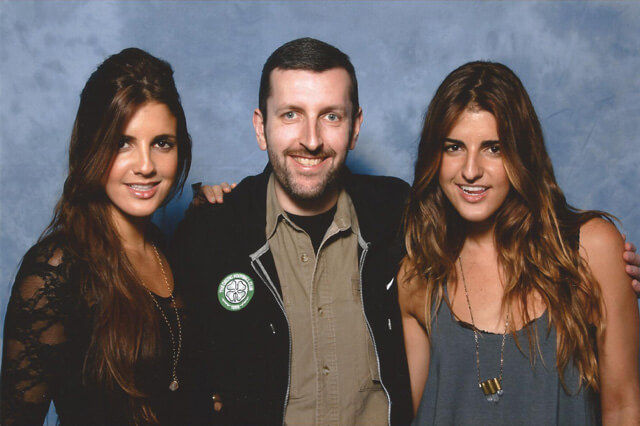 Electra, 5ft 8 Rob and Elise
You May Be Interested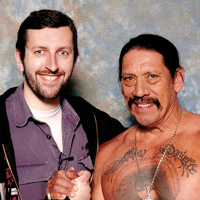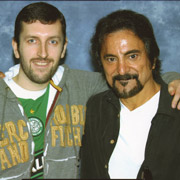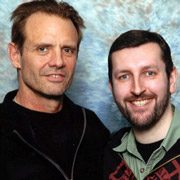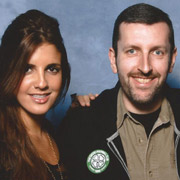 Add a Comment
32 comments
Average Guess (5 Votes)
5ft 5.05in (165.2cm)
Nik
said on 16/Mar/20
She's slouching!
Miss Sandy Cowell
said on 15/Mar/19
I was drawn to this Random Celeb because of her name, Elise; the only other Elise I have come across is the fictitious character, Elise Rainier, played by Lin Shaye, in the 'Insidious' quadrilogy! Now I 'know' a real-life one!
Not that I won't have seen her act, for she was in 'Machete', with Danny Trejo, and 'GrindHouse', which rings a bell loud and exceptionally clearly - this bell to be precise: 🔔
How exciting that Elise has a twin sister too, Electra, but they don't look identical. 👩👧
I'll go for Rob's five five point five. After all, he HAS met her, and her sister into the bargain!

Editor Rob
I think there are 4 sets of twins I've got photos with. The Phelps twins, the cheeky girls and Feldman brothers.
Littlelee168cm
said on 8/Sep/18
So Rob do you reckon Electra is 5ft 4.5 then if elise is 5ft 5.5? Funny thing is Marley Shelton looked taller than both of them in grindhouse but think she had heels on
Lawrence194cm
said on 16/Jan/16
Robbo you are one lucky man. I'd certainly givem one, or several.
glenn
said on 26/Apr/08
thanks nate.ill try to check it out.i wont forget.it might take me some time,but i am curious.
nate
said on 25/Apr/08
the guy jim ward sings kinda like bono but the music is kinda heavy. you seem pretty versital as far as your taste so you probably have a good change of liking them lol
glenn
said on 24/Apr/08
oh yeah? whats it like?
nate
said on 23/Apr/08
you should check out sparta glenn. they have some good songs.
glenn
said on 16/Apr/08
drive i was ok.a bit overated.sparta i never heard.
nate
said on 16/Apr/08
i dont like at the drive in too much either. Sparta is good but i dont like em as much as TMV.
glenn
said on 15/Apr/08
thanks nate.not a at the drive in fan.and barely know sparta.
nate
said on 14/Apr/08
jim ward is the frontman of Sparta, Glenn. he was also in At the drive in with Cedric.
nate
said on 11/Apr/08
i wouldve guessed 6'1 at least for ward. he towers over the rest of the band.
glenn
said on 8/Apr/08
yes,elle.ive been a fan for 5 years.who the fuk is jim ward?
j
said on 7/Apr/08
Jim Ward is 6'1" ... I asked him when we hung out a few weeks ago.
Elle
said on 23/Mar/08
Are you a fan Glenn? You look pretty damn happy lol. Great band.
glenn
said on 20/Feb/08
i know at the driven,but not the other members.omars brother can 6-3.possible.im leaning more towards 6-2.
Mr. T
said on 20/Feb/08
He can look noticeably taller than Omar, just because of Omar's incredibly streamlined-looking build.
Anonymous
said on 20/Feb/08
omar's brother looks more than 6-1 in my opinion. more like 6-3. oh and glenn, do u know jim ward of sparta's height? a bit unrelated but then again him and cedric were both in a band called at the drive in.
glenn
said on 19/Feb/08
yeah,thats cedric.and thats omars tall brother way in the back.hard picture to guage heights with.classic example of how pics can be tricky.what has that drummer done before?
D. Ray Morton
said on 19/Feb/08
Glenn - Thanks. You're right, Pridgen isn't a core member. They hired him not too long ago. Strange, but interesting, choice for the band. Been following his playing for years. Huge fan. He's going to be a major force.
Here's a recent band photo:
Click Here
Pridgen is second from left. Is that Cedric third from left? He looks like Blackmore.
Ras
said on 18/Feb/08
I think he could be 5'8.25, no way 5'9.
maximus
said on 18/Feb/08
looks 5'9" but then again what type of foot wear does he have on???....that makes a huge difference....boots...sneakers????
glenn
said on 18/Feb/08
this tilting head **** has gotta stop.ala the doors guy.5-10 is absurd.5-9 very possible.but so is 5-8ish.
glenn
said on 17/Feb/08
i dont really see what you guys are talking about.a photo is a photo.but he could very well be 5-8.5 or 5-9.i initially felt 5-8 years ago when i met,and he looked it this night too.but i initially felt omar was 5-7 and he looked 5-8 this time.and cedric is a bit taller.it could be cedric 5-8.5,omar 5-7.5 too.as for the drummer d ray,i dont consider those real members to pay attention too.i would say he was 5-10,5-11.i think he was new.omars brother is more interesting,who is in the bad too.i think he is 6-1 or more.
Anonymous
said on 17/Feb/08
he looks 5'9-5'10 to me, yea alittle more than 5'8 here.
Danimal
said on 17/Feb/08
If he's only 5'8", then Glenn is no taller than 5'7" in this pic. The guy is tilting his head to Glenn and the top of his head is still at least an inch higher than Glenns.
nate
said on 17/Feb/08
i dont think hes a full 5-9. maybe 5-8 1/2.
RB
said on 17/Feb/08
5'9 to me. I like the new album.
Charliemoto
said on 17/Feb/08
Glenn 172cm (maybe just this day lower than normal) - Cedric 173cm
alternatively
Glenn 173cm - Cedric 174cm
or
Glenn 173cm - Cedric 173cm except footware (boots?) make him taller slightly.
D. Ray Morton
said on 17/Feb/08
He looks 5'9" + here.
Glenn, have you met the whole band? I'm curious as to how tall Thomas Pridgen (drummer, black dude) is.
miko
said on 17/Feb/08
Looks 5"9 here. Was he on a step Glenn?