Electra Avellan's Height
5ft 4 ½ (163.8 cm)
Venezuelan actress best known for roles in Machete, GrindHouse and Amelia's 25th. In this photo (from Entertainment Media Show in london) both girls had about 3-3.5 inch heels, I had 1 inch sneaker.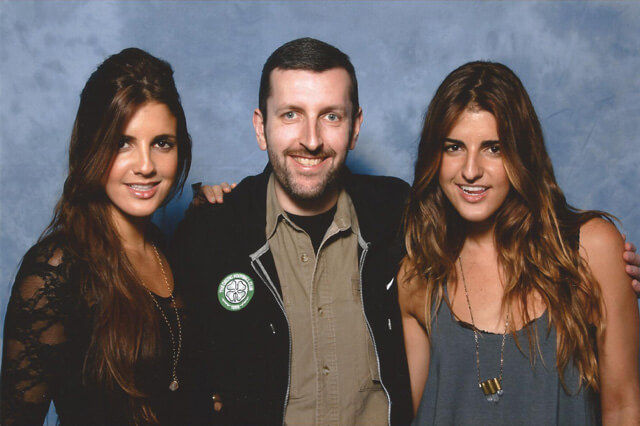 Electra, 5ft 8 Rob and Elise
You May Be Interested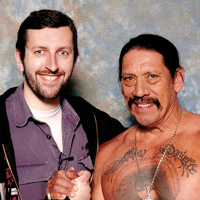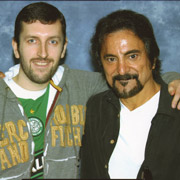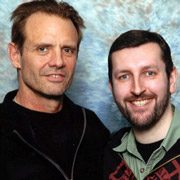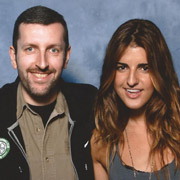 Add a Comment
30 comments
Average Guess (3 Votes)
5ft 4.58in (164cm)
JohnMoore-162cm
said on 24/Apr/20
She looks 5ft4 1/2"
Nik Ashton
said on 2/Feb/20
@ Rob - Is Electra nearer the camera than you?
@ SMART BERRY - I like your name!

Editor Rob
She is a bit closer yeah, with a threesome photo it's tricky, sometimes that's why for mine and Jenny I'd position myself first trying to get side by side with a celeb, then Jenny would go to the other side and the majority of the time she was nearer the camera.

You can get away with that more with a smaller head.
SMART BERRY
said on 2/Feb/19
She's the prettier sister, I would say 164 cm
Chris
said on 9/Feb/15
I dont think there twins i think they just look very very similar to each other
JK
said on 25/Jan/13
they look like twins...are they?
[Editor Rob: yeah]
anna
said on 23/Jan/12
I haven't heard of drugs causing bone loss themselves, but starvation leaches calcium from the bones since there's no food. I had several bouts with an eating disorder (and chemicals too), but my final dive into anorexia took about 1 inch away at the age of 30 (5'7 to 5'6"). The body steals calcium from the teeth too, I'm blessed by genetics so my price is only two cavaties when other family have none (there are other nasty things eating disorders do to teeth but we won't go there and I didn't either, miracle!!) The shrinkage is permanent. Additionally, the starving body steals protein from muscles, going for the internal organs (i.e.the heart) in the late stages. Things that belong in bones and muscles then are in the blood stream and other things (like sodium and potassium) aren't. It leads to electrolyte imbalances that I was encouraged to consider an important issue. It doesn't hurt, but it seemed to alarm other people like doctors a lot. I guess when thats gone is when you die. I didn't, and sometimes it is reversable. Its more than a decade later and I rebuilt my muscles by running, weights, and mountain climbing in my 30's. TMI, I know, but you all seem so curious about how he could have lost height during those dark years and whether the culprit was drugs or malnutrition.
dav
said on 25/May/08
i met him, im 5 8 and he was the same height as me
glenn
said on 29/Feb/08
i change my mind on gallo.he is 5-10.
El_arabe
said on 28/Feb/08
See "unveiling of a statue in memory of Johnny Ramone at the Hollywood Forever Cemetery", he is clearly lower than 5`9sh Vincent Gallo, 5
UNK
said on 27/Feb/08
You can't judge by live videos - musicians always appear taller when they are on stage. RHCP has a "larger than life" persona about them, but the reality is, besides Chad, they are smaller than average in height and weight.
glenn
said on 26/Feb/08
i dont know leung.he couldve been 5-9ish once.5-8 now.or 5-10 once and 5-9 now and his posture was horrendous in pic.he looked 5-8 though in the flesh.i have some vintage pics from 1990 where im in them and im not,of the rhcps,that i think i can find.but then its a matter of time to post.
glenn
said on 24/Feb/08
exactly joe.
joe
said on 24/Feb/08
FINALLY!! i agree with glenn, i swear he looks at least 5'10 in some of the older live videos. his strat looks smaller on him during those days than it does now (at the same angle)
miles smiles
said on 22/Feb/08
Good question, Bryan. If the speculation is actually factual (I swear I've seen it among friends of mine), I would think it would have to do with terrible sleep patterns and bone and muscle fatigue and compressions of some sort. When you're doing hard drugs, you're often up for days at a time (and seriously nutrient-deficient), and perhaps there's some temporary shrinkage going on. It could all be an illusion, and perhaps due to bad posture because of exhaustion, but there seems to be at least a bit of truth to our observations.
glenn
said on 21/Feb/08
its called poor health bryan. unk-i agree for the most part,but as others here saw,there was a few times where he looked 5-10.
Bryan
said on 21/Feb/08
Just curious as to what the science is behind this 'height loss due to drug use' theory is.
UNK
said on 20/Feb/08
John was never taller than 5'9", if he was even that. There is a ton of footage of him in the Funky Monks era (91-92) next to flea, he never looked more than 2" maybe 2.5" taller... flea is barely 5'6".
Also, John has never looked taller than Anthony in candids. I have no idea where these 5'10" comments are coming from.
There is no way John cares about is height and wouldn't wear lifts because of it, but he is a fan of whacky clothes and shoes... I could see how he may have looked tall, being so thin and ripped, with a pair of funky boots on or something.. other than that he has never looked taller than 5'8".
Sal
said on 19/Feb/08
My favorite guitarist of all time
Leung
said on 19/Feb/08
Yeah it does look like he has shrunk but I doubt he has shrunk from 5
glenn
said on 19/Feb/08
i believe you miles smiles.i first met them in 1990.he did seem shorter than 5-10.but i agree in pics he did look 5-10.
miles smiles
said on 18/Feb/08
So weird, Glenn. I stood next to him back in the Blood, Sugar, Sex, Magic days, and he looked a strong 5-10. No joke. This was pre-hardcore druggy years, but did he really lose close to 2 inches?
glenn
said on 18/Feb/08
thanks david.
david
said on 17/Feb/08
good job glenn for taking the photo looks like 5 8
glenn
said on 13/Feb/08
i have friends that are on the inside that told me he was taller once,and that other drug users they knew shrunk a bit too.
Leung
said on 13/Feb/08
I also thought that Frusciante was about 5'10". In many RHCP group photos he is taller than Kiedas. Maybe there's something to glenn's drug use theory, Frusciante was such a heavy user that a lot of his teeth fell out.
glenn
said on 12/Feb/08
he can look 5-10 pics with other people.i had a theory drug use made him shrink a bit.i didnt see flea or kiedas this time.havent seen kiedas in 6 years.i saw flea a few times in the summer/fall.didnt really ask him for photo.i have these guys countless times over 18 years.
msn87
said on 12/Feb/08
5'8 tops... I'd say 170-171 cm is spot on.
Anonymous
said on 12/Feb/08
I've always thought he was in the 5'9 range. Excellent pic Glenn. You actually look a little taller than him in this picture.
Markus
said on 12/Feb/08
He looks taller when he's alone in a picture. (without comparison with other people) then I would have guessed him 5-10 / 5-11.
But you can tell when he's playing he's smaller than that, his Fender Strat guitar looks pretty big on him!
Nice pic Glenn! Did you get Flea as well ?
Teh Pwn
said on 12/Feb/08
Sorry i've always thought that guy on the left is called Glenn?
[Editor Rob: he had a 2 hour name change to Rob there!]