Eugenie Bouchard's Height
5ft 9 (175.3 cm)
Canadian Tennis Player. On her official page her height was listed as being 5ft 10 and weight as 128 pounds (58kg).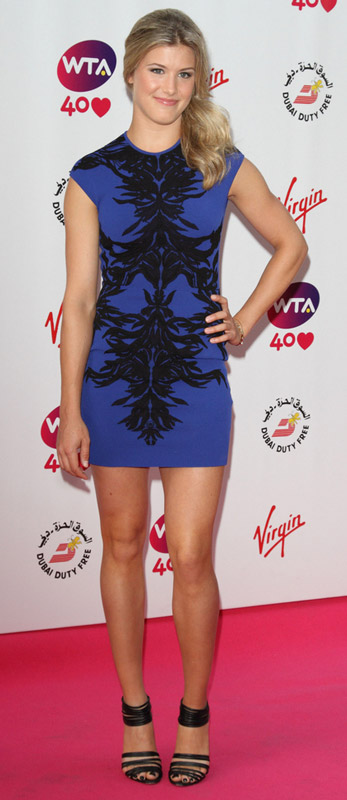 Photos by PR Photos
You May Be Interested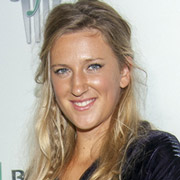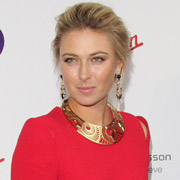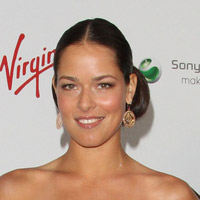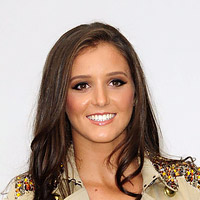 Add a Comment
39 comments
Average Guess (38 Votes)
5ft 8.46in (173.9cm)
Nik
said on 13/Jun/19
It would be great to see her pictured with Mr Rob Paul! All the vowels are in her name!
pip
said on 10/Jun/19
5'8.5. She is a tall, gorgeous goddess
Mimi
said on 30/Apr/19
I think she's around 174cm. Around 5ft8.5-8.75 is her range
Miguel Calado
said on 27/Jan/19
probably slightly under 5ft9 considering the evidence that people post here...
Trevor Long
said on 12/Nov/18
looks about 5'7.5 with 5'10 Georges St-Pierre here
Click Here
but with correct posture and assuming he has a slight footwear advantage I would give her 5'8.25. certainly does not look 5'9.
with 5'7.5 listed justin bieber, again, 5'8.25 seems spot on to me
Click Here
mitiu
said on 30/Jul/18
Ppl must be insane to believe she can be as low as 5'6''... At least do some research before talking nonsense. I mean no one can say exactly how tall she is, but I believe between 5'8" and 5'9" is the right guess.
5'2
said on 19/Oct/17
no more than 5'7" on barefoot
andromeda
said on 8/Oct/17
She's 5'7. I've met her off court.
Bee123
said on 18/Aug/17
Doesn't look a full 5'9 probably 5'8 barefoot
anyonmious
said on 5/Aug/17
5 foot 9 in heels. 5 foot 6 without heels
even
said on 17/Jul/17
5 foot 9 and at least 125 pounds
Original
said on 15/Jul/17
She is more like 173.
Chris
said on 20/May/17
Johnson, in the 3rd photo you posted, Bieber doesn't look over 171-172
Johnson
said on 9/Feb/17
@heelshealheight I agree, they both are listed 5'9 but Serena is visibly taller... my point is that Serena is 5'9.5. Bouchard can be 5'9 then
heelshealheight
said on 8/Feb/17
5ft9? Not really.. Serena Williams and Andy Murray refute this height claim. In all photos (and in similar footwear, apparently), Serena Williams is significantly taller than Bouchard. If Serena Williams is listed as 5ft9, there's no way Bouchard is this height. As for Andy Murray, he utterly towers over her; the height difference is huge for a man who's listed as 6ft2. Maria Sharapova also towers over Bouchard far more than she does over Serena Williams.
Chris
said on 5/Feb/17
No way 5"10 but 5"9 is possible she is just not the leggy type that stand out as tall more often. 5"7/5"8 is near tour average for women at the moment especially nearer the top so she doesn't stand out much. Always a chance of a big under. 5"9 though but next to Robson she looks it. Bieber is 5"8 though that's certain.
Johnson
said on 2/Feb/17
I meant March 2015
Johnson
said on 2/Feb/17
If you guys accept Bouchard is 5'9 you should accept Bieber was 5'8... pics of March 2014. Now Bieber grew up a little
Click Here
Click Here
Click Here
anyonmious
said on 12/Nov/16
about 5-8 and no more
Bouchard
said on 19/Sep/16
Yeah Rob! I agree with you! Most players want to be taller i think! Hahaha s§ do you think bouchard is 5'9 (1,75 cm) too?
Editor Rob: 5ft 9 seems a reasonable guess for her, I've not seen enough to suggest she would be 5ft 9.5-10 range.
Bouchard
said on 17/Sep/16
She's 5'9 (1,75 cm). Almost sure! She just look taller. And i don't know why some players put their heights taller then they really are
Editor Rob: a taller listing sometimes can make someone seem more impressive or intimidating.
Heeight
said on 12/Aug/16
I think she's 5,9 (1,75 cm) but sometimes i think she's taller, like 5,10 (1,78 cm). Someone tell me her real height, and help me with this doubt!
Height
said on 11/Aug/16
I not sure, sometimes i think she' 1,75, and sometimes i think she's 1,78. Someone tell me how tall she is and kill this doubt.
truth
said on 26/Jun/16
@5'9.25 LOL I know, right?
5ft 9.25
said on 16/Mar/16
Too sexy for the WTA
Tania
said on 26/Aug/15
For comparison's sake:
Click Here
She looks quite a bit shorter than 5'11 Andre Agassi.
Josh1
said on 27/Jul/15
She looks 5'8
Tom
said on 2/Jul/15
Looks a solid 2 inches shorter that 5'11 Azarenka
Click Here
tiny
said on 14/May/15
@Tom: lovely comparison betwn Bouchard & Sharapova. There is a 4" difference and since Sharapova is easily 6'2", Bouchard is 5'10". However was surprised to see that Sharapova is so much broader than Eugenie specially at the shoulders. I guess Bouchard weighs in at 150 lbs and Sharapova weighs in at 175 lbs
Tom
said on 1/Apr/15
looking maybe a full 4 inches below Maria Sharapova making her 5'9.25
Click Here
Sean73
said on 22/Mar/15
5'9.5' 145lbs
tony t.
said on 20/Mar/15
She's one of those short looking 5'9s to me.
Tania
said on 11/Mar/15
Also, in a later revision dated September 2011, her height had been bumped up to 178 cm. Either she wasn't measured correctly or she grew an inch in 5 months well past puberty - she looks 5'9" to me anyway.
Simon
said on 14/Feb/15
Why the 0,75 inch downgrade Rob?
[Editor Rob: from looking at her more I believe a lot of players will be giving a sneaker type measurement of some sorts.]
tiny
said on 3/Feb/15
She might be 5'10" but 128 lbs is a joke for her weight. She easily tips the scales at about 150 lbs, the same as the 5'11" Laura Robson
Tania
said on 2/Feb/15
I think she's around 175-177 cm
SAK
said on 1/Feb/15
Not 5'10. More like 5'8/5'9.
KingofHeight
said on 17/Jan/15
She's probably about 5'8.5". Look here with 6'1" Roger Federer.
Click Here
RogerFedGreatest
said on 5/Jul/14
She looked 2-3" shorter than KVitkova today at Wimbledon.