Faith Hill's Height
5ft 8 ½ (174 cm)
American Singer best known for songs such as "This Kiss", "There You'll Be" and "Breathe". In People magazine, in 2011, she said
"I'm 5'9″"
.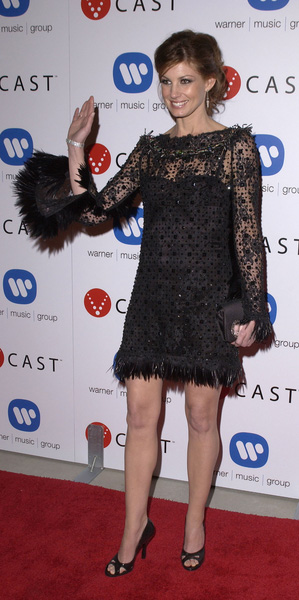 Photo by PR Photos
You May Be Interested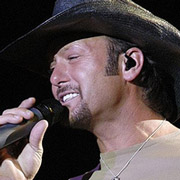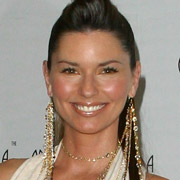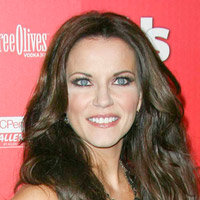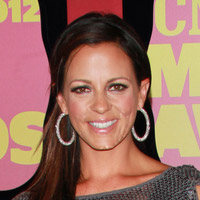 Add a Comment
38 comments
Average Guess (11 Votes)
5ft 7.57in (171.6cm)
Leesheff85
said on 2/Sep/20
Hi rob you've put in the song this kiss twice in the description. Maybe swap one of them for "the way you love me"
Oliver
said on 2/Feb/19
Click Here
Rob,I was totally shocked to see her next to Carrie Underwood.
What do you think?

Editor Rob
She looks like she'd be struggling to look much over 5ft 7, when considering a bit less heel and maybe posture. She has though
Looked taller
with Carrie in the past...
Je
said on 25/Jul/18
Lindsay von just posted a pic of her and faith on instagram. Faith hill is most likely 5'7"
GrimmFan
said on 20/Jun/18
I don't see how it is possible for her to be 5'9 when you compare her to Tim McGraw. He is 5'10 on this website with many doubting that. She frequently wears 3-4 inch heels during red carpet events and she is at most the same height as him and there are several photos I found where she is slightly shorter than him. 5'7.
Az
said on 17/Feb/17
A little shorter than Adele. She's 5'7"-8 probably.
berta
said on 19/Jan/17
she is in good shape dont think she have lost height. beside tim macgraw she looks shorter than this
Courtney
said on 24/Sep/16
unfortunately she has shrunk slightly with age as everybody does she is currently 5 ft 7.1 in if she was 5 ft 8.5 in she had other hits besides those two such as It's Your Love with husband Tim McGraw Let Me Let Go feat Vince Gill Breathe The Way You Love Me If My Heart Had Wings Cry Mississippi Girl Etc
Editor Rob: some ladies do have shrinkage through 40's and by near 50 might lose a cm.

I actually have read a lot on shrinkage on other sites and sometimes see people claiming to lose over an inch by 50's, like 1.5-2 inches.
Adolfus
said on 24/Mar/16
Spot on, Rob!
Mouse22
said on 21/Mar/16
The websites seem to really disagree about Faith's height. Anything from 5'8" to 179 cm, which would be over 5'10". She does look tallish but less than Taylor Swift. Between 5'8" and 5'9" it must be somewhere there.
Brad
said on 5/Aug/15
Met her a few times early in her career. 5-9.
Bishop
said on 10/Jan/15
Next to Nicole Kidman in similar size heels:
Click Here
Seems right.
camille
said on 3/Apr/13
She is 5'9 I am positive because I measured her.
clint
said on 19/Jan/12
Faith saying that she is 5'9" does not make it true. these mags did not measure her, so it doesn't matter if they are "reputable". I'm thinking she is about 5'8.5"!
Nikki
said on 26/Dec/11
Faith is in fact 5'9 not 5'8. She states it herself in Self magazine 9/06 and most recently in People magazines December 2011 Country issue. Both reputable publications. Look it up. You guys should change this if you would like to remain a "credible" source.
Somebody...
said on 14/May/11
She came into a store with her kids I worked at a few years back. 5'8" to 5'9" in Birkenstock sandals is about right! Nice lady as long as you respect her privacy (just like everyone else.)
Lily
said on 25/Jan/11
She's mentioned that she is 5'9" a few times.
Brad
said on 10/Jan/11
Met her a few times, 5' 9". She has stated this before.
Shawna
said on 15/Dec/10
She's not shorter than 5'7, she's 5'9 barefoot.
Dom
said on 23/Nov/10
She looks at the very least 5'8" all the time.
Mr. R
said on 3/Apr/09
People Magazine lists her as 5-9 in the May 2001 issue.
T
said on 17/Oct/08
Click Here
heres another one from people that says she is 5 ft 9.
T
said on 17/Oct/08
With People Magazine in their 50 most beatiful it says she is 5 ft 9.
Click Here
Max
said on 4/Jun/08
Lyn, I agree with you, I am 6'5.5" and get sick of people asking my height. Sometimes I will answer, and then ask them right back how tall are you. My sister is 6'0" and she goes through the same thing you do. Like you say why ask.
Lyn
said on 21/Nov/07
Who cares how tall she is?! She's beautiful whether she's 5'7 or 6'0. Why is height such an issue? I'm a 6'0 woman and get sick of hearing about it. People are always asking me how tall I am. Who really cares?? Does it change your life in anyway by how tall I am or anyone else for that matter? Just curious but do "short" people get asked all the time how short they are??? Or do fat people get asked how much they weigh? I think it's rude for people to ask my height because I'm obviously tall so why ask? Let's be happy with what God gave us and talk about more important things.
FilmFan
said on 7/Nov/07
She's 5'8" or 5'9"? I thought she was closer to 6'. When she guest-hosted SNL a while back, my recollection was at the "wrap" at the end, she was among the tallest people, if not the tallest on stage. That cast must be very short in average height.
Whatever her height, she's one of the most gorgeous women I've ever seen and extremely talented.
Rocky
said on 9/Oct/06
There's really a huge difference between standing up straight and measuring your height and how a person looks when walking on a everyday basis - relatively speaking, since most people do the latter 95% of the time, it's not a big deal but just don't be surprised if the person who you always thought is 5'7'' may easily be 2-3 inches taller when measured on tape. In other words, if eyewitnesses can only pinpoint a 1 inch difference, there's no reason to re-adjust the height on this page.
TR
said on 15/Aug/06
I met Faith several times at a local business when she was just
starting out. I'm 5'11" and she was several inches shorter than
me. I would estimate 5'6" to 5'7" max.
anonymous
said on 8/Aug/06
I think these 175 cm sightings aren't taking her heels into account. I agree with the 170 cm.
Brad
said on 8/Aug/06
Met her in '94, 5' 9" with ease.
Glenn
said on 24/Jul/06
I met her way back in 1993 as well.5-7 sounds right.
Anonymous
said on 23/Jul/06
Well, if Glenn weren't leaning back, they would be comparable height. And, she is obviously in heels (we'll say 3 inches - which add 2 inches of height). That means, that if you take her shoes off, she is probably 5'7" MAx. She is Not 5'9".
Ron Burns
said on 5/May/06
I can settle this - I heard Faith say she is 5'9" tall in a television special a year or so ago. She is NOT 5'8" - better change that - she knows her own height!
cantstop25
said on 22/Apr/06
Anonymous says on 1/Feb/06
If Glenn is 5'8, she is 5'6".
Is that a joke?
ds
said on 8/Feb/06
She was listed at 5'7" and a half...171 and 172. And I met her recently and got to meet her...and OMG she is gorgeous!!! Even prettier (if that's possibly) in real life than she is in her videos...she was so pretty like omg you won't even believe. She was really nice too. She gave me her autograph and she said she liked my shirt (lol you fdon't wanna know what it said). But anyway. She was around my height. I'm 172...so it's hard to tell 1cm...At times I thought I was taller...and sometime I thought she was taller...so I dunno...maybe we're the same heoght so 173 or 172 I guess...and I'm not arguing about her height or anything I'm just saying that my dad is a solid 6' he has been measured many times...and at times my brother says I look like 3 inches shorter than him (but he's like ten so he prbably doesn't know) but still...from pics 4 inches doesn't look that much...
Anonymous
said on 1/Feb/06
If Glenn is 5'8, she is 5'6".
Gwen
said on 12/Oct/05
I had the pleasure of meeting Faith back in 2000 and she is at least 5'9. Im 5'7 and she was at least 2 inches taller than myself. Not to mention that in many pictures appears even taller than Tim.
Hannah
said on 3/Jun/05
I met her in '03. That sounds about right. She's pretty tall!
Mr. R
said on 19/Apr/05
I still think this is a little high. Given that I have established that her hubby is about 5-10, I think she may ring in at about 5-7. There seems to be about 3 inches between them, heels and boots notwithstanding.