Australian Actress and Singer best known for her playing Felicity 'Flick' Scully on soap opera Neighbours. In film she can be seen in DOA: Dead or Alive. An id card showed 5-7 on one tv series, although Holly herself said in a 2011 The Sun Interview
"I am 5ft 8in tall, with slim limbs. I eat when I'm hungry and love wine. I don't diet - and don't have enough discipline for an eating disorder!"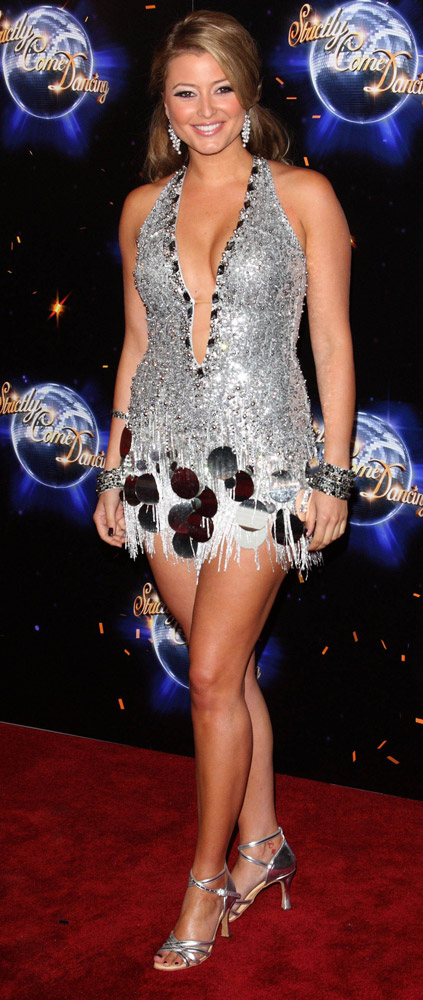 Photo © ImageCollect.com / Keith Mayhew/Landmark Media
Miss Sandy Cowell
said on 11/May/20
🎂🎶🎈🎁 Happy Birthday Holly! 🎁🎈🎶🎂
Here's wishing Holly Valance a Very Happy 37th Birthday. I don't remember her in Neighbours - the actors and actresses I remember are all in their late 40s and early 50s. Yes, I watched it ages ago - in the 80s with my Mum! When she grew tired of it, I stopped watching it too!
5ft7.25, but I did find 5ft8 for her just now. 😁👍
🎂🎶🎈🎁🎂🎶🎈🎁🎂🎶🎈🎁🎂🎶🎈🎁
JohnMoore-162cm
said on 14/Apr/20
5ft7 seems right
Nik
said on 1/Mar/20
She could be my height twin!
JL
said on 15/Sep/12
I met Holly at her video shoot for "State of Mind" (which os my fave song of hers) and her and I are EXACTLY the same height. We were talking about height and heels and stuff and she said "Yay! We could be twins. You could be like my actor in the music video" haha except we look nothing alike! Haha
Jake T.
said on 7/Aug/12
Holly does look 5'7.5 when I saw her on Prison Break and comparing her to Yvonne Strahovski who is like 5'9 or so.
SAK
said on 10/Dec/11
I would put her 170cm morning, 169cm evening.
Shaun
said on 17/Aug/11
Not 5'8", she was shorter than Daniel MacPherson in Neighbours. No more than 170cm, in fact I'd have estimated 5'6" but could just be 5'7".
Zdenka
said on 28/Jul/08
She's 5'8" for real. I saw her about a month ago in Perth city doing autographs, and we took a photo standing together. I'm EXACTLY 5'8 (172.5cm) and we were both the same height, and she was wearing flats like me. Even my sister commented that we could both balance a beam on our heads together. LOL
Vampiric
said on 25/Apr/08
5'7? No way. Maybe 5'6.
Chris175
said on 16/Mar/08
im pretty sure i once read in a british newspaper that she was 5-11 lol
Ray
said on 1/Mar/08
Saw her on the street. She's the same height as me 5'7'' is dead on.
Sharin
said on 20/Jan/08
She her 'official' height is 5'8" but she's more like 5'6"-5'7". Looked far taller (quoted as saying "I felt like a giant next to her")than fellow Aussie Kylie Minogue who is a little under 5'1".
FrenchGuy
said on 10/Sep/07
yes 5'7'' seems right as she looked 2 inches taller than conoly in Entourage. I agree with you Viper, there really is something about her. Like josie Maran.
Flower
said on 31/May/07
Nah I saw her next to dannii minogue and she had heels on and was slightly taller.
Viper
said on 21/Feb/07
Leung, shes one of those chicks that just jumps out at me. She may not be the hottest, but there is just something about her. Cant explain it.
Leung
said on 20/Feb/07
In Australia her height was always stated as 5'8" but I think she is probably 5'7".
Viper, I think she's ok looking. If you met her would you seduce her?
boo
said on 19/Feb/07
there's no way she's that tall - unless she had a sudden growth spurt after moving from australia and quitting soapies.

Editor Rob
taller than devon aoki in doa
Anonymous
said on 29/Jan/07
appeared 7 inches shorter then 6ft0.5 wentworth miller.i would say 5ft6 tops.
Viper
said on 24/Dec/06
I wish I could meet her. Shes hot as hell.
Juraj
said on 14/Nov/06
Nearly 5'8 I don't think so. I agree, 5'6 at most.
Clare Oliver
said on 5/Sep/06
I met her 4 years back, when I am pretty sure we were both past our growth spurt and she was way shorter than me and I'm 5 ft 5 in, max. I have to say I was really surprised how small she was in person. In size and weight.
tallywhacker
said on 12/Aug/06
I was on a train with her once..I'm 1.7-odd and she was shorter than me. I would also say no more thant 5'6
yoda
said on 11/May/06
is she really thus tall? doesn't look like it, i didn't think she was more than 5'6
Anonymous
said on 18/Dec/05
Holly Valance .s about 5ft6 most if is 5ft8 Daniel Macpherson is about 2inch taller
HeyYouWithTheFace
said on 18/Oct/05
I'd like to see her standing next to me barefoot before I believe this one. She looks no more than a solid 5'6.
Danny
said on 6/Jul/05
possibly 5'8