Ian Wright's Height
5ft 9 (175.3 cm)
English former Professional Football Player who played for Arsenal FC and England. In this photo Ian hadd about 0.3in more footwear than me. During his Arsenal career he was typically described
5ft 9 and 11st 8lbs (162 pounds)
. He mentioned he
"wanted to be a stormtrooper in Star Wars but you have to be 5 foot 11 inches and I was too short."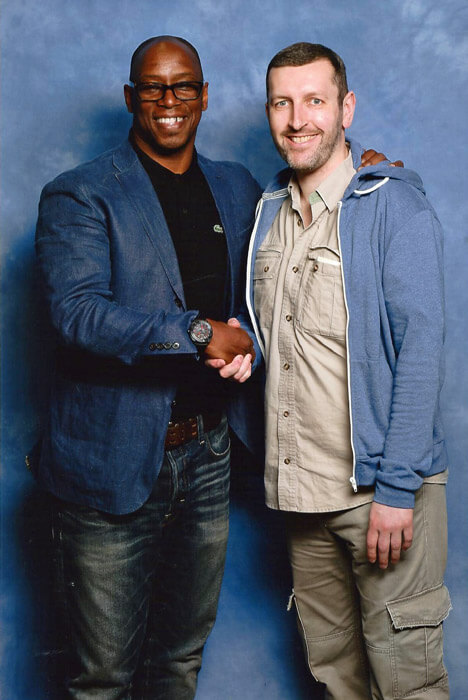 5ft 8 Rob and Ian @ Collectormania, 2015
There's a height for stormtroopers? There's a height restriction. I think you have to be 6ft plus and I'm like 5ft 9ins.
You May Be Interested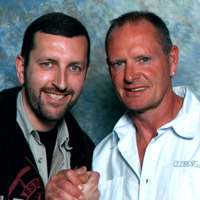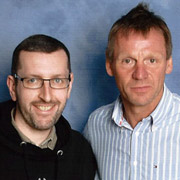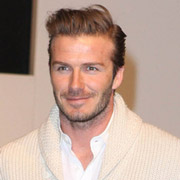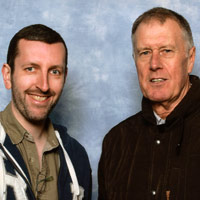 Add a Comment
48 comments
Average Guess (27 Votes)
5ft 8.94in (175.1cm)
186cmTravis
said on 18/May/20
Rob how tall would you estimate his son Shaun Wright Phillips to be?

Editor Rob
5ft 4 range
Rory
said on 18/Apr/20
A lot of those old football height listings in stickers/profiles etc I've found can be quite inaccurate. Bergkamp looks 6ft1.5 to me, I think him and Henry are both roughly 187cm.
Vibram
said on 29/Apr/19
Was listed 175cm in 1997. Still looks that. Way more than 162 pounds now though. Possibly 200.
Rampage(-_-_-)Clover
said on 20/Mar/19
Bergkamp is like John Terry, listed 6ft for a lot of his career but is really 6ft1-2 range
Rampage(-_-_-)Clover
said on 18/Mar/19
Rob, how tall do you think Dennis Bergkamp is?
Listed 6ft in his career but looks well over it. I think at least 6ft1

Editor Rob
Like Henry, he's not much different, so could be over 6ft 1. 6ft is too low, 6ft 2? Maybe a tad too tall.

Henry himself did claim 6ft 2.
Anon636365
said on 27/May/18
Click Here
This photo has him at 6'2 including his hair and shoes I think he could be 6 foot flat
Also he has photos with other well known people Rob
Click Here
Click Here
Click Here
Click Here
Click Here
Click Here
Click Here
Click Here
Click Here
Click Here
Based on all these photos what would be your final guess for JayKae; Rob ?

Editor Rob
Just over six foot is possible.
Anon636365
said on 24/May/18
I think the guy in the photo with Ian has a slight camera advantage but how tall would you say he looks in that photo Rob 6'1 maybe ?

Editor Rob
Depends if he's losing 3cm or so, which if he was, might make him comfortably near 6ft 1. But with camera advantage, it could even out a bit.
Anon636365
said on 23/May/18
Click Here
How tall does the guy with Ian look in this photo rob from other photos I've seen he looks 5'11!range but here he looks over that

Editor Rob
Looks over 6ft in the photo, maybe he caught Ian on a short day!
Zampo
said on 18/May/18
Looks a typical 5'9 guy to me, Would most definitely measure near 5'9 in the afternoon.
MSJC
said on 14/May/18
Yep, a classic example of a 5'9 guy, no more no less.
Lllk
said on 5/Mar/18
Strong 5'9 or more
Jake94 (5'9
said on 29/Jan/18
Could be a weak 5'9"
Parker
said on 28/Jan/18
He was measured at 5'9 for Guiness Book Of Records on TV
Nik
said on 27/Jan/18
I would say 5'8.75" is right for Ian Wright!
Jordan87
said on 25/Jan/18
He is pushing 5'9, He is ok to claim that height.
Mason187cm
said on 21/Jan/18
@Westyboots He looks taller than her at 6:49 - 6:51! What kind of boots would a 5'8.5" - 5'9" man have to get to appear around 6'2" in shoes?
Mark172cm
said on 17/Dec/17
He could be more a weak 5'9" guy but that's the least I'd say. I'm not seeing 174 cm, considering he looks like he's standing a little behind Rob. However, certainly not over his listing either.
Christian-6'5 3/8
said on 5/Oct/17
About 5'8.6" for Ian considering the footwear advantage.
ArthurJohn
said on 10/Nov/16
Rob states Wright had a fraction footwear advantage over him in this photo, and still he's not even reaching 5'9", so by this logic he's somewhere between 5'8.5"-5'8.75" if we take off 0.3 inches from his height.
By the way Rob, how long was Wright's head from hairline to chin + hairline to top of head? I know its difficult to tell where his hairline starts though ;)
Johno
said on 13/Aug/16
Probably 0.25-inches taller than you Rob.
Height
said on 16/Jun/16
Spot on listing Rob! Hope you can add Dennis Bergkamp.
175.7cm
said on 21/Apr/16
And John Boyega got a free pass. Fml lol.
Johno
said on 12/Mar/16
Exact same height as Gary Linekar and about 1 inch shorter then Alan Shearer, looks 5'8.5 here roughly and i'll give him that.
5'8.5
Johno
said on 1/Jan/16
Looks a fraction taller then you without footwear advantage.
5'8.25
mrtguy
said on 4/Sep/15
Geez,his wife looks taller than him in most pics and her forehead looks quite noticeably bigger than his too.
Modeus
said on 12/Jul/15
today the average height for male in most europe countries seems more about 5ft10
Journey
said on 9/Jul/15
I met a guy who is only 45 who admitted to losing an inch just playing basketball.
Westyboots
said on 9/Jul/15
Interesting,he looks about the same height as 6 ft gladiator Flame in this clip although he could be wearing lifts in his boots
Click Here
skip to about 6:22
Key
said on 3/Jul/15
Personally, doesn't look 5'9. More like 5'8
JimmyJ
said on 27/Jun/15
Looks 5'9 here. And yes to whoever said earlier, 5'9 is the average height for a man. I think it's actually the true "middle" for male height in most countries.
MJKoP
said on 26/Jun/15
I honestly can't see anything lower than the listed height for this guy...all factors taken into consideration.
CD
said on 26/Jun/15
Rob can his football career have made him lose a small fraction by 51? Or could it even help retain height? If the former, I would say the full 5ft 9 is perfectly fair.
[Editor Rob: well a few mm with wear and tear is possible for any guy near 50. In person he wasn't much taller than Gazza this day, but gazza had I think at least 0.4in less footwear than wright.]
Andrea
said on 23/Jun/15
Yeah, Dmeyer, Rob himself said he's similar to his dad, without considering any footwear advantage! That would make him 5'8.5 range, but still is listed at a full 5'9...
Dmeyer
said on 21/Jun/15
Considéring 8mm more shoes and the head top only 1-1.5cm
Height183
said on 21/Jun/15
Yes that's the adopted son. He probably is shorter than 5'5'' Rob, he looks tiny!
[Editor Rob: actually I checked and he said 5ft 1...but later said "5'6 just jokes". So he claims 5ft 6.]
Andrea
said on 20/Jun/15
Well, i didn't read about the shoe advantage... In that case, he's definitely in the weak 5'9 zone...
Height183
said on 20/Jun/15
Rob, how tall do you think his son Shaun Wright Phillips is? I hear he is very short.
[Editor Rob: is he adopted son? Yeah he looks 5ft 4-5]
Big T
said on 19/Jun/15
My impression is that he is a little taller than he looks here because he is standing behind Rob. The clue is how tiny his head looks.
However...maybe he just has a tiny head? Rob?
Modeus
said on 19/Jun/15
But not surprisingly he is up to Vernon Kay's mouth...
]
he looks closer to 5 ft 8 with him
Arch Stanton
said on 18/Jun/15
Yes, he could be a smidge under 5 ft 9. He looks as low as 5 ft 8 with Vernon and Tiger though!
Dmeyer
said on 18/Jun/15
Looking at eye level and mouth he looks 176cm but head top looks solid 174.5-5cm
James C
said on 18/Jun/15
Looking at other photos he looks like Eddie murphy
OneNamePlease
said on 18/Jun/15
Small head 174
Alex 6'0
said on 17/Jun/15
With 1/3 more footwear he looks maybe an inch taller. Minus that he's max 3/4 taller than you. 5'9 is fair but a chance he's 5'8.75
Height183
said on 17/Jun/15
I always guessed him around average. 5'9'' seems good.
Andrea
said on 17/Jun/15
If you're not slouching, he looks a genuine 5'9!
James B
said on 17/Jun/15
Rob he looks more 5'8.5 with you considering your posture is not great
Arch Stanton
said on 17/Jun/15
He's one of the most famous 5'9 guys! I've known his height since the first Premier League sticker album in like 1992! Glad to see he looks it with you.