Jack Dee's Height
5ft 6 ½ (168.9 cm)
English stand-up comedian.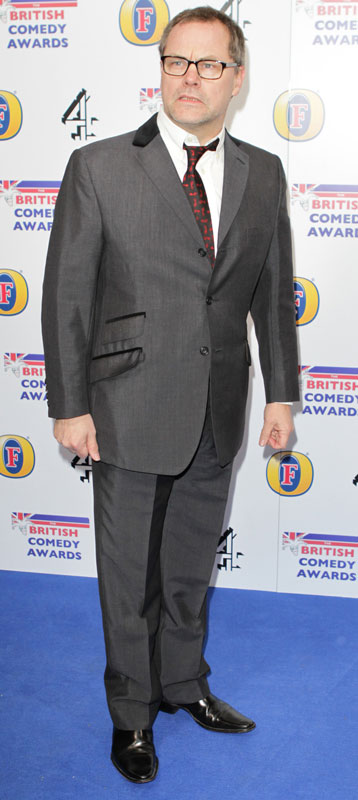 Photos by PR Photos
Add a Comment
16 comments
Average Guess (5 Votes)
5ft 6.3in (168.4cm)
Miss Sandy Cowell
said on 24/Sep/19
🎂🎁😁🎉 Happy Birthday Jack! 🎉😁🎁🎂
Wishing this funnyman a very Happy 58th Birthday!
5ft6.5.
🎂🎁😁🎉🎂🎁😁🎉🎂🎁😁🎉🎂🎁😁🎉
Littlelee5ft6
said on 12/Jun/19
How about his Josh co stars Josh widdicombe and elis James? I think Josh said he was 5ft 6.5 and elis said 5ft 7 in the show but in a tweet elis claimed "I'm 5ft 6. Amazingly my daughter is tall and I keep imagining her as a commanding centre-half"
Sandy Cowell
said on 12/Sep/18
I remember back when the 'Channel 5' logo first appeared in the the top right hand corner of our TV screens and Jack Dee was rather comically trying to wipe it off with a duster! It was a very funny sight indeed!
What isn't quite so funny is my kitten Manelia's persistence in trying to remove them herself, and as for when she sees the 'mute' sign, she has the whole TV a-rockin'! She's the first kitten I've had to hold a fascination for the TV screen! Arghhh! 📺🐈🙄
As for Jack Dee - well, he acts now, doesn't he, and yes, it is easier than ever to take in his height than when he was doing his chat shows. He can have 5ft6.5!
Littlelee168cm
said on 15/Aug/18
How tall is comedian Kerry godliman Rob? In the tv show bad move with jack dee maybe 5ft 3

Editor Rob
Could seem taller than 5ft 3 at times on Derek, but then Gervais character had abominable posture at times.
johnmcc
said on 23/Dec/13
Gets alot of stick for his small frame in live shows. Takes it well though and he looks his listing here.
Ian
said on 20/Jul/13
I met him today and he looks about an inch smaller than me. I am 5'10.
Dave says on 9/Apr/13
Lifts, Sir!
Dave
said on 9/Apr/13
I met him today and he looks about an inch smaller than me. I am 5'10.
MaskDeMasque
said on 31/Oct/12
i think he might be 5'6 flat.
Random Person
said on 12/Mar/09
I also thought he was 5'10
cj
said on 18/Dec/08
i thought he was 5ft 10
jane
said on 6/Jan/08
i think the "5ft 7" thing on lead balloon was probably just jack rounding up his height because i would definitly say he is 5ft 6.5 at a push.
Demo
said on 15/Dec/07
In Lead Balloon, there was a message (showing his thoughts) that said "It takes a big man to admit you are wrong. I'am 5 foot 7". He looks it, as well, but you're the experts.
Hugh
said on 7/Dec/06
I saw Live at the Apollo and didn't notice lifts - but since it was a one man show surely it wouldn't matter as there was nobody to stand next to? Mr Dee looks quite well proportioned and usually wears suits (which have a heightening effect) but I would agree he is in the 5-6 5-7 range.
pianoman123
said on 10/Nov/06
I saw him on jonathan ross, ross was ribbing him about being short. Dee got really really touchy about it and created a very awkward embarressing TV moment. He doesn't look very short in his new series 'Lead Balloon', roughly the same height as most of the other cast members and shoes don't look suspicious.
Aero
said on 4/Jan/06
I'm sure he said himself in his standup that he is 5'3 when he was congratulating tall people for being tall, and this is what the imdb has him at.
[Editor Rob: he was joking...the same way ben stiller said he was 5ft 3]
Shred Guy
said on 3/Jan/06
Did anyone see the "Live at The Apollo" show. I could swear that he was wearing elevator shoes!! It was really obvious.
This height seems fair, but he could be 5'5.5!