Jacob Batalon's Height
5ft 3 ½ (161.3 cm)
American actor, best known for playing Ned in Spider-Man: Homecoming.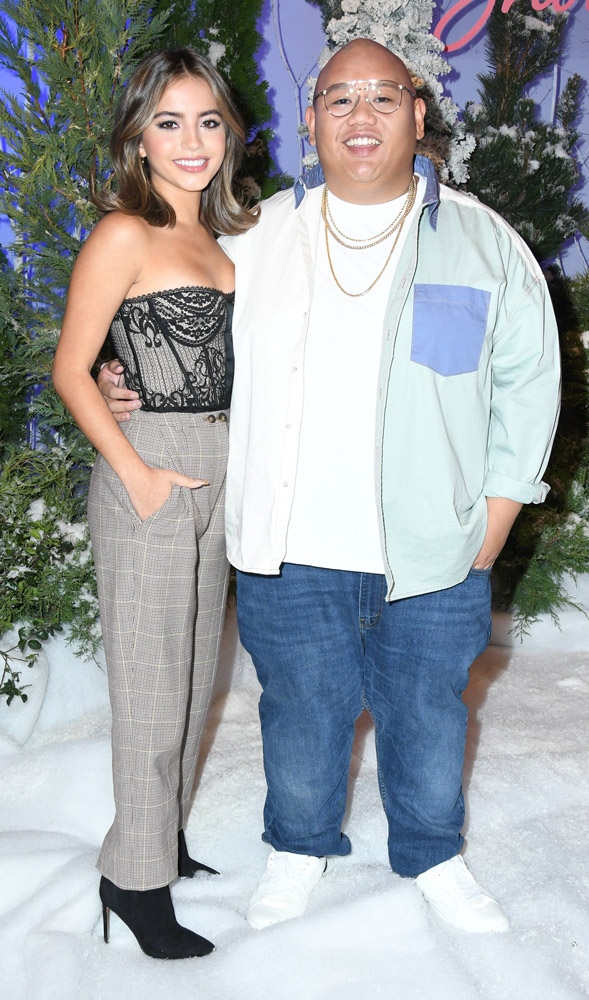 Photos by PR Photos
Add a Comment
41 comments
Average Guess (28 Votes)
5ft 3.93in (162.4cm)
6'3 Julian
said on 4/Oct/20
Anything past 205-210 would be struggling to walk at his height. He might scrape 205 in clothes. At that point you're coming up on my weight
Christian 6'5 3/8"
said on 4/Oct/20
@Julian
Agreed. 210-220 could be a push, but no more than that.
6'3 Julian
said on 3/Oct/20
Are people seriously guessing he's 250-300lbs range? If he's in the 5'3-5'4 ballpark looking like that, then anything over 200 seems highly unlikely to me
Muclis Umar
said on 1/Apr/20
Don't you think he is 163 cm / 5'4 look this full pict
Click Here

Editor Rob
That would be the most I'd give him, it is possible
GhostDwarf
said on 23/Feb/20
Guys he is 5'5 checkout his latest IG post he is not towered by anyone in us. And still taller than most girls with heels. I'm 5'4 I can assure you that he is 5'5.
Click Here
Junior Hernandez 1990
said on 21/Oct/18
I'm convince he was this short now. Use to think 5'4.
Nik
said on 3/May/18
@ Mimi
That's very interesting! Diversity is a great thing!
Mimi
said on 3/May/18
Well he's pure Filipino and men are only 5ft4 on the average here
Arch Stanton
said on 4/Aug/17
Weight not easy to guess at this height and build, maybe around 250 pounds range.
Arch Stanton
said on 4/Aug/17
grizz said on 23/Jul/17
I can already see him playing Dwayne Johnson's Mini Me in Austin Powers reboot lol
LOL, I thought the same thing! The head shape and the suit!! Kind of look like a cross between the Rock and Kim Jong Il LOL.
Chris
said on 30/Jul/17
I didn't assume him this short next to 5'7 Holland. I thought more 5'5 range.
Sally
said on 28/Jul/17
Jacob Batalon is a young man who appears content and happy in this picture. I think Jacob's height of 5'3.5" is very common among men of Filipino descent. I know three young adults originally from the Philippines who were adopted as very young children by families living in my community. All three of these individuals are short statured. The one female of this trio is approximately 4'9". I have a close friend who is also of Filipino descent who is much taller. She is approximately 5'6". She was raised in Montreal, Canada before moving to Wisconsin. She was born to a very affluent family. She competed in and won the title of Miss Teen Philippines Canada back in the 1980s. My friend must have a taller genetic makeup; because, in theory, all four of these individuals should have had access to nutritious food. Unless the adoptees experienced poor care/nutrition during their time at an orphanage that may have affected their adult height.
Nik
said on 27/Jul/17
@ Sandy Cowell -Hi!
I know that many people, yourself included, already lead very healthy lifestyles but there are things we could all do better!
I used to like sugar when I was a child but now I have gone right off it, I cannot think of anything worse than sugar in a cup of tea or a cup of coffee! I think it is great that you are thinking of adding herbs, go for it! They are some of the healthiest things that you could consume, and if they also add flavouring than that is good too. I agree with your doctors who preached the merits of consuming herbs, I am going to start having some myself from now on, they are a damn good staple in a diet! As for salt, I like that too but I am always careful that I don't have too much.
I may even have a fourth instalment of health tips, they are on the back burner at the moment.
Like I have said on my submitted comment to Shirley's page, coming to this website and meeting good, well balanced, and friendly people has meant so much to me. I value my friendship with you a lot and enjoy our interesting conversations, I have one or two interesting conversations that's want to have with you and Rob very soon.
Cheers mate!
Sandy Cowell
said on 26/Jul/17
@ Nik - Hi! I think there has been a bit of a hold-up on Rob's page, so as this is so very health-related, I cannot think of a better page than this one to do a bit of commenting on your third instalment of health tips!
I haven't written them down as yet but a few of them stuck out for me, ie, the spices one, the herbs one, the salts one and the sugars one!
I haven't felt the need, Nik, to add sugar to my food or drink for decades really! The funny fact is I don't like it! I find it has a revolting texture and triggers tooth ache, so even when I was 6 (in a children's home for a couple of days, that seemed like weeks), sugar was the last thing that I fought over! I don't think the kids who did 'win it' grew to be any taller either! Fights are - obviously - started over things like that, but the protein foods are way down on the list of 'must-haves' for small children, for whom it is love they are missing out on, so food often takes its place. Even back then, you could see that height destiny was very much limited when food was at a premium. These kids were even buying love from each other with sweets, and though I was there for an incredibly limited amount of time, I saw some upsetting things.
Now as far as salt is concerned, this is one condiment that I do have a terrible weakness for. I had a lovely doctor - retired now - who suggested that herbs are excellent salt substitutes and she advised her patients to use herbs for flavour instead of salt! Come to think of it, I have another equally pleasant lady doctor who continues to preach the very same thing to this day!
Herbs are known for some winning health properties, and this is something that I am going to have to check out on, as I feel like I am very much a novice!
Herbs bring out flavour as does salt. The healthier alternative? The herbs, of course!
See you later! 👍
Nik
said on 25/Jul/17
@ Sandy Cowell
Yes, increased energy levels is one of the great things he would gain from losing weight. You also said he would wonder why he hadn't done it years ago - another good point! Small losses should be congratulated by all and, like we have both said before, people who are looking to lose weight should never be disheartened nor should they give up.
Cheers Matey!
Sandy Cowell
said on 25/Jul/17
@ Nik - Yes, and he will be so happy with the results and his increased energy levels that he'll wonder why he hadn't done it years ago! 👍 😆
Cheers Matey!
Nik
said on 25/Jul/17
@ Sandy Cowell - Hi!
Yes, and like you said it will benefit his health a lot if he sheds a few pounds. Achieving this gradually is the best policy and if anybody is looking to lose weight they should take great heart in losing small amounts, and never give up or feel down if it is proving difficult. This guy has time on his side and I feel confident he could shed those pounds, like I would with anybody.
Cheers Sandy!
Sandy Cowell
said on 24/Jul/17
@ Nik - Hi! He does have time on his side and it will be a terrific boost to his appearance and his career to shed those pounds the sooner the better! 😇 👏
Cheers Nik! 👍
Colonel Sanders
said on 24/Jul/17
@Hans Meiser he is in his 20s lol
Colonel Sanders
said on 24/Jul/17
Wow he is that short?! I thought he was 165-168 cm
S.J.H
said on 24/Jul/17
He look at least 5'4 with tom holland. So tom must be 5'6 tops
Nik
said on 24/Jul/17
@ Sandy Cowell - Hi!
That's a point well said. This guy has got a lot of time on his side and the benefits he will get from shedding a few pounds will be tremendous.
In terms of his height I will give him 5'3.75"!
Have a good day!
The shredder
said on 24/Jul/17
Because of his height I'd guess 240 ish
Shredder
said on 23/Jul/17
I saw this guy on Teenage Mutant ninja Turtles , I think he played Krang?
Jacob
said on 23/Jul/17
Rob I was trying to figure this guy's height out the entire movie the camera can make him look 5'5" next to tom thanks
Sandy Cowell
said on 23/Jul/17
I would have expected about 2 inches more from Jacob!
I'll give him 5ft4 though.
He should think of his health and that yes, youth is still very much on his side, so why not make the most of a youthful metabolism and shed some of those pounds while it is going to be enjoyable for him and the results will be felt SO many more times efficiently than if he waited a couple of decades!
grizz
said on 23/Jul/17
I can already see him playing Dwayne Johnson's Mini Me in Austin Powers reboot lol
Matt
said on 23/Jul/17
He wore massive boots in homecoming to push into 5'5/5'6 range. Holland was wearing normal shoes.
Mike
said on 23/Jul/17
Damn! I thought he looked close to Tom's height like 5ft 5 or 6! Didn't realize he was this short.
AJ
said on 23/Jul/17
@Lee168, I agree but looking at carpet events this height seems more realistic, although I would say closer to 5'5" if anything
Realist
said on 22/Jul/17
5'3 is he 280 or 300 pounds I knew a kid at 5'5 and 320 but he was solid built and playes football I know its impossible to be solid at that weight for height and age ratio but he wasn't really that big.
HollywoodFan
said on 22/Jul/17
Really? He looks only an inch or 2 shorter than Tom Holland in "Spider-Man Homecoming"...
Peter175
said on 22/Jul/17
even, if he's really 5'3 than no way he's anything above 220 range
Rob, guesses on his weight?
Editor Rob: I couldn't say his weight, maybe somebody else has a good idea.
Wolf
said on 22/Jul/17
How tall would he be without his pointy head?
Chase
said on 22/Jul/17
Click Here
Looks 5'3 here, but Tom is also using the arm over shoulder technique. I can buy anywhere between 5'3.5 and 5'4 for this guy
Sammy Derrick
said on 22/Jul/17
SIDEKICK ROLE!!!(5'3-5'4)
Hans Meiser
said on 22/Jul/17
In the Spiderman universe, people don't really grow until they're 20.
Lee168cm
said on 22/Jul/17
I can believe this but in some scenes in spiderman he looked pretty close to toms height and in other scenes the gap was noticeable confused me a little
Slim 182 cm
said on 22/Jul/17
Looks of a classic short stocky man, maybe 161. No more.
Shredder
said on 21/Jul/17
This short? I was thinking 5'5 lol.
even
said on 21/Jul/17
easily 5'3" , he looks 270 pounds