Jason Lee's Height
6ft 1 ½ (186.7 cm)
American actor best known for roles in films such as Mallrats, Enemy of the State and the TV comedy series My Name is Earl. In season 1, ep 6 of the aforementioned show, his character states
'[I'm] Six one...and a half'
.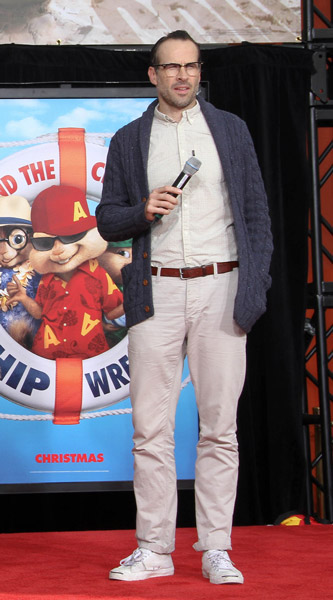 Photos by PR Photos
Add a Comment
102 comments
Average Guess (29 Votes)
6ft 1.45in (186.6cm)
JustJohnny
said on 4/Sep/20
Doesn't seem quite this tall.
berta
said on 24/Jul/20
looking at my name is earl and he looks 187-188 but have shoes with big heel. that makes him a weak 187 in reality. perfect listing.
Willes190
said on 19/Jul/20
Always thought that Lee is a textbook example of how 6ft1.5 should look. Honest guy by the way, many in his position would probably claim 6ft2.
Davidjr
said on 15/Jul/20
I think this actor height was taller like 188cm or 6 foot 2inches but I give him and 187cm because he looks reall tall on Alvin and Chipmunks 1,2 and 3
Big T
said on 30/Apr/20
haha while scrolling the comments I see I made almost the same comment on this page in 2009! I had no recollection of watching Mallrats previously. I may be losing my memory but at least my height estimates are consistent!
Big T
said on 30/Apr/20
He really doesn't look this at all in Mallrats? Somehow he looks not too dissimilar to 5'11 Jason Mewes and Jeremy London (who I'm guessing is 5'11ish) throughout and he hardly looks 3" taller than 5'9" Michael Rooker? And he looks well and truly shorter than Ben Affleck who he should be easily closest in height to? In fact he specifically calls attention to how tall Affleck is.
Cockstride
said on 28/Apr/20
I'd say 6-1.75. Looks a almost 6-2 guy in most all sorts. Skateboarding days especially. Might be 6-1.5 now at 50.
Nik
said on 1/Feb/20
🗣 "6'1.5"!
The Ben
said on 30/Jan/20
Looks just like Christian Slater in his photo.
Chris Junior Hernandez 1990
said on 6/Aug/19
189cm with converse. I watch some of his classic skating video look very legit 6'1 1/2 sometimes nearer 6'2. I think depends on the time he took those vhs video.
Jimbo hopper
said on 15/Jun/19
Weak 6-2 imo
Junior Hernandez 1990
said on 4/Jun/19
In Dream Catcher he didn't look flat 6'1.5" next to strong 178cm Thomas Jane. He look to have loose posture at times looking strong 186cm and standing straight can look a classic 187cm guy. 6'1.5" is still possible is the low he will be measure.
Colberto
said on 23/Oct/18
Rob
A 187.5
B 187
C 186.5
D 186
E 185.5

Editor Rob
I stick with about C range, I wouldn't class him as a strong 6ft 1.5 range (like 6ft 1.5-1.75), but there is a greater chance he could be 6ft 1.25-1.5 zone
MAD SAM
said on 3/Oct/18
Looks around Ryan Reynolds height, might as well be 187 cm on a good day !
Junior Hernandez 1990
said on 23/Aug/18
Look at Jason Lee skateboarding clips from Youtube he look fine with 6'1 1/2 sometimes 6'1 1/4.
Smiles03
said on 25/Jan/18
Probably 6'1.5
Anonymous
said on 6/Dec/17
Real 6'1.5 guy, 6'1 with a bad posture.
berta
said on 19/Sep/17
i can beleive this guy be this height legit. and will smith could fall a little under.
S.J.H
said on 13/Jun/17
He look alot like 185cm and with converse in this PR picture he can look 6'1.5
S.J.H
said on 1/Apr/17
In My name is Earl he atually got a mugshot clear 6'2 with a hair and shoes. I don't think he is 6'1.5 anymore
berta
said on 31/Jan/17
he looked legit 6 foot 2 in my name is earl. but had big shoes on. i think its safe to say he is not shorter than 187 like he cliams. could look 188 but if he cliams 187 then thats his height
6'4" with shoes, barefoot 6'2" 3/4
said on 20/May/16
typical skinny guy with no muscle...who cares if he is 6 or 6'1" he wears shoes so he includes that into it...To late to get muscles even taking the same roids the rock takes wouldn't add any muscle...this guy is weak and weighs about a buck thirty...
Aravind
said on 24/Apr/16
Tomorrow,is his birthday,so I think just a flat 6'0.5 for Jason Lee and today,6'1 for Jason Lee.
johemoth the dog
said on 29/Nov/15
He doesnt look close to that height in Mallrats. Cant see it at all, but i dont doubt this claim. He has bad posture in the film.
Celebheights 6'1.75/187 CM
said on 15/Sep/15
He looks 6'1 1/2" there (considering the uneven hair).
Bowb
said on 9/Aug/15
Click Here
What can you say about this?
Celebheights 6'1.75/187 CM
said on 9/Jun/15
He appeared to be about 6'1.5" in person recently. Eric Bana who wasn't at all above 6'2" (more likely 6'1.75") would likely edge him out.
Rampage(-_-_-)Clover
said on 7/Feb/15
Rob, is the full 6ft2 possible for Lee?
[Editor Rob: I think the fact he came up with the 1.5 is good enough to say he wasn't a full 6ft 2.]
A6'1Guy
said on 6/Feb/15
Seems like a guy who is easily in the 6'1 - 6'2 range, always seemed to me like a tall guy. I have mainly seen him in My name is Earl and at first glance gave the impression of someone who is 6'2.
GG Howard
said on 3/Feb/15
I seen him in 2007.He was taking to another person but he towered over them by like 5 inches, I'm 6'3 so he looked like he was just an inch shorter than me
Ras
said on 12/Aug/13
How come he did look shorter than Sigourney Weaver on heartbreakers?
Silent D
said on 18/Jun/13
About same height as will smith in enemy of the state. Deceptively tall guy. Sometimes he looks under 6 foot but most times 187cm. 187cm is about right.
penguinboy25
said on 29/Mar/13
6'1.5 is a bit too high and here's why. We know Rainn Wilson is just under 6'2. In the office in several scenes Andy Buckley (who plays David Wallace) is about 1 inch shorter than Rainn Wilson putting him right about 6'1. Now to get to Jason Lee's height we compare a photo of him with 6'1 Andy Buckley. We don't know footwear but Lee is just a hair shorter. Based on this evidence I'd say Jason Lee is 6'0.75 and may graze 185 cm in the morning. Here is the photo of he and Buckley.
gty.im/141942984
Jimmy
said on 30/Sep/12
IMHO
Ethan Suplee - 6'0"
Jason Lee - 6'1"
maximus
said on 27/Sep/12
His goof ball, scruffy image takes away from his height....strange but true...I figured he was around 5'11"
Rampage(-_-_-)Clover
said on 22/Sep/12
Did look identical to Will Smith in Enemy Of The State. Weak 6ft2(187cm)
tom
said on 6/Aug/12
I met him skateboarding in london in the early 90's,we both had airwalks on I think,I'm a shade over 6.2" and he seemed pretty much the same as me,no way he is 6,1". Hes certainly taller than that.
MaskDeMasque
said on 14/Jun/12
6'1. no more, no less.
steven
said on 15/Jan/12
i think he is 6'1.5 in shoe. he always look dab in 184-185cm to me.
nice guy
said on 9/Jan/12
Its always good to know the actual height claim of actors cos its easier to estimate their real height..after checking some picture of him I came up with 184cm flat for him..in any case at least 2cm below his own claim since actors lie...some add 3 inches some only 1 inch to their height but in the end they all round up a little :D
Andrew M
said on 30/Dec/11
I have to disagree with Rob, I say he DOES look tall in My Name is Earl, but he may not look quite so tall as he has broad shoulders.
In fact - and in keeping with continual references throughout that show - I'd say he not only looks tall ENOUGH, but wears a moustache well enough, that I'd rather see him play Thomas Magnum if they ever do make a Magnum, p.i. movie! Plus we know he can do the humour that made Magnum stand out from so many other crime shows before, then, and since!
He's certainly a much better candidate than the rumoured Matthew McConaughey, who is only 5' 10+3/4", and blonde!
Interestingly, considering "Earl" is about the character's belief in Karma, which is a Buddhist concept, both Jason Lee and Ethan Suplee are Scientologists! So for all most of us might say about that "religion", it seems they do turn out good actors!
E.g. Tom Cruise, John Travolta, and Ann Archer are also followers.
Andrew M
said on 30/Dec/11
I have to disagree with Rob, I say he DOES look tall in My Name is Earl, but he may not look quite so tall as he has broad shoulders.
In fact - and in keeping with continual references throughout that show - I'd say he not only looks tall ENOUGH, but wears a moustache well enough, that I'd rather see him play Thomas Magnum if they ever do make a Magnum, p.i. movie! Plus we know he can do the humour that made Magnum stand out from so many other crime shows before, then, and since!
He's certainly a much better candidate than the rumoured Matthew McConaughey, who is only 5' 10+3/4", and blonde!
Silent d
said on 5/Dec/11
He looked tall in my name is earl. In cop out much taller than bruce willis and tracey morgan. 187cm.
LAN Jiao
said on 8/Nov/11
im thinking 6'1.5 morning minus 0.5 at evening/night for jason lee would be accurate.
LAN Jiao
said on 10/Oct/11
in stealing harvard jason lee tend to slouch a little when standing near beside good posture tom green making him look 6'3. i doubt in real green is 6'2.5 at best and lee is max 6'1.5 , much possible he is 6'1.25 beat out fake 6'1 ethan suplee whose shorter an inch than 6'1 t.j.miller
LAN Jiao
said on 7/Oct/11
Jason Lee is six one.two five
DejaVu
said on 26/Sep/11
He is taller than Ethan Suplee who is 6'1. He must be close to 6'2
lorne
said on 12/Sep/11
@Yaspaa
I am pretty sure Hennings is a solid 6'2...
Jean Alderton
said on 8/Aug/11
He's Great in the part would love to see him in Lee Childs Novel any one of them . Great cast in Memphis Beat
andrew m
said on 4/Aug/11
Further to my last comment, I just found out that the "6 foot 8" hulk" I mentioned from Season 4 episode "Bullies" of "My Name is Earl" is actor and former American Football player Matt Willig, who - it turns out - IS actually 6' 8" ! And that was just a guess on my part! Amazing! Now Lee Childs can't say there isn't an actor tall and broad enough to play Jack Reacher. I was amazed that someone of Dwayne (The Rock) Johnson's height and build could move so fast; I wonder if Matt Willig can too, given that he was an American Football player.
andrew m
said on 4/Aug/11
I'm not sure who wrote the entry for this page, but I strongly disagree. He DEFINITELY looks big in My Name is Earl, usually one of the biggest guys in the show, with only Ethan Supplee (Randy) looking close. And considering that men 6 foot and over are more common in America, I think it's surprising you don't see that many other folk bigger (apart from last night's 2nd Season 4 repeat, where a schoolkid he bullied reappeared as an apparently 6ft 8" hulk!).
And if it's ever made, I think his height is great enough to propose him for the role of Thomas Magnum in a "Magnum, P.I." movie, and I used to think no-one could replace Tom Selleck! Speaking of movies, I'd really like to see a full length movie finishing off "My Name is Earl" properly. Are you listening, movie producers?!
Yaspaa
said on 20/Jul/11
Sam Hennings from Memphis Beat is listed at 6'1.5, but is clearly taller than both Lee and DJ Qualls in the show. If Hennings is 6'1.5 that would put, I would guess, Lee at 184 and Qualls at 183.
Mudpuppy
said on 9/Jul/11
He is definitely 6'1 1/2. And Affleck wears lifts . He has ego issues. Jason Lee is one of the nicest guys in Hollywood, and he doesn't cram his politics down our throats ...
Bambi
said on 4/Jul/11
Whoa I thought he looked 6ft3
Dmeyer
said on 20/Jun/11
Hé did look 187 in person
thosch
said on 7/Jun/11
in my name is earl - season 1 / episode 6 earl says that he's "185,5 cm"
RICHARD
said on 30/Apr/11
No way is this guy 6'1.5,or even a flat 6'2.
In Mallarts,he was towered by Ben Affleck by a good 3 inches,and was more close in height next to Jason Mewes(JAY),who is at best a solid 6-footer.Affleck looked a solid 6'3 throughout the whole movie,and definetly looked bigger/taller than Lee.I'd say 6'0-6'0.5 for Lee,nothing more.
Lenad
said on 29/Apr/11
I'd say 186cm min 188cm max
Anonymous
said on 7/Feb/11
Damn jason i thought you were way taller than that
seann
said on 23/Nov/10
Met him in Hollywood at a hip taco shop a few years back. I'm 5'7" and he was at least 6'0 to 6'1". Probably closer to around 6'1". He was with some of his cast members from My Name Is Earl. And was very polite and friendly. A real gentlemen. He entertained my two year old son while we waited in line. He actually offered to let us go in front of him.
klem
said on 8/Jul/09
Jason Lee is close to 6-2 for sure, I know him from his 90s skateboarding videos(yes he is a pro skateboarder too, also owns a company named Stereo today..) and he looks tall next to others.
Lenad
said on 27/May/09
The lowest I could possibly view for this guy is 186cm. I actually think hes a weak 6'2 187-188cm
tim
said on 9/May/09
exactly, you guys on this board are very fair. over on the affleck board they are biast against him and continuously mention that lee is taller than affleck. there is absolutely no way that is at all possible when affleck is about 2-3 inchs taller than him in mallrats. sure affleck could have wore lifts but barefeet lee wouldnt be any taller and would most likely be an inch to an inch and a half shorter. also there may be pictures of chasing amy where lee is taller but if you watch the actual movie, affleck is an inch taller all the way through. by the way, i find it really confusing with ethan suplee, he was an inch taller in mallrats yet looks about 3 inchs shorter in my name is earl. did suplee shrink.
Big T
said on 16/Apr/09
Well....I'm confused. In My Name is Earl, he looks nearly as tall as 6'3" Michael Rapaport. However, in Mallrats he almost looks closer in height to Jason Mewes than he does to Ben Affleck, which would suggest 6'1" max. He also specifically refers to Affleck as "tall" in the movie.
I think maybe he's 6'1", Affleck is damn near 6'3", and Lee's boots make him look bigger in MNIE.
orlando
said on 11/Apr/09
is not the same height as ben affleck .. in that pictures hes wearing fricking big boots thats why he looks taller than ben
ben affleck towered over him in the whole movie mallrats by at least 2 inches
orlando
said on 11/Apr/09
there is no way this guy is 6'2 also cook is not 6 feet is more like 5'11
have you seen the movie mallrats???
in the whole movie ben affleck towered over him a lot
hes probably 6 feet or 6 feet and 1 at the most
Josh.J
said on 11/Jan/09
I think he's taller then listed.
Click Here
with ben affleck who is listed as 6'2.5" on this site. affleck's posture is very loose but i'd say they are equal in height.
Click Here
Here with dane cook and justin long. cook is a 6' man and lee looks to have a couple of inches on him at least (also cook is closer to the camera). from what i see i'd say he is a strong 6'2".
Jamie
said on 1/Jan/09
jason looks more like 6ft2 not 6ft1.5 he is a strong man
Lenad
said on 23/Dec/08
Looks a strong 6'1.
sam
said on 6/Dec/08
6'2 first thing out of bed. 6'1.5 tired before bed
Hugh
said on 2/Dec/08
Possible a weak 6ft2. Looks tall.
anonymous
said on 26/Nov/08
6 foot 1-2.
Flagern anonymous
said on 18/Nov/08
im the exact same height if he is 6'1.5"
Lenad
said on 25/Sep/08
Never thought he was much taller than average but when i started to follow My name is Earl I noticed he looks taller than other men. in some cases by quite a marigin.
Matt
said on 31/Jul/08
The height listed here is correct.
LOL @ THINKING STEEL TOED BOOTS CAN GIVE YOU 4 INCHES.
Joey
said on 4/Jul/08
6'1" maybe, I don't buy 6'2". Of course you can never really know from My name is Earl since he always wears boots there, but on Mallrats (wearing sneakers) he didn't look much taller than 5-10 Jeremy London. I think 184 cm is right.
yoohoo
said on 4/Jun/08
no hes definitely this tall.
Becka
said on 23/May/08
Jason is 6 foot even. Will smith is almost 6 foot 2 and Jason is shorter. On My Name Is Earl Jason is always wearing steel toed boots. Those give 2 to 4 inches of extra high, depending on style. It seems silly to even bothing thinking about a persons hight, but Jason Lee is 6 feet tall.
Ian
said on 13/May/08
I've just watched this guy in Kissing a fool with David Schwimmer also in that film. He was 1.5" taller than Schwimmer who I think is 6ft. This height appears to be correct in my opinion going by that.
Big T
said on 24/Feb/08
In an episode of "My Name is Earl" he actually looked very similar in height to 6'3" Michael Rapaport. They had a lot of screen time together.
Al
said on 2/Feb/08
"For some reason he doesn't come across as a big guy"
Really. He looks very gangly to me. He does look taller now that he's a bit fatter though... 6 1.5 seems about right.
nate
said on 11/Dec/07
looks just a hair under 6'2
dmeyer
said on 25/Nov/07
i met him at the grove yestuday the height listed above seems right he was taller than me even thaugh he was sloushing , he does look near 6'2
Bob H.
said on 7/Dec/06
Just watched the ending of Mallrats. Silly stuff!! Lee was about an inch shorter than Affleck. Lee was wearing tennis shoes. 6'1 1/2" would seem right.
Viper652
said on 6/Oct/06
Tom is a lot closer to the camers there. But he does look shorter than 6-1 1/2 in that picture.
Tom
said on 6/Oct/06
No way is this guy that height. I think his slight build makes him appear taller. Here's Lee with 6'3" Tom Green:
Click Here
(III)
Anonymous
said on 30/Sep/06
Jason lee I say 6feet or a half. I saw him on the Conan O'Brien show and Conan towered over him by at least 4 inches or more. To be honest I think Conan is 6-4 1/2.
kene
said on 15/Sep/06
in movie DREAM CATCHER he looks just188(6ft2) while apear.. he don't look lower than 186~187. think he at least 187tall..
Anthony
said on 24/Aug/06
I agree with evanna. "Almost Famous" is my favorite movie, and Crudup looked at the very least the height he is listed at here if not just hitting 6'2. Crudup in the film looked no more than 5'8 in the movie compared to Patrick Fugit (who was about 5'6 - 5'7 when the film started shooting and grew to 5'9 - 5'10 before they finished filming). Lee is definitely a very tall and thin man.
Glenn
said on 31/Jul/06
Thank you Evanna.Ive been trying to tell people Crudup was 5-7 or less.he got on his toes for his pic with me.Im 5-8.
evanna
said on 30/Jul/06
I've seen Almost Famous at least a million times, and he absolutely towered over Billy Crudup. Although Crudup is probably around 5'7" or even shorter (he looked SO tiny in Big Fish), Lee is still a tall guy, certainly 6'1.5" or 6'2". Very lanky too.
CSD
said on 5/Jul/06
I was standing right next to him last night at the Dodger game. Dude is a solid 6'2" and much more skinny looking in person. No platforms just regular tennis shoes and I was looking eye to eye with him.
SH
said on 7/Jun/06
In my Name is Earl, I have found it quite hard to judge his height. Sometimes he can look really big and sometimes just 6'. However 6'1.5'' does seem accurate looking at his other roles. How come he looks so much taller than Suplee who claims to be 6'2'' (Suplee must be much shorter than this)
0kuma
said on 5/May/06
6'1", maybe .5 extra, but not tall enough to be 6'2". In the current episode(05/04) of 'My Name is Earl', Joy steals Earl Hickey's driver's license, and it has his height listed at 6'1". I assume the state cannot add in halves or quarters of height in the DL. The mystery has been solved. Another case cracked!
[Editor Rob: well, he did say 6ft 1.5 and he has that mugshot thing on the show...I think this guy is legit 6ft 1.5er, one time billed as high as 6ft 3!]
316
said on 19/Jan/06
Definately luked 0.5" taller than the 6'1 David Schwimmer in all the scenes of the movie "Kissing a fool". I guess u have u got it absolutely right Editor Rob, Jason is defi 6'1.5"
Viper652
said on 4/Jan/06
"He looked around 6'1", maybe 6'2"." Your sighting confirms that he is 6-1.5 exactly.
gdawg
said on 3/Jan/06
6'1" sounds accurate. He was eating no more than 10 feet from me at a Korean restaurant in L.A. He stood up and left with this blonde, while I was sitting down and eating. He looked around 6'1", maybe 6'2". Definitely not 6'3".
Anonymous
said on 23/Nov/05
He looks shorter than WIll Smith in this photo although WIll is slouching a bit.
link
Anonymous
said on 16/Nov/05
he does seem very tall. in heartbreakers he was at least 2.5 inches taller than ray liotta, who is at worst 5'11
Brett
said on 14/Nov/05
On this sites Ben Affleck page, he was next to Affleck in a pic, and Lee was taller then him, and Bennifer is rated at like 6'2.5", so I reckon Lee is atleast 6'2"
Mr. R
said on 19/May/05
I think Jason is this tall. He is about the same height as Ben Affleck.
Mr. X
said on 19/May/05
We should pay more attention to this guy's height more often. You're right, he doesn't come across as a big guy. I mostly see him in those Kevin Smith films, and I thought he was probably around 5 ft 10. There are two reasons why I thought he was around this height- 1. He might be taller than some of his costars, but never really towered over any of them 2. Can you honestly say he's almost the same height as Ben Affleck?