Jason Mewes Height
5ft 11 (180.3 cm)
American actor best known for his role as Jay in films like Jay and Silent Bob Strike Back and Mallrats. He has claimed he is 6ft. In this photo I had 1/4 inch more sneaker than him.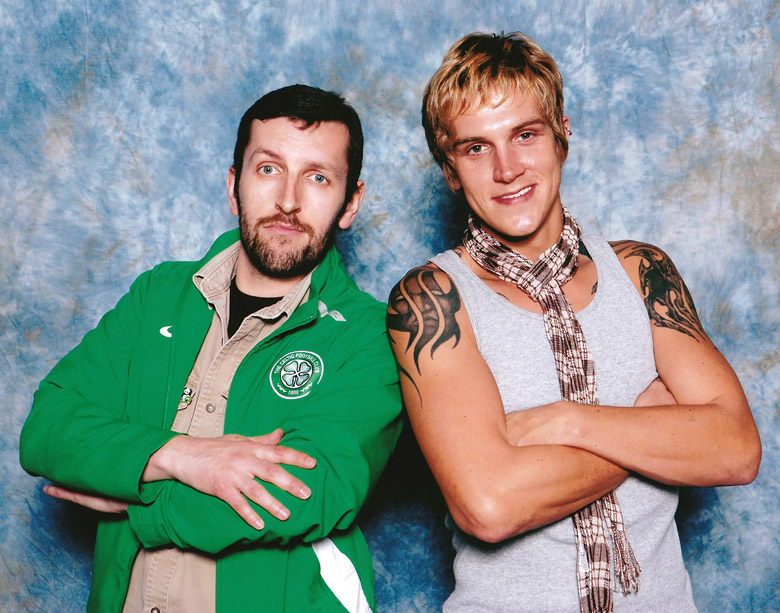 5ft 8 Rob and Jason @ LFCC 2008
You May Be Interested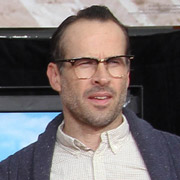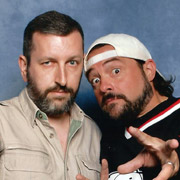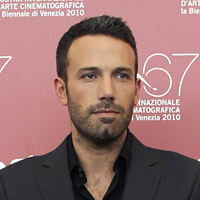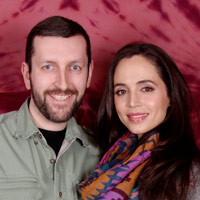 Add a Comment
80 comments
Average Guess (29 Votes)
5ft 10.72in (179.6cm)
Chris Junior Hernandez 1990
said on 21/Dec/20
Compress down Mewes hair does look 5'10 3/4 with Rob if we talking about measurement then add on 1/4 disadvantage footwear making him 5'11. Indeed strange that 5'10 3/4 Jason Issacs look 5'9 1/2 with Rob despite 1/4 less footwear compare to how Jason Mewes look with Rob. I def believe there should be solid 1/2 between Issacs and Mewes in real.
Monkey knees
said on 16/Aug/20
Literally 5ft 10.75in morning height. You can see the, almost, 3 inch height difference when next to 5ft 8in Smith. Typical "Hollywood" claim of 6ft, from a 5ft 10in/5ft 11in guy (Pitt, Clooney, Fassbender etc...). Above average, but not "tall".
191 cm Jason
said on 8/Jan/20
I met him and Kevin smith 9 years ago im 6'3' he didn't look shorter than 5'11' to me.
Nik
said on 2/Sep/18
Over 5'10", under 5'11"!
Zampo
said on 30/Aug/18
Once again, think the average guess is pretty accurate. 5'10.7-ish, the definition of a weak 5'11.
Paul NS (6ft0.5)
said on 1/Dec/17
Not below 5-10 3/4.
Anonymous
said on 9/Oct/17
Met him just a few months ago, I'm 6'1 and talked to him briefly about 3-4 feet away. From that distance, I could definitely tell he was at least an inch shorter from where his eyes were to mine. I'd personally say 5'11 with a possibility of some extra change.
Slim
said on 26/Sep/17
Rob, can we please even give a 179 range downgrade? He's in the 5'10" range.
Slim
said on 23/Sep/17
5'10"(177/178) is what he looks imo.
KH
said on 11/Sep/17
Remeber Rob is 5'8 and change and had .3 more sneaker. 5'11 seems right on in the photo on the left. The one on the right is not a good photo to judge anything on. This guy is hilarious regardless.
Christian-196.5cm (6ft5 3/8)
said on 3/Jun/17
I believe Rob when he said that he's comfortably over 5'10", but 5'11" seems a bit of a stretch. 5'10.5" might be the best listing.
S.J.H
said on 4/Nov/16
5'10 a shout
183cmAriel
said on 13/Jun/16
i can't believe that he is in his 40s
Mat
said on 31/May/16
Rob why does he look 5'10

Editor Rob
he does have a fraction less sneaker, but he's comfortably over 5ft 10.
NBAer
said on 5/Mar/16
Looks more 177ish above with less footwear,so solid 178cm i believe.
184.3cm (Night)
said on 29/Jan/16
Looks 5'10 in the pic on the left, has less shoe so my guess is:
5'10.5".
.
Yeah right.
said on 28/Jan/16
Lol, he always looked pretty tall in the movies though. 6'0", 5'11" fair
Rampage(-_- 🍀-_-)Clover
said on 22/Aug/15
180cm on the 👃
Never looked his claim
Shamrock
said on 18/Mar/15
how tall do you think Brian O'Halloran and Jeff Anderson are Rob?

Editor Rob
Brian's shorter than Jason I think? Maybe 5f 10, I haven't watched clerks for a while, although I am a fan of Smith's movies...well maybe Cop Out isn't his best...
james
said on 24/Jan/15
He looked about 6'0 in dogma
lelman
said on 15/Dec/14
Definitely not 3 inches taller than you, weak 5'11.
Greg
said on 4/Aug/14
"Kevin Smith is 2 inches shorter, so smith cannot be shorter than 5' 11".
Kevin Smith is around 5'8". Looked about 4 inches shorter than Jay Leno (he was a frequent guest on Leno's Tonight Show). Mewes seems to be listed in multiple places at 6', which I doubt, looks about 5'10".
Tiy
said on 30/Jul/14
6' 1". Kevin Smith is 2 inches shorter, so smith cannot be shorter than 5' 11".
If you think jay is 5' 10", you believe he is shorter than smith.
songo
said on 1/Jan/14
5'10-ish, maybe 5'11 and a bit on a good day.
--
said on 20/Dec/13
Hey Rob, you look nice with a beard. You should consider keeping it.
Blaze
said on 29/Aug/13
6ft morning height I think
Elijah
said on 7/Feb/13
@ChiasmataX: spot on... Leonardo DiCaprio is the exact same kind of guy I imagine as well.
Bird
said on 6/Feb/13
take that back have to say 5'10"
Shock
said on 11/Nov/12
I JUST met him last night at my local arcade. I am 5'10" in my Timberland boots exactly, he came out maybe 1" taller than me in his footwear, I'd put him at like 5'10.5" max.
Brian
said on 14/Sep/12
He looks like 6'
johnnyfive
said on 9/Sep/12
Looks 5'11 (180cm) flat.
Comicbookmaster17
said on 15/Aug/12
He Looks 5'11'(180cm) at best.
Rampage(-_-_-)Clover
said on 31/Jul/12
He's 177cm max in both photos.
Rob, maybe he's 5ft10.5(179cm)?
Maximus Meridius
said on 4/Jun/12
Rob is there a chance this guy can look 6ft 1in since he has a slim build.

Editor Rob
nah never looks that tall, although I'm sure slim build can fool some eyes from a distance.
Ajax
said on 22/Dec/11
I remember reading 6'2" on some sight! Wow! I wouldn't say he's less than 5'11" though
Because he can pass for 6' even if he isn't.
ChiasmataX
said on 22/Nov/11
A 5 feet 11 range guy in person but in reality he's about 179cm.
Physics Enemy
said on 15/Nov/11
The rucksack is dragging him down in Mamun's pic, so I'll disregard that pic. In left pic with Rob he's closer to the camera, making him look taller. In the right pic he has a slight camera disadvantage and pretty loose posture with a neck lean. I'll go with 5' 10.5".
Maximus
said on 3/Sep/11
Hmmm....he doesnt appear 5'11" more like 5'10"
mrknowitall
said on 17/Aug/11
looks around 5'9-5'9.5 maximum
Dmeyer
said on 20/Jun/11
Did hí¯¿½ look 5 ft 11 in person

Editor Rob
somewhere around that range.
James
said on 10/Jun/11
i agree rampage
Rampage(-_-_-)Clover
said on 26/May/11
180cm and no taller...even 181cm looks a little generous
Legend
said on 10/May/11
He's 5'10.25
Lenad
said on 1/May/11
Maybe in a pair of special shoes hes 6'0. Barefoot hes 5ft11 max
James
said on 24/Apr/11
i think 5'10 (178cm) is a bit too low. I'd just downgrade him to 5'11 (180cm) he looks no higher than that.
Tizzie
said on 15/Apr/11
This guy is in serious need of a downgrade Rob. Clearly not 5'11.25"
A star
said on 12/Apr/11
sorry rob but how could you get 5"11.5. he doesnt look anymore than 5"10, 5"10.25 if you want to push and i dont even think he is that. thats not how a 5"8 person is suppose to look next to a person who is just a shade under 6ft. he needs a seriuos downgrade.
wessaawe
said on 8/Apr/11
about 5'9.25 if you ask me
Klaus
said on 4/Mar/11
Looks 1,78 m. He's a 5'10 guy
SolidSnake
said on 12/Feb/11
looks taller in the left photo than the right. About 5-10.5
EJC
said on 3/Feb/11
He was dating a girl in a bar I worked at in Seabright, NJ in 1995... I'm 5'10.5" and he was no taller than me at all. I'd give him a solid 5'10", maybe a hair more, but not anything else unless he grew since then.
James
said on 24/Jan/11
he looks 5'10 in all the pics.
Clay
said on 13/Jan/11
Hmmm well if Rob had the footwear advantage he is about 5'10.75-5'11.
Matt
said on 8/Dec/10
Funny, he looks like 5'9''-5'10'' max in these pics. Hes definitely shorter than 6' Jeff Anderson, which lays waste to his claim of 6' (I've even heard him claim 6' 1'', no way in hell), but he did appear to have an inch of Kevin Smiths wife (whos supposedly have 5' 10'') in Clerks 2...camera **** I guess?
lolo
said on 24/Nov/10
wtf?? thats a 9cm difference?
J.J.
said on 9/Jun/09
Am seeing a max of 5'10.75" in this picture.
MAMUN
said on 10/May/09
My good friend ROB ! My picture is missing from here !
Regards
Mamun

Editor Rob
I will find this/dourif in your past emails before I can upload it again.
Clay
said on 17/Mar/09
He looked more like 5'10-5'10.5 in Zach and Miri...he was walkin around barefoot and naked most of time! Rogen is closer to 6'0 than 5'11 IMO.
Steven
said on 11/Feb/09
he looks 5 ft 8 in the movie Zack and Miri Make a Porno, if this guy is 5 ft 11.5 in, then Seth Rogen must be 6 ft 2 in!
bun
said on 16/Nov/08
whoa in mallrats I thought he was like 5"8 at the most
Clay
said on 13/Nov/08
O'Halloran is 5'9 and Anderson is 5'11''.
Lego
said on 13/Nov/08
he's 5'11.5 at the very most, i'm guessing 5'11.25 more appropriate.
RICHARD
said on 13/Nov/08
Speaking of Jeff Anderson why dosen't he have his own page,or Brian O' Halloran ???? Halloran is 5'11 and ANderson is 6'. JUst watch Clerks I and II and you'll see that Mewes is around their heights.
Clay
said on 13/Nov/08
Strong 5'11''. Would you **** me? Id **** me. Id ***** me hard!
derek d
said on 12/Nov/08
Did you ever think he could of got those tattoos after Mamun's picture? Looks 5'11.5, always thought he was 6'.
el toppo
said on 12/Nov/08
wow, I think he looks shorter way shorter than 5 foot 11 in these pics! Shows what I know. lol
The Horse of FUNK
said on 12/Nov/08
Maybe I'm smoking something really good but I see 5'11" at best in the pics above.
Joe
said on 12/Nov/08
He's around the 6'0 mark. What happened to his tribal tattoos? did he have them for a movie role?
Anonymous
said on 12/Nov/08
rob what kind of shoes he was wearing.

Editor Rob
a 0.6 inch converse. Mine are 2.3-2.4cm.
thekiddd
said on 23/Jul/08
I am going to say 5'11 1/4" since he looked about an inch shorter than 6 possibly 6'0 1/4 or 1/2" Jeff Anderson (Randal Graves)
5' 10" Adam
said on 25/May/08
I watched 'DOGMA' quite recently. He looked at least this height in relation to Matt Damon (5ft 10in) . I'd give him 6 ft as a morning height.
willcall
said on 25/Nov/07
I met him and kevin Smith at a film festival and 5'11" to 6' seems about right I am an exact 5'10" and he looked just a bit taller. I think 5'8" is generous for Kevin Smith I shook his hand and I felt like I was looking down on him quite a bit I think Smith is more like 5'7"
TL
said on 4/Mar/07
This is quite a surprise. I always pictured him as being tall (like at least 6'2").
Antron
said on 2/Feb/07
He's not 5'10." He is at least 3 inches taller than Kevin Smith and Smith is no shorter than 5'8." A tad under 6ft seems right.
Eric
said on 13/Dec/06
No way... I was a bouncer at a bar that he used to come into in Sea Bright, NJ. I'm 5'10.5" and he was slightly shorter than me, so I'd give him 5'10" max.
supes78
said on 7/Sep/06
Wow, I really thought he was atleast 6'1". He always looks more than just 3 inches taller than Kevin Smith.
thelasttiger
said on 30/Jul/06
Well Jeff Anderson is taller than Jason Mewes but I don't think he is 6'2" and I don't think he is 6'3". I'm going with just 6' for now.
don
said on 27/Jul/06
kevin smith is about 5'9 making jay between 5'11 and 6ft ibdm has randall (jeff anderson: clerks, clerks 2) at 6'3 and thats insane lol.
someone
said on 21/Jan/06
No way, he's at least 6-1